6 Quarterbacks Who Can Surprise and Win Starting Jobs in 2013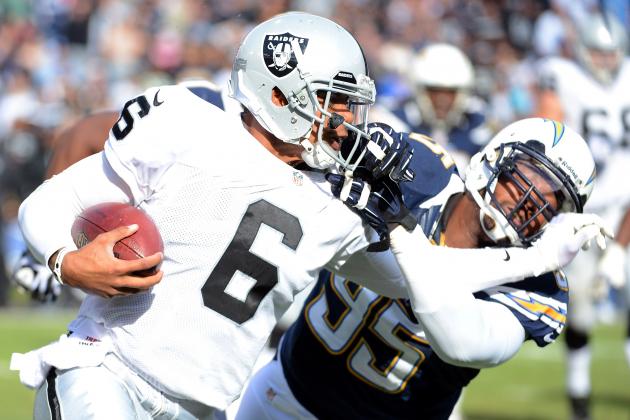 Harry How/Getty Images

The NFL is a quarterback-driven league.
That was plainly evident in 2012, when most of the teams with poor quarterback situations found themselves at the bottom of the standings.
Not every team gets gifted with an Adrian Peterson to offset their QB shortcomings, and some of those teams will turn to the players on this list as their starter in 2013.
For some of these quarterbacks, it's not so much a matter of if as it is where. For others, the fact that they are starting at all will be one of early shockers of the 2013 campaign.
Begin Slideshow

»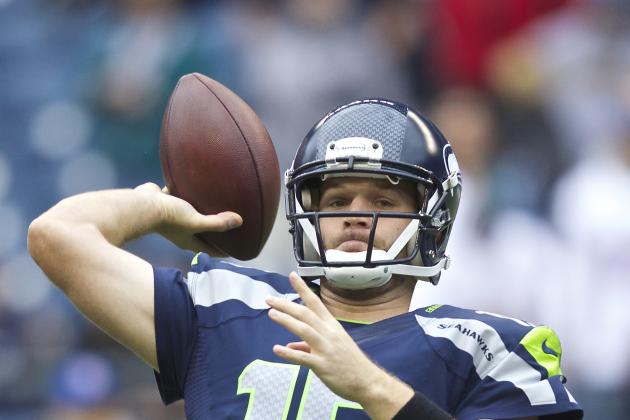 Stephen Brashear/Getty Images

Seattle Seahawks quarterback Matt Flynn is in the same boat as Alex Smith. Flynn signed a three-year, $26 million contract expecting to become the Seahawks quarterback last year.
Then he lost the starting job to rookie Russell Wilson. Wilson then led the Seahawks to the playoffs, which has left Flynn glued squarely to the bench.
There is no doubt that a number of teams will contact the Seahawks regarding Flynn. However, with only a $5.25 million salary in 2013, Seattle will more likely simply hang on to its insurance policy under center.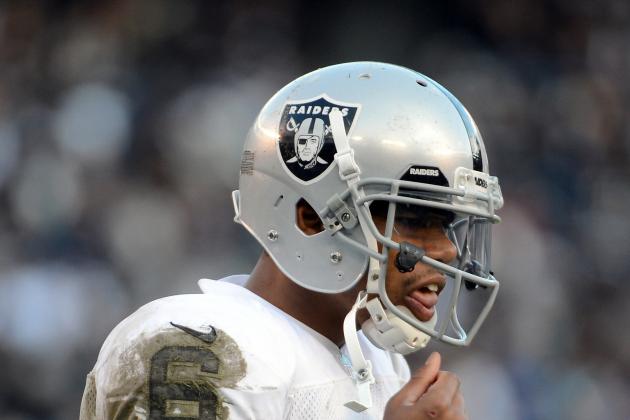 Harry How/Getty Images

The writing is already on the wall for Terrelle Pryor to be the starting quarterback for the Oakland Raiders.
The 23-year-old started the Raiders' season finale last year, and while his passing numbers weren't very good, he showed off the athleticism that's all the rage among NFL quarterbacks nowadays.
At the very least, Pryor is going to be given a shot to win the job in camp, as general manager Reggie McKenzie told Alex Marvez of SiriusXM Radio.
If 2012 starter Carson Palmer isn't willing to renegotiate a salary set to pay him $13 million this season, then he may be a candidate for release.
If that happens, then the cap-strapped Raiders will probably roll Pryor out there and see what they have in him.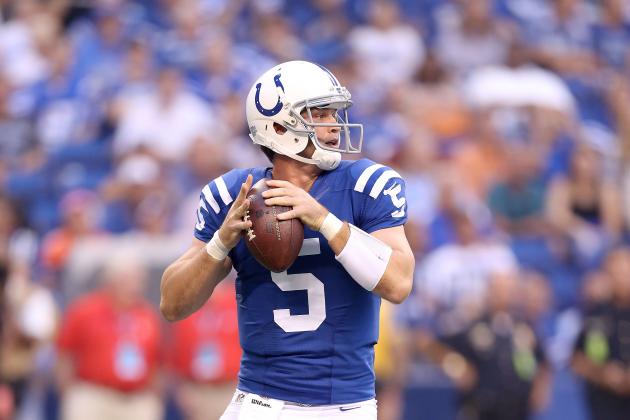 Andy Lyons/Getty Images

Since the Arizona Cardinals may miss out on Alex Smith, it appears that they may already have a Plan B in mind.
The Chicago Tribune's Dan Pompei reported Monday that there are rumblings that Drew Stanton, who was a backup with the Indianapolis Colts in 2012, could follow new head coach Bruce Arians to the desert.
At first glance, a five-year veteran with all of four career starts who hasn't thrown a pass in a regular-season game since 2010 may not sound like the answer to Arizona's terrible quarterback situation.
Stanton probably isn't.
However, should the Redbirds decide to dump Kevin Kolb's salary and draft a young quarterback, Stanton could spend at least part of the season as a "bridge" starter for the Cardinals.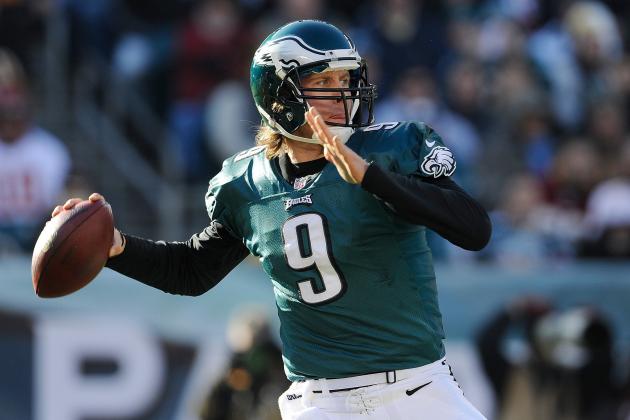 Patrick McDermott/Getty Images

It's hard to say whether Nick Foles being a starting quarterback in 2013 is a surprise or not. Late last season, it seemed a likelihood after then-head coach Andy Reid gave Michael Vick the hook.
It appeared that both Vick and Reid's time in Philly was coming to an end.
Well, Reid's gone, but Vick's still hanging around for at least one more year. The 32-year-old southpaw renegotiated his contract with the team, according to ESPN. At first glance, Vick's mobility would seem to give him an edge over Foles in new head coach Chip Kelly's spread-option offense.
However, should Vick have a bad camp or revert to his turnover-prone ways, Kelly may have little choice but to turn to Foles. At least until he can draft and groom a quarterback better suited to his offense.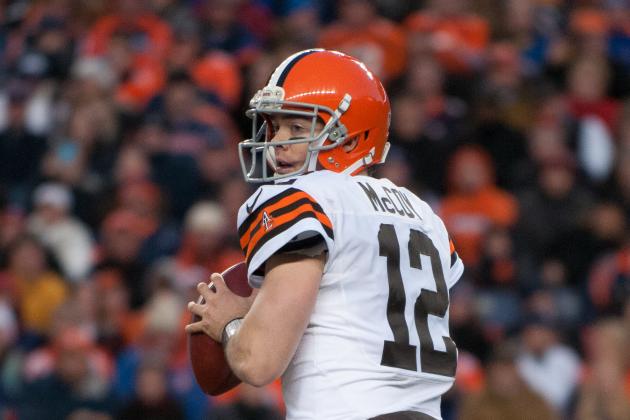 Dustin Bradford/Getty Images

We have now reached the part of this slideshow where we're talking long shots.
After the Cleveland Browns drafted Brandon Weeden last year, it looked like Colt McCoy's time as the starter in Cleveland was at an end. Sure enough, the three-year pro played sparingly in 2012.
However, as McCoy enters the last year of his contract, there's a new regime in Cleveland. New head coach Rob Chudzinski said in January, according to Pro Football Talk, that it would be "premature" to anoint Weeden the 2013 starter after an uneven rookie campaign.
Granted, it's unlikely that McCoy can win the starting job in camp. Chudzinski prefers a vertical passing attack, which hardly plays to McCoy's strengths.
Still, until the Browns add a quarterback, he at least has a shot.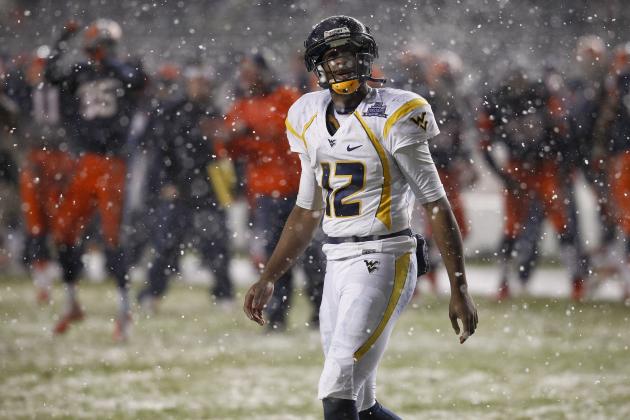 Jeff Zelevansky/Getty Images

It would be remiss of me to not include at least one rookie, even in a crop of passers as weak as this year's.
Odds are that more than one rookie will see substantial time under center in 2013, but I doubt that we'll see the sort on influx as there was in 2012, when five first-year quarterbacks began the year as starters.
Of this year's bunch, the one most likely to see the field early is Geno Smith of West Virginia. He had 4,205 yards passing and 42 touchdown passes for the Mountaineers in 2012.
In fact, if a team such as the Buffalo Bills, New York Jets or Arizona Cardinals drafts Smith, the bigger surprise might be if he isn't the starter on opening day.