10 College Football Teams Most Likely to Overachieve in 2013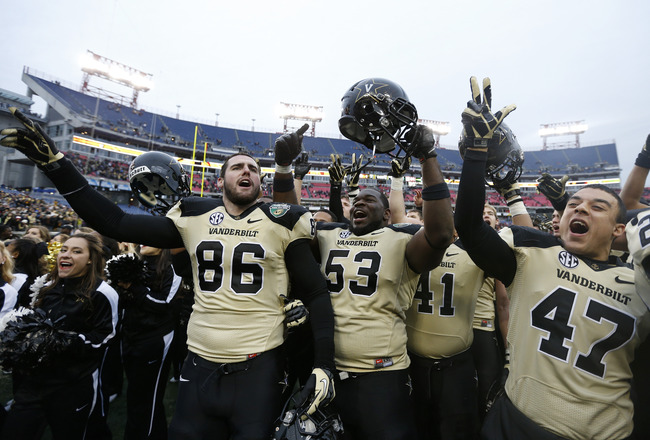 Joe Robbins/Getty Images
Some may like watching powerhouses like Alabama dominate, but there's nothing like an overachiever.
Who can't help but cheer when a team like Vanderbilt wins nine games? Or when Baylor produces a Heisman Trophy winner?
Everyone loves a Cinderella.
So, what teams are most likely to overachieve in 2013? Read on.
UCLA Bruins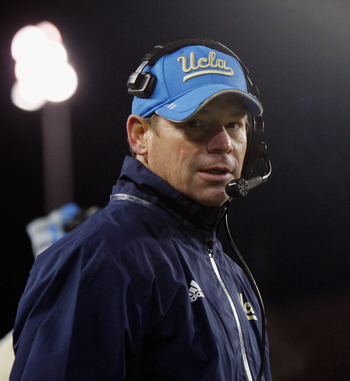 William Mancebo/Getty Images
Ladies and gentlemen, there's officially a power vacuum in the Pac-12 South.
And UCLA is my pick to fill it.
USC has fallen hard in the last year. It's going to take some time for that program to pull itself together after the disaster that was 2012.
Meanwhile, Jim Mora has UCLA playing with the big dogs in the Pac-12. After all, the Bruins almost took out Stanford in the Pac-12 Championship Game.
Watch out for the Bruins; they just might surprise you. Yes, they have to replace Johnathan Franklin, but they have a terrific sophomore QB in Brett Hundley.
Miami (FL) Hurricanes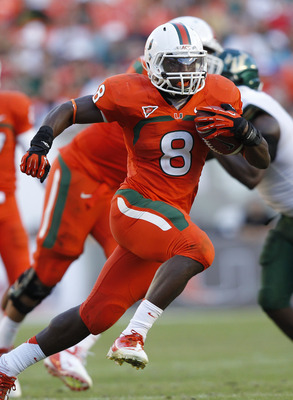 Joel Auerbach/Getty Images
Miami has been off the radar as far as football goes, as it's self-imposed a bowl ban for the past two seasons in hope that the NCAA won't come down as hard as it could due to the Nevin Shapiro scandal.
I wonder what the NCAA should do to itself for completely botching this investigation, but I digress.
The 'Canes have some good young talent in Duke Johnson, who had 2,068 all-purpose yards and 13 touchdowns his freshman season. Miami also returns senior QB Stephen Morris, who threw for 3,345 yards and 21 touchdowns in 2012.
The fact is that the ACC could be ripe for the taking. Virginia Tech has been one of the most dominant programs in the ACC Coastal Division, but it won only seven games last season. The Hokies need to find an identity on offense as Logan Thomas continues to struggle (18 touchdowns and 16 interceptions in 2012).
Besides, the Hurricanes get both Virginia Tech and Georgia Tech at home. They also have to travel to Florida State, but don't have to face Clemson.
If Miami can get to the ACC Championship Game, who knows what might happen?
Washington Huskies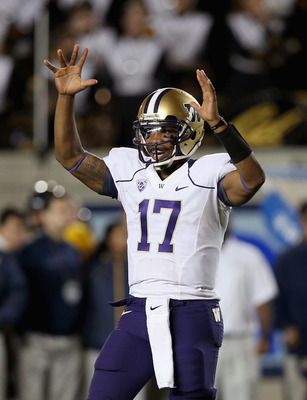 Ezra Shaw/Getty Images
Washington has been on the edge of doing something special for the past two seasons now. In 2011, the Huskies were held back by their dreadful defense giving up 36 points per game. In 2012, they got that number down to 24.2 points per game, but then their offense sputtered to produce as they averaged 24.0 points per game.
If it's not one thing, it's another.
2013 seems to be the year where the Huskies can put it all together if Keith Price can get some better protection in the pocket and regain some of the vibes he had in the 2011 Alamo Bowl. After all, the 2011 version of Price picked up 33 touchdowns on the year, while the 2012 edition threw only 19 touchdowns and 13 interceptions. He also took 37 sacks, which is a full 11 more than 2011.
Baylor Bears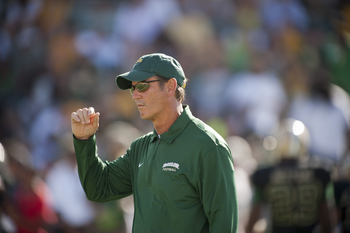 Cooper Neill/Getty Images
Baylor is the poster child for overachievement in recent years. Against all odds, it's produced a Heisman Trophy winner and is on a two-year bowl winning streak.
That's may not be impressive for Big 12 superpowers like Texas and Oklahoma, but it's a huge deal for the Bears.
Baylor has to replace a wildly successful quarterback, just like it did last season. That worked out just fine with Nick Florence replacing Robert Griffin III. It looks like Bryce Petty will get the nod as a starter, but nothing yet has been set in stone.
While some may worry about Petty's lack of experience, remember that Nick Florence only had 151 yards passing in 2011 before hitting 4,309 yards in 2012. Art Briles knows how to coach up a quarterback, and the Baylor system is built to be a scoring machine.
The Bears certainly don't get the recruits and funding that the Longhorns or Sooners do, but I believe they'll still do a lot better than they have any business doing.
Utah State Aggies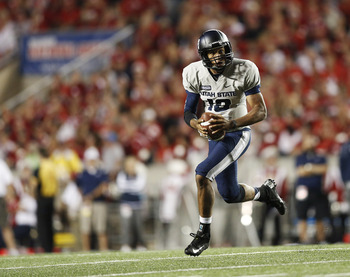 Tom Lynn/Getty Images
Gary Andersen may be gone to coach at Wisconsin, but wise teams in the Mountain West won't look past Utah State.
After all, Chuckie Keeton is coming back, and he's one of the best returning dual-threat quarterbacks in the country. Last season, he passed for 3,373 yards and ran for 619 more and a total of 35 touchdowns.
If Boise State had decided to really leave for the Big East, the Aggies might have been the favorite for the Mountain West title.
How about that for overachieving?
Central Florida Knights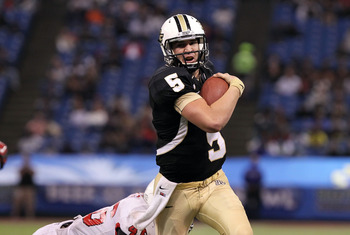 Kim Klement-USA TODAY Sports
Let's face it, the former C-USA teams the Big East brought in to replace recent defections are also C-USA quality.
In other words, mediocre.
But newcomer UCF just might compete for the Big East title and its automatic BCS bid. It won 10 games last season and returns quarterback Blake Bortles. Bortles had 3,059 yards and 25 touchdowns to just seven interceptions last season.
Get used to the idea of the Knights going to the Orange Bowl after winning nine or 10 games in 2013, because that just might happen. True, Louisville will be the favorite coming into 2013 after beating Florida in the Sugar Bowl, but crazy stuff can happen when you have new teams playing in a new conference.
Besides, even the better teams in the Big East are far from infallible, as Louisville lost to Syracuse and UConn and Rutgers lost to Kent State, Pitt and Virginia Tech. In a conference like this, it's definitely possible to see UCF stun everyone and claim that automatic bid.
Northwestern Wildcats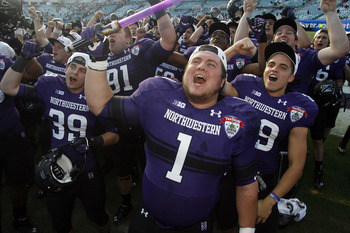 Phil Sears-USA TODAY Sports
According to ESPN's Adam Rittenberg, Ohio State is the early No. 1 in the Big Ten and Northwestern is No. 2.
Anyone ever thought that would happen?
Now, there's a big difference between being picked No. 2 in the conference and actually finishing that way. But the Wildcats have a lot of good young talent, like running back Venric Mark. He had 1,366 yards last season.
Also, all of these returning players now know for a fact that Northwestern can win a minimum of 10 games in a season. Any coach will tell you that getting your players to believe is at least half the battle.
BYU Cougars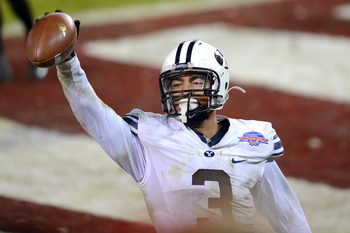 Jake Roth-USA TODAY Sports
When you think of BYU over the years, you think of great offense coupled with an OK defense.
That hasn't been the case the last three seasons. Last year in particular, BYU had a top five defense coupled with a mediocre-at-best offense.
In 2013, the defense is still expected to be strong. The unit will be led by Kyle Van Noy, who is returning for his senior year.
Now, BYU has brought back former offensive coordinator Robert Anae from Arizona. Even if Anae can't build a top-notch offense in a single season, a significant improvement over last season will lead to double-digit wins with the kind of defense the Cougars have.
That's still going to be a tall order with the schedule BYU has to face next year.
Vanderbilt Commodores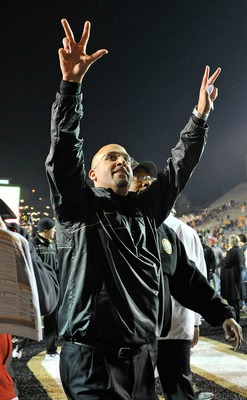 Frederick Breedon/Getty Images
James Franklin and Vanderbilt have already done some remarkable overachieving. They won nine games, a bowl game and even beat mighty Tennessee.
But I expect Franklin and the Commodores to raise the bar a bit more.
After all, while what Vandy did in 2012 was impressive, it also didn't beat big-time teams like Florida, Georgia or South Carolina. The 'Dores play all of these teams plus Texas A&M in 2013.
Don't be too surprised if the Commodores surprise one of these top-tier SEC squads. After all, they did have the No. 16 scoring defense in the country last season, and that could spell disaster on a team like Florida that has a struggling offense.
Also, they get Georgia at home, and the Bulldogs have been known to get tripped up away from home (*cough* South Carolina *cough*).
Oregon Ducks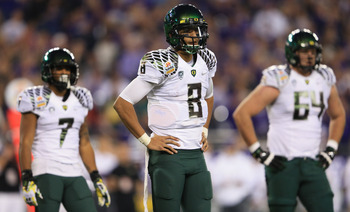 Doug Pensinger/Getty Images
It has been interesting to see how many people discount the Ducks now that Chip Kelly left for the NFL. Oregon was largely considered to be the most likely team to take down Alabama's reign before Kelly left. Now, it's taken a backseat to Stanford in the Pac-12 North in the minds of many, including ESPN.com's Mark Schlabach.
As good of a coach as Kelly is, may I remind everyone that a lot of people thought that Stanford would fall off the radar once Jim Harbaugh and then Andrew Luck left for the NFL. A Rose Bowl win later, it hasn't happened.
Besides, Oregon still has some of the most explosive offensive players in Marcus Mariota and De'Anthony Thomas. And the new head coach, Mark Helfrich, knows a thing or two about this offense, as he was the offensive coordinator here since 2009.
Just don't be surprised if Oregon does as well as people thought it would before Kelly left.
Keep Reading