5 Old Football Stadiums That Are Sorely Missed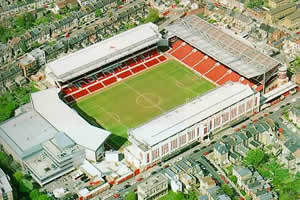 Image courtesy of fanzone.co.uk
In the modern day game of football, stadiums with atmosphere are becoming more rare by the day.
Modern stadiums just don't have the same feel as the ones older fans grew up going to, and it's a sign of the times.
Football is a business now, and it's about getting high attendance.
There are also a lot of commercial opportunities with corporate events, and the ability to host concerts now is a major factor in the world of football stadiums.
It's understandable that clubs want to make money, but for me, you just can't beat the feel of an old football stadium.
There's history and heritage behind them with some memorable moments attached to the ground.
Take Arsenal's old home Highbury as an example.
That's the ground where Arsenal clinched the 2003-04 Premier League title after going a whole season undefeated.
Just for fun, join me as we run down five old stadiums that I feel are sorely missed.
The five stadiums that we'll go through have been chosen in terms of their history and meaning to the individual clubs, or nations, who played their games there, and will be in order of their importance as I see it.
Bear in mind that these are just my opinion, so feel free to leave your own suggestions or memories of these grounds below.
Begin Slideshow

»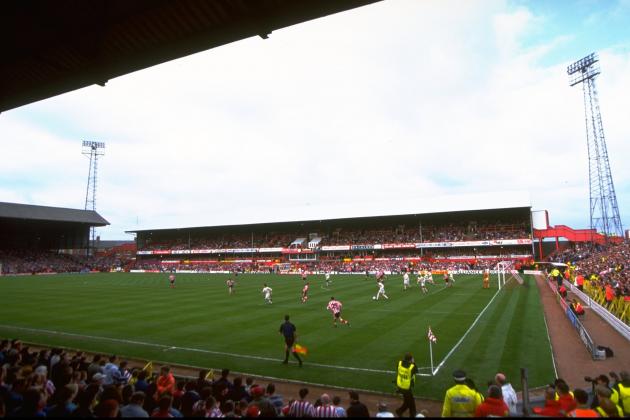 Gary M. Prior/Getty Images
Roker Park was Sunderland's home for 100 years
Sunderland's old stadium, Roker Park, was their home for 100 years from 1897-1997.
In the late 1920's and early 1930's, Sunderland was attracting crowds between 60,000 and 75,000.
The record attendance at Roker Park came when Sunderland and Derby County played in an FA Cup match in March 1933, which was watched by an astonishing 75,118 people.
Improvements were steadily made to the ground throughout the 20th century.
Not a lot of people know that Roker Park was only the second ground in England, apart from Highbury, to have floodlights installed on site.
As Sunderland's problems on the pitch got worse - they spent a season in the old Third Division in the 1980s - the stadium suffered as well.
Housing schemes were built in the surrounding area, which limited Sunderland's ability to expand and upgrade the stadium.
Although Roker Park only saw action for one Premier League campaign - the 1996-97 season - a lot of older Sunderland fans will have fond memories of the times they enjoyed there.
The last memory of Roker Park saw Sunderland win 3-0 against Everton, and even though they had been relegated by that time, the ground got a fitting farewell.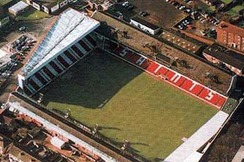 Image courtesy of premierfootballbooks.co.uk
Much like Sunderland's Roker Park, Southampton's old home, The Dell, was built at the end of the 19th century and was the club's home for just over 100 years.
Renowned for its proximity to the pitch and the passionate support given to the home team by their fans, The Dell was never an easy place to go for a visiting team.
The ground was redeveloped a couple of times in the 1920s, which eventually increased the capacity to around 30,000.
After the end of World War Two, Saints were attracting huge crowds and the record attendance at The Dell was set on October 8,1969, when they lost 3-0 to an inspired Manchester United side.
Toward the end of the 20th century, The Dell had gone through several enforced changes, which made it the smallest stadium in the English Premier League.
When it was announced that Southampton would move to a new purpose built stadium in 2001 during the summer of 1999, it marked the beginning of the end for The Dell.
The Dell played host to some great occasions for Southampton fans during its lifetime, including their famous FA Cup run, and win, in 1976.
Perhaps fittingly, one of Southampton's greatest ever players, Matt Le Tissier, scored the last ever competitive goal at the stadium to earn Southampton a 3-2 victory over Arsenal.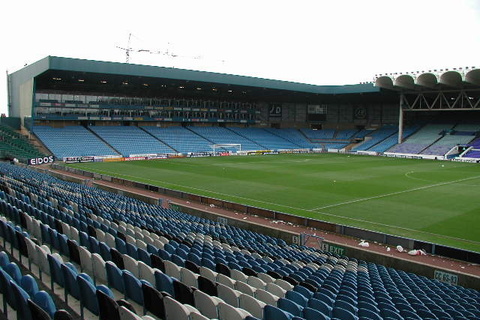 Image courtesy of fussballtempel.net
Before moving to the gargantuan Etihad Stadium in 2003, Manchester City played their home games at Maine Road for 80 years.
It was built in the 1920s when City moved from their old ground at Hyde Road.
Maine Road proudly holds a record that hasn't been broken to this day.
On March 3, 1934, 84,569 fans piled in to Maine Road to watch an FA Cup tie between Manchester City and Stoke City, which the home side won 1-0.
The records kept tumbling at Maine Road though.
After Old Trafford suffered damage during World War Two, Manchester United actually shared their rivals' ground for a period of time!
In a league match at Maine Road between Manchester United and Arsenal on January 17, 1948, the record attendance for a league game at the stadium was broken as 83,260 fans watched the red half of Manchester take on Arsenal.
To this day, that's still a national record for a league game in England.
In the 1990s, City had planned to redevelop the ground, which would have increased the capacity to around 45,000, but those plans were shelved as City tumbled down the English leagues.
They eventually decided to move to the City of Manchester Stadium early in the 21st century, which is now known as the Etihad Stadium.
The final game at Maine Road saw City lose 1-0 to Southampton in front of a crowd of 34,957.
A poignant fact about the last goal City scored at Maine Road was that it was scored by the late Marc-Vivien Foe, who tragically died 45 days later whilst representing Cameroon.
In an article published in the Daily Mail newspaper in 2008, the author said that Maine Road:
will always be one of English football's legendary grounds
I doubt that any Manchester City fan would disagree with that statement.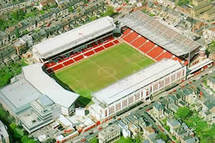 Image courtesy of fanzone.co.uk
Highbury was one of the best grounds in recent memory when it came to atmosphere.
Whether it was league games, cup competitions or European nights, there always seemed to be something special going on.
Arsenal played their home games there for almost 93 years before moving to the purpose built Emirates Stadium in 2006.
It might just be me that feels this way, but there doesn't seem to be the same atmosphere at the Emirates.
Highbury felt special.
There was a sense of occasion about the place.
The record attendance at the ground came during a First Division game between Arsenal and Sunderland on March 9.1935, when 73,295 people went to the match.
They probably regretted it afterward, considering the game finished 0-0.
In the 1990s, following the publication of the Taylor report after the Hillsborough disaster of 1989, Highbury's capacity was limited to just over 38,000.
Due to the location of the ground, and the housing developments around it, Arsenal couldn't redevelop the stadium.
Every cloud has a silver lining though, and the fact they couldn't upgrade the ground meant that virtually every home game was a sell-out!
The decision was made to move to the Emirates in the early 21st century and in the final match, the club's all-time leading goalscorer, Thierry Henry, scored a hat-trick as Arsenal beat Wigan 4-2.
Arsenal fans will have fond memories of the success they had at Highbury, especially given how the club has won nothing since the FA Cup in 2005.
It was a ground with character and heritage, something that stadiums today are sorely lacking.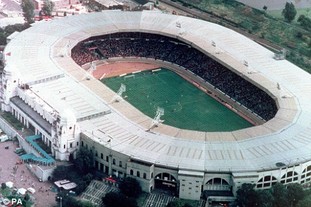 Image courtesy of dailymail.co.uk
There's no other stadium I could end this list with other than the old Wembley stadium.
Words that come to mind are pomp, circumstance, grandeur, atmosphere and history.
They're all words that could be used to describe how it felt when you watched a match, either live or on TV, from the old Wembley.
It felt special, different and unique.
Maybe it was because there was an athletics track around the pitch, or because it was the home of the English national team.
That's open to debate, but what the old Wembley gave to me was a sense of occasion and importance.
Every game that was played had a big match feel to it, regardless of who was playing.
The last competitive goal England scored at Wembley came from Tony Adams in May 2000.
It wasn't just football matches that took place there.
Some of the best musicians in the world took pride in playing at Wembley, and that's where Live Aid was held in 1985.
The new Wembley is a fantastic stadium, but it just doesn't feel like Wembley any more.
It feels like any other purpose built stadium across the country, or anywhere else in the world.
It doesn't stand out like it's predecessor did.
The old Wembley will always be a special place, even though there's little or no trace of it any more, and it's sorely missed by football fans around the world to this day.