Panthers Mock Draft: Who Are the Experts Projecting to Carolina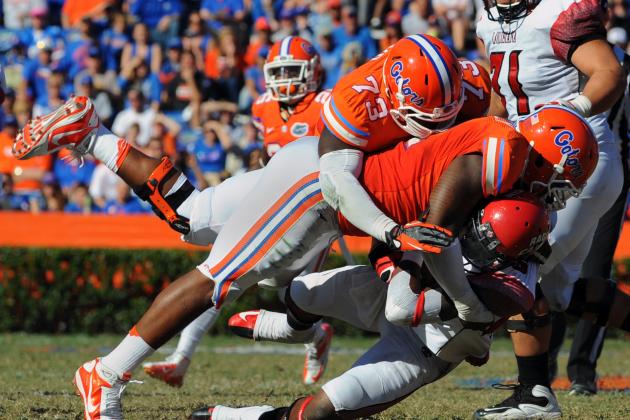 Al Messerschmidt/Getty Images

With the 2012 season in the rearview mirror, the buzz around the NFL has shifted to the draft process, meaning mock drafts are all the rage across the internet.
Organizations around the league have two opportunities to improve their team, with free agency and the draft being integral processes in team development.
While the Carolina Panthers should be active in free agency, their draft efforts will decide how successful the franchise will be moving forward.
With their last two first round picks, the Panthers have selected a franchise cornerstone on both sides of the ball.
In 2011, Carolina drafted their quarterback in the future in Cam Newton. During his rookie season, Newton set the NFL ablaze on the way to winning Offensive Rookie of the Year award.
In 2012, the Panthers nabbed linebacker Luke Kuechly with the ninth overall selection and were not disappointed. In fact, Kuechly led the entire league in tackles and was crowned as Defensive Rookie of the Year.
Entering this year's draft, the Panthers have needs along the offensive line, at defensive tackle and in the secondary.
We will be viewing the mock drafts' of five experts, as the mocks of Mel Kiper, Matt Miller, Rob Rang, Todd McShay and Dane Brugler will be analyzed.
This offseason is about building a playoff team in 2013, which means the players the Panthers draft must be able to make an immediate impact.
Begin Slideshow

»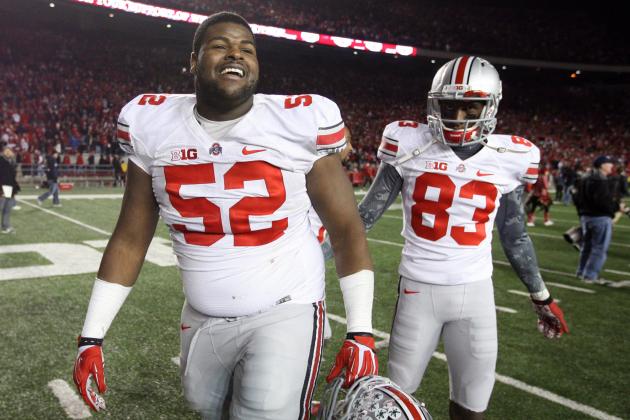 Mary Langenfeld-USA TODAY Sports
Hankins is on the left.
Rang's selection: Johnathan Hankins, DT, Ohio State University
Whomever the Carolina Panthers hire to replace fired general manager Marty Hurney could have his work cut out for him. One of the Panthers' few bright spots this season has been the play of defensive ends Charles Johnson and Greg Hardy. Carolina's defensive tackles could use an upgrade and Hankins is viewed by some as a potential top-10 talent.
Fenech's Take:
While the Panthers need an upgrade at defensive tackle, taking Jonathan Hankins with the 14th overall selection would be a mistake in my opinion.
Hankins has the size to be a gap-clogger in the middle but struggles to penetrate on the interior of the defensive line.
In Rangs' mock, the likes of Sharrif Floyd and John Jenkins are both still available. At this step in the process, both project to be better NFL players in my eyes.
Floyd is a great athlete on the defensive line, which grants him a level of versatility that Hankins will never be able to match.
At 6'2", 358 pounds Jenkins is an immovable force inside and is a better gap-clogger than Hankins. Neither rusher is going to dominate while rushing the passer, so it makes sense to take the better run defender, which is Jenkins.
Luckily for the Panthers, there should be a couple quality defensive tackles on the board when it's their turn to make a selection.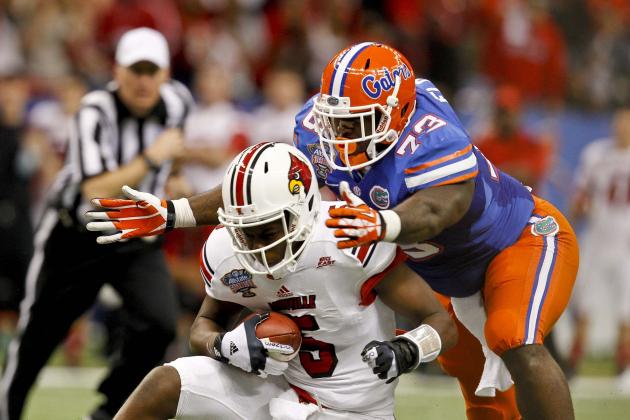 USA Today Sports

McShay's selection: Sharrif Floyd, DT, Florida
Carolina is much stronger versus the pass than the run, and the team hasn't used a first- or second-round pick on a defensive tackle since taking Kris Jenkins in the first round in 2001. Floyd made huge improvements in terms of hand use and strength, and he also brings versatility and playmaking ability to the table. The arrow is pointing up in a big way for Floyd, who I recently moved up to the No. 7 overall spot on my board.
Fenech's Take:
Todd McShay is very high on Floyd and for good reason.
Floyd moved around along the defensive line while at Florida, which adds to his value. At the NFL level, Floyd will play defensive tackle and would look awfully good in a Panthers uniform.
The Panthers were able to generate a decent pass rush last season, while the run defense was gashed consistently. Bringing in Floyd would help on both fronts, as he has the strength to be a factor in the run game and the burst to rush the passer well.
Lined up next to Charles Johnson and Greg Hardy, Floyd could quickly establish himself as one of the frontrunner's for Defensive Rookie of the Year once next season kicks off.
Floyd has a very high ceiling but should be able to make an immediate impact, which makes him a can't miss player at the No. 14 spot if he's still on the board.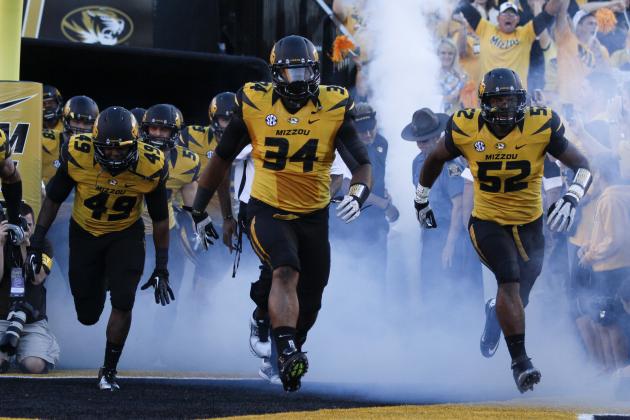 Ed Zurga/Getty Images
Richardson is No. 34.
Mel Kiper's selection: Sheldon Richardson, DT, Missouri
With Luke Kuechly in place to shore up the linebacking corps, the Panthers should be looking up front; they need a talent upgrade on the defensive line. Richardson is just incredibly active, piling up tackles at a position where that's not easy to do. He's quick off the snap, shows great strength in short-yardage situations and uses his hands to get off blocks and make plays. The guy can even drop into coverage and will destroy screens. If Patterson is here, that's an option, and this could be a reach spot for a guy like Keenan Allen, but they should be thrilled with an impact DT.
Fenech's Take:
Sheldon Richardson had a very good season in Missouri's first season in the SEC, which will certainly help the young defensive tackle's draft stock.
However, Richardson's true value is derived from his versatility. The guy can literally do anything, from rushing the passer to breaking up screens.
During his time at Mizzou, Richardson flashed power and great burst, which gives him a chance to be very disruptive at the next level.
Some have criticized Richardson for his lack of elite size, but he jumps out at you on film and deserves to be picked in the first half of the first round.
Richardson would be a good fit in Carolina, so hopefully he's still on the board when the Panthers are on the clock for the first time.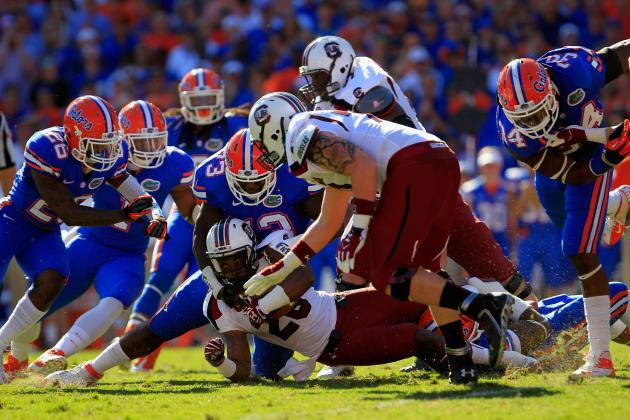 Chris Trotman/Getty Images

Dane Brugler's Selection: Sharrif Floyd, DT, Florida
The interior of the Panthers' defensive line has been a question mark since Kris Jenkins left in 2007 and, ironically, Carolina hasn't invested a top-50 draft pick on a defensive tackle since Jenkins over a decade ago. Floyd is an athletic, fiery player who is stillf developing in several areas, but his pro potential is off-the-charts.
Fenech's Take:
Brugler agrees with Todd McShay, and I'm on board as well. I think selecting Floyd would be nothing short of an excellent decision.
He will be able to contribute on the interior of the defensive line on day one but has the potential to develop into one of the league's most disruptive defensive tackles.
The time Floyd spent in the SEC will help his transition to the quicker NFL game, which only continues to build the case as to why he's the best pick.
Scott Cunningham/Getty Images

Matt Miller's Selection: Jarvis Jones, OLB, Georgia
Jones has a condition known as spinal stenosis, and it was bad enough that USC wasn't comfortable with him playing football for them. Jones transferred to Georgia, where he had two brilliant seasons, but NFL teams are still shy about spending a high pick on a player with a neck problem.

Jones is also a bit undersized. Where do you line up a 6'2", 240-pound rush 'backer? The smart money is on Jones starting his career as an outside linebacker, similar to Von Miller in that regard. If anyone can get production out of him, it'll be Ron Rivera.
Fenech's Take:
While the Panthers don't necessarily need another pass rusher, if Jarvis Jones slips all the way to No. 14, the team should select him.
Jones is most compared to Von Miller, who just so happens to be a game-changing player every Sunday for the Denver Broncos.
Despite missing two games, Jones led the country in sacks during his final season at Georgia.. He has a devastating first step and just knows how to effectively rush the passer.
In a division that includes Matt Ryan and Drew Brees, it's impossible to have too many dangerous pass-rushers.