It might be hard for hockey fans to believe, but the NHL season is already at the quarter pole. After an extended lockout that trimmed the season from 82 to 48 games, the season is flying by due to the compressed schedule and the rumor mill is starting to get busy.
Teams around the league are being forced to make snap decisions about whether to make a run this season or look toward the future. The schedule doesn't let up between now and season's end, so the longer a general manager waits the tougher it will be for new players to make an impact.
With that in mind, let's examine some of the latest rumors to make the rounds. Things have remained relatively quiet on the trade front so far, but things should begin to pick up once the first major chip falls.
Christian Petersen/Getty Images
Ryan Getzlaf
Getzlaf is coming off a down season in which he scored just 11 goals. It came three years after he tallied 25 goals and 91 points in 81 games to establish himself as one of the league's top young centers. Now the Anaheim Ducks need to figure out if he's truly an elite option.
The 27-year-old center is scheduled to become an unrestricted free agent at season's end. When you combine his talent with the fact free agency is looming, it's a recipe for trade talk. Bruce Garrioch of the Ottawa Sun reports there's a better chance Corey Perry gets moved and Getzlaf stays.
Having two marquee players on the verge of hitting the market isn't ideal for the Ducks and will force them to make some decisions. If Getzlaf becomes available there will be a huge market for him due to the need for centers across the NHL.
What do you expect from the trade market in a short season?
Ryan O'Reilly
One season after putting up 55 points, a career-high total, in 81 games for the Colorado Avalanche, O'Reilly is still waiting for a chance to back up that performance. The two sides still haven't been able to reach a contract agreement.
Adrian Dater of the Denver Post states that sources close to the 22-year-old center believe the team will trade him in the near future. The arbitration situation is listed as another reason the parties haven't been able to find even a short-term solution.
It's a situation that become more convoluted with each passing day. O'Reilly is one of the NHL's most promising forwards, but he continues to sit out. He has plenty of trade value, but it's hard to imagine Colorado giving up on such a talented player so early in his career. The standoff could last awhile.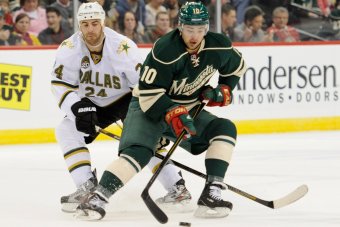 Hannah Foslien/Getty Images
Devin Setoguchi
Setoguchi scored 31 goals and dished out 34 assists during the 2008-09 season for the San Jose Sharks. He hasn't come anywhere close to those numbers since and is off to a slow start for the Minnesota Wild with four points in 12 games.
Now there's talk he could be on the move. The previously mentioned Garrioch reports the winger is one player being discussed as the Wild attempt to shake things up after a slow start. The underperforming Setoguchi is one reason for those struggles.
It's unclear what type of value he would have on the trade market, but that 65-point season still stands out as an example of his peak potential. It makes him an intriguing buy-low candidate if the Wild do decide to make a move.