New Jersey Devils: First Quarter Team Report Card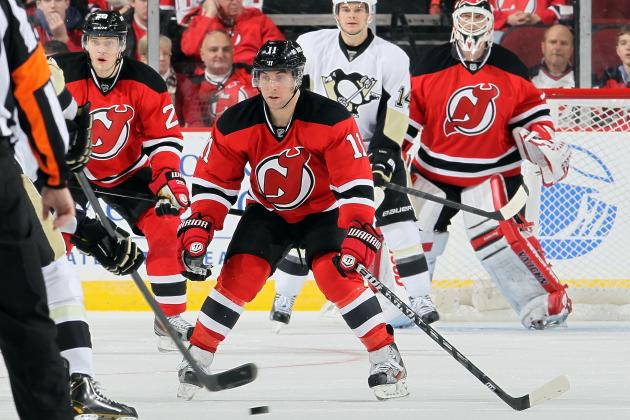 Jim McIsaac/Getty Images

It's hard to believe, but the New Jersey Devils are already a quarter of the way through the lockout-shortened 48-game schedule.
The team has gotten off to a blazing start—the best in franchise history—riding a record of 8-1-3 to the top of the Eastern Conference. They are undefeated at home (5-0-1) and have won their last five games. For fans, it's hard to complain.
Though it's only been a dozen games, players have already had ample time to show what they plan to do this season. More than a couple of Devils have emerged as exciting surprises, some have maintained the high level of play expected of them and a few have disappointed and fizzled out.
Every player has done something—good or bad, and this is a report card for the first quarter of the 2013 season.
One important reminder first: these grades are based on each player's performance this season as compared to reasonable expectations for that player. If a rookie and Ilya Kovalchuk put up the same numbers, the rookie's going to get a significantly higher grade than the 50-goal scorer.
All uncited numbers were obtained via NHL.com and Hockey-Reference.com.
Begin Slideshow

»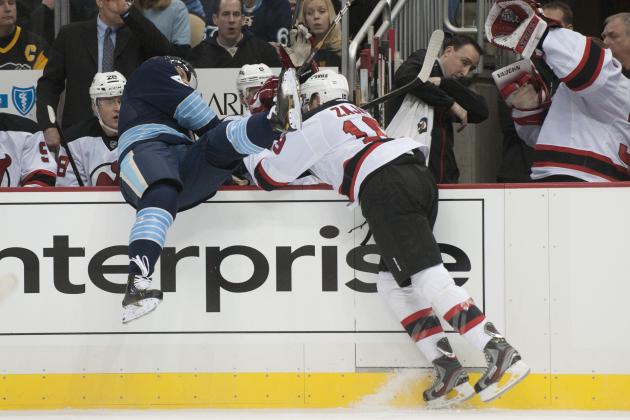 Vincent Pugliese/Getty Images

Grade: C+
2013 Stats: 2 goals, 1 assist, +5
As a top-line center, Travis Zajac is definitely not meeting standards. After scoring in each of the first two games of the season, Zajac has been held to just one point since then, despite playing a career-high 21:28 per game.
With that said, Zajac has been playing well in some regards. He has remained the Devils' top faceoff man, sporting a 58.7 win-percentage. He's also second on the team in takeaways, with nine.
And while his scoring is certainly lackluster, Zajac is playing as much as nearly any forward in the league, and his plus-five rating would suggest he's helping his team a good deal.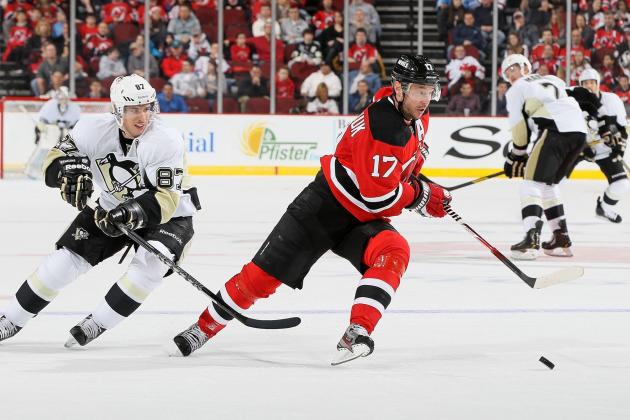 Jim McIsaac/Getty Images

Grade: A-
Stats: 4 goals, 6 assists, +5
It's amazing to look at the player Ilya Kovalchuk has become, considering where he started when he came to the Devils.
Kovy has blossomed into an all-situations skater: He's leading all forwards in the league, averaging 26 minutes of playing time a game. He plays more than two minutes per game shorthanded and more than six and a half minutes man-up.
The two main developments in his game have come in his willingness to pass rather than shoot in his two-way play. These changes have left Kovy not just as an offensive threat, but as a dangerous skater no matter where is he on the ice.
Though he only has four goals thus far, he's made them count: two have been shorthanded—both of them beautiful—and two have been game-winners (one in overtime). He's put 41 pucks on net, and possibly most impressive, he's got a plus-minus that's positive—something he's only ever accomplished in 2009-10, when he went plus-nine.
Expectations are always going to be high for a forward who is being paid as much and who plays as much as Kovlachuk. But the Devils have got to be happy that they have the star signed on for more than a decade when they see the way he's been skating—especially recently: In the last three games, he's played more than 76 minutes, scored two goals and added three assists.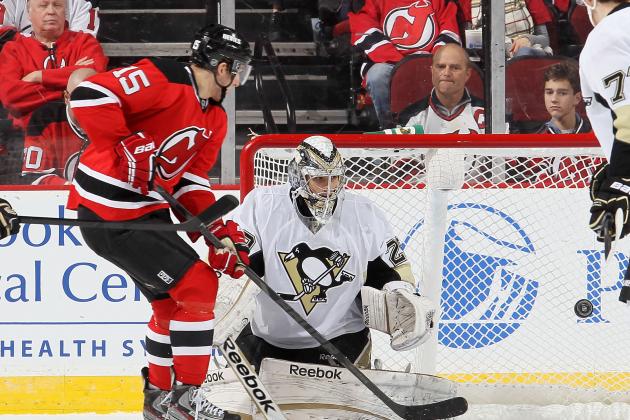 Jim McIsaac/Getty Images

Grade: B
Stats: 1 goal, 1 assist, +3
Stefan Matteau was drafted with the penultimate pick of the first round of last year's NHL draft. Only 18, Matteau was expected to need some time to develop before making the jump to the big leagues.
Or not. Though he did not do too much in the first quarter of the season, management deemed his play good enough to keep him in the majors. He's currently playing the other wing on a line with Kovalchuk and Zajac, and he's starting to look comfortable there.
Matteau scored his first career goal two games ago against the Pittsburgh Penguins. He followed it up the next day with an assist. In that game, he also played a season-high 13:57.
The kid is a long way off from being a star, but he's shown a lot of potential in his time with the team. He's seventh on the team in hits with 13 and also has a blocked shot and two takeaways this season. If he continues to get playing time—especially on the talented top line—this rookie could begin looking like a very good option to have out on the ice.
Jim McIsaac/Getty Images

Grade: B+
Stats: 4 goals, 2 assists, +3
Adam Henrique missed the first five games of the season, but boy has he returned strong.
In seven games, Henrique has four goals—one game-winner—and two assists. Playing on the second line with Patrik Elias and David Clarkson, he is quarterbacking the team's best line right now.
It's still early days for Henrique, and he hasn't been perfect—since returning, he's had a lowly 41.5 faceoff-win percentage—but he's showing a lot of what made him a finalist for the Calder Trophy last season. His four goals have come on just ten shots, he's already compiled a nice plus-three rating, and despite not being too big, he's also earned six hits and three blocked shots.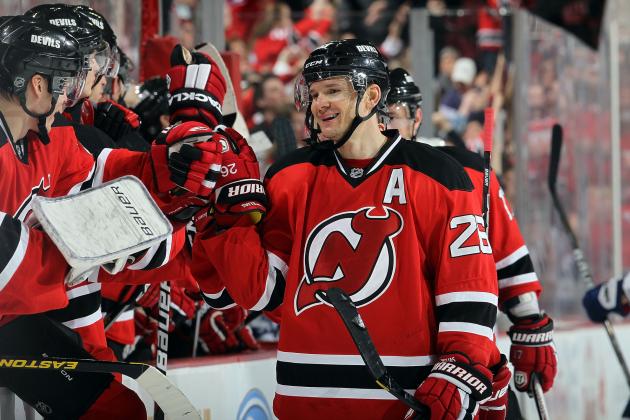 Jim McIsaac/Getty Images

Grade: A
Stats: 3 goals, 11 assists, +7
Patrik Elias is doing exactly what he's been doing since he started playing for the Devils in the '90s. The Czech winger has been one of hockey's more consistent players during that stretch, and that hasn't changed this season: Elias is second on the team with 14 points, including three goals—two of them on the power play.
He's tied for eighth in the league with 11 assists and fifteenth in the league with his plus-seven rating. Coming off a season where he compiled 78 points in 81 games, Elias appears once again poised to be a key piece of the Devils' offense.
He's also as solid a two-way player as the Devils have: His plus-seven rating leads the team, as do his 13 takeaways.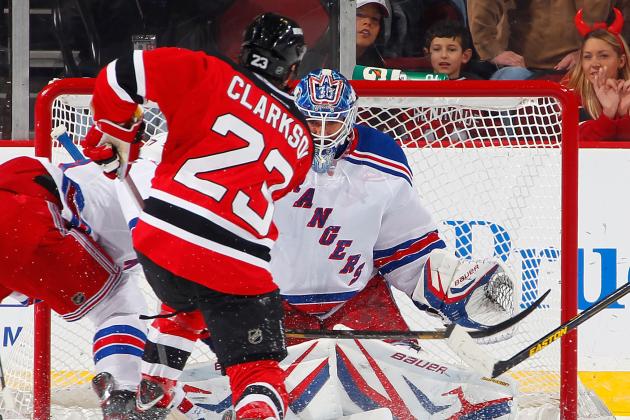 Paul Bereswill/Getty Images

Grade: A+
Stats: 9 goals, 6 assists, +4
On a team full of pleasant surprises, David Clarkson has been by far the most exciting.
The skater once only known as an agitator and a thug has raced out of the gates with nine goals, good for a tie for second in the league.
Clarkson had the great offensive season last year that fans had been hoping for from him, notching 30 goals for the first time in his career. But he's following it up with an even stronger performance now.
Clarkson leads the team in points (15), shots (50) and goals. He has five power play goals already, along with two game-winning goals. It's good to see that he also hasn't lost his physical edge, leading the Devils with 22 hits.
The Toronto native is almost certainly going to slow down at some point—nobody expects him to finish a shortened season with 36 goals. But the fact that he has risen into an elite scoring role in the absence of Zach Parise has been huge and is a large reason why the Devils stand where they do in the conference.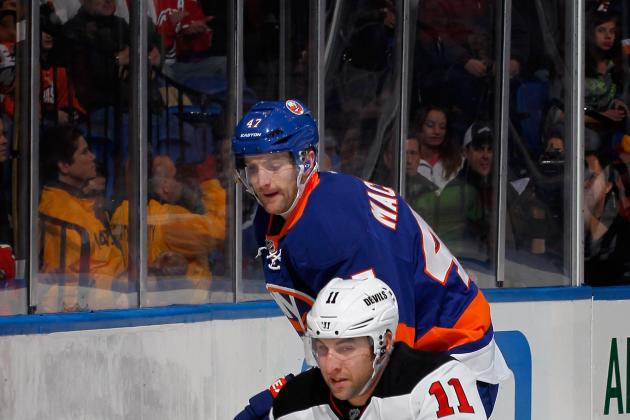 Andy Marlin/Getty Images

Grade: B
Stats: 1 goal, 4 assists, +1
Stephen Gionta rose to prominence alongside his linemates during last year's playoff run. On the fourth line, Ryan Carter, Steve Bernier and him mixed physical play with good backchecking and some surprise offense as well. All three were re-signed during the offseason, and they were promoted to the third line to start this season.
So far, Gionta has really been great. He came into this season with just 13 regular-season games under his belt, with only one goal in that time. In the 12 games this season, he's doubled his scoring total while also accruing the first four assists of his regular-season career.
On the other end of the ice, Brian's little brother is contributing just as much: He's second on the team with 18 hits and third on the team with eight takeaways.
He's far from star-quality, but Gionta has quickly become a very reliable, consistent, NHL-caliber role player.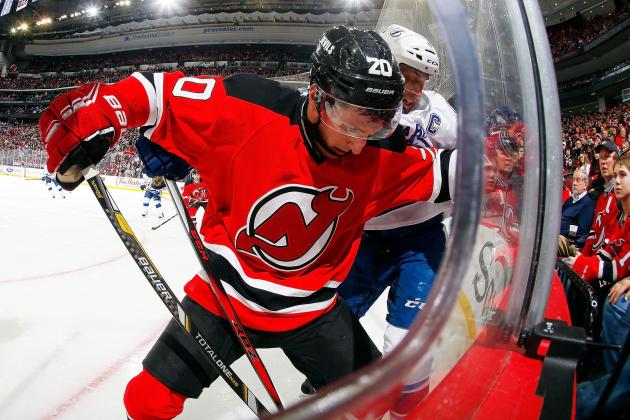 Jim McIsaac/Getty Images

Grade: C-
Stats: 1 goal, 3 assists, -1
Ryan Carter plays on the checking line, so his offensive production—while unimpressive—isn't too far below what one would expect, and he's managed 13 shots. His minus-one rating isn't too encouraging though, considering how much of the team is plus.
Unfortunately, Carter hasn't done too much defensively either. He has nine hits, three blocked shots and two takeaways this season, but paired with just four points and a negative rating, it's not entirely clear what Carter does on the roster besides taking up space.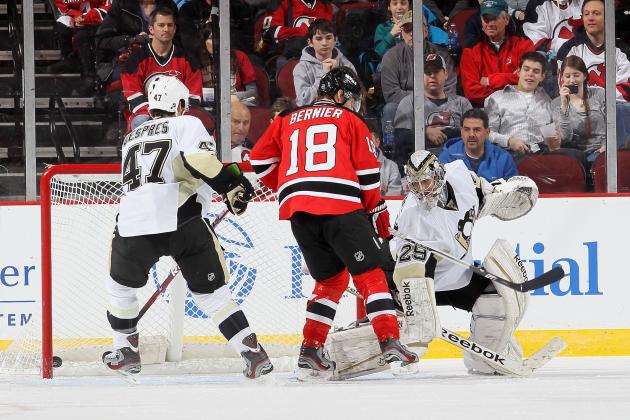 Jim McIsaac/Getty Images

Grade: C
Stats: 3 goals, 0 assists, +0
Through 12 games, Bernier has just three goals, and two of them came in the same game. Granted, it was a strong game: He registered a power play goal and the game-winning goal against the Islanders on February 3.
Outside of that game though, Bernier has just one point, a minus-one rating and 10 shots.
New Jersey's coaches must be happy with something they're seeing though, as Bernier has started getting regular time on the second power-play unit. It remains to be seen if he can be productive in that position.
On the defensive end, Bernier has been a bit more impressive than Carter: He's amassed 12 hits, blocked five shots and earned two takeaways.
Paul Bereswill/Getty Images

Grade: C-
Stats: 1 goals, 3 assists, -1
Dainius Zubrus is in a tough position: He started out the season as a top-six forward but put up his usual lackluster stats in that time. He's proven before that he can be somewhat solid and reliable, but he rarely exceeds expectations.
His goal and three assists aren't too impressive, but they're something. Zubrus also added 14 hits and seven blocked shots while he was playing. Unfortunately, an injury has kept him off the roster for a few games now, and his absence is actually what created the opportunity for Matteau to play more.
Zubrus's injury is very uncertain right now, but between his unimpressive production and the fact that the Devils may have already found a suitable replacement for the position, he may not end up proving too important to the team even once he is able to play again.
Elsa/Getty Images

Grade: F
Stats: 0 goals, 1 assist, -6
Jacob Josefson was the Devils' first-round pick in 2009. He's shown flashes of great ability in the past couple years, but his playing time has also been limited due to multiple serious injuries.
Starting the season healthy, it was a good chance for Josefson to prove what he's capable of. Unfortunately, the young Swede is instead showing what he's not capable of: He has just one assist and a team-worst minus-six rating after playing in all twelve games.
There were rumblings early on that Josefson could be a player packaged in a trade at the deadline, but at this point, Josefson hurts his trade value with every game he plays.
To be fair, Josefson hasn't done nothing.
Along with his lone point, he's managed four blocked-shots, six hits and six takeaways. But that just isn't enough for a player trying to prove he can hack it in the big leagues. Josefson's time in New Jersey may be running out, as it's hard to believe he won't either be traded or sent down to Albany at some point soon.
Jim McIsaac/Getty Images

Grade: D+
Stats: 0 goals, 0 assists, -2
This is a tough grade.
Krys Barch has done just about nothing with the Devils so far. He has no points, only one shot, a minus-two rating and no takeaways. He's playing just over five minutes per game, and much of that time is just spent intimidating the opponent.
And that's the real problem with Barch: The Devils don't want him because he's good at hockey. For the record, he's not! Barch has 31 points in 319 career games. He is on the team because he is good at hitting people in the face and good at being hit in the face. That is all.
And Barch has been doing a lot of that. He has 11 hits and leads the Devils with 24 PIM. The only thing keeping Barch from a failing grade is that no one would realistically ask much of him anyway, so it's hard for him to disappoint.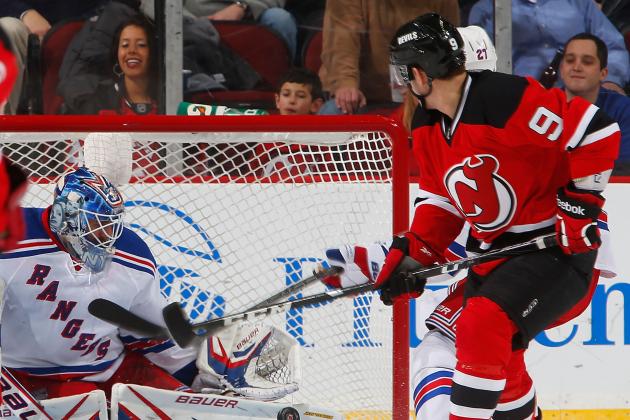 Paul Bereswill/Getty Images

Grade: B-
Stats: 1 goal, 1 assist, +0
Bobby Butler was signed during the offseason. Once a top prospect in Ottawa, Butler fizzled out after failing to make too much of his chances with the team. However, the kid has certainly got talent.
During the lockout, Butler led the Albany Devils with 15 goals. He's got a nice, accurate shot and a pretty good head for the game, though he's still exceedingly rough around the edges.
Butler has played minimally so far: In five games of under nine minutes of play, he has a goal and an assist to go with five shots and no plus/minus rating. The one game where he's shown off though, he looked very good.
Against the Penguins, Butler twice beat Marc-Andre Fleury on the power play. His first shot rang off the post, but the rebound went straight to Adam Henrique, who netted the puck. His next shot, though, went right by Fleury and into the net for his first goal as a Devil.
His career as a Devil has only just begun, but Butler has looked promising in the limited time he's had.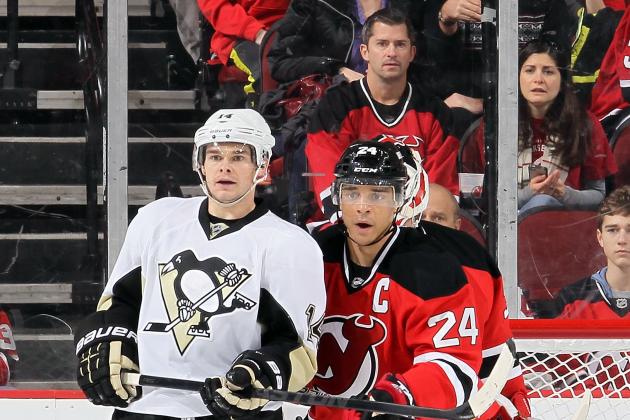 Jim McIsaac/Getty Images

Grade: C-
Stats: 0 goals, 1 assist, -1
The newest captain of the New Jersey Devils, Bryce Salvador has never been a particularly impressive defenseman. He's generally a stay-at-home d-man, and his offensive skill is definitely limited.
Even considering that though, his year has not been too impressive.
Salvador has just the one point and a minus rating through twelve games, but he does lead the Devils in blocked shots, with 31. He also has 14 hits this year. However, he plays more minutes than any other defender, so he should have the best defensive numbers. So far, Salvador has at best met expectations, but even that's a stretch.
No one is expecting Salvador to become a star, but it would be nice if he could impose his will on the game a little more effectively. Or, at the very least, start hitting a little more.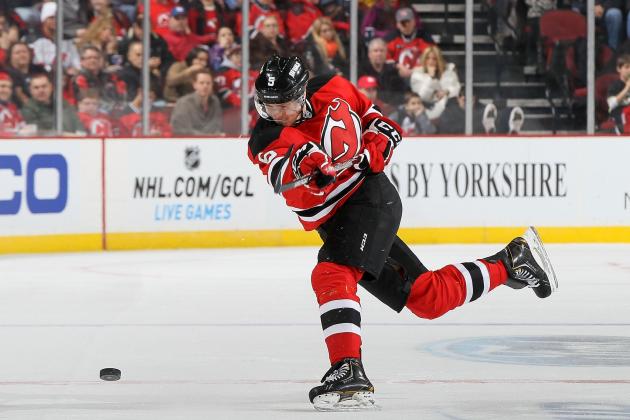 Jim McIsaac/Getty Images

Grade: B+
Stats: 2 goals, 6 assists, +6
Andy Greene has arguably been the Devils' best defenseman so far this season. The undrafted Michigan-native has two goals—one shorthanded and one power-play—and six assists to go with a strong plus-six rating.
After largely being overshadowed last season by new arrival Marek Zidlicky, Greene has returned to his role as offensive defenseman and is looking about as good as he ever has.
Defensively, Greene is playing just as well: he has 10 hits, 21 blocked-shots and seven takeaways. Playing more than 22 minutes per game, Greene is showing that he can be leaned on as a top-line d-man and that he's capable of thriving in that role.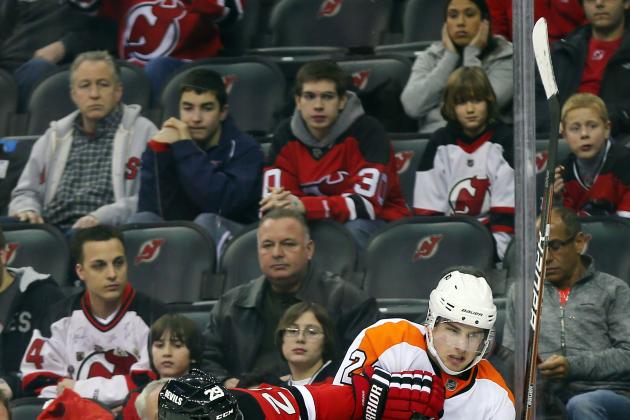 Elsa/Getty Images

Grade: C-
Stats: 0 goals, 2 assists, +1
Mark Fayne has had a pretty quiet season. Along with just two assists and an insignificant plus-one rating, he's added only five hits and fourteen blocked shots on the other end of the ice.
Fayne hasn't ever been a top-line defender, but his lackluster play of late has really made him fade away into the scenery. At this point, it's not entirely clear what Fayne brings to the team that any other d-man wouldn't.
However, for now at least, coach Pete DeBoer seems happy to keep starting the young skater, so perhaps he has more to show us this year.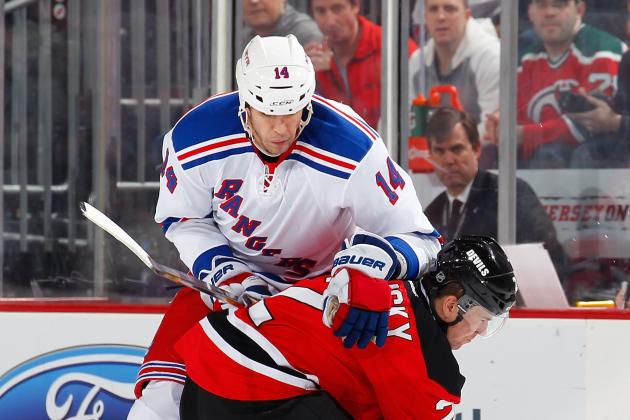 Paul Bereswill/Getty Images

Grade: B-
Stats: 0 goals, 5 assists, +0
Marek Zidlicky joined the Devils near the trade deadline last year and really improved the team. As a puck-moving, offensive-minded defenseman, Zidlicky gave depth to a largely-defensive corps.
So far, Zidlicky hasn't been great, but he's been adequate. Playing on most power plays, he's managed 28 shots, creating opportunities for other skaters on the ice. He's also assisted on five goals, meaning that while his scoring has been underwhelming, it hasn't been nonexistent.
Defensively, Zidlicky has been solid, with 16 hits and seven blocked shots. In order to improve into a top-line defender, he either needs to wake up offensively and start scoring more, or pick up his game defensively.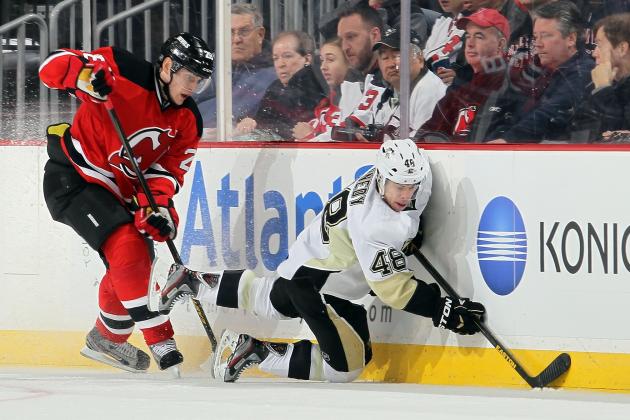 Jim McIsaac/Getty Images

Grade: B-
Stats: 0 goals, 1 assist, +1
Anton Volchenkov doesn't play offense. That's essentially been the case throughout the A-Train's career, as he has just 114 points in 569 games. While it's a bit behind what's to be expected, the one assist isn't too troubling. He's even put ten pucks on net.
What's refreshing is that Volchenkov has returned to being a force on defense. He's third on the team with 18 hits and second with 25 blocked shots.
Volchenkov shouldn't ever be leaned on offensively, but the fact that he's beginning to look like the rugged, shut-down defender the Devils were looking for when they signed him years ago has got to be encouraging.
Jim McIsaac/Getty Images

Grade: B-
Stats: 0 goals, 1 assist, +4
Adam Larsson, the fourth-overall pick in the 2011 draft, fought his way onto the roster in the last week and a half.
After some poor performances from other Devils defenders, Larsson was given a chance and has looked much improved from his play last season.
The one assist is unimpressive, especially considering the offensive upside Larsson supposedly brings to the table. But the awkward, uneven, at-times confused defenseman we saw last season is gone. Larsson looks much more at home on the ice and has made some great defensive plays already this season.
With 10 hits, 10 blocked shots and four takeaways, there's a reason to feel good about the player Larsson is developing into, and fans should be hopeful that the young Swede could quickly turn into a formidable player.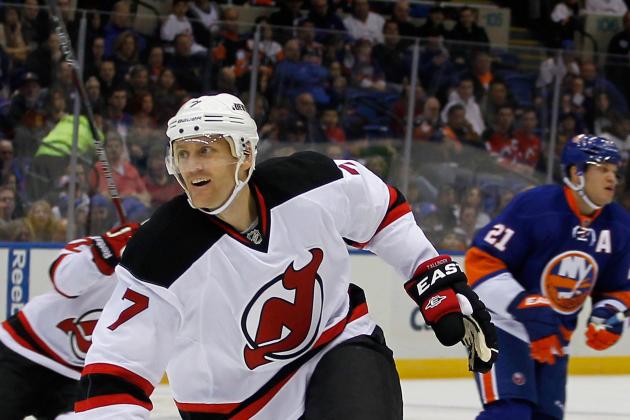 Andy Marlin/Getty Images

Grade: D
Stats: 1 goal, 1 assist, +1
Henrik Tallinder has been one of the biggest flops of the season for the Devils so far. In seven games, he contributed a goal and an assist, but his defensive numbers were severely lacking: He managed just two hits and two blocked-shots in that time.
His play was so bad that eventually, he was replaced in the lineup by Adam Larsson. With Larsson looking at home, it's unclear if and when Tallinder will return to regular play.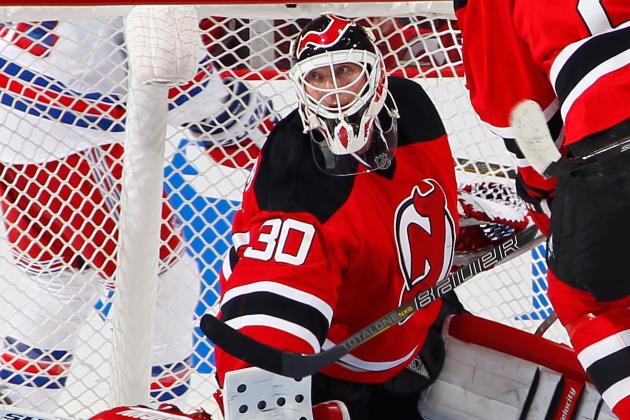 Paul Bereswill/Getty Images

Grade: B+
Stats: 6-1-2, 2.29 GAA, .911 SV%, 1 SO
Martin Brodeur is just not going to age, apparently. That's the message he's been sending this season, as the 40-year-old goalie continues the consistent hockey he's played his entire career.
Marty has looked superb at times this season, and his overall numbers are strong. While the five-goal beating he took in Pittsburgh was unpleasant, the three wins he's had on either side of it have surely helped.
The largest concern for Marty is that his passing has become somewhat suspect. Puckhandling has been one of the legendary goaltender's calling cards, and for nearly two decades he's been stealing dump-ins and turning them into long, breakout passes going the other way.
This season though, there seems to be a marked drop in Marty's control over the puck; he's still adamant to play as he always has, but more and more of his passes seem to end up on the opponent's stick. It was more of an issue earlier this season than more recently. He's now toning down his passes a bit, and his teammates are accounting for non-pinpoint accuracy from the keeper.
That really is the only thing going wrong for the goalie right now though. Marty is playing top-tier hockey, mixing in some of his classic moves with some highlight-reel glove snags, and appears up to being the starting goalie the Devils have come to rely on.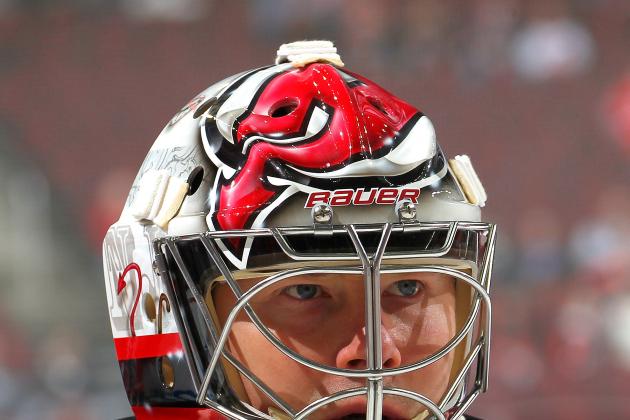 Paul Bereswill/Getty Images

Grade: A+
Stats: 2-0-1, 0.65 GAA, .973 SV%, 1 SO
Johan Hedberg has been nothing short of spectacular. Though we've only seen him in limited time so far, there's nothing to suggest Moose won't be ready to step in at an elite level when needed.
He's started three games and has brought a shutout into the third period in all three: He finished with a clean sheet against the Islanders, let up a goal late in regulation to the Bruins in what would end up being a shootout loss and let up a goal seconds into the third period against the Penguins.
Those goals are the only two Moose has allowed on 74 shots.
The only knock against him is that he looked less than stellar against the Bruins in the shootout. But if that's all there is to complain about, he's doing an awful lot of things right.