UFC 157: Keys to Victory for Ronda Rousey over Liz Carmouche
Joe Camporeale-USA TODAY Sports

Few pundits, especially the oddsmakers, forsee Liz Carmouche lasting five rounds with venomous UFC bantamweight champion Ronda Rousey at the historic UFC 157.
In an attempt to pit Rousey against a worthy contender in the promotion's first-ever women's bout, UFC president Dana White pegged the scrappy Carmouche as "Rowdy's" most fitting suitor.
Granted, Carmouche has a solid résumé and a well-rounded skill set, but her accomplishments and her athletic abilities simply pale in comparison to that of Rousey's.
With that said, Rousey, whom Bodog.net has deemed an 11-to-1 favorite (-1100), must adhere to a few simple principles in order to secure the type of surefire victory that she's grown accustomed to scoring.
Here's a list of keys to victory for the heavily favored Rousey over Carmouche.
Begin Slideshow

»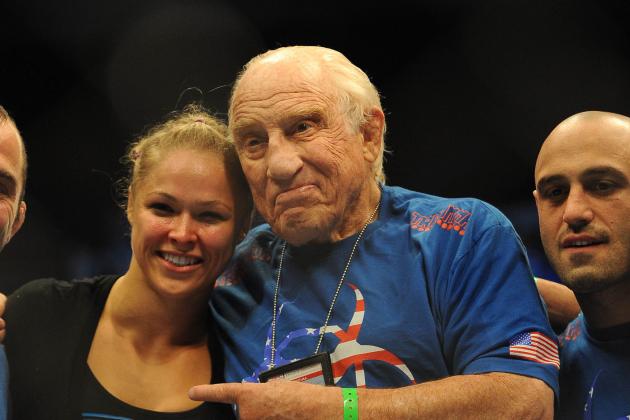 Jayne Kamin-Oncea-USA TODAY Sports

Her boxing prowess has yet to fully mature, but Rousey's boxing coach, Edmond Tarverdyan, has raved about her potential for several months.
Carmouche, on the contrary, displayed respectable striking chops at best in her back-to-back losses to Sarah Kaufman and Marloes Coenen. Carmouche outshined Coenen in the standup exchanges in a fight she lost via submission, but got outstruck 145-112 in a unanimous decision loss to Kaufman.
The jab can work wonders for Rousey if she can learn to utilize it in a Georges St-Pierre-like fashion.
Rousey must close the distance safely on Carmouche in order to engage in the clinch and ultimately get the fight to the mat.
If Carmouche can't get around the jab and avoid clinching with Rousey, she won't last a round.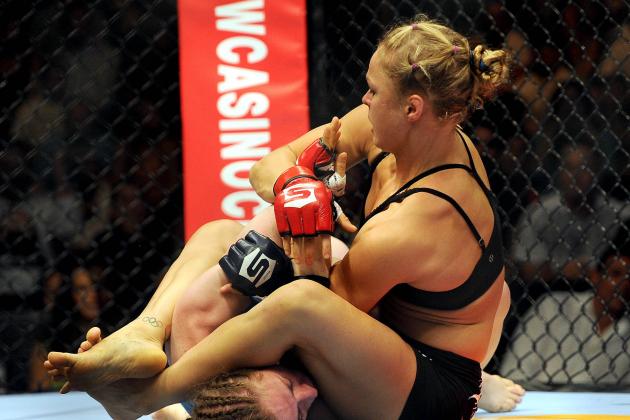 Jayne Kamin-Oncea-USA TODAY Sports

Wrestling ace Miesha Tate was the first fighter to take Rousey down, and she paid dearly for it minutes later when Rousey nearly snapped her arm off.
While there's no doubt that Rousey can get downright nasty off her back, the 26-year-old Olympian feels just as comfortable grabbing arm bars from the mount or the side mount.
Carmouche has exhibited a decent ground game, scoring a takedown against Kaufman and two against Coenen. But staying off her back against Rousey will entail constant movement (à la Carlos Condit in his fight against Nick Diaz), which will also require an endless gas tank.
If Carmouche gets grounded once in this fight, she can't afford to spend an instant on the mat.
Carmouche may say she thinks this fight could end with her submitting Rousey, but making that claim and actually seeing it materialize are much different concepts.
The disadvantages of becoming a media darling can far outweigh the perks if a fighter can't remain modest while continually evolving.
Yes, Bodog.net has listed Rousey as an 11-to-1 favorite. Yes, Rousey has competed six times and won each of her six fights by first-round arm bar. And Yes, Carmouche lost convincingly to Kaufman, a fighter who Rousey dismantled in just 54 seconds in Rowdy's last bout.
But make no mistake about it, Carmouche didn't get selected for this fight by accident. Carmouche won back-to-back tilts in Invicta FC, but that's not what compelled Dana White to make this match.
Carmouche got her title fight with Rousey because she volunteered for the fight when no other fighter in the world wanted it.
She's certainly the underdog for a reason, but Rousey would be foolish to overlook a fighter with a heart akin to Rocky Balboa's.
Whether she planned to latch on to her opponents' arms and nearly break them off early in her previous fights or not, Rousey has clearly perfected the lightning-fast finish.
She's spent less than 10 minutes competing, but Rousey's claimed the arms of six fighters, including Julia Budd, Miesha Tate and Sarah Kaufman.
But because her longest fight (against Tate) only lasted 4:27, most experts wouldn't know what to expect from Rousey if Carmouche could find a way to take the fight into the championship rounds.
An ex-Marine, Carmouche has built a reputation as a scrappy fighter who always shows up in tip-top shape.
Rousey, albeit a cardio machine, shouldn't deviate from her typically diabolical plot of zeroing in on a limb and then annihilating it.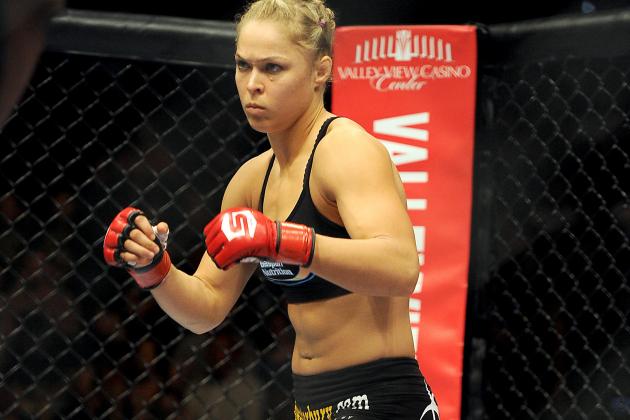 Jayne Kamin-Oncea-USA TODAY Sports

If a full-proof method for avoiding a flash knockout existed, elite grapplers like Rousey would certainly want to subscribe to it.
Judging by her Olympic credentials and by the way she's ravaged every opponent she's gone to the ground with, so far, it's a safe assumption to make that few fighters can outgrapple Rousey.
Her aptitude for dictating the pace of her fights not only opens more doors for Rousey to win, it also reduces her chances of losing.
In other words, if Rousey can perpetually stick to a few essential defensive striking principles, she can safely elude flash knockouts and effectively enact her pressure-heavy scheme.
Rousey must circle away from Carmouche's power hand (her right hand), move her head repeatedly and remember to keep her chin tucked, especially in heavy exchanges.
Rousey also can't allow Carmouche to turn this fight into a brawl. Carmouche would like nothing more than for Rousey to forget what made her an 11-to-1 favorite—her grappling.