Why the Philadelphia Eagles Can Go Worst to First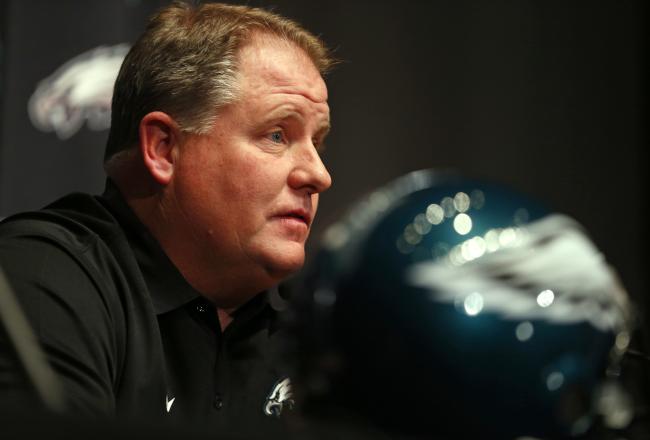 Chip Kelly
Rich Schultz/Getty Images
It looks like the NFC's powerhouse division is no longer the East. The Philadelphia Eagles, New York Giants, Dallas Cowboys and Washington Redskins are not very good collectively or as individuals.
The Giants just missed the playoffs after winning a Super Bowl, the Cowboys fell a mile short of glory by Tony Romo's hand once more, the Redskins barely clawed their way into the playoffs, and the Philadelphia Eagles took a nosedive straight to the bottom of the division.
Regardless of how bad these four teams are, someone has to come out on top next year. Could the next NFC East champion be the Philadelphia Eagles?
If Eli Manning stays inconsistent, David Wilson ends up being just another average running back and the Giants defense can't find itself, they're probably out of the picture—but you never know with Eli Manning throwing the ball.
What about the Redskins? Robert Griffin III is probably not going to be the same "electrifying" (whatever that means) player he was this year. Alfred Morris is going to continue to be a monster. But the Redskins defense isn't elite by any means, and that could be their downfall.
It's almost a sure thing that the NFC East race is going to come down to the wire again next season. Based on the past decade or so, it's a lock that the Cowboys are out if they depend on Tony Romo to get the job done.
That leaves the bottom-dwelling Philadelphia Eagles to be discussed. They just had their worst season since the late 1990s, they have a new head coach, and apparently the quarterback job is up for grabs.
It's a gamble as to whether or not Chip Kelly's approach to the game will equal success for the franchise and its downtrodden fanbase. Nonetheless, the shambles Andy Reid left behind harness no gems or stars and hide nothing that resembles a foundation upon which a great football team can be built. The Eagles are a team that is lost, faceless and with nowhere to go but up.
All of that warrants the risk owner Jeffrey Lurie and general manager Howie Roseman took when they hired Kelly. No one is expecting the Eagles to contend for a division title next year, but that's not the most outrageous proposition ever.
If there is one thing about the Eagles front office, it's that it likes to be ahead of the curve. After all, the Birds and Andy Reid were pass-heavy pioneers when the NFL made that transition. The team's front office could have put a few pieces in place to succeed immediately with what it has done so far.
Who is going to be the Eagles' starting quarterback next season?
If there is a team that can go worst to first in their division, it's the Eagles.
After all, we know that uptempo offenses succeed in today's NFL if they are run properly. Chip Kelly is at the forefront of that movement and has lent bits and pieces of his approach to some of the NFL's most successful teams, like the New England Patriots. Now, the Pats didn't copy what Chip Kelly did at Oregon—but they did implement his fast-paced approach.
No matter if the quarterback is Michael Vick or Nick Foles, the guy taking the snaps for the Birds is going to have to be able to get rid of the ball quickly, hurry his team back to the line and do it again.
Vick has a rocket for an arm, but his decision-making isn't the best and he holds the ball too long. Foles means to do the right thing most of the time, but sometimes it's as if he doesn't have the physical ability to make it happen. However, either of these two could conceivably run some semblance of what Kelly wants to do.
Andy Lyons/Getty Images
If the team can draft a big wideout like Tennessee's Da'Rick Rogers and maybe another tight end like Stanford's Zach Ertz, this offense could do a complete 180. Chip Kelly loves to use tight ends, and there simply must be a big receiver who can go up to get the ball and fight for yards.
The 3-4 defense in today's NFL is also one that succeeds, and the Eagles just hired Billy Davis to run their defense. Though he runs more of a hybrid, there are parts to the Davis system that the Eagles' current personnel can fill. The most significant of these pieces already in place for the Billy Davis defense can be found in either Trent Cole or Brandon Graham.
As Birds 24/7 writer Tim McManus pointed out, either Graham or Cole could fit the "predator" position, which is a defensive end/outside linebacker hybrid whose function is to rush the passer.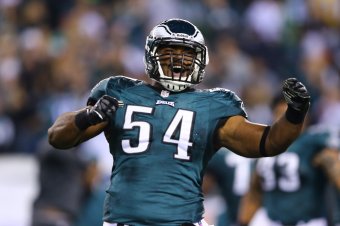 Al Bello/Getty Images
Graham has experience playing outside, so that's probably who the Eagles' predator is going to be. Furthermore, Cullen Jenkins and Fletcher Cox will probably play the ends, and the team will probably draft a nose tackle. Cox undoubtedly has the ability to play the end and Jenkins won a Super Bowl at that position.
Granted, Jenkins' success was a few years ago, but you can't rule him out completely because his underachievement is largely due to how Andy Reid used him. He could succeed—maybe even thrive—next year under Billy Davis.
Regarding the draft, Howie Roseman hasn't left a great deal to be desired with whom he's selected so far. There's no doubt that his "best available" philosophy will pay a few dividends in the upcoming season—especially if he manages to grab a nose tackle and a safety in the first two rounds.
There are also a few intangibles that come into the Eagles' equation when projecting their prospects for the 2013 season. The following slideshow highlights a few of these, as well as the aforementioned offensive and defensive changes, that make the Eagles a decent enough threat to go from worst to first next season; the most important of these is the change in attitude (for lack of a better word) Kelly brings.
The Eagles will no longer be meandering through the motions under a stagnant Andy Reid approach. Instead, they should be invigorated by a lively Chip Kelly and his new way of thinking.
Look what happened with Jim Harbaugh and the San Francisco 49ers. Now, that team has better players, and the Eagles probably won't emulate that success. But that situation adds support to the notion that a new coach's attitude can play a major role in turning a franchise around.
All things considered, the Eagles can win the NFC East next year. If they draft well, if the offense can keep a fast pace, if they get themselves a safety and a nose tackle, and if they buy what Kelly's selling, there's no reason they can't take the 2013 NFC East title.
Are those unreasonable expectations? No.
This article is
What is the duplicate article?
Why is this article offensive?
Where is this article plagiarized from?
Why is this article poorly edited?

Philadelphia Eagles: Like this team?