NBA High-Flyers Who Should Participate in the Slam Dunk Contest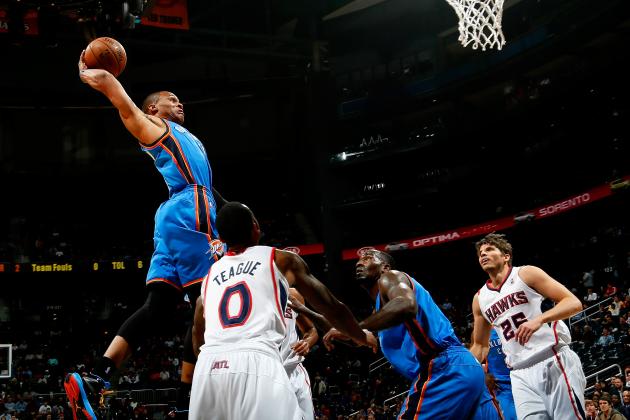 Kevin C. Cox/Getty Images
Russell Westbrook can throw down violently.
When the 2013 NBA Slam Dunk Contest participants were revealed, I wasn't surprised, but would've liked to see some bigger names.
What happened to the days when we saw Michael Jordan, Vince Carter and Kobe Bryant, superstars of their era, participate in the contest?
It hasn't been entertaining in years. We've seen remakes of the dunks of old and not many flashy dunks.
Matt Moore of CBSSports.com has declared the dunk contest dead.
In order to revive it, we need to see those prolific dunkers who will get us to jump out of our seats.
Due to the new format of three representatives from the East and three from the West, I have tailored this list in accordance.
Now, with dunkers like these, fans will get back into it. In future years, this contest needs a couple of superstars to duke it out.
Begin Slideshow

»
John Wall, when healthy, is one of the best point guards in the league.
While he's not necessarily known for his dunking, Wall can jam. He gets up with the best of them and has electrified Wizards fans with his explosive finishes.
Nowadays, we're seeing more "little guys" in the dunk contest, and Wall's a perfect fit.
He would bring charisma and enthusiasm, playing off the fans' energy.
He showed off his abilities at the Rising Stars challenge a year ago and at Chris Paul's charity game during the lockout.
Wall is just fun to watch, and he loves pleasing the fans. A dunk contest will put his talents on display, and he's got enough in his arsenal to wow the crowd.
Evident from the fact he competed in the dunk contest twice before (2005, 2009), J.R Smith is one of the best dunkers in the game.
Seeing him compete with some of the top dunkers in basketball will bring out the best Smith has to offer. He's always been a competitor and has seemed to keep improving his dunks each year.
Wowing fans in-game with his athletic jams, he has also shown his creative side in previous dunk contests.
This year he's been on the receiving end of alley-oops that had no right to be dunks. He has violent finishes that would get fans out of their seats.
At 6'6", Smith can easily dunk the ball, but the ferocity and the style he has when going up for a dunk is exciting.
While in-game is different than the dunk contest, Smith has proved he can do it, he's just come up short.
It would be great to see him give it another go.
LeBron James is the most athletically gifted and prolific dunker in the NBA. Yet he's never been in the dunk contest.
Every year fans are anxious to see if he'll participate, but it doesn't happen. He even teases them on Twitter.
He won the dunk contest at the 2003 McDonald's All-America Game and has been putting on clinics in-game his entire career.
If he were to take part in the contest, ratings would be off the charts. Fans would get pumped up to see LeBron put on a show. It would be good for basketball.
But James told FOX Sports Florida last year it will never happen.
I'm getting too old for that. ... There were times when I wanted to do it. But I came into All-Star Weekend a few times banged up and I didn't want to risk further injury.
It's a shame James won't partake in the festivities. You'd think a guy of his competitive nature would attempt the contest without a million-dollar prize.
It would be great, just once, to see LeBron throwing it down in the dunk contest. There's always hope.
Kevin Durant is the best player in the West, maybe the NBA. He's an MVP-type player and will be a fan favorite in any All-Star Weekend competition he participates in.
While he could thrive in the three-point shootout, he could also thrive in the dunk contest.
Durant's long arms make him a threat to dunk from all angles on the court. He could come up with something creative and fresh.
He's had plenty of jaw-dropping dunks over his career.
A dunk contest will allow him to showcase his abilities on a grand scale.
Durant would be an interesting slam dunk selection, one who will automatically bring out the best in his opponents.
If he were to ever square up against LeBron James in the dunk contest at any point during their NBA careers, it may just be the most exciting thing to happen to the NBA in recent memory.
Russell Westbrook and teammate Kevin Durant are two of the most dynamic dunkers in the NBA.
There aren't many people who can jump as high as Westbrook. With two hands or one, when Westbrook takes off the whole arena will rise.
Westbrook has previously expressed interest in competing, and with the direction the dunk contest is going, he would shine.
Again, All-Star Weekend is all about the fans. The fans want to see NBA's best players compete in the festivities and especially the dunk contest.
Westbrook's explosive ability will give the fans a show. He's quick to the basket with a strong first step.
Westbrook has fire and can keep up with the best dunkers in the NBA.
Personally, I feel every player like him should try the dunk contest at least once.
Every game, Westbrook makes the highlight reel with an insane dunk. Imagine if he had weeks to prep a dunk for the big stage. There's no telling what he could come up with.
Rookie Harrison Barnes has turned some heads with his dunking ability this season.
While the dunk contest likes to add up-and-comers to the competition, Barnes is a perfect fit. He can clearly jump and has great raw athleticism.
He has a collection of posterizing dunks in his rookie season and will continue to make the highlight reels for the Warriors. He may have had the dunk of the year when he went over the Timberwolves' Nikola Pekovic in November.
To add to his dunking reel, Barnes needs a shot at the dunk contest.
He would need to get creative and play to the crowd, but Barnes has the potential to be a "slam-dunk" in the dunk competition.