Boston Red Sox: Predicting Mike Napoli's 2013 Fenway Park Stats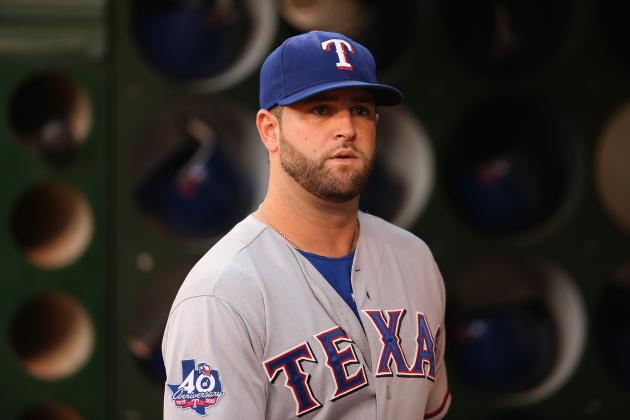 Ezra Shaw/Getty Images

Mike Napoli has made a career out of killing the Red Sox. On numerous occasions he has come up with clutch hits to put Boston away late in games. He has played against the Red Sox 38 times in his career and has amassed eye-popping numbers: 15 home runs, six doubles, 33 RBI, 16 walks and a 1.075 OPS.
A lot has been made about Napoli joining the Red Sox this offseason. Baseball gurus and analysts suggested Fenway Park to be the ideal place for the right-handed power hitter.
After all, he seemed to do the majority of his damage against the Red Sox at Fenway: .306, seven HR, 17 RBI and a 1.107 OPS in 19 games.
That got us thinking, now that Napoli will be playing 81 games there, how will that affect his numbers?
Well, let's take a look at some predictions we have for Mike Napoli's offensive numbers at home this season.
Begin Slideshow

»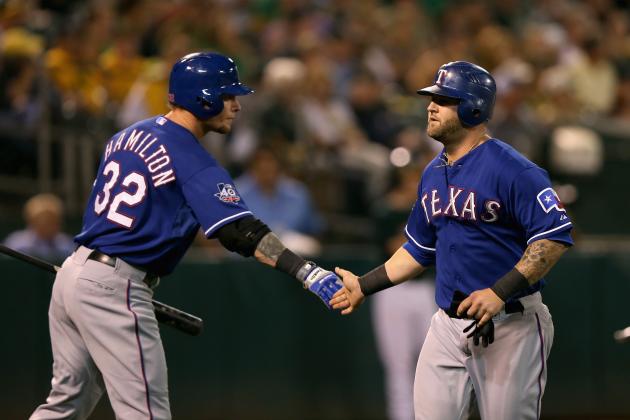 Ezra Shaw/Getty Images

Although Napoli had an impressive .320 average two years ago, he is not known for his contact hitting. He hit an anemic .227 in Texas last year, the second time in three seasons he failed to bat over .240.
However in the 19 games he's played at Fenway, he has the following stat-line: .306/.397/.710/1.107.
Napoli will primarily play first base for the Red Sox, deferring the grueling responsibilities of calling games and handling the pitching staff to Jarrod Saltalamacchia and David Ross. This should also help his offensive production quite significantly.
That being said, it's unrealistic to expect Napoli to suddenly revert to his 2011 form when he played at an MVP-level: .320/.414/.631/1.045 with 30 homers, 75 RBI and 25 doubles in just 113 games.
His age and injury history (a bad hip delayed his signing with the Red Sox) is reason enough to take a conservative approach when predicting his 2013 Fenway Park batting average.
Prediction: .280 average at Fenway
An interesting side note: Napoli appears to be a better hitter on the road (.269) than at home (.249). This was also true during 2011 when he had an average of nearly 30 more points on the road than he did at home. If that is at all consistent, Napoli could potentially hit near or over .300, but that remains to be seen.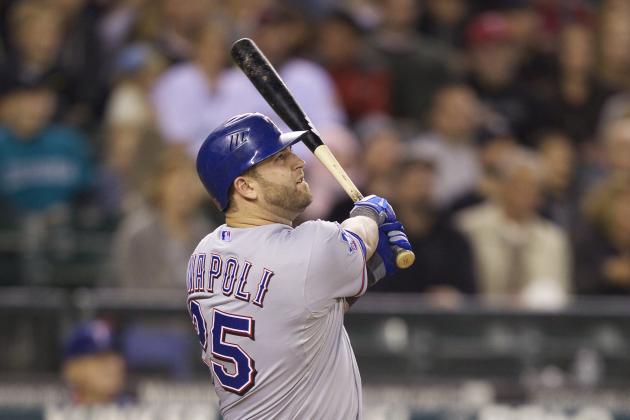 Stephen Brashear/Getty Images

Mike Napoli is going to love playing in Boston. As we've come to say about particular players over the years, his swing is tailor-made for the stadium.
According to Fangraphs, Napoli is projected to hit about 25 homers this season.
He's launched seven Fenway Park home runs in his career. That is equivalent to roughly 30 homers in 81 games. So can we pencil in Napoli for 30 bombs at home this year?
Probably not.
Although he averaged a home run every 10 at-bats at Fenway, his out-of-this-world numbers will gradually return to reality when extrapolated over an entire season.
But those figures are still a solid barometer of how much he enjoys playing at 4 Yawkey Way.
Prediction: 15-20 home runs at Fenway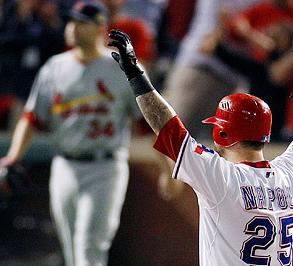 Mike Napoli has averaged 20 doubles a season since 2009 when he was a member of the Los Angeles Angels of Anaheim—his career high is 25 (2011).
Fangraphs projects him to hit about 22 doubles this season. That seems slightly low for a right-handed power hitter who is capable of hitting nearly 20 home runs at Fenway Park alone.
Napoli will be a doubles-machine, making use of Fenway's odd dimensions, especially the 37-foot wall out in left field. If Napoli isn't pulling balls over the the monster, at least expect him to put some dents in it (although with his lack of speed some doubles might turn into long singles).
Expect him to set a new career high in doubles this season, possibly 30-plus by season's end.
Prediction: 15-20 doubles at Fenway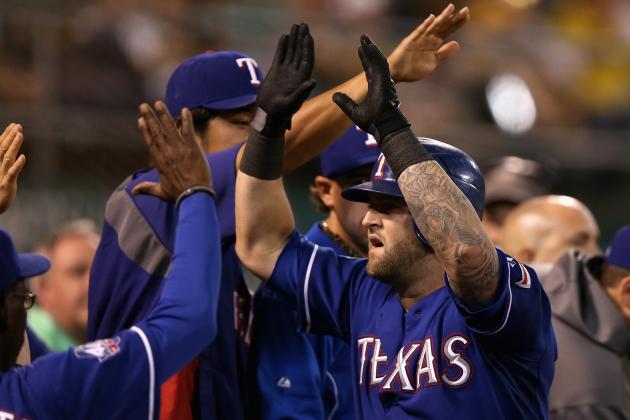 Ezra Shaw/Getty Images

RBI is such a unique stat and can be one of the most difficult to predict. As most baseball fans know, it is an important tool to assess a player's offensive production, but it largely depends on the situation.
In his seven-year career, Napoli has averaged about 54 RBI per season with his career high of 75 coming in 2011.
But throughout his career, his RBI numbers do not seem to have been impacted by the ballpark he plays in. His home/road splits, while not perfect, were relatively even.
That said, Napoli (if healthy) can be expected to hit about 60-80 RBI this year, with about half of them coming at home.
Prediction: 30-50 RBI at Fenway