The Big 12 still belongs to the Kansas Jayhawks.
Bill Self's squad entered Monday night's rivalry game against No. 10 Kansas State with three straight losses, a drop to No. 14 in the polls and a loss of its normal stranglehold on the conference. But the Wildcats found out what happens when you go head-to-head with a desperate squad at Allen Fieldhouse.
A massacre.
The Jayhawks looked re-energized from the opening tip and absolutely stampeded Kansas State 83-62, pushing both teams to 8-3 in the Big 12.
The first 20 minutes were the anatomy of a rout.
Kansas was suffocating on defense; the Wildcats were able to hit 5-of-9 three-pointers, but were out-muscled on the inside and converted on just four of their 15 two-point attempts. Put it together, and the conference's best offensive team (in terms of points per possession in Big 12 contests) had just 29 points on 37.5 percent shooting with eight turnovers.
Naadir Tharpe, who is much more of a pure point guard than Elijah Johnson, was unstoppable. The sophomore came off the bench and did pretty much whatever he wanted, scoring seven points and dishing out six assists.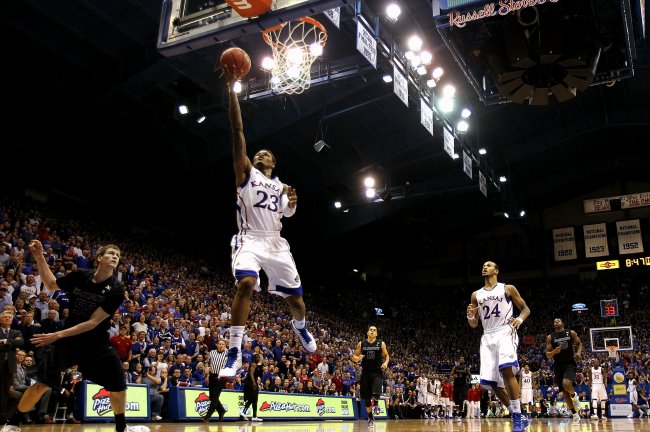 Jamie Squire/Getty Images
Ben McLemore was typical future-NBA-stud Ben McLemore. In the first half, he hit threes, beat defenders off the dribble, got to the free-throw line and scored in transition all in incredibly silky-smooth fashion en route to 17 points on an almost comedic six field-goal attempts.
Who is going to win the Big 12?
The Jayhawks shot 58.6 percent from the field, 50 percent from long range, out-rebounded KSU and turned the ball over just five times. They led 47-29 at the break after one of the most overpowering halves of basketball you will see.
Kansas was Drayton Florence; Kansas State was Mark Sanchez. Kansas was the bully; Kansas State was the nerd with the lunch money. Kansas was the big brother who needed to take out his anger after just being dumped; Kansas State was the poor little younger brother in his way.
Rodney McGruder and Angel Rodriguez, who combined for 37 points, seemed on the brink of leading the Wildcats to a second-half comeback multiple times, but the Jayhawks were simply too much.
Jeff Withey squashed one run with a ferocious, almost unkind attack on the rim. He finished with 17 points, 10 rebounds, two steals and five blocks.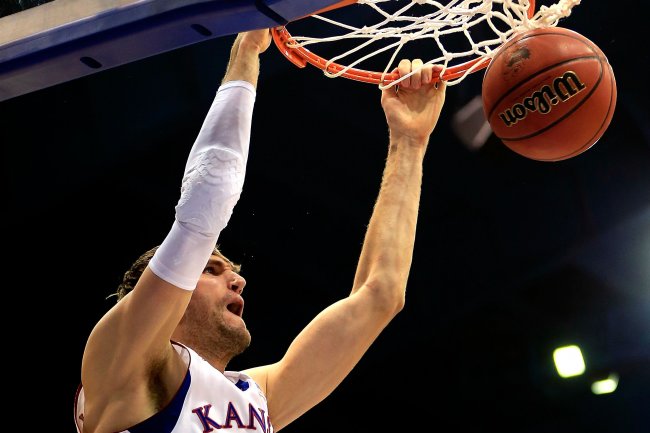 Jamie Squire/Getty Images
McLemore made more threes and continued to effortlessly get to the rim. He ended with 30 points on 9-of-13 shooting (6-of-10 from deep) to go along with seven boards and three steals, capping off a very successful 20th birthday.
Twitter Reaction
The Allen Fieldhouse crowd was fired up from the opening tip, ready to will its team to a much-needed victory, and Rush the Court's Brian Otskey noted the special power of the famous arena:
I can't be the only one who gets goosebumps before an Allen Fieldhouse game from over 1,200 miles away.

— Brian Otskey (@botskey) February 12, 2013
As Kansas began to build a lead in the first half, ESPN's Myron Medcalf, with a little help from H.O.V.A., acclaimed that the Jayhawks were indeed "back":
This could be KU's Jay-Z moment. "Allow us to reintroduce ourselves…."

— Myron Medcalf (@MedcalfByESPN) February 12, 2013
CBS Sports' Jon Rothstein, King of Comparisons, proclaimed the same thought in a slightly different way:
So much Lazarus in Kansas........they have risen!

— Jon Rothstein (@JonRothstein) February 12, 2013
And as Kansas pulled even further away from the Wildcats, College Basketball Talk's Raphielle Johnson looked for something a little more enticing:
Almost time to figure out if I can watch the Grambling game instead of this. K-State looks overmatched right now.

— Raphielle Johnson (@raphiellej) February 12, 2013
Yes, that would be the 0-22 Grambling State he is talking about. Johnson kept looking:
OK, I'll check out the Westminster Dog Show for a few minutes.

— Raphielle Johnson (@raphiellej) February 12, 2013
According to Kansas Gameday, Withey set a new Kansas record with yet another dominant night protecting the rim:
Jeff Withey is now your KU career blocks record holder! #kubball

— Kansas Gameday (@KUGameday) February 12, 2013
It's worth noting that blocks weren't officially recorded when Wilt Chamberlain was in school, but Withey deserves massive credit for the impressive achievement nonetheless.