Steelers Mock Draft: Who Are the Experts Projecting to Pittsburgh?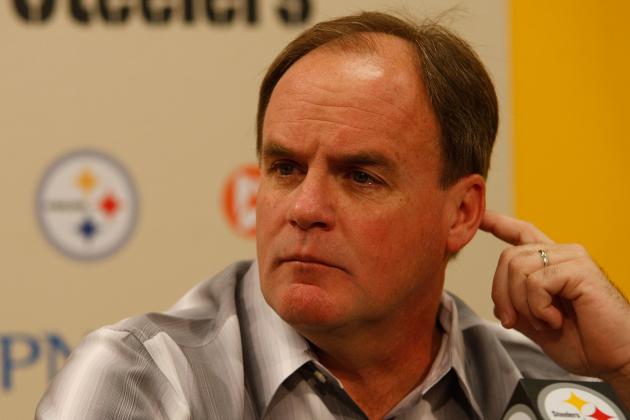 Jared Wickerham/Getty Images

With the end of every football season comes the abrupt and punctual onslaught of mock drafts with every expert throwing out his or her opinion on which player every team will take.
Most mocks are simple one-rounders with a short and decisive reasoning as to why Team A will be selecting Player B and how they fit with each other. Others dig deep, stretching their draft knowledge all the way to seven rounds.
For our purposes, we're only concerned with the first round and who the Pittsburgh Steelers are looking at with their 17th overall selection. The experts have weighed in; now it's time to take a look at what they're saying.
Begin Slideshow

»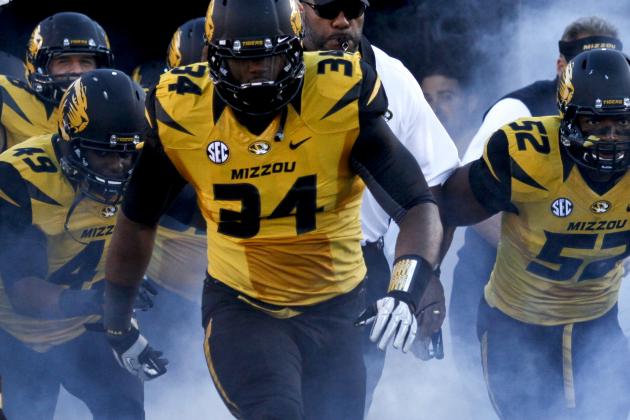 Ed Zurga/Getty Images

Miller's Pick: Sheldon Richardson / DE / Missouri
Richardson is a non-stop motor type of player who truly wears himself out on the field. He's a non-stop pass-rusher and pursuit player who will energize the Steelers defense while adding bulk in the five technique position where Hood has been a disappointment.

Richardson could see his stock soar higher than this before the draft. With his speed, effort and production on the defensive line, it wouldn't be surprising to see him drafted much higher.
As far as the NFL draft is concerned, Richardson is one of the hottest names out there right now. He's got an excellent build and can do something none of the Steelers current ends can do—rush the passer.
But let's look back on how well the Steelers have done taking ends high in the draft. As Miller mentions, Ziggy Hood (also a first-round pick from Missouri) has been somewhat of a disappointment thus far in his career and Cameron Heyward barely sees the field.
I hear all the fans out there who continue to say "well, Heyward just needs a chance to play" and to that I have an answer. If Heyward were really ready to shine, wouldn't it be possible that he'd be able to have a bigger role in a rotation of defensive linemen that struggled the last two seasons?
Pittsburgh has done much better taking ends late in the draft. Guys like Brett Keisel and Aaron Smith have shined in the Steel City while early picks have done little but flop.
My take is that the Steelers shouldn't jump the gun on Richardson with bigger areas of need still out there.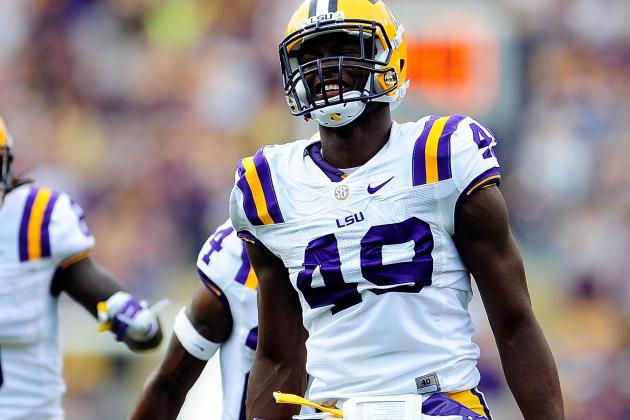 Stacy Revere/Getty Images

Jeremiah's Pick: Barkevious Mingo / OLB / LSU
Pittsburgh is always on the lookout for talented edge rushers and Mingo fits that profile. He needs to get bigger and stronger, but his get-off quickness has teams excited.
Dan Jeremiah's head is in the right place, but his wording is a little misguided. See, the Steelers have been known throughout the years for their pass-rushing prowess, but they rarely spend a high pick on an outside linebacker.
James Harrison was an undrafted free agent cut multiple times. Joey Porter and Jason Gildon were each selected in the third round while Greg Lloyd fell all the way to the sixth. In recent years, both LaMarr Woodley and Jason Worilds were taken in the second round.
With all that said, I personally think pass-rusher is the Steelers' No. 1 priority in this year's draft and with such a talented class, they've got a few options in the first round.
Barkevious Mingo isn't the most polished product, but he's got the ability to adapt to the game and different formations. His athleticism and lengthy frame could make him an instant contributor while he's still learning the system.
Like Richardson, Mingo is a very hot name right now and it would be a stone-cold-stunner to see him available when the Steelers pick at No. 17. But if he's there, Pittsburgh almost has to consider him.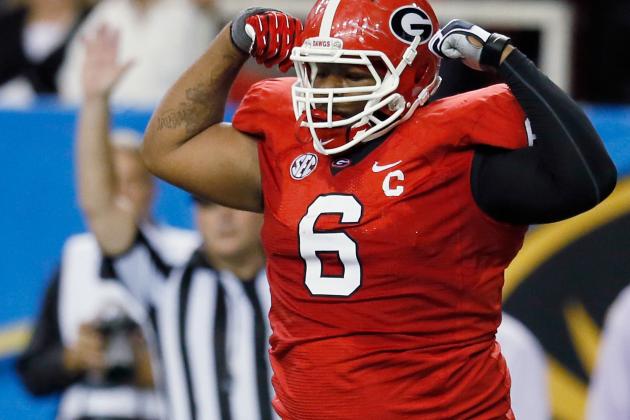 Kevin C. Cox/Getty Images

Rang's Pick: John Jenkins / NT / Georgia
The Steelers have invested heavily in replacements on the defensive line with first round selections of Ziggy Hood and Cameron Heyward over the past three years. The most critical component of Dick LeBeau's 3-4 scheme, however, is at nose guard, where the team could be looking to replace 35-year old free agent Casey Hampton. Optimism remains high for 2012 fourth round pick Alameda Ta'amu, despite his felony arrest in November, which led to his being released and later re-signed to the practice squad. Rather than gamble on Ta'amu's development, the Steelers might instead choose to develop Jenkins, a 6-4, 359-pound monster who starred at Georgia and at the Senior Bowl.
Rang is absolutely correct in thinking that nose tackle is of the utmost importance for the Steelers' and Dick LeBeau's scheme, but to take a guy like Jenkins at No. 17 is an absolute reach.
Jenkins is a monster in the middle and would be a good candidate to replace Casey Hampton who is all but gone, but Pittsburgh does have other options. The team took Ta'amu in the fourth round last year and obviously has hopes for him to play, otherwise why bring him back after placing him on waivers. There's also the lingering question of Steve McLendon.
The Steelers may very well take a nose tackle in this year's draft, but I highly doubt it will be in the first round.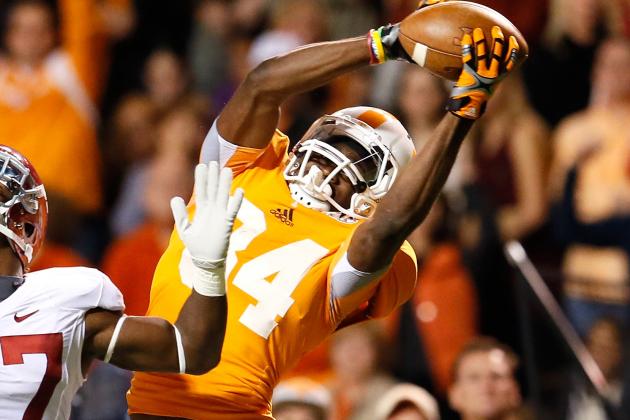 Kevin C. Cox/Getty Images

Schottey's Pick: Cordarrelle Patterson / WR / Tennessee
Patterson doesn't always show up, but when his head is in the right spot, he's one of the best receiving prospects of the last few years.

He's big, has great straight-line speed, runs decent routes and can pluck the ball out of the air with the best of them. He'll provide the Steelers with a clear No. 1 receiver to pair with their already deep corps.
Let me stop Michael at his first sentence. If Patterson doesn't always show up, I don't want him on this team.
The Steelers have had enough problems trying to keep guys on the field with all the injuries they've suffered over the last two seasons. They don't need a guy with a "play when I feel like it" attitude on top of that.
Add in the fact that the Steelers rarely draft receivers in the first round, and when they do, they don't stick around too long (see: Burress, Plaxico and Holmes, Santonio).
Personally, I don't think there's a receiver in this year's draft worthy of a top-20 pick. Unfortunately, some needy team will scoop one up within the first half of the round and Patterson will most likely be the guy. His speed will entice scouts and his size would add to a smaller corps than the Steelers are currently carrying.
I just don't think Patterson warrants the 17th overall pick for what can be had in later rounds.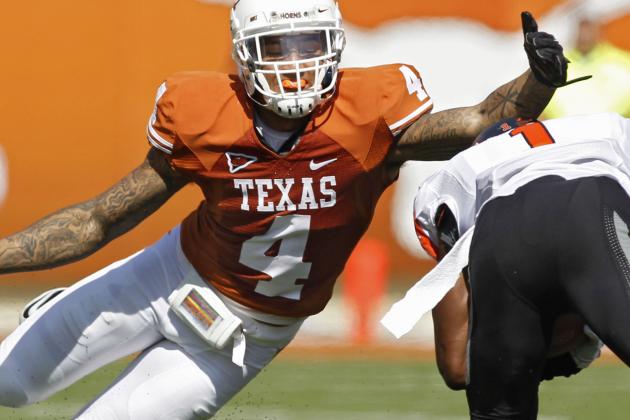 Erich Schlegel/Getty Images

Banks' Pick: Kenny Vaccaro / S / Texas
The Steelers can go in a lot of different directions to help Dick LeBeau's aging defense. An outside linebacker like BYU's Ezekiel Ansah is a name to watch at No. 17. But Vacarro is the draft's top safety, and probably makes the most sense as Troy Polamalu's eventual replacement. Vaccarro is as strong against the run as he is smooth in pass coverage, and he'll contribute from day one in a variety of roles.
Banks concludes that Vaccaro is the draft's top safety, but I'd challenge that notion a little bit. I think by draft time, both LSU's Eric Reid and Florida's Matt Elam could make this a three-horse race. But Banks is correct in assuming the Steelers need some help in the secondary.
Both Troy Polamalu and Ryan Clark on on the other side of 30 and, if you watched any of the Steelers games in which Polamalu didn't play, it's become pretty evident Pittsburgh lacks any kind of depth behind their two starters.
Vaccaro is a better pass defender, but is willing in the run game. He's also not the biggest guy but plays larger than his actual size.
I wouldn't hate the option of the Steelers choosing a safety in the first round. Although it doesn't immediately impact an aging and under-performing defense, it's a step in the right direction for the future.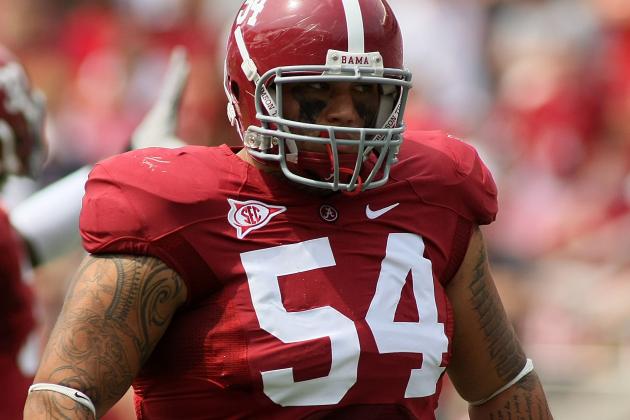 Greg McWilliams/Getty Images

Kadar's Pick: Jesse Williams / NT / Alabama
The Steelers' roster suddenly has quite a few holes. The team once again struggled in the trenches on both sides of the ball this season. An upgrade in the middle of the defensive line would give the team a whole different feel on that side of the ball. Jesse Williams proved he can eat up double teams and dominate the point of attack at Alabama this season. He would fit in nicely in Pittsburgh.
Again, the story of Jesse Williams is almost exactly the same as John Jenkins for me. Very good prospect, just not a priority that warrants the 17th overall pick in the draft.
Williams is smaller than Jenkins (but then again, who isn't?), but he may very well be the strongest player in this year's draft. He's anchored the interior of an exceptional Alabama defensive front for the last three seasons and has walked away with two national titles.
I'm not saying Williams wouldn't be a good fit for the Steelers inside because, in all reality, he would. I just don't think he's worth the 17th pick. And for the Steelers, it's all about getting value right now.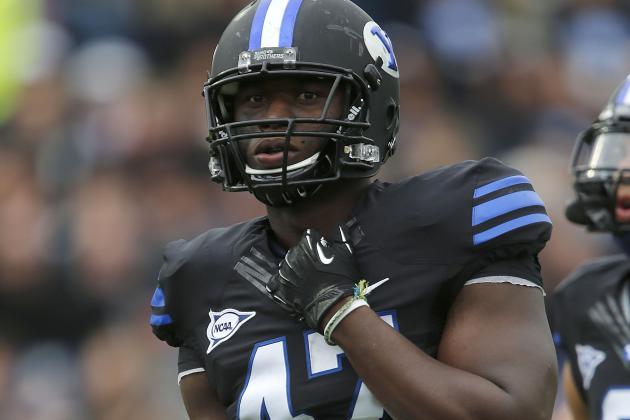 George Frey/Getty Images

Kiper's Pick: Ezekiel Ansah / LB / BYU
Pick comes courtesy ESPN's AFC North blogger Jamison Hensley
Once again, Kiper didn't change his pick. He still has Ansah going to the Steelers. He's a massive athlete who is being compared to Jason Pierre-Paul. Ansah is a raw prospect and there is concern whether he will ever be a 3-4 outside linebacker at 275 pounds. But he will make an impact as a pass-rusher immediately.
Ezekiel Ansah is going to be one of the more intriguing prospects in this year's draft. At 275 pounds, Hensley is right to compare him to a player like Pierre-Paul of the Giants. Both have a ton of versatility and can play multiple positions on the field.
The problem: Ansah probably isn't a very good fit in the Steelers' 3-4 scheme, especially as an outside linebacker.
Ansah is going to have trouble dropping into coverage at the NFL level, and given the fact that he'd probably be replacing James Harrison, he's going to have to do that a lot more often than he did with the Cougars.
I'd be a liar if I told you I wasn't a very interested in seeing Ansah's workouts, but as it stands now, I don't think he's the right guy for the Steelers. However, there's plenty of time to prove me wrong.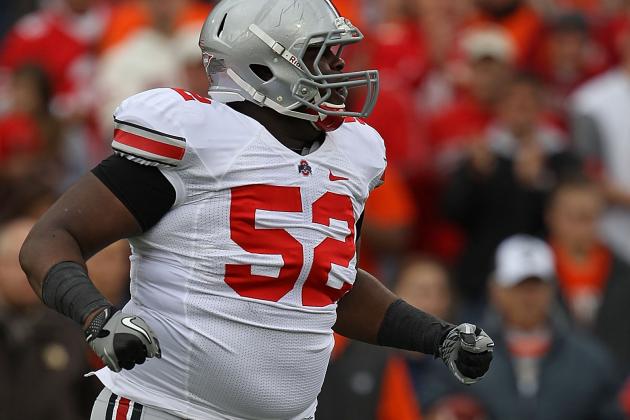 Jonathan Daniel/Getty Images

McShay's Pick: Jonathan Hankins / DT / Ohio State
Again, McShay's pick comes courtesy ESPN's AFC North blogger Jamison Hensley
The Steelers already have Steve McLendon to take over for Casey Hampton, but Hankins would be an upgrade. He shuts down the run in the middle. But it might be a stretch taking him this high in the draft. Hankins also has weight issues (he started college at 350 pounds).
And here we are again, as yet another expert projects the Steelers adding a defensive lineman in the first round. This time, it's nose tackle/defensive end tweener Jonathan Hankins from THE Ohio State University.
Hensley's clearly under the impression that Hankins is already going to play nose tackle, but he's got the ability to play end at the next level and could grade out there for the Steelers. Hankins has a large frame but actually moves well for his size. He's still no threat in terms of rushing the passer.
With that said, like Richardson, Jenkins and Williams, I don't think the Steelers should be jumping the gun on a defensive lineman not named Lotulelei. Hankins is a nice player—just not what the Steelers need in the first round.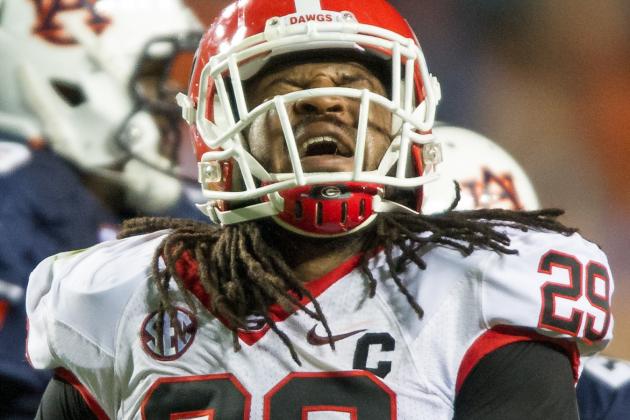 Michael Chang/Getty Images

My Pick: Jarvis Jones / OLB / Georgia
My Take:
That's right folks, I'm going out on a limb and saying that the 2013 draft's best natural pass-rusher will be available for the Steelers when the pick 17th overall. And let me tell you why.
For starters, there's been a lot of talk about Jones' spinal stenosis injury he suffered back when playing at USC. That injury forced Jones out of Southern Cal and led him to return home to Georgia where he was a two-time First-Team All-American.
Some scouts have also had a problem with Jones' size, saying that his 6'2", 241-pound frame may not be suitable for a 3-4 defense. Just look to last year's draft when Alabama's Courtney Upshaw fell out of the first round due to what many believed to be his "short" arms.
But what I see in Jones is a dominant pass-rusher who teed off on some of college football's best competition over the last two seasons and came out on top. I mean, the guy recorded 14.5 sacks this season and missed two games.
When I look at Jones, I see a sure-fire top-five pick. But I'm not a team throwing around millions of dollars and investing in the future of a guy with a spinal problem. If Jones slides down the board for some reason, he could land in the Steelers' lap, and the rest could be history.