Latest Salary Cap Breakdown for the Jacksonville Jaguars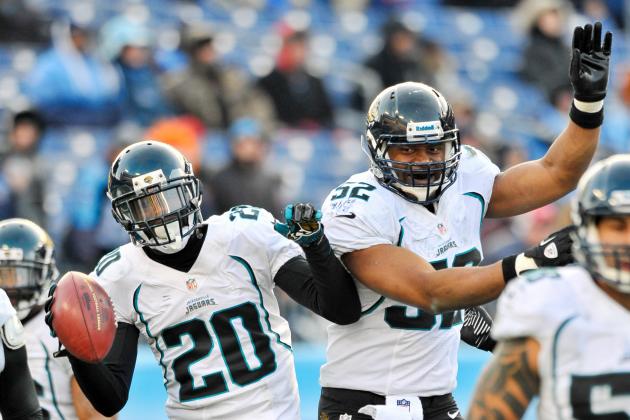 USA TODAY Sports

The Jacksonville Jaguars are in good standing with the salary cap with $22.1 million available (per ESPN's John Clayton) for 2013, but they will have to use the money wisely to successfully rebuild one of the least-talented teams in the NFL.
General manager David Caldwell has said he will build the team through the draft (per Vito Stellino of The Florida Times-Union). That's the best way to build a team to be competitive for the long haul, but Jacksonville also has enough money at its disposal to fill several holes in free agency, too.
Caldwell and Jaguars head coach Gus Bradley will have to make important decisions at key positions during the offseason, including at quarterback, offensive line and defensive line. These decisions could have a major impact on the salary cap and how quickly the team will be rebuilt.
Here is a look at the Jaguars' salary cap standings at each position, and an overview of moves they might make this offseason.
The salary cap information is courtesy of Spotrac.com.
Begin Slideshow

»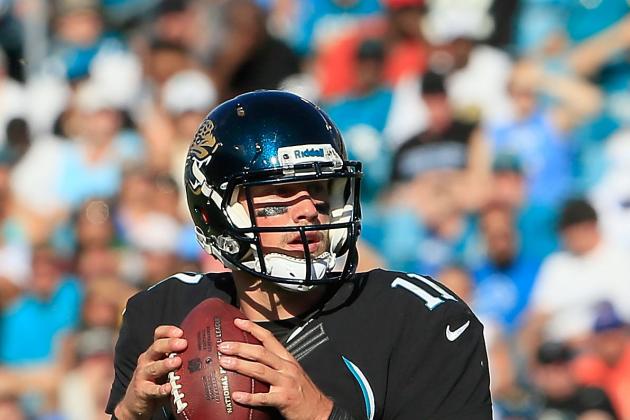 Sam Greenwood/Getty Images

2013 Cap Figures
Chad Henne- $4,150,000
Blaine Gabbert- $3,273,176
John Parker Wilson- $630,000
Players Becoming Free Agents
Jordan Palmer (UFA)
Outlook
Finding the quarterback for 2013-and-beyond may be the biggest storyline heading into the offseason, as neither Blaine Gabbert nor Chad Henne have been able to secure the starting role. GM Caldwell and Coach Bradley have said Gabbert has upside (per Vito Stellino of The Florida Times-Union), but Caldwell has said he will bring in quarterbacks to compete with Gabbert and Henne (via Pro Football Weekly).
While Caldwell has said he will address the position, it's unclear whether it will be through free agency or the draft. The free-agent class at quarterback is poor. Jason Campbell, Tarvaris Jackson and Matt Moore are at the top of a weak free-agent quarterback class, and none will be worth the money it would take to sign them.
The only way the Jaguars should go after a free-agent quarterback is if San Francisco releases Alex Smith, but even he may be too expensive for what he would provide.
The Jaguars' best bet would be to wait until the draft and find a developmental quarterback. With holes at positions of more pressing need, it wouldn't make sense for the franchise to spend a high-draft pick on quarterback. A developmental quarterback will fall in line with where the Jaguars will be looking to draft one.
One player Jacksonville could go after is Arizona's Matt Scott.
Scott is projected to be a mid-to-late-round pick, and has a ton of upside to develop into a good quarterback. He already has ties with the franchise, as the Jaguars quarterback coach Frank Scelfo was Scott's quarterback coach for several seasons in college.
The Jaguars need to find a quarterback this offseason, but it's going to be difficult with the lack of talent available. Gabbert may be the team's Week 1 starter by default, with a rookie being groomed for the future as the backup.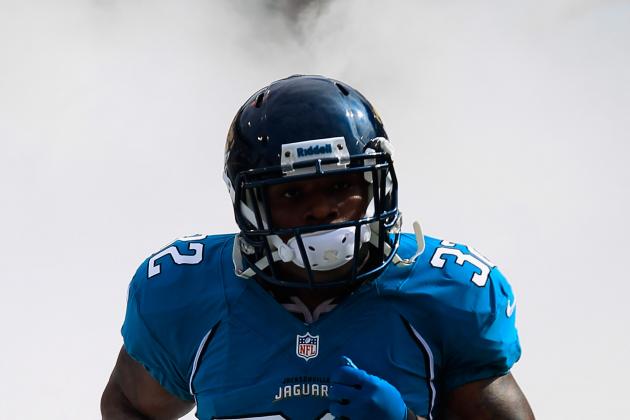 Chris Trotman/Getty Images

2013 Cap Figures
Maurice Jones-Drew- $6,800,000
Montell Owens- $2,350,000
Jordan Todman- $555,000
Richard Murphy- $480,000
Will Ta'ufo'ou- $480,000
Jonathan Grimes- $465,000
Players Becoming Free Agents
Brock Bolen (RFA)
Rashad Jennings (UFA)
Greg Jones (UFA)
Jalen Parmele (UFA)
Keith Toston (ERFA)
Outlook
The Jaguars starting running back role is one of the few question marks entering 2013, as a healthy Maurice Jones-Drew will once again be the featured back.
Jacksonville will be looking for players who can spell Jones-Drew when necessary, and that player could have been on the roster in 2012. Montell Owens, Jalen Parmele and Keith Toston all looked good in limited roles in different parts of the season, but none of them had more than 42 carries. They should all be brought back and given the opportunity to earn roster spots in training camp.
It's unlikely the Jaguars will look at any running backs in free agency or the draft, and will most likely acquire several undrafted free agents to compete for playing time during the summer camps.
Kirby Lee-USA TODAY Sports

2013 Cap Figures
Laurent Robinson- $4,300,000
Justin Blackmon- $4,207,275
Cecil Shorts III- $728,767
Isaiah Stanback- $630,000
Taylor Price- $630,000
Toney Clemons- $480,000
Jerrell Jackson- $405,000
Players Becoming Free Agents
Jordan Shipley (RFA)
Outlook
The wide receiver corp was one of the few bright spots for the Jaguars last season. Cecil Shorts III had a breakout year in his second season in the league, while Justin Blackmon came on strong in the second half of the season to have a great rookie campaign.
Jacksonville won't have to make many moves at wide receiver this offseason with its two young stars, but there are still some questions that need to be answered.
The main concern is Laurent Robinson's future. Robinson, who signed a five-year, $32.5 million contract last March, suffered four concussions during the season, which leaves his future in jeopardy. He is still experiencing symptoms (per an interview with NFL Network's Andrea Kramer) and has been told by the team to rest this offseason.
Losing Robinson would be a blow to the wide receiver corp, as he was going to be the team's slot receiver in 2013. Still, his health is the most important thing, and he needs to do whatever is best for him in the long run.
Another receiver the Jaguars need to get back is Jordan Shipley, who is set to be a free agent. Shipley was productive for the team after being signed Nov. 20, catching 22 passes for 244 yards and a touchdown during his six games as a Jaguar. He should be brought back as the slot receiver if Robinson isn't available. If anything, Shipley is great depth and a decent kick returner.
The Jaguars won't make many moves at wide receiver this offseason, but they will need to address some important questions before the start of the season.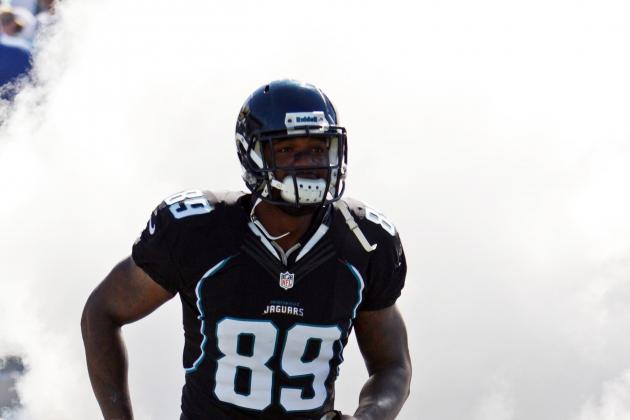 Rob Foldy-USA TODAY Sports

2013 Cap Figures
Marcedes Lewis- $5,750,000
Allen Reisner- $555,000
Players Becoming Free Agents
Zach Potter (RFA)
Outlook
Marcedes Lewis is firmly planted as the starting tight end, and he has the talent to be one of the best tight ends in the league if used properly.
Although the Jaguars have their starter, there isn't anything behind him. Allen Reisner was picked up by Jacksonville on Christmas Eve and didn't contribute anything during the Jaguars' Week 17 loss to the Tennessee Titans. He has just two two catches in his two-year career, and he doesn't appear to be much more than a bottom of the roster guy.
Zach Potter has been on the team for a few seasons but hasn't produced much. He has 11 catches for 83 yards during his four seasons with the Jaguars. He could be re-signed to add depth to a thin position.
The Jaguars will focus on adding depth to the tight end squad this offseason. It's not going to be worth signing a high-priced free agent, but they could possibly sign a cheap veteran for a reserve role.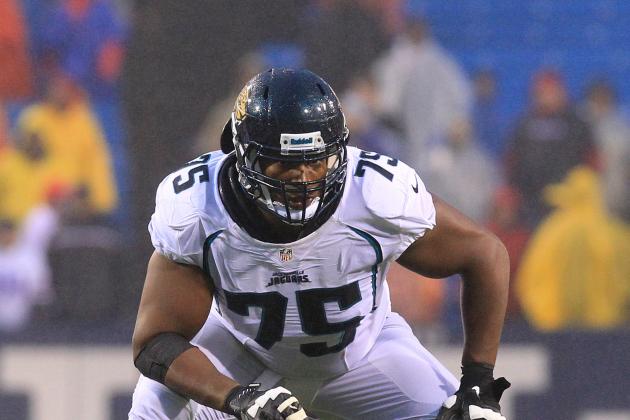 Kevin Hoffman-USA TODAY Sports

2013 Cap Hits
Uche Nwaneri- $5,894,500
Eugene Monroe- $5,747,500
Guy Whimper- $1,825,000
Jason Spitz- $1,816,667
Will Rackley- $794,802
Cameron Bradfield- $560,000
Austin Pasztor- $480,000
Mark Asper- $480,000
Mike Brewster- $480,000
Players Becoming Free Agents
Eben Britton (UFA)
John Estes (RFA)
Brad Meester (UFA)
Steve Vallos (UFA)
Outlook
The offensive line was atrocious in 2012, giving up the third-most sacks (50) and quarterback hits (103) in the league. It will need to be almost completely rebuilt for the Jaguars to be successful.
With the Jaguars switching to a zone-blocking scheme, they must find players who can fit the system.
Players like Eugene Monroe and Uche Nwaneri may be the only two starters who are safe. The other three positions could be upgraded.
The Jaguars will be able to address the line through free agency and the draft.
The offensive line free-agency class is full of talent, and the Jaguars should be able to find a starting-quality right tackle. Players such as Ryan Clady, Jake Long, Andre Smith and Sebastian Vollmer could all potentially be available, and would be upgrades over what they have now.
There will also be players available in the draft who fit the zone-blocking scheme. North Carolina's Jonathan Cooper could possibly fall to the second round, while Cal's center Brian Schenke and Georgia Tech's guard Omoregie Uzzi will be around in the middle-rounds and would improve the line.
The offensive line has to get better for the team to succeed, and it will be an area of focus this offseason.
Kim Klement-USA TODAY Sports

2013 Cap Figures
Jason Babin- $4,625,000
Jeremy Mincey- $3,550,000
Tyson Alualu- $3,515,000
C.J. Mosley- $2,833,333
Andre Branch- $1,156,361
Austen Lane- $676,047
Jeris Pendleton- $492,721
Players Becoming Free Agents
John Chick (ERFA)
Terrance Knighton (UFA)
George Selvie (RFA)
Outlook
Upgrading the defensive line has to be one of the Jaguars' top priorities this offseason. Jacksonville ranked last in the league in sacks (20) and allowed the third-most rushing yards per game (141) in 2012, and that has to change for the franchise to turn around.
While there are several players available in free agency who could improve the defensive line, such as Chicago's Henry Melton and Detroit's Cliff Avril, they will come with monstrous contracts the Jaguars will need to avoid in the first year of rebuilding the roster.
Other than potentially re-signing Terrance Knighton, the Jaguars needs to avoid free-agent defensive linemen and focus their efforts on finding playmakers in the draft.
The draft is loaded with talent on the defensive line, so Jacksonville shouldn't have a problem finding its man. With players like Texas A&M's Damontre Moore, FSU's Bjoern Werner, LSU's Barkevious Mingo and Utah's Star Lotulelei, the Jaguars should be able to find their player to improve the defensive line with the No. 2 pick.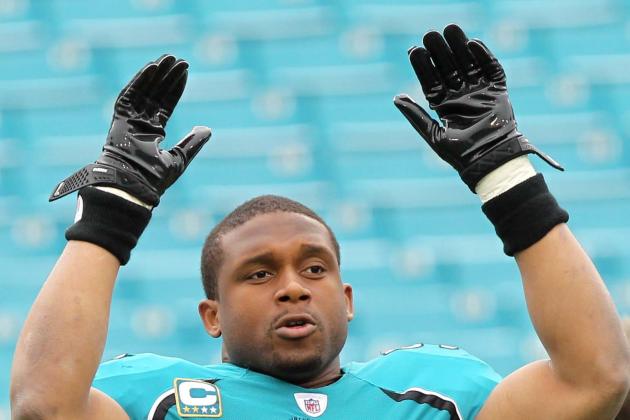 Kim Klement-USA TODAY Sports

2013 Cap Figures
Paul Posluszny- $8,500,000
Russell Allen- $1,816,667
Greg Jones- $555,000
Brandon Marshall- $480,000
Julian Stanford- $480,000
Players Becoming Free Agents
Daryl Smith (UFA)
Kyle Bosworth (RFA)
Outlook
Jacksonville's biggest offseason decision could be whether or not to re-sign Daryl Smith.
Smith, the Jaguars all-time leading tackler, missed all but the final two games of 2012 due to a groin injury. The team turned to Kyle Bosworth and Julian Stanford to fill in for Smith. Bosworth was awful during his time as a starter, and although Stanford played well at times, Smith's presence was obviously missed.
Smith will be 31 entering the season, and the Jaguars must decide whether to go with the veteran or with a younger player. Either way, the Jaguars will avoid signing any free agents, but could look to add a player in the draft.
Good outside linebackers will be available in the middle-rounds of the draft, and could fall to where the Jaguars could be looking for one. Players such as Howard's Keith Pough and Penn State's Gerald Hodges could both compete for the starting role if Smith isn't re-signed, and would add quality depth if he does return.
No matter what happens with Smith, the linebacking corps will be a solid group of players.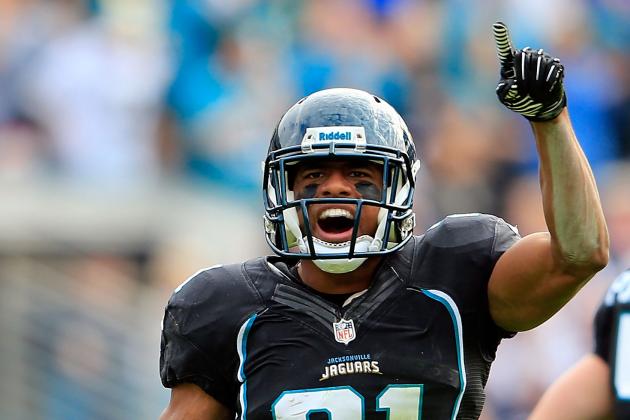 Sam Greenwood/Getty Images

2013 Cap Figures
Aaron Ross- $4,038,333
Brandon King- $555,000
Kevin Rutland- $555,000
Mike Harris- $508,947
Players Becoming Free Agents
Derek Cox (UFA)
Rashean Mathis (UFA)
William Middleton (UFA)
Antwaun Molden (UFA
Outlook
The Jaguars also have important decisions to make at cornerback.
Both Derek Cox and Rashean Mathis are set to be free agents, and GM Caldwell must decide if they're worth bringing back. The oft-injured Cox is a very good player when healthy, and should be re-signed for the right price. Mathis' best years are behind him, and it would make sense for the Jaguars to let him test free agency.
With decisions on Cox and Mathis still looming, Caldwell must also evaluate the players under contract. Aaron Ross played poorly in 2012, and proved he isn't worth his $4 million cap figure in 2013. Ross needs to be let go, and his replacement could potentially already be on the team.
Mike Harris played very well in limited playing time during his rookie season in 2012. He was forced into the starting lineup for the final seven games due to injuries, and made the most of the opportunity. He finished the year with one interception, six pass defenses and a sack.
Although Harris has shown he can step in and be a solid starter, he would be best-suited as the nickelback. This leaves the Jaguars with at least one starting cornerback spot open depending on Cox's situation.
The free-agent cornerback pool is rich with talent, as Brent Grimes, Sam Shields, Aqib Talib and Dominique Rodgers-Cromartie could all potentially hit the market. The Jaguars could find a quick-fix through free agency, but they would be better off waiting for the draft.
There will be a number of talented cornerbacks available in the second to third round of the draft, and Jacksonville could possibly trade back into the first round if a player it wants is still there. FSU's Xavier Rhodes, Mississippi State's Jonathan Banks, Washington's Desmond Trufant and Oregon State's Jordan Poyer would all be an upgrade and instant starters for the franchise.
The Jaguars will have plenty of opportunities to improve the cornerbacks heading into 2013, and they need to take advantage of those opportunities and salary cap space to do so.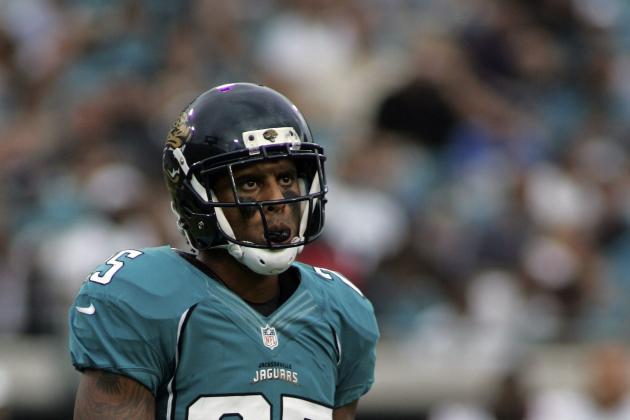 Phil Sears-USA TODAY Sports

2013 Cap Figures
Dawan Landry- $6,700,000
Dwight Lowery- $3,875,000
Chris Prosinski- $720,039
Antwon Blake- $480,000
Players Becoming Free Agents
None
Outlook
The Jaguars safeties will likely remain largely unchanged this offseason. Dawan Landry and Dwight Lowery have the starting roles secured, and both play well when healthy.
Lowery missed seven games in 2012 due to an ankle injury, and Chris Prosinski started in his place. Prosinski struggled for most of his time as a starter, but was solid in the final few games of the season and provides decent depth.
Jacksonville won't make too many moves involving the safeties, but might acquire some cheap talent to add depth to the squad.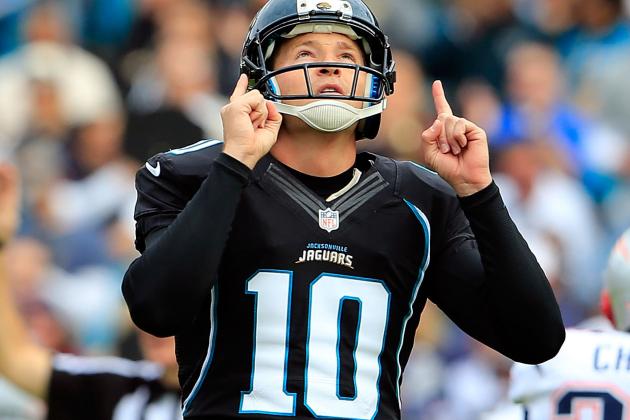 Sam Greenwood/Getty Images

2013 Cap Figures
Josh Scobee- $3,287,500
Jeremy Cain- $1,083,333
Bryan Anger- $675,538
Players Becoming Free Agents
None
Outlook
Special teams may be the Jaguars' strongest area, as both kicker Josh Scobee and punter Bryan Anger are among some of the league's best.
Scobee inked a four-year contract worth $13.8 million in July, and his $2.325 million base salary in 2013 is ninth highest among kickers. His play matched his contract as he finished tied for ninth in field-goal percentage (89.3).
Anger set rookie records in 2012 in gross average yards per punt (47.8) and net average yards per punt (40.8). His 31 punts inside the 20 was sixth most in the league. Anger is set to be one of the league's best punters in the coming seasons.
The Jaguars are set at special teams for years to come.