SEC Football: 3 Teams That Can't Wait for Spring Practice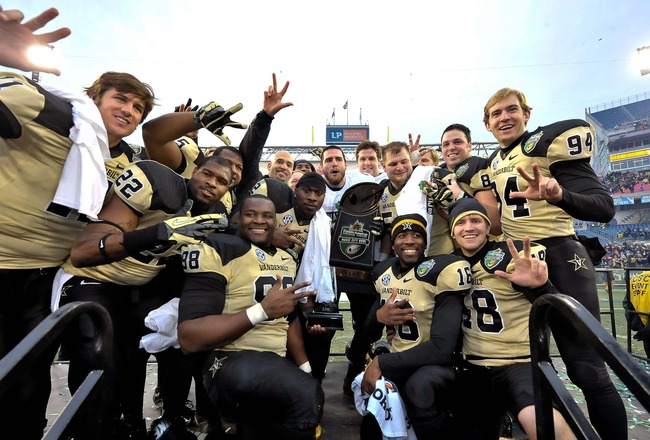 The Vanderbilt Commodores Are Ready for an Encore
USA TODAY Sports
Vanderbilt, Kentucky and Ole Miss are three SEC teams that can't wait for spring football.
Every team in the conference is looking forward to the return of football, but Vanderbilt, Ole Miss and Kentucky are each looking for spring practice to serve as a springboard for good things to come in 2013.
Vanderbilt was great in 2012, finishing the season on a seven-game winning streak. However, the loss of several starters on both sides of the ball has James Franklin anxious for spring ball to start.
For Wildcat fans, there is finally a reason to be excited about more than Coach Cal's basketball team. Having suffered through 2-10 and 5-7 seasons respectively the past two years under former coach Joker Phillips, big blue fans are excited to see what new head coach Mark Stoops brings to the table.
Can Hugh Freeze and Ole Miss take advantage of the momentum created from their 2012 turnaround season and highly-touted 2013 recruiting class? Expectations are suddenly high again in Oxford, and Hugh Freeze is ready to start working with his team.
Let's dig a little deeper with these three squads to see why spring practice can't arrive soon enough.
Will Vandy Charge Ahead or Struggle to Replace Starters in 2013?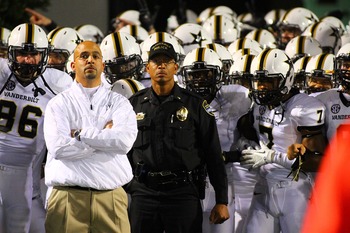 James Franklin Looks to Take Vanderbilt to New Heights
Spruce Derden-USA TODAY Sports
Second-year head coach James Franklin and the Vanderbilt Commodores ended the 2012 season as one of the hottest teams in the country.
Among a number of accomplishments last season, the Commodores went to back-to-back bowl games for the first time in school history, won more games in SEC play than any Vanderbilt club since 1935 and reeled off seven straight wins to end the season, finishing with a 38-24 win over N.C. State in the Music City Bowl.
After signing the No. 22 recruiting class for 2013 (ESPN), James Franklin is eager to get his team back on the field this spring.
While finishing the year red hot, Franklin now must replace a large number of starters in 2013.
On offense, QB Jordan Rodgers, RB Zac Stacy and OGs Josh Jelesky and Ryan Seymour are gone.
On defense, the situation is even worse for Vanderbilt as three defensive linemen (DE Johnell Thomas and DTs Colt Nichter and Rob Lohr), a linebacker (Archibald Barnes) and a safety (Trey Wilson) have departed.
Will reserves move up the depth chart for the Commodores, or will young stars in the 2013 recruiting class step in early and fight upperclassmen for starting jobs?
The best scenario for Franklin and his team over spring practice would be to have several Commodores rise up and show they're ready to be leaders before freshmen arrive on campus this summer. At that point, hopefully Franklin can find both reserves and freshmen to help fill the voids left by the aforementioned graduating starters.
The well-coached Commodore squad could have a great 2013 or struggle to fight for bowl eligibility.
James Franklin can't wait for spring practice to arrive. He just hopes to feel as positive come the end of spring practice as he does heading into spring ball.
Will Kentucky Be the Ole Miss of 2013, Under New Head Coach Mark Stoops?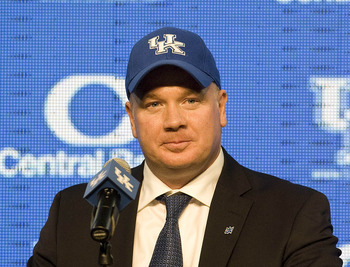 New Kentucky Head Coach Mark Stoops
Mark Zerof-USA TODAY Sports
There is good reason for Kentucky fans to be excited when their Wildcats begin spring practice.
Having served as defensive coordinator at Florida State the past three seasons, Mark Stoops accepted the offer when Kentucky Athletics Director Mitch Barnhart asked him to become the new face of Kentucky football this past November.
Similar to the situation at Ole Miss when Hugh Freeze was hired, Stoops will walk into a very messy situation at Kentucky. Can Kentucky be the Ole Miss of 2013?
While the Wildcats made five consecutive trips to bowl games between 2006 and 2010, they went 2-10 in 2012. Two wins isn't good enough to keep any SEC coach around very long, just ask Houston Nutt.
Only hired in late November, Stoops went to work quickly as he tried to salvage some semblance of a 2013 recruiting class in Lexington. He did just that, inking the No. 36 recruiting class per ESPN.
The star of the class for Stoops is undoubtedly 4-star DE Jason Hatcher. Thought to be leaning towards Lane Kiffin and USC as signing day neared, ultimately Hatcher decided to be a Wildcat under the leadership of the defensive-minded Stoops.
One thing sure to excite big blue fans is the hiring of Neal Brown as offensive coordinator. Brown held the same position at Texas Tech from 2010-2012 and is considered in college football circles as one of the hot young offensive minds in the game. It should be a fun offense to watch.
Come spring practice, Stoops and the entire coaching staff will give every player on the roster a fresh start to show what they're capable of doing on the field. It will be interesting to see which players accept the challenge before summer practice begins.
Spring practice in Lexington is sure to be exciting, as Stoops and offensive coordinator Neal Brown are sure to bring a new look and feel to the SEC. Things can only go up for the Wildcats in 2013.
Can Ole Miss Keep the Momentum Rolling in 2013?
Hugh Freeze Hopes to Keep Things Going in Oxford
Scott Halleran/Getty Images
After the amazing year Hugh Freeze and the Rebels had in 2012, Ole Miss is eager to get back on the field for spring practice in Oxford.
In his initial season at Ole Miss, Freeze led the Rebels to their first bowl bid since 2009 and a 7-6 record. That's impressive for a team and fan base that was reeling from 2-10 and 4-8 seasons respectively the two years prior.
What did Freeze do after leading his team to a win over Pitt in the BBVA Compass Bowl?
Not much. He only landed the No. 5 recruiting class in the nation per ESPN. Among the players in the signing class are four 5-star recruits, including No. 1 prospect in America DE Robert Nkemdiche.
Freeze and Ole Miss are receiving lots of national attention as a result of their recruiting success, and they will now be squarely under the microscope heading into 2013.
For a team that returns nearly all the starters that made real impacts last season, minus RB Randall Mackey and TEs Ferbia Allen and Jamal Mosley, the Rebels should be absolutely loaded with talent this year. If a few young recruits can find quality playing time early in the season, the sky really may be the limit for Ole Miss.
With only limited time to implement his offensive system and insufficient team depth to actually run it efficiently for four quarters, Freeze was only able to run a portion of his true offensive scheme in 2012.
However, between spring and summer practices, Freeze should be able to fully implement his fast-break offense by the time the Rebels open the 2013 season against Vanderbilt. Furthermore, QB Bo Wallace should have a wide array of offensive weapons to choose from in his second year under center.
How soon can Hugh Freeze make the Ole Miss Rebels an elite team in the SEC?
Which true freshmen will step up and find quality playing time for the Rebels this year?
Can the Rebels win seven or eight games in the regular season to improve upon their 2012 campaign?
It's for these questions and more that folks in Oxford are so excited about the future, and spring practice will give Hugh Freeze and the Rebels a chance to see what the future may hold.
Keep Reading

Ole Miss Football: Like this team?