Predicting How the AL East Will Finish in 2013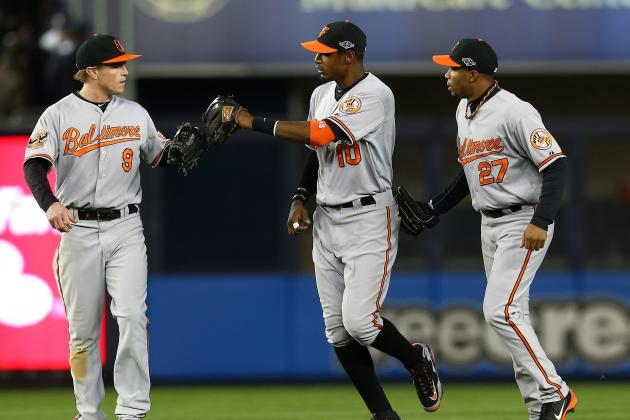 Elsa/Getty Images
The Orioles were the surprise team of the division last season
The American League East is always one of the most competitive divisions in baseball. Over the past decade the Red Sox and Yankees have battled it out for the division crown year after year.
More recently, the Rays and Orioles joined them (perhaps surpassed is the better word, at least with regard to the Red Sox). And with the Blue Jays making a bigger splash than any team in the league this offseason, the division again promises to be as exciting as ever.
This is a tough division to predict, because a legitimate case can be made for each team winning it. The teams will all beat up on each other and get their wins against the weaker teams of other divisions.
Begin Slideshow

»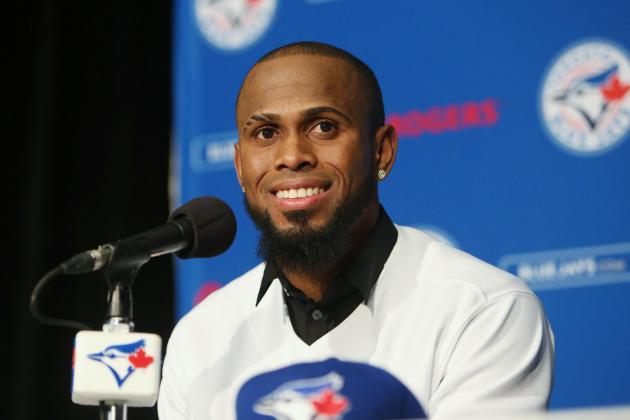 Tom Szczerbowski/Getty Images
Big acquisitions like Jose Reyes will propel the Jays to the division crown
The Blue Jays project to have one of the best starting rotations in baseball in 2013. Their trade for 2012 NL Cy Young winner R.A. Dickey gives the Blue Jays a legitimate ace in their rotation.
They may have reeled in a second ace in Josh Johnson, for whom they also traded for this offseason. With the Marlins, Johnson led the NL in ERA in 2010, and was having an even better 2011 campaign before falling to a shoulder injury.
In the same trade the Blue Jays got one of the most consistent pitchers in the league in Mark Buehrle. Since becoming a regular starter in 2001, Buehrle has never failed to top 200 innings and 30 starts in a season. He has only had three seasons in that span with an ERA over 4.00. He will give the Blue Jays a rock in the middle of their rotation.
The other two starters, Brandon Morrow and Ricky Romero, are longer-tenured Blue Jays. Morrow was hurt for a good deal of last season, but managed a 10-7 record to go with a 2.96 ERA and a 1.12 WHIP. Romero had a down year in 2012, but the season before he was a 15-game winner. Perhaps with the pressure of being the team's ace being lifted, Romero will perform like his old self. Either way, as long as those two guys are mediocre, the Blue Jays are in good shape. Anything more than that is icing.
The Jays have also upped the firepower in their lineup. They bring back many familiar faces, such as J.P. Arencibia, Edwin Encarnacion and Colby Rasmus. They will also be getting back Jose Bautista, who missed significant time in 2012.
Of course, the Blue Jays made key acquisitions in their lineup as well. The team now has all-star shortstop Jose Reyes, who was also gained in the deal with the Marlins. Reyes showed that he could stay healthy last season, after several seasons he spent battling injuries. He gives them a dynamic player at the top of their lineup, who can do virtually anything. With him on base before some of the power hitters in the middle of that order, he will probably score well over 100 runs.
Melky Cabrera is the other big lineup addition for the Jays this season. Cabrera's fantastic 2012 season has been tainted by his suspension for PEDs, but he is still a very good player. His batting average might not be up around .350 this year, but he will certainly be good.
With such a promising team, the Blue Jays should not only be able to compete in the AL East, but win it in 2013.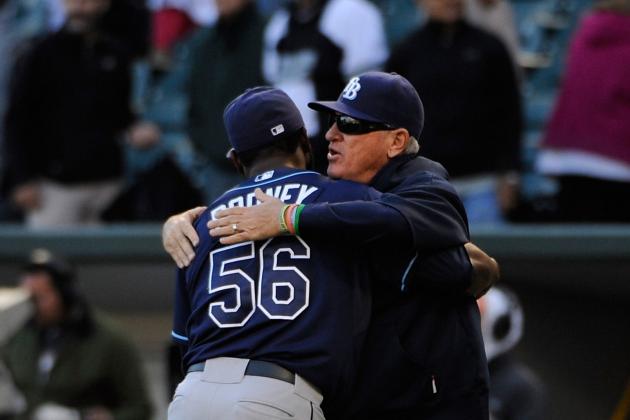 David Banks/Getty Images
Joe Maddon and the Rays will take a Wild Card berth
The Tampa Bay Rays narrowly missed a playoff spot last season. This year they'll be on the better side of the playoff picture.
The Rays are one of those teams that continue to compete no matter who is on the field. A big part of that is manager Joe Maddon. The two-time AL Manager of the Year is one of those rare managers that really makes a big difference. He manages his young players very well and keeps the clubhouse loose. With him, the Rays have been in contention nearly every season despite their lack of high paid stars.
Despite their offseason loss of James Shields, the Rays still have a great rotation. Their staff is anchored by last year's AL Cy Young winner, David Price. After Price, the Rays have four solid, young pitchers.
Moore had an up-and-down rookie season. He finished with a very solid 3.81 ERA. At 23 years old, Moore figures to only get better. Jeremy Hellickson put together a nice season as well, with a 3.10 ERA and 1.25 WHIP. He is only 25 years old, and like Moore, he only figures to improve.
Jeff Niemann and Alex Cobb round out the Rays' rotation. Niemann, who will take the place of Shields, missed most of last season due to an injury. Before that, though, he strung together three straight double-digit win seasons. Cobb is another 25-year-old with plenty of promise. He went 11-9 with a 4.03 ERA in 23 starts last season.
The depth of their rotation is the team's greatest strength. They have great front-line starters, but having four and five pitchers who can fill in as threes or even twos in lesser rotations will allow them to rack up some wins, since those guys will be opposed by some pretty bad players.
Star third baseman Evan Longoria will be back to full strength this season, and give their lineup an anchor. Other than Longoria, they lack any true star power in their lineup. Ben Zobrist is a pretty solid hitter, as is Desmond Jennings. And Kelly Johnson. And Matt Joyce.
You get the picture.
They are filled with hitters ranging from bad to slightly above average for most of their lineup. This is not enough on most teams, but with the Rays' pitching, it should be enough to get them to 90+ wins, and a Wild Card spot.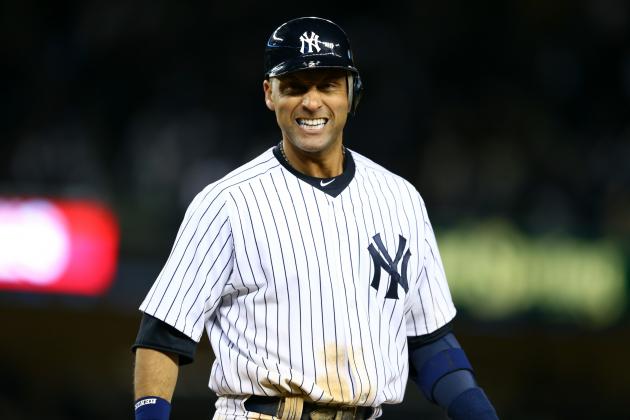 Al Bello/Getty Images
Derek Jeter and the aging Yankees will further decline in 2013
It's not just the Alex Rodriguez situation that's the issue here. The Yankees are a talented team, but a very old talented team. Last season they had an average age of 31.4, over a full year older than the next oldest team.
The whole starting rotation returns for 2013. Their three top starters, CC Sabathia, Hiroki Kuroda and Andy Pettitte, are 32 or older. To have a season depend so heavily on aging arms is precarious to say the least.
Each of these starters were effective last season. Sabathia and Kuroda won 15 and 16 games, respectively, and Pettitte posted a stellar 2.87 ERA after missing all of 2011.
The two younger starters, Phil Hughes and Ivan Nova, can hardly be depended on. Both posted above-.500 records, but those were courtesy of the Yankees' lineup. Hughes was the better of the two, with a 4.23 ERA, but will need to be better than that this year. Nova struggled mightily all season long, posting a 5.18 or above ERA in all but one month.
The bullpen has some question marks as well. Can 43-year-old Mariano Rivera be the same guy he was before he tore his ACL last season? And if not, will David Robertson be an adequate replacement for him if he can't?
The lineup has just as many question marks surrounding it. Longtime captain Derek Jeter is coming off a broken ankle at age 38. Rodriguez will miss the entire 2013 season, and his replacement, Kevin Youkilis, is 33 years old and has already shown signs of decline.
Mark Teixeira is another 33-year-old in decline. The highly-paid first baseman has watched his OPS plummet each of the past five seasons.
Ichiro Suzuki is nearing 40, and newly-signed designated hitter Travis Hafner is 35. Both of these guys have begun their degradation, but should be serviceable if the other guys can step it up; Hafner and Ichiro will not be asked to do that much.
If the Yankees are to succeed, their older players need to have a rejuvenation in the twilights of their careers.
The Yankees still have many great players. Robinson Cano is the best second baseman in all of baseball, and center fielder Curtis Granderson is coming off a second straight 40 home run campaign. Plus, they get back left fielder Brett Gardner from an ankle injury. While he is not a star, he gives them a hard-working, speedy player, who can cause some trouble on the base paths.
The Yankees have a lot of talent, but unless the team finds the fountain of youth, it is unlikely they will clinch a postseason berth.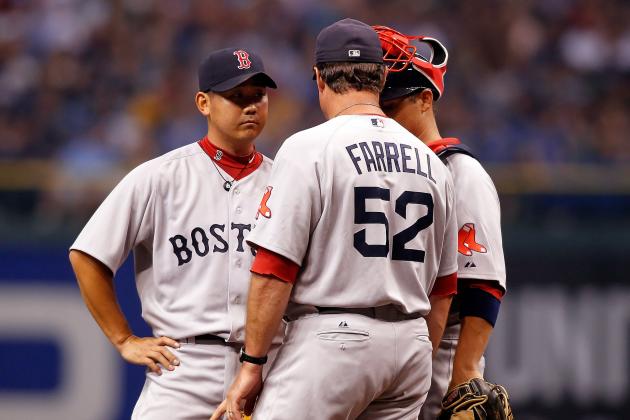 J. Meric/Getty Images
The Red Sox are hoping new manager John Farrell can help get them back on the right track
The bad news is it will be another barren postseason at Fenway Park. The good news is, this team is unlikely to finish in last place.
Just two years ago, such a statement would have seemed impossible to make about the Red Sox, but times have changed. After their worst season in nearly 40 years, the Red Sox seem to be heading in the right direction.
The Sox have purged themselves of the bad contracts of Josh Beckett, Adrian Gonzalez and Carl Crawford. Maybe they have learned their lesson, because they did not dole out any big contracts this offseason.
The new-look Sox are managed by former pitching coach John Farrell. Farrell's arrival should be a positive for a pitching staff, which ranked 12th in the American League last season.
Left-hander Jon Lester pitched his best baseball with Farrell as his pitching coach. Lester should show a bounce-back from his dreadful 2012 season and give the Sox a much needed ace. Clay Buchholz should also benefit from the addition of Farrell.
Disappointing John Lackey will return this season, and while he is unlikely to be back to his ace ways, he should be at least serviceable, which is more than you could say the last time he pitched. He is in much better shape this year, which means he is dedicated to coming back strong.
Felix Doubront was very mediocre in his first season as a starter, but there is no reason to think he will be any worse in 2013.
The Sox found themselves a dependable starter in Ryan Dempster, who has pitched 200 or more innings in four of the last five seasons.
The Red Sox pitching will need to be more than solid for this team to finish higher in the standings. With Gonzalez, Crawford and Youkilis gone, the team does not have the tough middle of the order they were once known for.
Their best hitter may still be David Ortiz, who is coming off an injury and is 37 years old. Jacoby Ellsbury failed to play in half of the games for the second time in three years, so injuries are a huge concern there.
The Red Sox still have some nice spots in their lineup. Second-year third baseman Will Middlebrooks showed tons of promise in his first big league action, before succumbing to an injury. Perennial All-Star second baseman Dustin Pedroia can always be depended on for a good season. Catcher Jarrod Saltalamacchia showed he can provide a little pop in the bottom of the order.
Still, the team did not do enough in the offseason to give themselves a truly potent lineup. Adding Mike Napoli at first base and outfielders Jonny Gomes and Shane Victorino were nice moves, but hardly replace the bats of Cody Ross, Gonzalez and Crawford. Each of those players are hard-nosed, gritty players who can contribute and be great for the clubhouse, but they are more just placeholders for the next generation of Sox prospects.
This team has a lot of question marks, and seem to be heading in the right direction, but 2013 doesn't figure to be their season.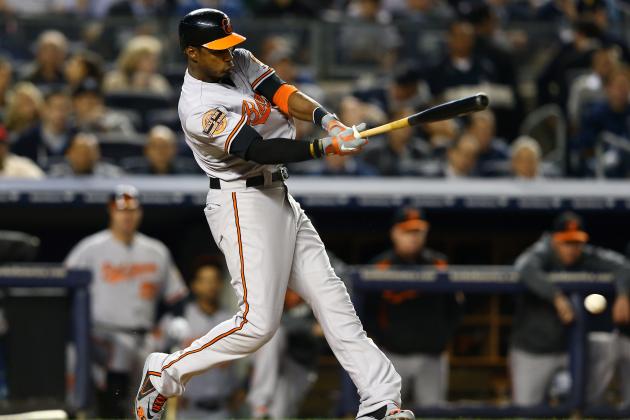 Al Bello/Getty Images
Adam Jones and the Orioles will not have quite the level of success they had in 2012
By claiming a playoff berth and nearly reaching the ALCS, the Orioles were one of baseball's best stories last season.
To predict them finishing fifth in the AL East is hardly an affront on their team. The Orioles should remain competitive, but this is a good division and someone has to finish in last.
The Orioles went 29-9 in one-run games in 2012—a performance unlikely to recur. If they had gone a more pedestrian 17-17, they would have finished 81-81.
That is a big thing to change, but one-run games are very volatile. When the game is so close that often, you figure a team will lose some of those games. The bullpen, the make-up of the team and great management by Buck Showalter factored into that astounding record. The bullpen is unlikely to contain so many players having career years all at once, so their one-run game record should go down.
Baltimore certainly fields a nice team this season, though. As mentioned above, their bullpen still ranks among the best in the league. Their offense is also very good. Their top offensive stars, Adam Jones and Nick Markakis, are both back for 2013. Still in their prime, the pair figure to have solid seasons. Markakis missed a lot of time last season, so with him healthy, their lineup will improve.
Beyond those guys, the Orioles have some guys with some pop in their bats. Chris Davis, Matt Wieters and J.J. Hardy all clobbered 20 or more homers last season.
Manny Machado is their most heralded prospect, and will improve this season. Unfortunately, unless you are Mike Trout, 20-year-old prospects usually need more than a year to be stellar. He will go through some growing pains before growing into the five-tool star he is projected to become.
Their rotation is pretty solid, but lacks a true ace. Rookie Wei-Yin Chen was solid last year, with a 4.02 ERA and a 12-11 record. Jason Hammel showed that he can be a pretty decent pitcher when he pitches for a team other than the Colorado Rockies.
Chris Tillman showed tons of promise last year, going 9-3 with a 2.93 ERA. Rookie Miguel Gonzalez also was good. The only projected starter who was less than solid last year was Zach Britton. That solid rotation should be enough to keep them competitive in a lot of games, but when they go up against teams with true aces and number two pitchers, they will have a hard time matching up.
While the Orioles are a solid team, in so tough a division as the AL East, they will not be able to eke out the wins needed to make a second straight playoff berth.