5 Reasons QPR Will Get Relegated from the Premier League This Season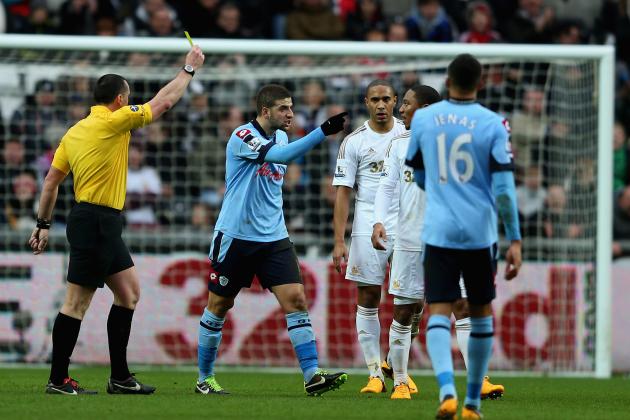 Warren Little/Getty Images
An irate Adel Taarabt during QPR's loss to Swansea. Was the game the beginning of the end for the Hoops?
Queens Park Rangers' January was one that, all in all, gave the club reason to be hopeful about their survival prospects.
Results, including a 1-0 win at Chelsea, kept the Hoops in touch with the teams just above them while manager Harry Redknapp added some new faces to his squad.
Last Saturday's 4-1 thrashing by Swansea City was a stark reminder of the difficulties QPR still face as they attempt to avoid relegation. Positive though things have generally been since Redknapp replaced Mark Hughes, there are still issues that do not bode well, especially in relation to some significant flaws in this team.
It would be wrong to write off QPR are just yet, but there are undoubtedly several reasons as to why things are not looking good for them.
Begin Slideshow

»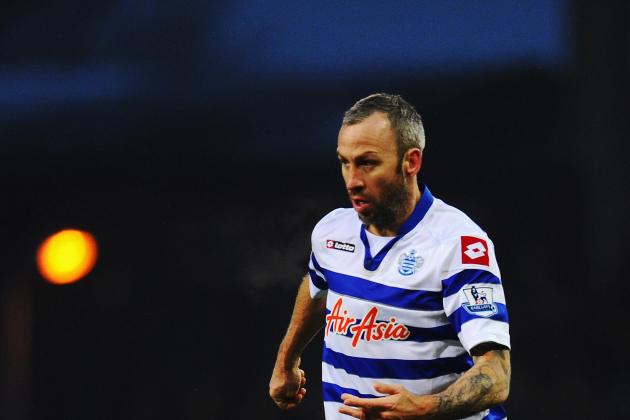 Mike Hewitt/Getty Images
Shaun Derry is one of the few players at QPR possessing any semblance of leadership qualities.
Ryan Nelsen's departure to Toronto FC (the 35-year-old was appointed the Canadian side's manager) at the beginning of this month was a damaging blow for QPR's survival hopes. It robbed them of not only a good defender, but also one of the few leaders amongst the playing staff.
There is plenty of experience at the club—the likes of Julio Cesar and Jermaine Jenas, for example, have a ton between them. But someone having played a lot of games does not make them a leader.
In the form of the holdovers from the Neil Warnock era—Clint Hill, Jamie Mackie and Shaun Derry—there is still a sense of the determination and hunger that saw QPR promoted to the Premier League in the first place. Derry in particular has brought a much-needed grit to a team that was otherwise desperately fanciful.
Even if these three have the necessary skills and gravitas to keep a disparate squad together and organized, both on and off the pitch, it may not be enough to keep their heads above the water as the season progresses.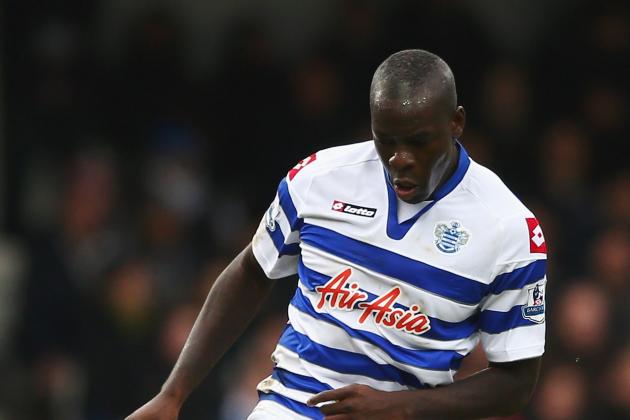 Paul Gilham/Getty Images
Christopher Samba.
Nelsen's then-approaching departure made signing a replacement center-back a necessity for Redknapp. QPR went for Christopher Samba, triggering the former Blackburn Rovers man's £12.5 million release clause at Anzhi Makhachkala.
Samba has the best part of five years of Premier League experience, is physically imposing and strong in the air. In theory, his presence offers a nice counterpart to the scrappier Clint Hill beside him in defense.
His size and decent goalscoring record—17 in his time at Blackburn—have given people the impression he is a first-class defender. In reality, Samba is nowhere near that level.
There are reasons top clubs have shied away from the 28-year-old, and they are mostly to do with him being a decent individual player but not someone particularly adept as part of a defensive unit. He has little instinct for organization, and his concentration can be found severely wanting when tasked with keeping track of opposition forwards (i.e. most of the time).
In his last season-and-a-half at Blackburn, he was as big a culprit as any for the club's woeful defending. Up until his last league match for the club in 2011-12, Samba played in 16 of their 20 games, a spell in which they conceded 43 times. The season before that (in which he played in 33 of their games) Blackburn were just as shambolic, conceding 59 goals. If not for the frequent superb work of goalkeeper Paul Robinson, they would almost certainly have gone down a year earlier, as they could not defend whatsoever.
Samba was not solely to blame for Blackburn's defensive struggles, but all this is to show he is far from being the man capable of solidifying QPR up at the back alone. Their defense is not altogether dissimilar to that Blackburn one, with players like Hill and Nedum Onuoha decent but not especially commanding presences at the back
Behind them, Julio Cesar will give them some chance of keeping teams out. But as the Swansea game demonstrated, he is going to have some off days, and even then there is only so much he can do.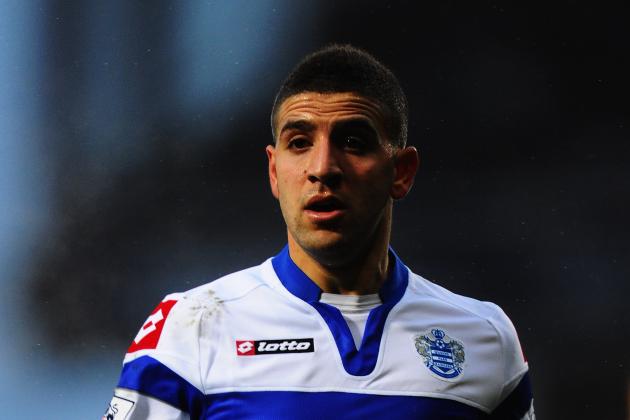 Mike Hewitt/Getty Images
Adel Taarabt.
That Adel Taarabt has been, in goals and assists, responsible for eight of QPR's 19 goals this season says something about the onus on him to lift this team.
Taarabt has played some terrific football this season. To watch the Moroccan in full flight is to witness hope for the team around him. If he is capable of summoning such breathtaking moments of quality, then surely those around him can rise to make the most of the advantages he gives them.
Except it does not look like there are many others who can.
Shaun Wright-Phillips shows flashes of the speed heading towards goal that wowed so often in his younger days. Jamie Mackie is a grafter, but not an especially potent threat upfront.
Loan arrival Andros Townsend is an earnest, brave winger who might yet contribute some big moments, but is still learning his trade at this level. Another signing from Spurs, Jermaine Jenas is a better midfielder than some give him credit for, but he is perhaps too quiet a figure too make a substantial impact on a fight like this. As for Loic Remy, it depends on whether he is fit or not—more on that later.
If Taarabt is not on song, then there is seemingly nobody else capable of taking the game to opposition teams. And even if he is playing well, there is only so much one man can do.
The pressure on Taarabt to create the majority of QPR's chances is an unfair burden. There is hope that others like Townsend will increasingly play their part here. But for the Hoops to stay up they are going to need a lot more of their players striving to play a starring role like Taarabt, rather than just be bit-part actors.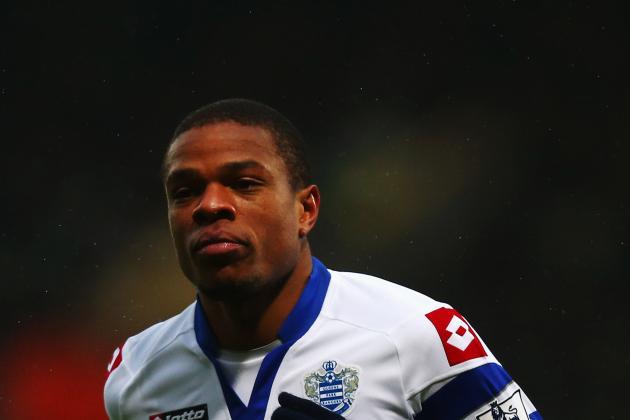 Clive Rose/Getty Images
Loic Remy.
Loic Remy and Bobby Zamora are two players QPR will need to step up in a big way like Taarabt if they are to stay up. While both strikers are capable of doing so, the trouble is there are doubts as to how often they will get the chance too.
Remy made an immediate impression after joining from Marseille, scoring in a 1-1 draw against West Ham United. Since playing the next match versus Manchester City, Remy has been out with a groin injury.
Redknapp had been unclear as to how long he might be out for, but last week revealed the Frenchman was back in training (via BBC Sport). Regardless of when he is back actually playing, his game time has been so little so far that it has been hard to get a good reading as to how effective he will actually be for QPR.
The West Ham match was a promising start from the Frenchman, but even in his time at Marseille, he was someone who was wont to flatter to deceive. Perhaps he will prove to be a consistent scorer and performer for QPR, but they are still relying a lot on a player for whom there is no guarantee of his success.
Bobby Zamora's injury problems will have Redknapp painfully reminiscing of his experiences with Ledley King at Tottenham Hotspur. Zamora can play, but his hip issues are so temperamental that he risks seizing up after playing for a certain amount of time. Along with revealing this (in quotes in The Sun), the QPR boss also admitted his striker is playing on even while he could do with an operation.
Like Remy, a fit and firing Zamora could play a significant part in helping QPR to safety. The hope is he will be capable of continuing to contribute until the season is up—he has scored four times this season, including last time out against Swansea.
But that is putting an awful lot of weight on the ability to adapt to a new league—in the case of Remy—and the fitness of two players for whom the odds of them avoiding some related issues are not good.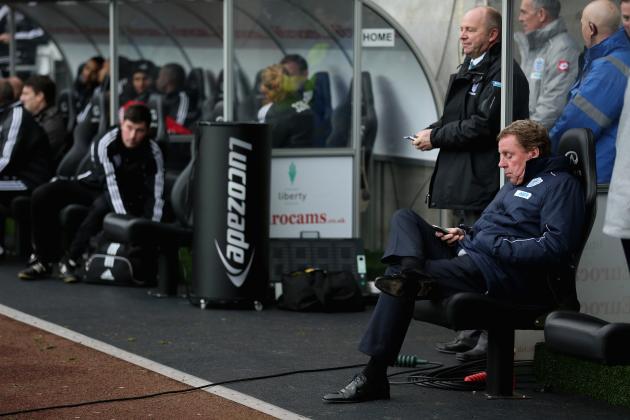 Warren Little/Getty Images
Harry Redknapp faces a fair few more dispiriting trips away from Loftus Road.
With 17 points on the board and six behind fourth-bottom Aston Villa, QPR have a lot of ground to catch up. With 12 matches left to play, there is feasibly plenty of opportunity for them to do so. Looking at their fixture list though, it seems too hard an ask.
QPR have won just twice all season. One of these was an impressive win away at West London rivals Chelsea, but besides on that occasion, they have rarely looked like coming away with the three points from their travels. There is little reason among their road performances so far to suggest that is going to change.
Worryingly, other than a home fixture versus Wigan Athletic, all of their likely meetings with fellow survival hopefuls take place away from home. Reading and Southampton (and perhaps even Aston Villa after their win against West Ham) have shown signs of making their respective stadiums difficult places to go to. These will make for some intense, high-pressure encounters in the coming months.
The Hoops have been better at Loftus Road and have done well in holding teams like Tottenham and Man City to draws. That might stand them in good stead for home games against Manchester United (this weekend) and Arsenal still to come. But considering they are going to need wins, stubborn, draw-earning displays will not be enough to see them to safety.
Redknapp might yet engineer an "us against the world" mentality that inspires them to some heroic, season-saving performances. It just seems unlikely they are going to be able to do that on a regular enough basis.