Projecting Stephen Strasburg's First Season with No Limits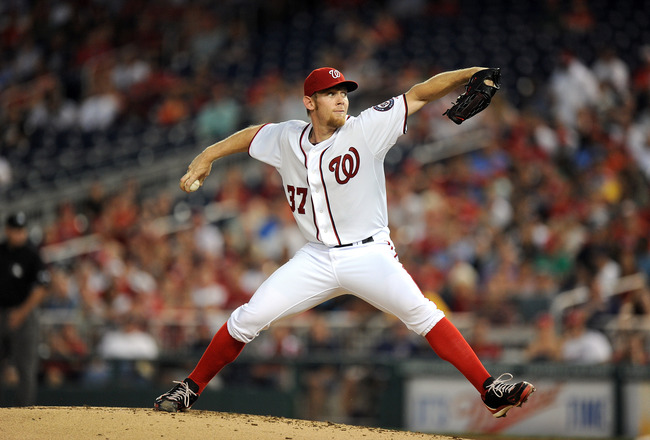 Greg Fiume/Getty Images
It's time to unleash the beast—well, okay, maybe not the beast.
Washington Nationals phenom Stephen Strasburg is finally without limits entering the 2013 season. With no innings limit or other pitching restraints holding him back, we fans can finally put in our preseason predictions for the young right-hander.
Last season, though cut short, was far from disappointing.
Through 159.1 innings, he was every bit of dominant. He posted a 3.15 ERA, 197 strikeouts, a 1.155 WHIP and 11.1 SO/9. This all culminated to a record of 15-6.
His goal is 200-plus innings. An injury-free season should most definitely wield that number for Strasburg, but just how many innings will he toss?
How many strikeouts will he compile? How many wins can he accrue on a potent Nationals team?
Well, read on to get an idea.
Innings Pitched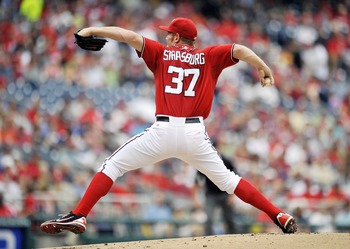 Joy R. Absalon-USA TODAY Sports
Motivation: check.
Health: check.
Late-season experience—eh.
Last season's innings total was a career-high Strasburg, so there's no telling at this point how his arm will hold up moving forward.
If you recall, he was shutdown last season because of what manager Davey Johnson considered a "mental issue," though fatigue most assuredly played a role as well—however minimal.
If the stars align and Strasburg manages to keep his head in the right place, all while staying physically healthy as well, the sky's the limit.
It's very feasible for Strasburg to throw 220-plus innings. Will he approach Justin Verlander territory (at least 238 innings pitched three of the past four seasons)? Maybe not just yet.
That being said, I honestly wouldn't be too surprised.
Final Prediction: 225 Innings Pitched
Strikeouts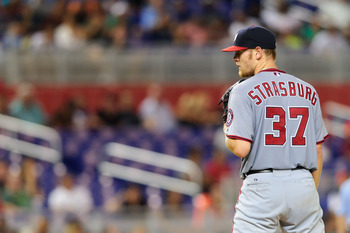 Steve Mitchell-USA TODAY Sports
If Strasburg has proved anything over his first 45 career starts, it's that he can be considered amongst the best strikeout artists in the league.
His career SO/9 is an astounding 11.2, suggesting that he has some of the most dominant stuff in baseball.
Just to give you an idea of just how strong his secondary stuff is, let's consult fangraphs.com.
He threw his fastball 1,330 times last season. Batters hit .268 against those pitches—which averaged 95.8 miles per hour, I might add.
His curveball was thrown 493 times and batters hit a putrid .148.
They also hit just .167 on the changeup that he threw 414 times.
While it's best to work off your fastball when you're a pitcher, don't be surprised if we see a ton of off-speed stuff from Strasburg next season.
If he can do that, expect well over 200 strikeouts. Actually, I'd even go out on a limb and say that he could push 275 if he can pitch as many innings as I've suggested.
Final Prediction: 265 strikeouts
WHIP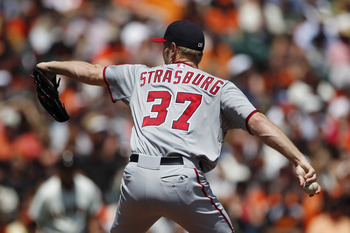 Beck Diefenbach-USA TODAY Sports
Strasburg owns a career WHIP of 1.090—fantastic, to say the least.
His ability to strike out batters and force weak contact from hitters makes him one of the most reliable starters in baseball.
Last season's WHIP leader was Clayton Kershaw with a WHIP of 1.023. He also led the league in 2011 with a 0.977 WHIP.
Kershaw does not have as dominating stuff as Strasburg (career SO/9 of 9.3 compared to Strasburg's 11.2 SO/9), nor does he have the control that Strasburg does (3.3 BB/9 for Kershaw and 2.4 BB/9 for Strasburg).
I'm not saying that there's a very strong chance of Strasburg pitching as well as Kershaw did in 2011 and allowing less than one batter per inning to reach base, but I want everyone to realize that it's not out of the realm of possibility.
As Strasburg learns to pitch late in the season, though, expect him to have a few hiccups here and there. His arm will assuredly feel a bit of fatigue—not many pitchers' arms don't—and he'll struggle with command from time to time.
In the future, I can see a Kershaw-like WHIP. Next season, it won't be that low, but it will still be respectable.
Final Prediction: 1.150 WHIP
Complete Games and Shutouts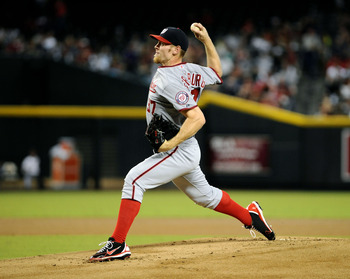 Jennifer Stewart-USA TODAY Sports
Strasburg has never thrown a shutout, nor has he tossed a complete game in his major league career.
Expect a few of each in 2013.
As Strasburg comes into his own as a top-five or so pitcher in this league, he'll learn how to work deeper into games and put hitters away earlier on in the count.
Instead of getting to 0-2 and hoping hitters will chase one of the next two pitches out of the zone, Strasburg needs to learn that going right after hitters is not a bad thing—especially with stuff like his.
Saving up pitches and, most importantly, energy for late in games is what sets the best pitchers apart from the rest. See "Verlander, Justin" for proof of that.
I think Strasburg definitely has it in him to throw two or three complete games while also hurling two shutouts. With an arm like his, he could be a threat to go nine innings every game—kind of like Roy Halladay from 2008-10 or C.C. Sabathia in the second-half of 2008.
Final Prediction: Three complete games and two shutouts
Record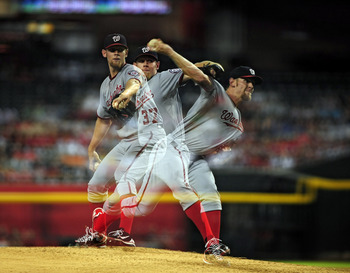 Jennifer Stewart-USA TODAY Sports
A pitcher's win-loss record isn't necessarily a reflection of the pitcher's performance.
A great example of that is Felix Hernandez in 2010. He produced a minuscule 2.27 ERA and still had just a 13-12 record—you can blame the Seattle Mariners' lack of offense for that one.
If Strasburg can bring his ERA under 3.00 (and 2.80 is my prediction, by the way), he'll definitely have better than a 13-12 record.
Why? Well, the Nationals' offense should rank in the top 10 in the majors if everyone stays healthy.
Ryan Zimmerman, Adam LaRoche, Jayson Werth, Bryce Harper and Ian Desmond can all drive in runs, and table-setters like Denard Span and possibly Danny Espinosa should give them plenty of opportunities to drive in runs.
Gio Gonzalez produced over 20 wins for Washington last season after winning no more than 16 games in previous seasons because of a less-than-adequate Oakland A's lineup.
If Strasburg can pitch as well as I'm predicting (a stretch, I know), then he could win upwards of 22 games in 2013.
Final Prediction: 24 wins and 5 losses
Keep Reading

Washington Nationals: Like this team?