Philadelphia Flyers Rankings: 5 Reasons This Team Is Stanley Cup-Worthy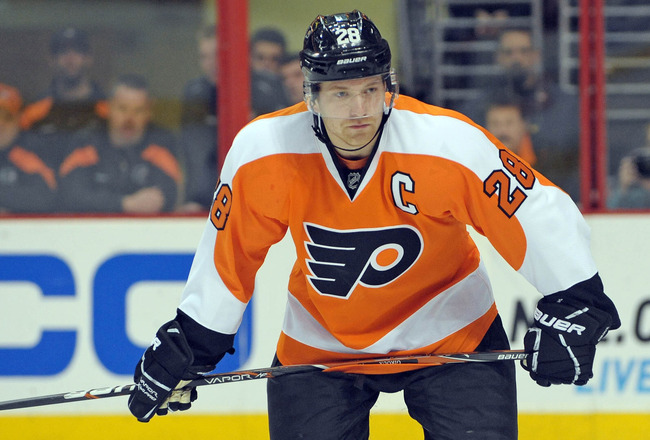 Flyers' Captain Claude Giroux
USA TODAY Sports
The Philadelphia Flyers have a great future ahead of them. This is a team that can go all the way and win the Stanley Cup if it maintains its focus and intent.
Sixteen games into the season, things weren't looking so good for the Flyers. There were games that could have been won, but the tides weren't turning their way, despite their efforts. They didn't get the lucky bounces, and they struggled to score. This seemed to have a lasting effect on the team's motivation.
Adding to the frustration, the Flyers were hampered by injuries to key players Andrej Meszaros and Scott Hartnell.
But after losing two straight games to the New Jersey Devils and the Montreal Canadians, respectively, Flyers captain Claude Giroux called out his teammates for their lack of spark and flat performance on the ice.
Presumably, he told them that they are capable of achieving so much more, and that he alone cannot carry the team. Whatever it was that he said, it worked.
Starting Monday on the road against the New York Islanders, the sleeping giants awoke, and the result was a 7-0 romp.
With this momentum behind them, they headed into Pittsburgh to challenge Penguins forwards Sidney Crosby and Evgeni Malkin in a revisit of the famed Pennsylvania rivalry.
It turned out to be a great game. After a 2-0 deficit early in the first period, it was anyone's guess whether the Flyers would be able to come back.
But they did come back in spectacular fashion to defeat the Penguins on their home ice in a 6-5 thriller to show that they still have what it takes to beat any team in the league.
The Flyers are one of the top four teams in the NHL. They have a roster filled with skill and ability in all positions. The majority of general managers in the league would love to have such a team suiting up in their buildings.
Here are five reasons this team is Stanley Cup-worthy:
Ilya Bryzgalov's Regained Confidence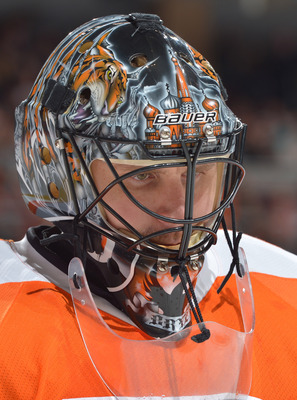 The Future is Bright For Bryzgalov
Drew Hallowell/Getty Images
The 2013 NHL season has proven that Ilya Bryzgalov was a great signing after all.
He has played brilliantly. If not for his solid play in net, the Flyers might not have as many wins as they now do. Oftentimes this season, it seemed like he was one of the only players on the ice to show up focused, ready to play and desiring a win.
He looks like one of the league's best goaltenders again.
We haven't seen his best yet. It's still to come. He has the talent and ability to take this team to the ultimate championship.
His continued consistency is key.
Jakub Voracek Emerges as Top Scoring Threat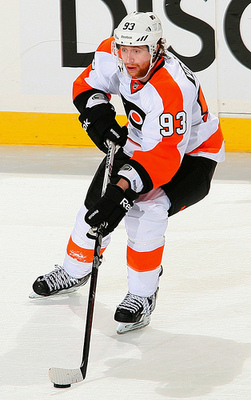 Jakub Voracek
Jakub Voracek has arrived!
Voracek has racked up a total of seven points—three goals and four assists—in two games. He now leads the team with 18 points in as many games.
Last summer when the Flyers locked him up to a four-year contract worth $17 million, they were expecting him to step up and take the place of the departed Jaromir Jagr. All doubts have now been put to rest as he has done just that.
Against the Penguins, he came up big and scored his first NHL hat trick with the game-winning goal with just one minute and 32 seconds left in regulation to give the Flyers the win.
We are going to see a lot more from this guy. He has proven that he can change the momentum of the game. He's speedy, he can score goals and he can set them up.
He's one of the main keys to winning the Stanley Cup, and at 23 years old, there's no doubt that he's going to hoist it above his head in the near future.
Danny Briere: Playoff Hero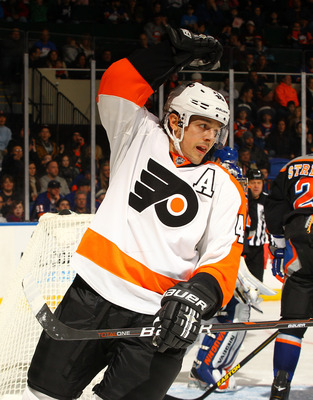 Danny Briere Lights Up The Islanders
Al Bello/Getty Images
Danny Briere is the Flyers' renegade playoff hero. Everyone knows that come playoff time, he always brings his best game to the table.
He still contributes during the regular season, but performing in the playoffs is his area of expertise.
You know that whenever the puck drops, whether it's Game 1 or Game 7, Briere is the one guy who is always consistent. There are few players in the league who can show up night after night when it really counts like he can.
Many seem to forget that he led all players in points during the 2010 Stanley Cup playoffs with 30.
This is the right guy to have on your team. Don't count him out. The Flyers need a player like Briere to inspire them as only he can do come playoff time.
For all his years of hard work and dedication, Briere deserves to win it all.
He is such an important key to the team's success and is another reason why they will win the Stanley Cup once and for all.
The Schenn Brothers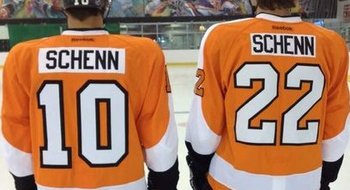 The Schenn Brothers
The Schenn Brothers. Two boys from Saskatoon, Saskatchewan realizing their dream of playing together on the same team in the National Hockey League.
The youngest, Brayden, is developing into a star player and so far this season has 14 points in 17 games. After playing the first half of last season without scoring a goal until the Winter Classic, it is easy to miss how much he has progressed.
This is certainly his breakout year. While he, at times, appears to be too complacent to put forth the effort to chase down a puck-carrying opponent, he is learning fast and will only get better and stronger.
Luke, the older of the two, has a fresh start in Philadelphia after being obtained by GM Paul Holmgren in exchange for James van Riemsdyk.
He has seen loads of ice time and has been solid on the Flyers' blue line. He has turned things around and put his years as a Maple Leaf behind him.
These two brothers have a bond that will help turn the Philadelphia Flyers into a championship team.
The better they play and the more they improve, the Stanley Cup is theirs. They need to rise up.
For a Stanley Cup to be won in Philadelphia, the Schenn brothers are an important piece.
Claude Giroux: Flyers Captain and Leader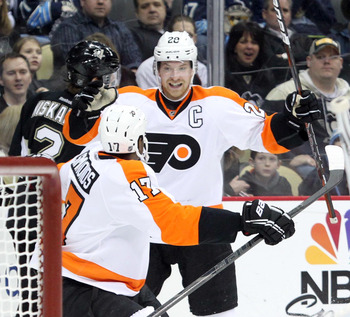 Claude Giroux: Undisputed Flyers Leader
USA TODAY Sports
Claude Giroux is an NHL superstar.
He was named captain of the Flyers this season and is a real force to be reckoned with on the ice.
He is one of the smartest players in the league and, when he's at the top of his game, he always comes up with creative ways to score by outwitting his opponents.
He's a great leader and is leading by example with his skills, determination and tenacity to keep playing through injuries while still playing his heart out. He works hard year round, and as his leadership skills continue to develop, there is no doubt that he will lead this team to victory.
If the Philadelphia Flyers continue to work through the hardships on their way to finding that chemistry and learning how to play together every game, both defensively and offensively, they will be unstoppable.
The keys to winning it all are already in place—they just have to believe that they can, and they will.
They have what it takes to win the Stanley Cup.
The time is now.
Keep Reading

Philadelphia Flyers: Like this team?