WWE Raw Live Results, Coverage and Analysis for Elimination Chamber Go-Home Show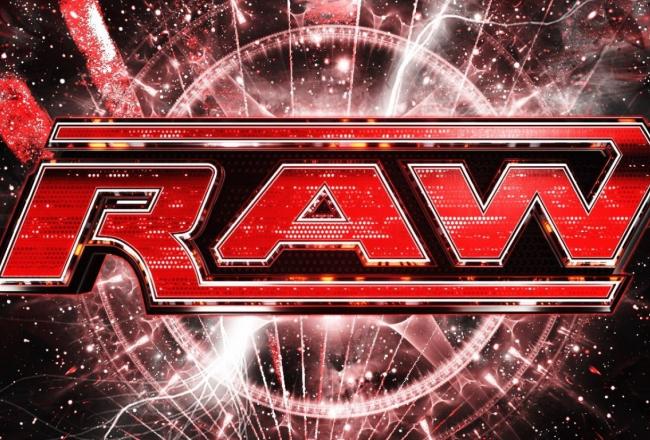 WWE Raw Logo

Welcome, everyone, to Bleacher Report's live coverage of WWE Monday Night Raw. This is the go-home Raw heading into the Elimination Chamber pay-per-view on Sunday.
We are likely to see most of the major storylines wrapped up heading into the PPV, with the exception of anything they plan to wrap up on SmackDown.
The Rock and CM Punk are set to square off on Sunday to see who heads into WrestleMania as WWE champion, so expect plenty of coverage for that program.
Brock Lesnar's attack on Vince McMahon, the two chamber matches, Alberto Del Rio's World title defense against Big Show and Paul Heyman's status are also on the agenda tonight.
How will The Shield respond to the announcement that they are in a Chamber match?
Who will fill the final spots in the other Chamber match?
Will anyone else suffer Brock Lesnar's wrath?
And finally, are these rumors of an Undertaker return a reality?
Bookmark this page and come back tonight at the start of the show (8 P.M. ET) for answers to these questions and more as well as coverage of all the action as it happens live on Raw.
Follow me on Twitter @BR_Doctor
That was a pretty good show from start to finish. There were a few slow spots, but the action was good, storylines were developed and we got to see Rocky eat a GTS.
Thanks for reading. Make sure to come back Sunday for live coverage of Elimination Chamber right here on Bleacher Report.
CM Punk's music hits and he comes out with Paul Heyman. Rock says the stipulation won't matter on Sunday because he will beat his punk ass on Sunday.
He says if Punk comes down the ramp he will beat him all over Nashville. Punk starts walking down the ramp and he changes his mind at the last minute.
Punk does a double take and storms the ring. Rock gets the better of Punk in the beginning, but Punk fights back.
Rock hits the Spinebuster, but Heyman grabs his leg during the People's Elbow and Punk is able to hit the GTS to knock Rocky out.
Rock struggles to get to his feet as CM Punk leaves the ring with the WWE title. He talks to Rock from the ramp and says he is just going to take the WWE title whenever the Rock brings it.
The show ends with Rock still selling the GTS and Punk standing tall with the title on the ramp.
The Rock does his usual thing and says we are going to have some fun with "Story Time With The Rock."
He tells a story about moving to Nashville when he was younger. Rock talks about getting no action in High School because he looked like an undercover cop.
Holy Crap! A Jeff Jarrett mention on Raw!
He talks about hustling a crack head to buy a car for $40. He says the car had another crack head in the back seat and Cole and Lawler are busting a gut at ringside.
Rock says he figured the car was stolen, so he ditched it in a Burger King parking lot and walked back to the bar he was at.
That was kind of a funny story, if it is true.
The Rock moves on to a story about his first match at a fair ground.
@therock is ubiquitous...he's everywhere! The @wwe Champion is loving performing in front of live audiences. #differencemaker #bluechipper

— Jim Ross (@JRsBBQ) February 12, 2013
The Rock is out after the break and he takes in the audience's response on the ramp before making his way to the ring.
Ziggler vs. Kane Part 2
Kane is in control when we return and he uppercuts Ziggler from the top rope to the outside. Langston stops Kane from attacking Ziggler on the outside for a moment and it allows Ziggler to run him into the barricade.
Ziggler hits a neckbreaker to Kane as he tries to get back in the ring and he follows up with a series of 8 elbow drops and a jumping elbow for a two count.
Ziggler hits a jumping DDT after an exchange of reversals and he gets a near fall on Kane. Kane avoids Ziggler in the corner and hits a big boot for a two count.
Ziggler ends up back in control an he almost wins with a sleeper hold. Kane hits a sidewalk slam for a two count.
This has been a very back and forth match so far. Kane gets distracted by AJ, but he still ends up winning after hitting the Chokeslam.
Langston had to catch AJ after Ziggler accidentally hit her off the apron.
Winner: Kane
I guess the Chamber match is full. It will be Kane, Bryan, Orton, Swagger, Mysterio and Henry fighting it out for a chance to face the World champion at WrestleMania.
Kane has never been better, great match. Two good matches back to back, this one after great finish by Wade Barrett. @wwe

— John Layfield (@JCLayfield) February 12, 2013
That was a fun match. It looks like there is just enough time left for a lengthy Rock promo after the break.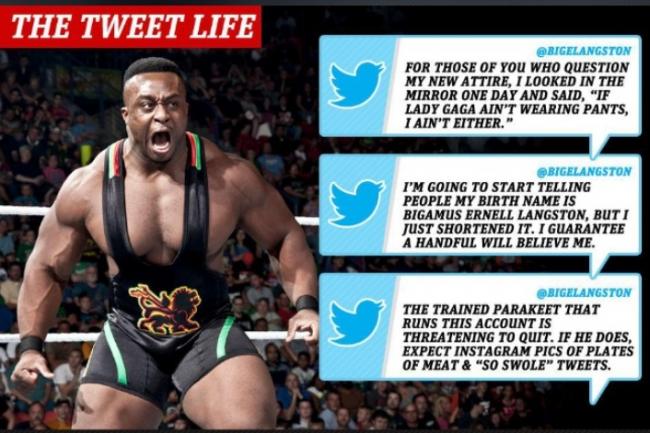 Langston's humor on Twitter is being acknowledged by WWE.
Kane vs. Dolph Ziggler Part 1
Kane's pyro hits after the break and he comes out for his match against Ziggler. I am liking Langston lately, but AJ has turned into an accessory for Ziggler. She used to be interesting.
Ziggler starts off with some hard strikes, but Kane hits a back elbow to take him down.
Kane hits a big uppercut for a sloppy two count. Kane takes Ziggler over for another two count. Ziggler hits an incredible dropkick to the face of Kane to take back control.
Ziggler slides out of the ring to avoid Kane as we head to a commercial.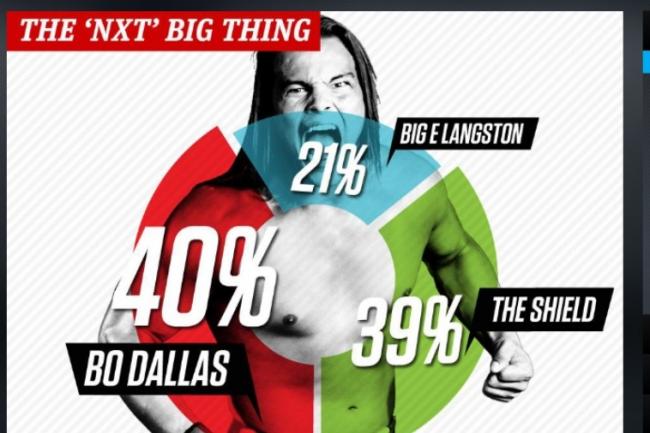 Kofi Kingston vs. Wade Barrett
Barrett comes out selling the attack at the hands of Dallas. Kofi starts off strong, until Barrett catches him with a kick and a back elbow.
Kofi hits some quick offense to take back control. He tries for an SOS, but Barrett pushes him off. Kofi comes off the ropes with a big splash for a two count.
Kofi hits the high cross body for another two count. Barrett hits a big Winds of Change for a near fall.
Barrett pulls down the elbow pad and lines up for the Bull Hammer. He misses and is able to avoid a Trouble in Paradise.
Barrett ties up Kofi in the apron and hits the Bull Hammer to win in a very unique way.
Winner: Wade Barrett
Another quick, but pretty entertaining match from WWE tonight. Raw has been solid for the most part.
Cole hypes Kane vs. Ziggler for the final Chamber spot up next. A commercial airs for the Best of WCW Nitro Vol. 2.
Hopefully DDP hosts it again.
Another Fandango promo? WWE must actually think this can work.
After the break we get Kofi Kingston coming out to face Wade Barrett, if he can make it after the attack.
Zeb is huge addition to @wwe @realjackswagger he is one of best talkers in the biz and he and Swagger will be a great team. Glad he's back!

— John Layfield (@JCLayfield) February 12, 2013
We see Wade Barrett walking backstage and Bo Dallas comes out of nowhere and attacks him. Some refs pull him off Barrett as we head to commercial.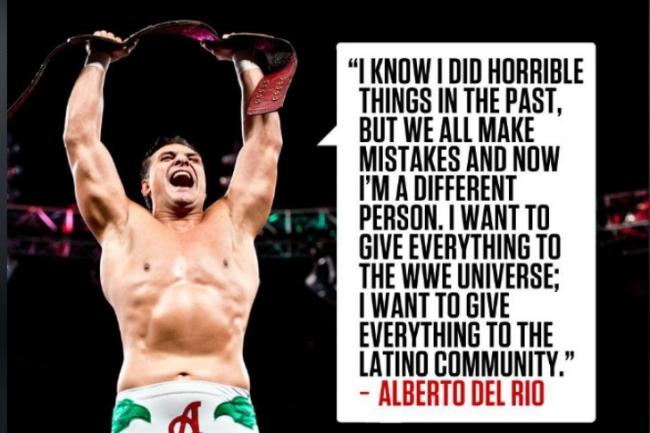 Alberto Del Rio vs. Damien Sandow
Sandow delivers another classic promo on his way to the ring. Ricardo gives Del Rio what has to be his longest introduction ever.
Albertooooooooooooooooooooooooooooooooooooooooooooooooooooooooooooooooooooooooo!
Sandow gets in some knees to the gut to get things going and he follows up with the Elbow of Disdain.
Del Rio comes back with a nice tilt a whirl backbreaker and he follows up with a running side kick for a close two count.
Del Rio gets a Si Si Si chant going before locking the Cross Arm Breaker for the quick submission win.
Winner: Alberto Del Rio
Del Rio celebrates after a quick, but somewhat entertaining match. I think Sandow's promo lasted longer than the in-ring action, though.
I have noticed an up-swing in how many matches are being won by submission lately, and I like it.
Del Rio says Big Show gave the best promo of his life earlier by not saying a thing. He talks about how he will beat Big Show on Sunday.
Sometimes I wonder why I'm on Twitter. Read my timeline & you'll understand. Too much negativity & bitching about a TV show. Relax. Exhale

— Jim Ross (@JRsBBQ) February 12, 2013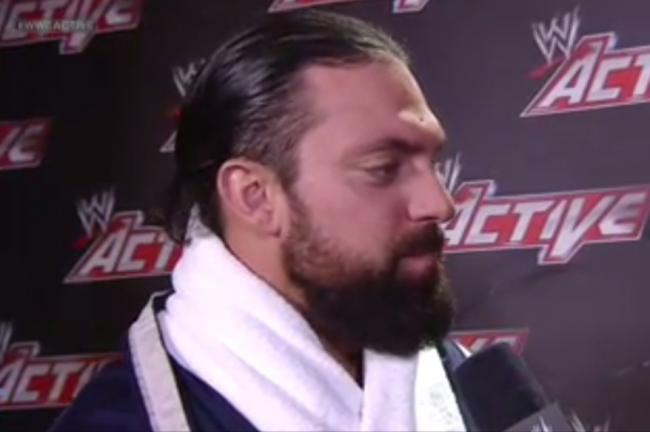 Damien Sandow is set to take on Alberto Del Rio after the break.
After the babyfaces celebrate vanquishing the heels, we get a replay of Heyman trying to quit and CM Punk coming out to stop him.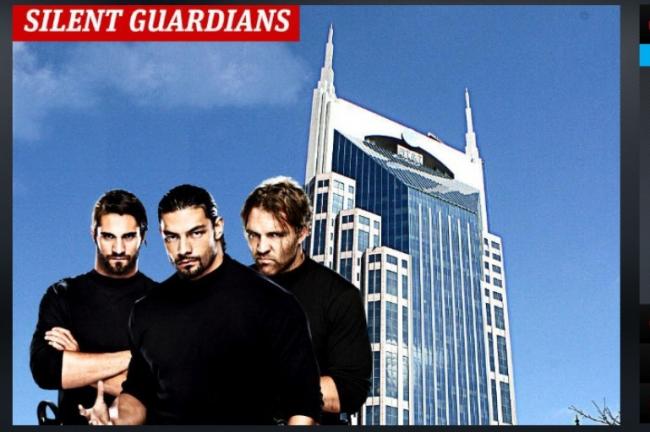 The Shield are in the ring when we return and they talk about facing Sheamus, Ryback and Cena on Sunday.
Rollins screams that if they want some they should come get some. Nobody comes out and Ambrose says all the talk from the babyfaces was empty.
Reigns says even the entire roster couldn't stop them. I like how they are going back and forth and giving each man several chances to talk.
Does Ambrose put oil in his hair? Why is it so shiny?
Reigns and Ambrose say Cena has been the problem for the past decade and The Shield are the solution.
Ambrose goes a little nuts at the end of their promo. I like it.
The lights go out and when they come back on we see Cena, Ryback and Sheamus attacking The Shield.
Damn. I was hoping for The Undertaker right there.
Epico and Primo vs. Tensai and Brodus Clay
The Funkadactyls come out with some pom poms for their entrance. Rosa and the Funkadactyls will be the best part of this whole segment.
Tensai and Primo kick it off and Primo tries to lift Tensai, only to be dominated by the big man.
Clay comes in off the tag and Primo tries to hit their heads together, and fails.
Epico is in off the tag and he gets squashed in the corner by Clay. Tensai comes in off the tag and hits the running senton for the pin and the win.
Winners Tensai and Clay
What did I say? I said the girls would be the best part, and I was right.
Cody Rhodes vs. Miz
Antonio Cesaro is on commentary for this one. The bell rings and Cody locks in a headlock to start things off.
Rhodes takes Miz down with a shoulder block and a sunset flip, but Miz rolls through and hits a kick to the face for a two count.
Rhodes hits a huge running knee to the face for a near fall. Cesaro says he caries the US flag because he has conquered it and everyone in this country.
Miz comes back with some signature offense. Miz ends up pulling a fast one and dropping Rhodes onto the ring apron.
Cesaro tries to get involved and Miz gives him a boot to the face as he keeps Rhodes at bay. Cesaro ends up running Miz into the steel post to cause a DQ.
Winner: Miz by DQ
Cesaro grabs Miz by the legs and whips him back and forth into the barricade in what might be the coolest thing I have ever seen.
US Champion @antoniocesaro is a freak! Now that was AWESOME! Sorry @mikethemiz @wwe #RAW

— Joey Styles (@JoeyStyles) February 12, 2013
Cesaro used to use that move as a spin in the ring a lot on the indies, but to see him hit Miz into the barricade with it several times was awesome.
Zack Ryder vs. Jack Swagger
Ryder is in the ring when we return from commercial and Swagger comes out with Uncle Zebekiah!
Swagger hits a big slam right after the bell and he puts Ryder on the top rope, only to get pushed away and hit with a dropkick.
Ryder hits the Broski Boot for a two count. Swagger catches Ryder as he leaps over the top rope and he ends up hitting a belly to belly on the outside.
Zeb watches as Swagger gets a near fall. Swagger ends up running into a par of knees in the corner, but when Ryder tries for the Rough Ryder he gets powerbombed into the corner.
Swagger hits the gutwrench powerbomb and then lock in the Patriot Act for the submission win.
Winner: Jack Swagger
After the match, Swagger gets on the mic and introduces his friend, Zeb Coulter.
Zeb says he and Swagger's father were in Vietnam together and he now he sees a country he doesn't recognize.
They go on about being real Americans for a minute and then the segment ends. We go backstage to see Booker saying that Swagger is worthy of a Chamber spot and he makes it official.
Dolph Ziggler walks up with AJ and Big E Langston and he complains about Jericho being in the Chamber match.
Booker makes a match between Ziggler and Kane for later, and whoever wins gets the last Chamber spot.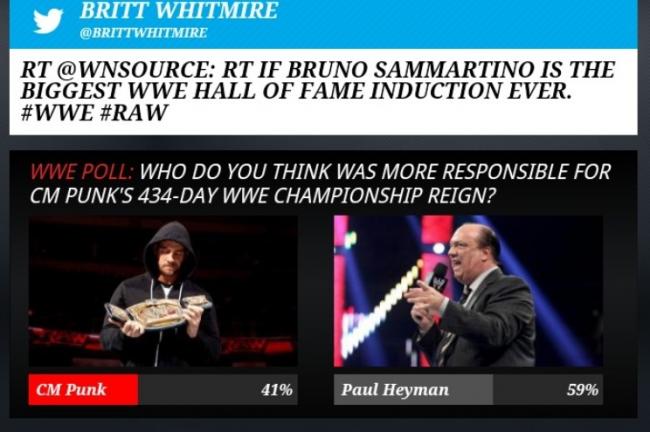 Wow! The WWE Universe thinks Heyman was responsible for Punk's title reign.
Big Show's music hits and he makes his way to the ring looking really pissed off. Matt Striker tries to ask him a question and he gets laid out with a KO Punch.
Show picks up the mic and says nothing for quite awhile.
He ends up saying nothing and just leaves the ring. Lawler says Show probably didn't have anything to say that could have been aired on TV.
We get another look at Bruno Sammartino's WWE Hall of Fame announcement.
We see a video of Yoshi Tatsu and Alex Riley making fun of Big Show. Show walks up and punches out both of them before walking away.
This article is
What is the duplicate article?
Why is this article offensive?
Where is this article plagiarized from?
Why is this article poorly edited?