White Sox: 10 Reasons Dayan Viciedo Will Be the Long-Term Replacement at 1B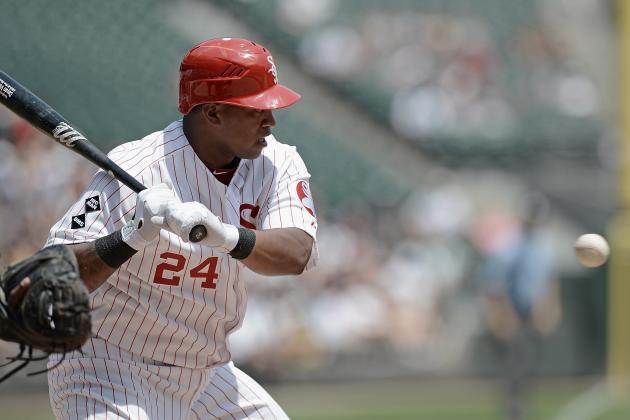 Jonathan Daniel/Getty Images
Is Dayan Viciedo the future at first base?
Chicago White Sox left fielder Dayan Viciedo is a right-handed-hitting All-Star in the making. Viciedo is also the first baseman of the future for the White Sox.
Now, the idea that Viciedo would play first base for the White Sox is not a new one.
General manager Rick Hahn left no doubt that a move to first is a distinct possibility. When asked about the chances Viciedo finds himself at yet another position, Hahn said "down the road, absolutely." (via ESPN.com)
A move to first would not be a short-term fix; rather it would be made to solidify the position for a number of years.
By looking at the position itself, then contract ramifications and, finally, Viciedo's performance, there are 10 reasons why he will be an able replacement at first base for the White Sox.
*All statistical evidence provided by BaseballReference.com
Begin Slideshow

»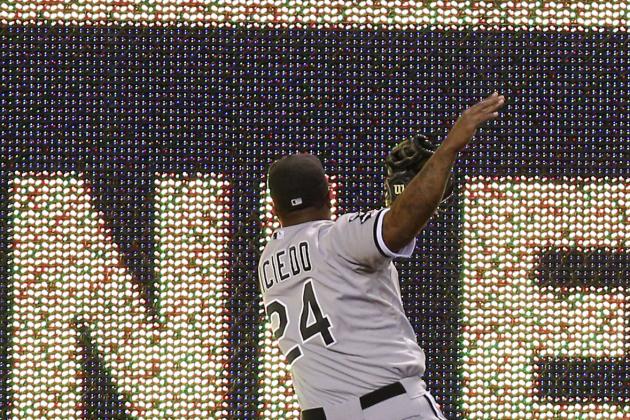 Ed Zurga/Getty Images

Viciedo made the challenging transition to left field in 2012, and with a lot of hard work, made steady improvement as the year progressed.
It was not always pretty, but it could have been much worse.
That said, he is not a left fielder.
Look no further than the number of times he was replaced late in games with a faster, slicker-fielding outfielder.
In order to be a more complete team, the White Sox cannot afford to lose his bat in the ninth inning of a one-run game because he was replaced in the eighth inning for defensive purposes.
Moving Viciedo to first base would allow manager Robin Ventura more flexibility from both an offensive and defensive perspective as each game unfolds
Much like Carlos Lee's transition to first base, the move to the infield appears to only be a matter of time.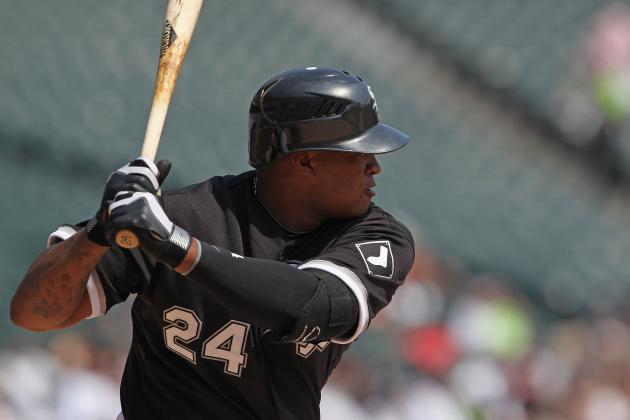 Jonathan Daniel/Getty Images

Above all else, Viciedo is a terrific athlete.
Take, for example, the number of positions he has played during his time with the organization.
He has spent time at first base, third base and in left field since being signed and has found a way to adapt to each position.
Now, he had a career .909 fielding percentage at third base in the minor leagues, which is not very good, but it was a new position and the shift to first should be much smoother.
One thing that will help him is his mobility. Specifically, his ability to move laterally.
Doug Padilla noted as much in an article for ESPN.com. "Viciedo," Padilla wrote, "could provide an upgrade with range on the infield."
Granted, the current first basemen are getting a little long in the tooth, but with some coaching on proper positioning, Viciedo could be as adept at the position as either one of them were in their primes.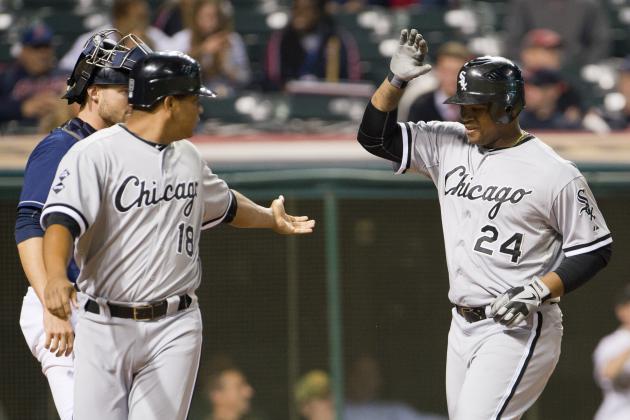 Jason Miller/Getty Images

When the White Sox move Viciedo to first base, it will not be uncharted territory. He has already played parts of three seasons there and was slightly above average defensively.
His most extensive PT as a first baseman was in the minor leagues. In 72 total games, Viciedo has a career .986 fielding percentage. Unlike his time at third base, he was not known for kicking the ball around while at first.
And while he is no Mark Teixeira—who has won five out of the last eight Gold Glove Awards at first—he is not a defensive liability.
Make no mistake, the fact that he has played the position in the past is not the most intriguing of reasons, but it does make the idea more palatable. Considering that he made a fair transition into left field, moving him back to first does not seem unrealistic.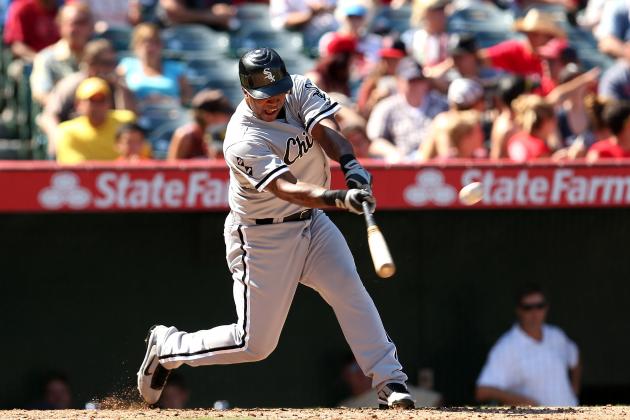 Stephen Dunn/Getty Images

While the White Sox do not have the most exciting minor league system in baseball, they have quite a few promising outfielders.
Courtney Hawkins, who checked in at No. 68 on MLB.com's latest prospect ranking, seems to be a star in the making. The former first-round pick impressed last season and earned himself a promotion to Winston-Salem at the end of 2012. By all accounts, Hawkins will be called up in the next season or two.
He is not alone.
Trayce Thompson and Jared Mitchell—both at Triple-A Charlotte—have been steadily improving and could be in the big-league mix as early as 2014. Their combination of speed and power will make them hard to keep down on the farm for very long.
And don't forget about Jordan Danks and Blake Tekotte, who both have experience in the majors.
Moving Viciedo to first, as soon as next season, will surely help the White Sox get their young talent to the South Side on schedule.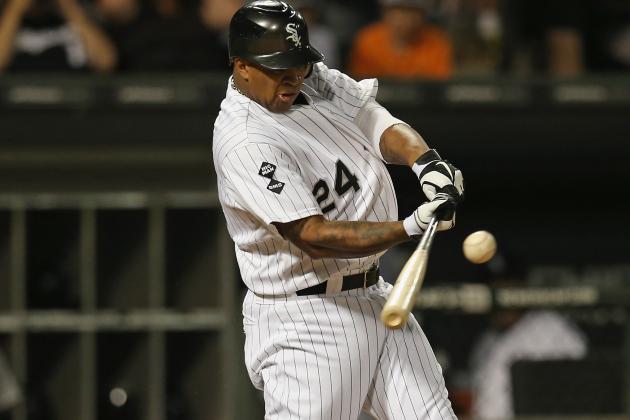 Jonathan Daniel/Getty Images

Viciedo fits the bill as a first baseman.
Bernie Pleskoff, a former scout for the Houston Astros and Seattle Mariners, described a prototypical first baseman in an article for MLB.com as—among other things—a player who has "size and raw power."
As evidenced by his .444 slugging percentage in 2012 and 25 home runs, Viciedo has the power part of his game down.
And much like Prince Fielder and Mark Teixeira, he can use the whole field. To that effect, Baseball America noted as far back as 2009 that "Viciedo can drive the ball to all fields and possesses tremendous opposite-field power."
He is exactly what a team and its fanbase hope for from a position generally regarded as an offensive one.
To be sure, Viciedo has his challenges—plate discipline, for one—but he will be a force in the middle of the lineup for years to come.
Jonathan Daniel/Getty Images

ESPN.com's Doug Padilla noted in his article last week that Viciedo taking over at first may come as early as next season. One of the reasons he cited was the uncertain future of the current first basemen on the White Sox roster.
Padilla wrote that "Paul Konerko's contract expires after the upcoming season, while Adam Dunn's is set to expire one season after that." In essence, the White Sox would not have to make room for Viciedo—the room would already be there.
While losing Konerko—either to retirement or free agency—would hurt, it may be an inevitability. By letting Mark Buehrle and A.J. Pierzynski leave via free agency the past two seasons, the White Sox have shown they are not afraid to part with franchise icons.
If one of the youngsters in the outfield proves himself ready to make the White Sox in 2014, expect Viciedo to take over at first, while Dunn mans the designated hitter duties.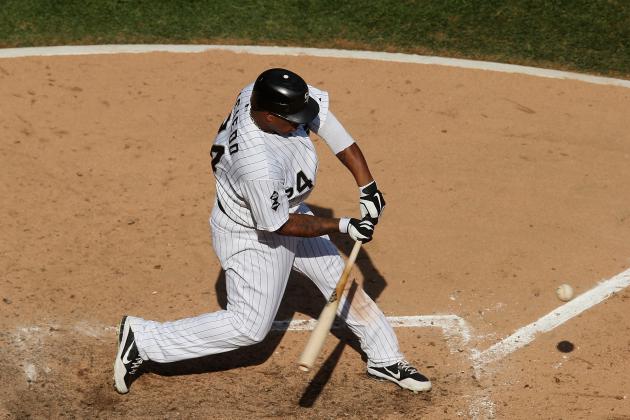 Jonathan Daniel/Getty Images

Unlike Konerko and Dunn, Viciedo is not going anywhere for quite a while.
He is under team control until 2018 and will not be arbitration-eligible until 2015. While there are caveats to his contract that ensure his salary will continually rise, Viciedo is in no danger of being a financial liability.
Simply stated, he has a positive monetary impact considering his offensive abilities, which makes a world of difference for the front office.
That's because the unfortunate reality for a team like the White Sox is that money matters. If Viciedo were closer to free agency—or already had a bloated contract—the conversation here would be much different.
From a dollars-and-cents perspective, Viciedo fits as the long-term solution at first base.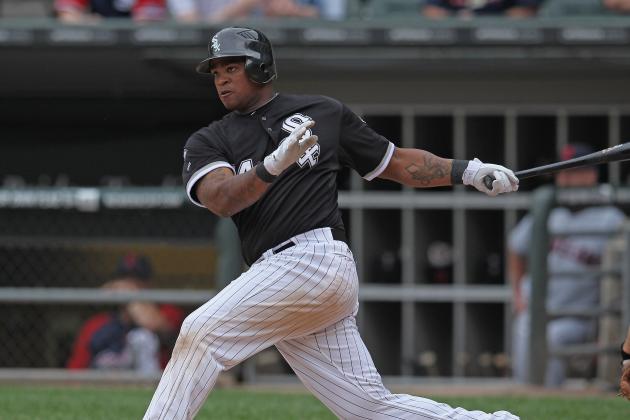 Jonathan Daniel/Getty Images

Speaking of offense, Viciedo is proving to be quite the run producer for the White Sox, and 2012 is a microcosm of what he is capable of.
Most noteworthy is his ability to hit with runners in scoring position and when there is a man on third base with less than two outs.
With RISP, for example, Viciedo was impressive. In only 126 plate appearances with RISP, Viciedo drove in 54 runs, which accounted for nearly 70 percent of his RBI total. While he only hit .289 in those situations, he did have a .500 slugging percentage.
Even more impressive were his .312 batting average and .621 slugging percentage with a runner on third base and less than two outs. Most Sox fans know that is an area the team has struggled in for some time, and Viciedo has proven capable of delivering.
Considering that the guys hitting behind him in 2012 did not strike fear into opposing pitchers, the fact that Viciedo was as productive as he was demonstrates his value as a run-producer.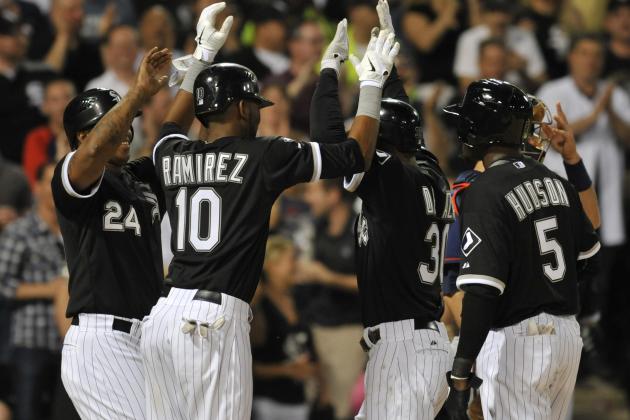 David Banks/Getty Images

Viciedo is not done growing as a player. Just ask White Sox hitting coach Jeff Manto.
Taken from the Chicago Tribune on Feb. 7, Manto had this to say about the young star.
He (Viciedo) can sit on the numbers he put up," Manto said. "I don't think what he did was a fluke. He is going to get better once he gets the timing down. That's what's scary about the guy. He didn't do a lot of things right and he had the numbers. He's going to be a big-time impact player.
At its root, what Manto said is that while Viciedo was less than the total package at the plate in 2012, he had the ability to produce simply because he is a natural hitter.
That is a rare commodity.
When Viciedo masters the art of laying off close pitches—while jumping on the hittable ones—he is going to be one of the most feared first basemen in the American League.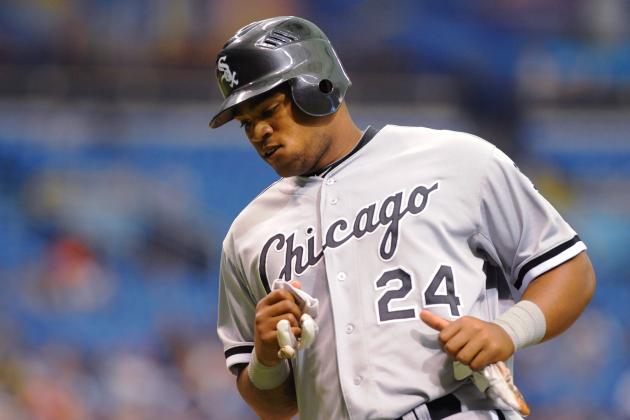 Al Messerschmidt/Getty Images

Taken individually, each reason is almost enough to be excited about Viciedo's prospect as a first baseman. As a whole, however, they are much more.
What the White Sox have in Viciedo is enviable. He is young, powerful and athletic.
His offensive upside is nearly endless, and he is only 23 years old. Nothing in life is guaranteed, but the potential for Viciedo to be the long-term fix at first base is as close as they come.
While Keon Barnum is making a name for himself in the minor leagues, no one can tell for sure that he will live up to his potential. Remember Brandon Allen?
First base is Viciedo's position to lose. He is a proven commodity who will only continue to get better.