College Basketball Underdogs You Need to Know Heading into March Madness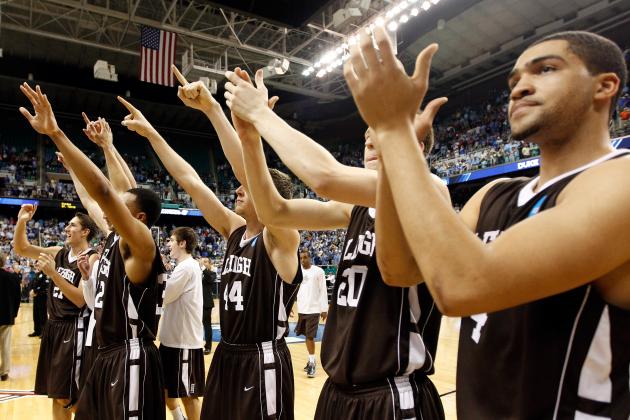 Streeter Lecka/Getty Images
No. 15 seed Lehigh applauds to its fans after upsetting No. 2 seed Duke in the 2012 NCAA tournament.
The final four weeks of the college basketball regular season are upon us, and everyone wants to know which team will elevate its play to deserve the No. 1 ranking.
While everyone in the top 10 keeps stubbing their toes, there are some dangerous teams developing in the smaller conferences that the juggernauts need to be concerned about.
How dangerous are these teams?
Dangerous enough to see another No. 15 seed down a No. 2 seed. Or, if we are lucky enough, a No. 16 seed will defeat a No. 1 seed for the first time in NCAA history.
Since the 68-team format started in 2011, two more of the lowest ranked automatic qualifiers have dropped down to start in the play-in games. This means two of the teams that would have been a No. 15 seed in the 64-team format are now playing as a No. 16 seed.
With 16th-seeded UNC-Asheville almost upsetting No. 1 seed Syracuse in 2012 and the Syracuse Orange benefiting from two questionable calls down the stretch (via Jim Halley of USA Today), a monumental upset could be in the making in just over a month.
While some of these teams might not be in line for a 16th seed, all of them will be significant underdogs in March if they make the dance. Nonetheless, they will give college basketball fans a thrill on Thursday and Friday.
Begin Slideshow

»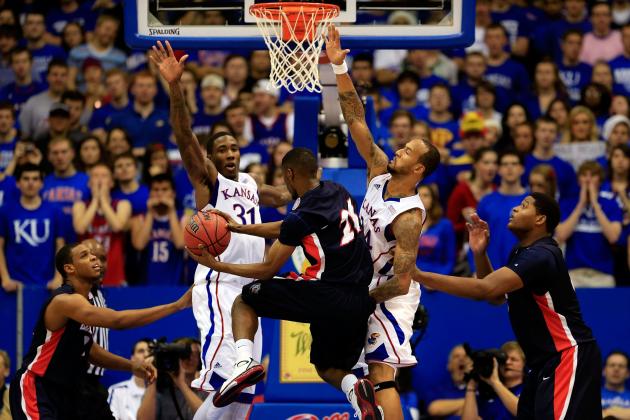 Jamie Squire/Getty Images
Belmont's Ian Clark drives into the heart of the Kansas defense on December 15.
Starting with a few teams that will find themselves around a No. 12 seed.
Except when Belmont has been announced on Selection Sunday in five of the past seven seasons, the Belmont Bruins generally find themselves lower than a No. 12 seed.
This Belmont team is different (21st in RPI).
Averaging 77.4 points a game (17th in NCAA) with a 49.3 field goal percentage (eighth), Belmont is an impressive 20-5 in its first year with the Ohio Valley Conference.
Some people might not think the jump from the Atlantic Sun to the Ohio Valley is that significant, but according to RealTimeRPI.com, the Ohio Valley is ranked 16th in conference RPI rankings in comparison to the Atlantic Sun's 26th position.
That is a fairly big difference when you look at competition on a weekly basis.
If the five losses are alarming (Northeastern, VCU, Kansas, UCF and Murray State), all of them are against potential NCAA tournament teams that are sitting no worse than second in their conference standings.
Senior Ian Clark leads the way for the Bruins with 19.3 points a game (tied for 19th in NCAA). More importantly, this Bruins team starts three seniors and two juniors.
With Belmont struggling in the NCAA tournament the last two years, the pain of not getting a win for this experienced class should be excellent motivation come March.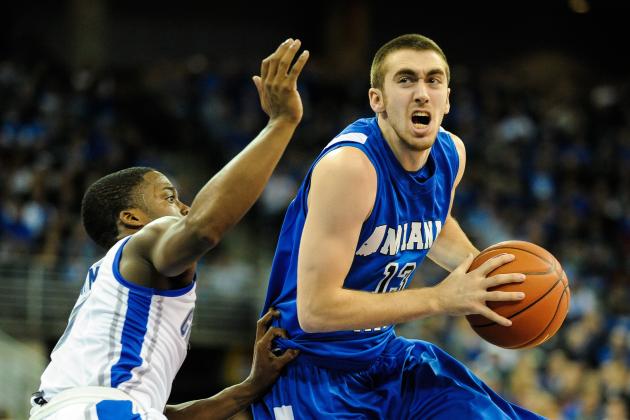 Eric Francis/Getty Images
Indiana State's Jake Odum drives to the basket against Creighton in their first meeting.
When it comes to the Missouri Valley Conference this season, most people think of nationally ranked Creighton or previously ranked Wichita State.
However, most people may not realize that Indiana State has several quality wins that slipped through the cracks.
After starting the year 4-3, the Indiana State Sycamores won five of their next six, including overtime victories at the Diamond Head Classic against Ole Miss and Miami. The Ole Miss Rebels are currently 18-5 and the Miami Hurricanes are now No. 3 in the nation and haven't lost a game since their contest with Indiana State.
Now sitting at 9-4 in conference play, the Sycamores have already knocked off Creighton at home and Wichita State on the road.
Jake Odum does a little bit of everything for Indiana State with his 14.2 points, 4.4 assists and four rebounds per game.
Along with Odum, the Sycamores go nine players deep, including several threats that can knock down the three-pointer.
Despite there being no seniors on the roster, this is a balanced team that features a lot of experience with its junior class.
The Sycamores will have a tough test winning the Missouri Valley Conference Tournament. Regardless, this squad is worthy of a bid to the dance and will be a tough draw for anyone.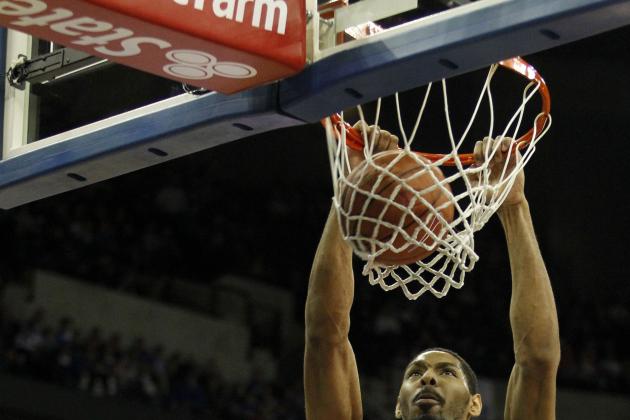 Matt Ryerson-USA TODAY Sports
Zeke Marshall throws down a dunk against Creighton in early December.
The Mid-American Conference might not be the deepest, but its NCAA tournament representative always proves to be a tough out.
Just last year, the Ohio Bobcats advanced all the way to the Sweet 16 and took the North Carolina Tar Heels to overtime before falling to the Tar Heels. Akron fell one point short of defeating Ohio in the MAC Tournament Championship Game.
The 2013 Akron Zips are 19-4 overall, 10-0 in the MAC and haven't lost since December 15 at Detroit.
Akron goes 10 deep and is led by a starting five that consists of one senior and four juniors.
Alex Abreu runs the offense at point guard with 9.9 points and six assists a game, but the damage is done down low between Zeke Marshall (12.5 PPG, 6.8 RPG) and Demetrius Treadwell (11.0 PPG, 7.5 RPG).
What is impressive about Akron so far is that they contribute as a team in multiple ways in low and high-scoring games.
The Zips are ranked in the Top 60 in points per game, rebounds per game, assists per game and field goal percentage.
Akron's biggest win in the MAC came against Ohio when the Zips shot 56.1 percent from the field in its 86-72 victory.
Then when the shots aren't falling, Akron clamps down on defense. The Zips have held their MAC opponents under 60 points in six of their 10 conference games.
With an experienced team that knows how to win games, this could be Akron's year to win its first NCAA tournament game in school history.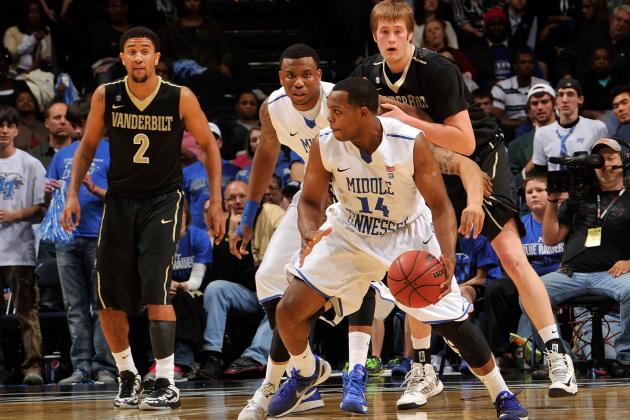 Frederick Breedon/Getty Images
Marcos Knight dribbles inside against Vanderbilt in Middle Tennessee's 56-52 win.
Consistency is the word for Middle Tennessee.
The Middle Tennessee Blue Raiders (29th in RPI) are capable of going 12 deep with eight of their players average playing over 17 minutes a game. On top of that, 11 of the 12 players are seniors or juniors.
This Middle Tennessee program has been improving each season over the last few years, including a 2012 campaign where the Blue Raiders made the Quarterfinals of the NIT.
Simply said, this is the year for Middle Tennessee.
After a 75-61 dominant win at Central Florida, the Blue Raiders backed that up by knocking off two SEC teams in Ole Miss and Vanderbilt.
Middle Tennessee has won its last 11 contests and defeats its opponents by an average of 12.8 points a game (19th in NCAA).
The 20-4 Blue Raiders are cruising through the Sun Belt (14th ranked RPI conference), and their only four losses came at Florida, at Akron in overtime, at Belmont and at Arkansas State in overtime.
Middle Tennessee should make its first NCAA tournament appearance since 1989 and have a great chance at an early upset.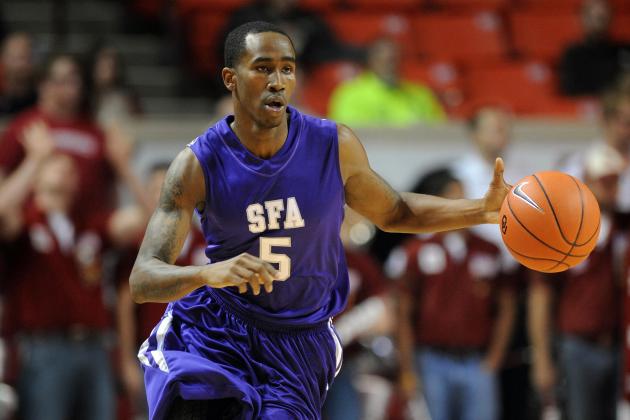 USA TODAY Sports
Antonio Bostic brings the ball up the court in Stephen F. Austin's win at Oklahoma.
This is the best sleeper.
With the exception of an impressive road win at Oklahoma and a loss at Texas A&M, Stephen F. Austin played a weak non-conference schedule.
That's why even though the Stephen F. Austin Lumberjacks are 20-2, they aren't making the news on the national scale.
They should be though.
It all starts with defense. Stephen F. Austin leads the NCAA in scoring defense by only giving up 49.7 points a game.
However, defense only gets you so far. What makes this team a legitimate threat is its intelligence with the basketball.
The Lumberjacks are tied for 15th in the nation in turnover margin at 3.7 and also dish out a 16th-ranked 16.5 assists.
Other than Texas A&M, the other loss for Stephen F. Austin came against conference foe Northwestern State, the leader in scoring offense at 84.3 points a game. The Lumberjacks held the Demons to 61 points on the road in their four-point loss.
One player that has been a nightmare for opponents of the Lumberjacks is Taylor Smith. Smith, a 6'6" senior, not only averages 16 points and 8.9 rebounds a game, he shoots an astonishing 70.4 percent from the field. He is currently ranked as the fifth best overall player in the nation according to StatSheet.com's rankings.
When you look at the Lumberjacks' basic resume outside their overall record, it's not that impressive. However, since Stephen F. Austin averages beating its opponents by 17.3 points a game (fourth in NCAA) and has that many assets, the Lumberjacks are a perfect candidate to stun an opponent or two at the dance.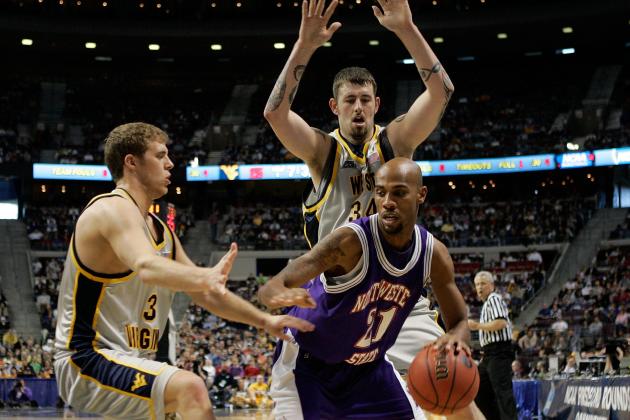 Brian Bahr/Getty Images
Northwestern State made it to the second round of the dance as a No. 14 seed in 2006.
While it's going to be difficult to get two teams in from the Southland to the dance, both teams are worthy of making it.
The numbers tell the story. The Northwestern State Demons average 84.3 points a game (first in NCAA), 41.7 rebounds (fourth) and 16.5 assists (11th).
In Northwestern State's up-tempo style of play, the Demons play 10 players that average over 15 minutes a game behind a field goal average of 46 percent (55th).
The only win for the Demons, outside of Stephen F. Austin, of any significance was against 21-3 Louisiana Tech (51st in RPI). Therefore, it's unlikely Northwestern State will receive a bid to the dance if it doesn't win its conference tournament.
If the Demons do make it, and they can wear down the opposition and win the rebounding battle, there is no reason why they can't produce another upset like they had in 2006.
Lance King/Getty Images
Clint Mann of Davidson goes strong to the basket against Duke.
Here is a program that brought one of the deepest underdog runs in recent NCAA tournament memory.
It was only five seasons ago that Stephen Curry led Davidson as a No. 10 seed to the Elite 8 and fell just two points short to eventual national champion Kansas.
Bob McKillop is still the head coach in his 24th season with the Davidson Wildcats, and while he might not have Curry on his team, he has another talented squad.
Davidson is on an eight-game wining streak and building confidence. Jake Cohen and De'Mon Brooks lead the way in the post for Davidson averaging a combined 27.6 points and 12.2 rebounds a game.
Where the Wildcats really find their edge though is at the free throw line. Davidson leads the NCAA in free throw percentage at 81.8 over 505 attempts.
While Davidson's 17-7 record might not look as strong as some of the other potential lower-ranked tournament teams, the Wildcats played a much tougher non-conference schedule than most of them.
Davidson will most likely find a No. 14 or No. 15 seed if it makes the dance, considering its seven losses already and the weakness of the Southern Conference. However, if Davidson gets its opponent in foul trouble early with the cohesion developing in the offense, the Wildcats could stun someone in the round of 64.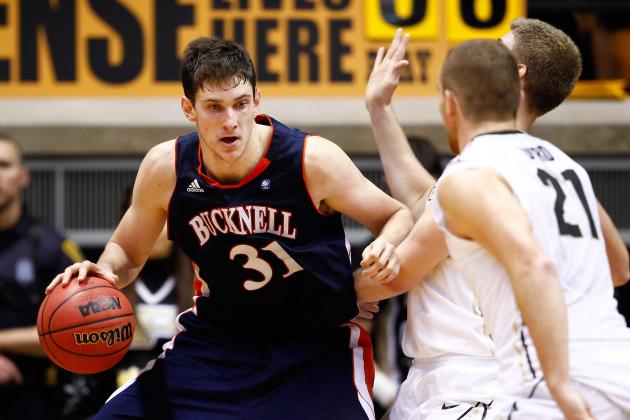 Michael Hickey/Getty Images
Mike Muscala posts up on Purdue in the paint as Bucknell won in West Lafayette 70-65.
The winner of the Patriot League always seems to do it.
No. 14 seed Bucknell stunned No. 3 seed Kansas 64-63 in the first round in 2005. The following year, No. 9 seed Bucknell defeated No. 8 seed Arkansas 59-55. More recently, No. 15 seed Lehigh shocked No. 2 seed Duke 75-70 in 2012.
The 2013 Bucknell Bison do most of their work through Mike Muscala. Muscala, ranked ninth in StatSheet.com's player rankings, leads the team in points (18.7), rebounds (11.4), assists (2.8) and blocks (2.8).
The Bucknell program has improved over the last couple seasons and has gained experience. However, this team isn't deep.
After Muscala, Cameron Ayers, Bryson Johnson and Joe Willman average over 10 points a game. Next in line is Ryan Hill who averages 3.3 points.
Nevertheless, Bucknell has shown excellent signs against the stronger competition.
The Bison defeated Purdue in their opener at West Lafayette 70-65, followed by a 61-56 win against George Mason. Bucknell also fell just two points short against a fast-paced Missouri team on the road and held the Missouri Tigers to 66 points.
If Bucknell makes the dance and can force the opponent to play at a slower pace, the Bison have a solid chance to advance to the round of 32 for the third time since 2005.