WWE Elimination Chamber 2013: 5 Greatest Matches in Elimination Chamber History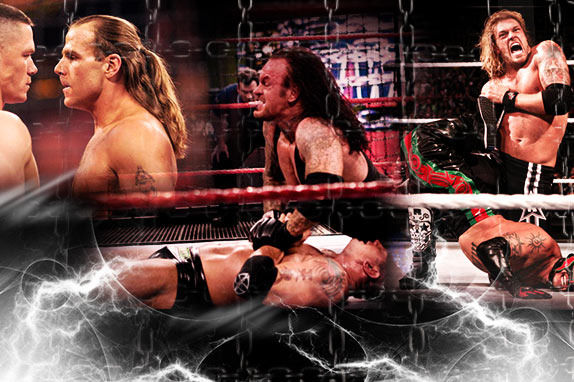 Elimination Chamber. (Courtesy of WWE.com)
This Sunday, WWE presents its fourth annual Elimination Chamber pay-per-view live from the New Orleans Arena. Per the concept of the event and its self-explanatory title, at least one Elimination Chamber match will be held during the show.
Although only four matches are confirmed for this year's installment thus far, it still looks to be an extremely entertaining event, given the wrestlers involved as well as the fact that WrestleMania 29 is right around the corner.
However, we can't make an accurate analysis of this year's Elimination Chamber event without looking back at years past and comparing each of the greatest contests in the pay-per-view's history.
With some of the event's matches being deemed some of the best in recent years, it was difficult to rank them accordingly, but I've managed to do my best based upon that particular match's drama, build-up, enjoyment, importance and, of course, the performances of the wrestlers involved.
As we prepare for this Sunday's pending Elimination Chamber event, let's take a look a back at the most remarkable matches to take place at the pay-per-view since 2010.
Begin Slideshow

»
At the inaugural Elimination Chamber event in 2010, two Elimination Chamber matches were held for the WWE Championship and World Heavyweight Championship respectively. On a night where the undercard failed to deliver, SmackDown's Chamber matchup in the main event succeeded in making the event much more memorable than it actually was.
Pitting six of SmackDown's finest against one another, this contest featured a number of breakout performances from the likes of John Morrison, R-Truth and even CM Punk.
Following his elimination of Truth early on in the bout, Punk became the first Superstar in history to cut a promo inside an Elimination Chamber, which made for some great entertainment.
Not only that, but Rey Mysterio's elimination of the Straight Edge Savior shortly thereafter planted the seeds for their subsequent feud leading into WrestleMania. Once it came down to Undertaker and Chris Jericho, Shawn Michaels shockingly came out from underneath the steel structure to connect with a scintillating superkick on Taker and cost him the World Heavyweight Championship.
During his year-plus reign as WWE champion, CM Punk overcame many obstacles to maintain possession of his prestigious prize, but none of them were more brutalizing than the Elimination Chamber.
Entering his third Elimination Chamber, the odds were surely stacked against Punk going into the bout, but he somehow managed to survive regardless.
Prior to their respective eliminations, Kofi Kingston and Dolph Ziggler had an entertaining exchange inside the Chamber. At one point in the bout, Kingston leaped from the top rope to the side of the steel structure before connecting with a fantastic flying DDT onto Ziggler.
Although many people believed The Miz would be the first one eliminated from the bout due to the heat he had at the time, he ended up being one of the final two standing alongside Punk. He nearly shocked the world by hitting a Skull Crushing Finale on Punk, but the Voice of the Voiceless valiantly kicked out and struck Miz with a GTS moments later for the victory.
This has been the only Elimination Chamber match to date in the event's history where neither a WWE nor World Heavyweight Championship was up for grabs. Instead, the winner of this specific bout was named the number one contender to the WWE title at WrestleMania 27 against The Miz.
The main rivalry going into this match was between John Cena and CM Punk, who had been at each other's throats for over a month at this point. However, since Randy Orton also had bad blood with Punk after what happened at the Royal Rumble event a month prior, he was also looking to score some payback over the Second City Savior.
Regardless of whether it was a botch or not, Punk's pod malfunctioned when he was about to enter the fray, which allowed Orton to take advantage and eliminate him. However, Punk was allowed to re-enter the match due to the snafu, eliminating Orton with a GTS moments later.
John Morrison, who had exhibited his athletic abilities inside the Elimination Chamber before, leaped from the top of the steel structure onto Sheamus in an awe-inspiring moment. This lead to Morrison pinning the 2010 King of the Ring for the three count, which left three competitors remaining.
Although he managed to take out Morrison, Punk was unable to put away Cena, who was declared the victor after 30 minutes of awesome action. Sure, the outcome of the match was pretty predictable, but it was still well wrestled and extremely entertaining.
In the weeks preceding last year's Elimination Chamber event, plenty of changes were made to the SmackDown side of things due to recurring injuries to the likes of Randy Orton and Mark Henry. It was revealed days before the pay-per-view that Santino Marella would be replacing The Viper in the Chamber, which many people saw as an absolute joke.
World Heavyweight champion Daniel Bryan was never considered a legitimate titleholder up to this point, merely because most of his title defenses resulted in fluke victories. This was his night to shine against five of the blue brand's top stars including Big Show, Wade Barrett, then-Intercontinental champion Cody Rhodes, The Great Khali and Santino.
On paper, the match didn't seem all that appealing, but it was actually much more enjoyable than one would expect. Since Show and Khali were taken out early on, this left Santino to single-handedly eliminate both Barrett and Rhodes in shocking fashion.
Marella received the biggest pop from the Wisconsin crowd that night when it came down to him and Bryan, where quite a few fans (myself included) thought there was a small chance that the Milan Miracle could walk out with the title in hand. However, it wasn't meant to be, as Marella inevitably tapped to the LeBell Lock and allowed Bryan to score the victory.
Personally, I found 2011's installment to be the best of the three Elimination Chamber events produced thus far, and the opening match played a huge factor in that. Two days after being reinstated by Teddy Long and winning back the World Heavyweight Championship from Dolph Ziggler, Edge was forced to defend his golden prize inside Satan's structure.
Standing in his way of retaining the title were Rey Mysterio, Kane, Big Show, Wade Barrett and Drew McIntyre, all of whom were determined to headline WrestleMania 27 as champion. Edge and Mysterio kicked off the bout before being joined by Barrett, who was sent crashing through one of the pods at the hands of Big Show.
McIntyre also had a breakout performance, targeting every individual upon entry before being ultimately eliminated by Kane. In the end, it came down to solely Edge and Mysterio, with both seasoned veterans giving it everything they had to walk out with the World title around their waist.
Each competitor kicked out the other's finisher during their exciting exchange in the contest's closing moments, but it was the Rated-R Superstar who pulled out the victory and successfully retained his World Championship. Once the bout concluded, Edge was ambushed by his archrival Alberto Del Rio, only to be surprisingly saved by a returning Christian moments later.
Could a contest on this Sunday's card be able to outlast any one of the aforementioned matchups?
Thanks for reading, Bleachers, and make sure to drop a comment below with your thoughts on the list and how you would change the rankings. As always, your criticism and overall feedback of my latest piece is greatly appreciated.
GSM out.
Visit my website at Next Era Wrestling and listen to my SAVE US GSM radio show every Wednesday night at 10/9c.