Ranking the Top 5 NBA Players at Every Position, All-Star Break Edition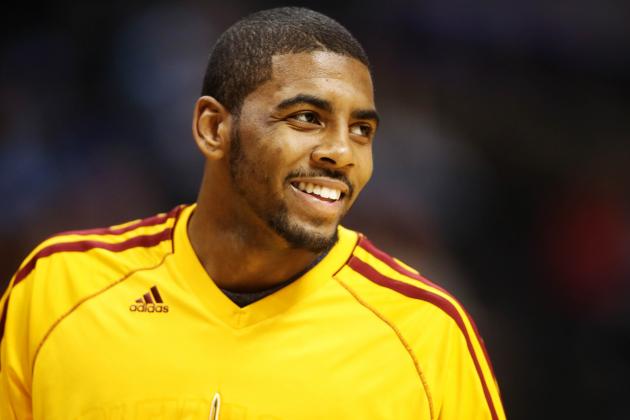 USA TODAY Sports

As the 2012-13 NBA season fluctuates, so do our rankings of the Top 5 players at every position.
It's not easy to secure a spot on this list, as it's only reserved for the absolute best ballers in each role.
Some positions feature intense competition, most notably the power forward and center spots. As always, the hierarchy of point guards is contentious because there's a loaded crop of floor generals.
With the All-Star break approaching, it's time to take stock of who rules at each position.
How many non-All-Stars cracked our rankings? Which conference has more players on the list? Which team has the most players on the list?
Find out where everyone stands in the NBA positional food chain.
*Players who were/are indefinitely inactive were omitted.
Begin Slideshow

»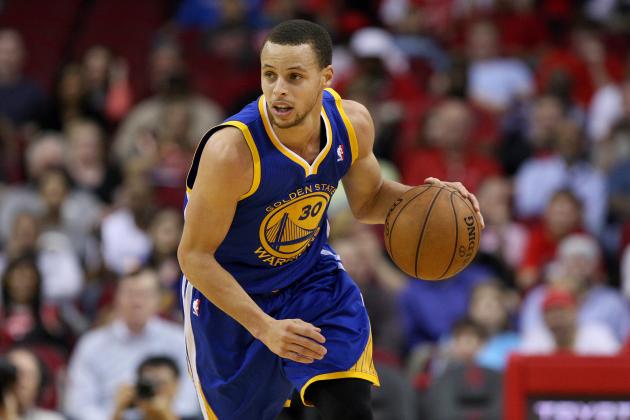 USA TODAY Sports

2012-13 Stats: 21.0 PPG, 6.6 APG, 43% FG, 45% 3PT, 19.8 PER
Although he's not the Golden State Warriors' representative on the All-Star team, Stephen Curry has emerged as one of the premier point guards in the league and one of the elite combo guards on the planet.
He became a household name in the NBA for his shooting, but in 2012-13, he's proving that he can pile up assists and score from deep in the same game.
Curry has done a terrific job getting his talented teammates involved. Consequently, defenses are spread thin keeping an eye on guys like Klay Thompson, and that opens things up for Curry.
When he gets the ball back on spot-up chances, he's lethal. Curry is sinking 54 percent of his spot-up triples, according to Synergy Sports.
Dubs fans hope this isn't just a winter fad. They want to see him out-duel Western Conference foes deep into the playoffs.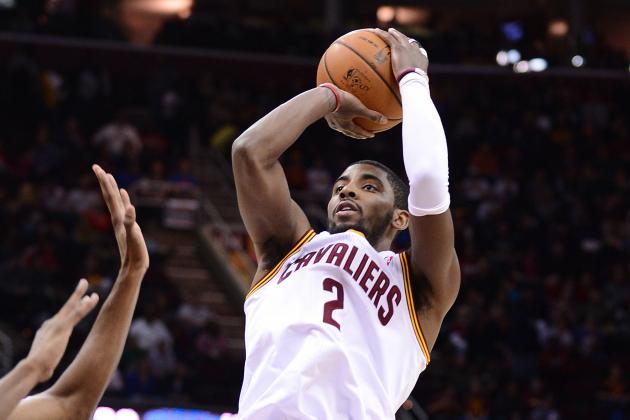 Eric P. Mull-USA TODAY Sports

2012-13 Stats: 24 PPG, 5.5 APG, 47% FG, 43% 3PT, 22.39 PER
Cleveland Cavaliers playmaker Kyrie Irving is quickly becoming more than just one of the league's bright young stars.
He has become one of the NBA's best stars, period.
The second-year pro and first-time All-Star creates points seemingly out of thin air, and he's always a threat to burn opponents by drawing help defense and finding the open man.
His frequent game-winning shots and big plays in crunch time are earning him a reputation as one of the most clutch players in the association.
Irving is fourth on the point guard power rankings simply because he isn't quite as good at running the point yet. He's a phenomenal player and a solid facilitator, but 5.5 assists and 3.3 turnovers per game prevent him from cracking the top three.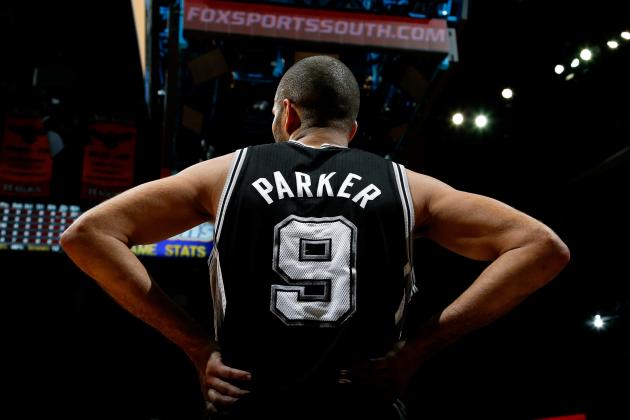 Kevin C. Cox/Getty Images

2012-13 Stats: 20.7 PPG, 7.7 APG, 53% FG, 40% 3PT, 24.3 PER
All you need to do is look at Tony Parker's work the past couple weeks to be reassured he's one of the top three point guards in basketball.
In his last 10 games, the San Antonio Spurs floor general is notching 25.3 points and 9.6 assists per game. It's easily one of the best stretches of his career.
Parker's knack for converting in and out of the paint results in 54 percent shooting, which is tops among all point guards. He and Dwyane Wade are the only guards in the top 30 in field-goal percentage.
The Spurs are an indestructible force no matter who surrounds Parker. If he keeps this kind of play up, they will once again threaten to hoist the Larry O'Brien trophy.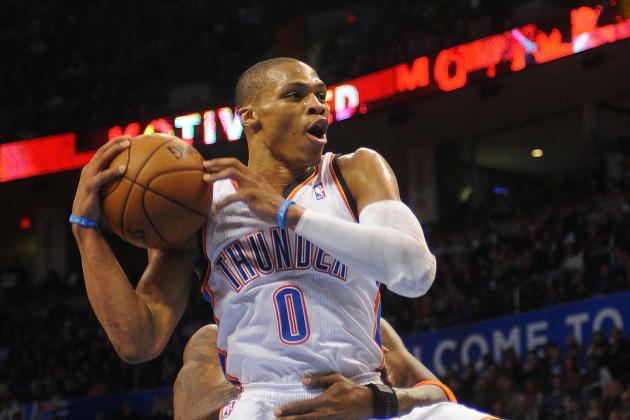 USA TODAY Sports

2012-13 Stats: 22.5 PPG, 8.0 APG, 43% FG, 33% 3PT, 23.2 PER
Russell Westbrook is so good, it's hard to believe he's a sidekick.
He still turns the ball over and is often a bit streaky as a shooter, but the Oklahoma City Thunder guard makes up for it with gigantic production on both ends of the floor.
Aside from his gifts as a slasher and finisher, Westbrook's most valuable contribution to OKC is his defense. His intensity and outstanding physical tools make him one of the best perimeter defenders in the world, and he's still improving.
When he's not setting up Kevin Durant and Serge Ibaka for scores, he's taking the ball all the way to the cup and punishing opposing defenses.
Westbrook's outside shot isn't as consistent as Scott Brooks would like, but it is handy sometimes when the Thunder need a pull-up jumper during crunch time.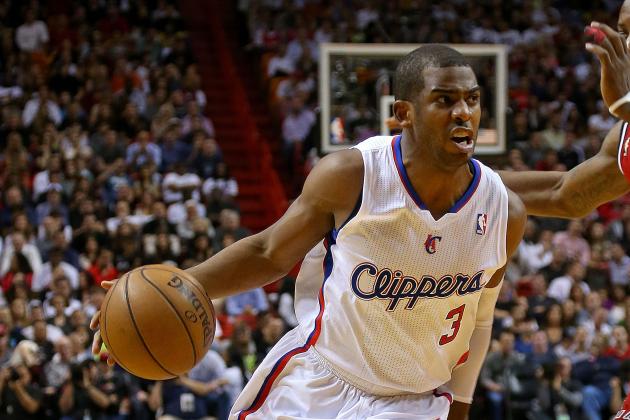 Mike Ehrmann/Getty Images

2012-13 Stats: 16.5 PPG, 9.5 APG, 2.6 SPG, 48% FG, 35% 3PT, 26.0 PER
His assist total might be down from where it was two or three years ago, but Chris Paul's 2012-13 assist rate is one of the best of his career.
The quarterback of the Los Angeles Clippers is dropping 10.4 assists per 36 minutes, the second-best mark of his career. And he's doing that while posting little more than two turnovers per contest.
It's that kind of efficiency and unselfishness that launched Lob City past their crosstown counterparts in the power rankings.
Paul isn't just good at running the point, he's also one of the quickest and cagiest guards defensively.
His 2.6 steals per game makes him the most successful thief in the NBA, and it also makes him the igniter of countless fast breaks.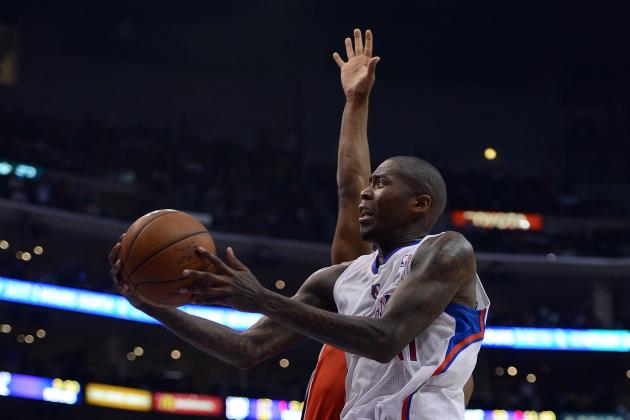 Harry How/Getty Images

2012-13 Stats: 17 PPG, 2.5 APG, 43% FG, 37% 3PT, 16.8 PER
With apologies to Monta Ellis, J.R. Smith and Eric Gordon, Los Angeles Clippers reserve Jamal Crawford is the fifth-best shooting guard in the NBA these days.
In just 29.6 minutes per game, Crawford supplies a heap of offense in relief of LA's front line. He's also shooting more efficiently from the field than Ellis, Smith or Gordon.
His shot-creation skills are matched by only a select few in the league. Defenders have immense trouble staying in front of him, and even when helpers converge on him, his body control and soft touch find a way to get the ball in the hoop.
Crawford fit in wonderfully with the Clippers from the start, taking some of the scoring pressure off Chris Paul and Blake Griffin. He's a journeyman who doesn't have much time left in the league, but the 2012-13 campaign shows that he is still a top-tier wing.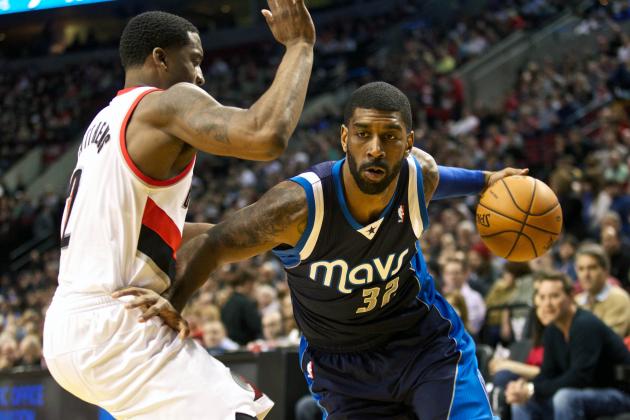 USA TODAY Sports

2012-13 Stats: 18 PPG, 4.3 APG, 46% FG, 41% 3PT, 16.4 PER
A year ago, O.J. Mayo wasn't even close to making this list, but a change of scenery proved to be the difference.
Throughout his time with the Memphis Grizzlies, it gradually seemed like Mayo's career would end up a disappointment. Now that he has a more prominent role with the Dallas Mavericks, it looks as if he's cut out to be an NBA star.
He's confident and aggressive as a playmaker, gliding to the rim with ease and keeping defenses honest with his 43-percent clip from downtown.
On the other end of the floor, Mayo's far from a standout, but that hasn't deterred Rick Carlisle from keeping him on the floor. Mayo's ability to lead the fast break and distribute the ball in the half court makes him a particularly special shooting guard.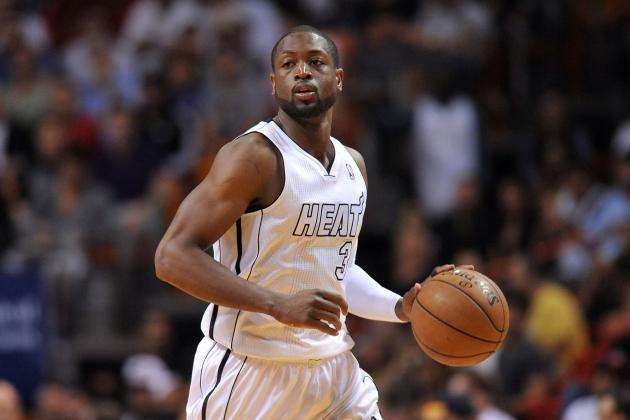 USA TODAY Sports

2012-13 Stats: 21.1 PPG, 4.8 APG, 4.9 RPG, 51% FG, 28% 3PT, 24 PER
We are all mesmerized by how productive and valuable LeBron James is (and for good reason), but Dwyane Wade is exceptionally valuable too.
According to 82games.com, Wade is plus-11.8 points per 100 possessions for the Miami Heat in 2012-13. That is phenomenal for someone who isn't the most influential player on the squad.
Wade's career-high field-goal percentage can be partially attributed to King James. However, let's not forget that Wade is a magnificent off-ball player and an elite finisher.
His year started off somewhat rocky, but in January and February, he's been the Wade we're used to seeing. That is, the Wade opponents hate seeing.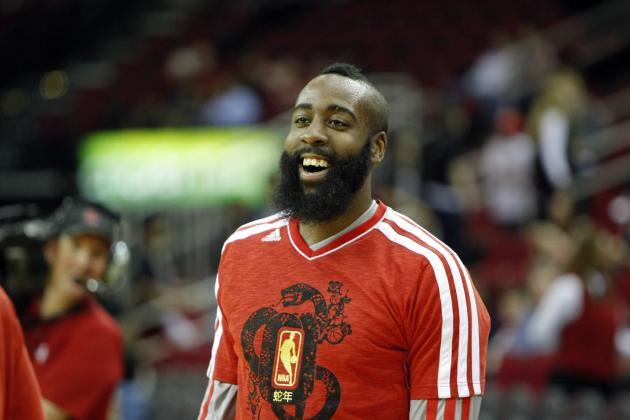 USA TODAY Sports

2012-13 Stats: 26.1 PPG, 5.7 APG, 45% FG, 35% 3PT, 23.4 PER
The Houston Rockets' acquisition of James Harden yielded swifter and better results than almost anyone hoped for.
He earned his first All-Star appearance in convincing fashion while leading the franchise to a winning record. In the first half of the 2012-13 season, Harden blossomed into an elite swingman.
Harden can score more effectively than almost every shooting guard, and he can direct traffic better than most point guards. Defensively, he can guard three positions and help slow opponents down just enough for Houston to win its shootouts.
His aggressiveness consistently bullies defenses, and he's a master at drawing fouls. Harden leads the league in free throws (444) and free throws attempted (521).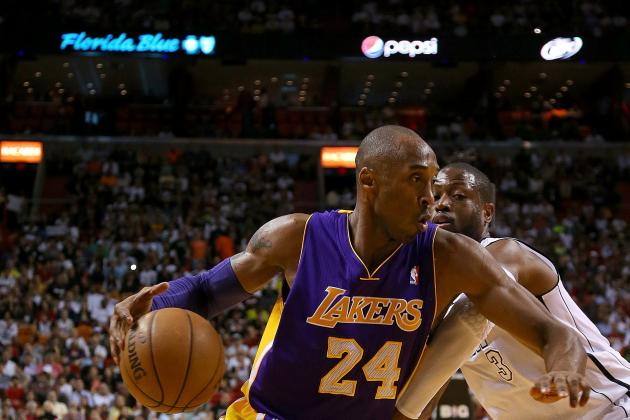 Mike Ehrmann/Getty Images

2012-13 Stats: 27.0 PPG, 5.5 APG, 46% FG, 33% 3PT, 23 PER
Despite the overabundance of drama in Tinseltown, Los Angeles Lakers icon Kobe Bryant remains the top shooting guard in the business.
He doesn't have the step or the bounce he used to, but he still finds ways to get into the paint and supplement his jump shooting.
When LA traded for Dwight Howard, many fans and media whispered that it might not be "Kobe's team" any longer.
He doused those ideas by improving in almost every major category, especially efficiency-wise.
Considering how he's passing lately, a full-strength supporting cast would mean bad news for the rest of the West.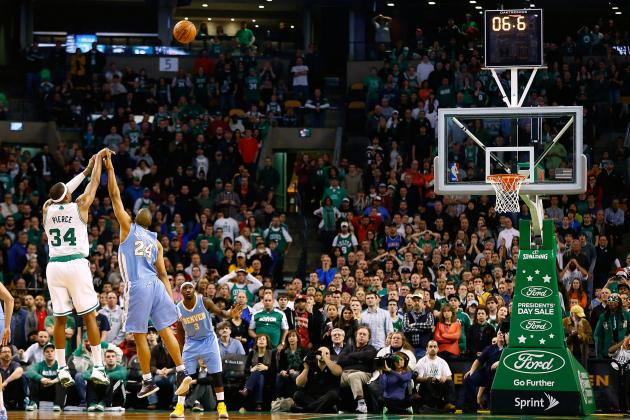 Jared Wickerham/Getty Images

2012-13 Stats: 18.5 PPG, 6.4 RPG, 4.4 APG, 42% FG, 36% 3PT, 18.3 PER
Those who focus too much on the future of the Boston Celtics forget that Paul Pierce is still relevant and competent.
Pierce never was an explosive athlete, so his physical decline isn't as detrimental as it would seem. He's a savvy veteran who knows how to break down defenses with footwork and passing.
His superb court awareness and all-around finesse are complemented by competitiveness and grittiness.
Prime evidence is his 54 minutes, 27 points, 14 rebounds and 14 assists in Boston's triple-overtime win over the Denver Nuggets.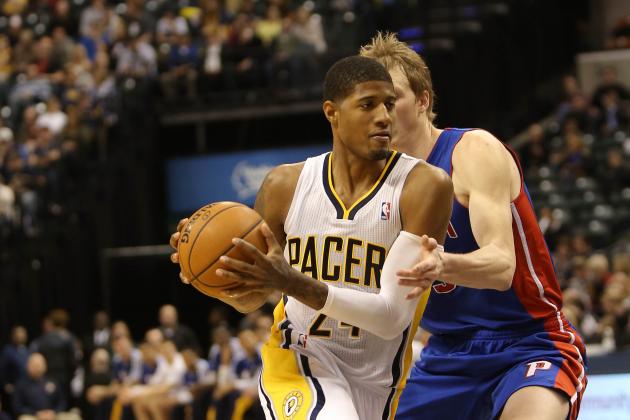 USA TODAY Sports

2012-13 Stats: 17.6 PPG, 7.8 RPG, 4.0 APG, 42% FG, 39% 3PT, 17.4 PER
Paul George has filled so many roles for the Indiana Pacers this season, and it's the main reason why they own the third-best record in the Eastern Conference.
Frank Vogel can count on him to mix in a couple three-pointers per night in addition to attacking the tin.
George also crashes the boards effectively for a swingman, grabbing nearly eight rebounds per contest.
Most importantly, the first-time All-Star uses his athleticism to supply brutal defense against opposing small forwards.
According to Basketball-Reference.com, George is in the top 10 in steals (1.8) and defensive rating (97), and leads the NBA in defensive win shares (4.2).
That kind of versatility will be critical for the low-scoring Pacers in the playoffs.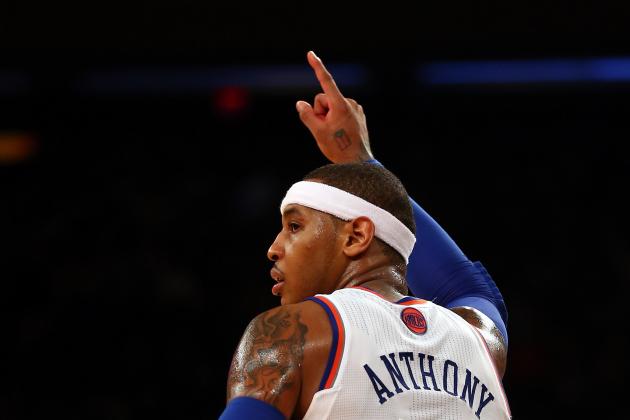 Elsa/Getty Images

2012-13 Stats: 28.6 PPG, 6.5 RPG, 2.7 APG, 45% FG, 41% 3PT, 24 PER
There isn't an offensive scenario that Carmelo Anthony isn't dominating this season.
Whether it's dribbling off the pick-and-roll, posting up or working in isolation, the New York Knicks megastar makes it work.
'Melo's squad has a slew of great pieces working together at a playoff-caliber level in 2012-13, but the playoff hope wouldn't be alive without the leadership, star power and scoring prowess of Anthony.
Everyone knows he can score, but this season, he's proving he can do so as part of a great team.
Unfortunately, his legacy won't change much at all unless he can upend the two small forwards ranked ahead of him.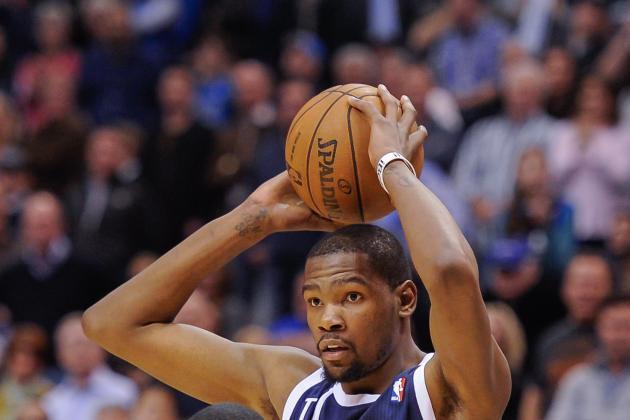 USA TODAY Sports

2012-13 Stats: 29 PPG, 7.4 RPG, 4.4 APG, 52% FG, 43% 3PT, 29 PER
Through the first three-plus months of the 2012-13 season, Oklahoma City Thunder forward Kevin Durant has exhibited improvement across the board.
That's amazing considering he's coming off another scoring title and a trip to the NBA Finals.
He upgraded his ball-handling and passing skills as he cleaned up his assist-to-turnover ratio and became even more effective in the open floor.
Durant's recent exploits go beyond shooting and creating shots for his Thunder teammates. He's limiting opposing small forwards to a humble 10.6 PER, according to 82games.com.
The regular season dominance is fun to behold, but at this point, OKC fans only care if it leads to an NBA crown.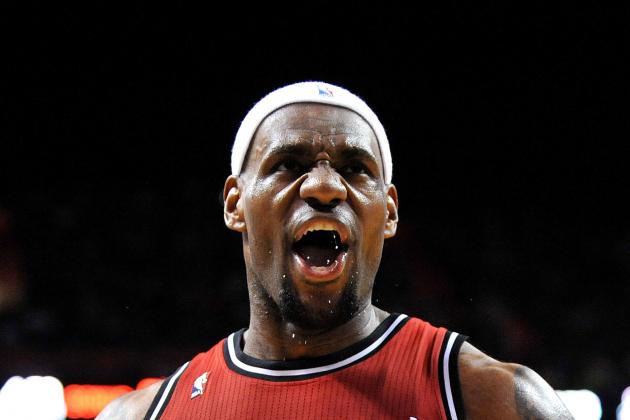 USA TODAY Sports

2012-13 Stats: 27.1 PPG, 8.1 RPG, 6.9 APG, 56% FG, 42% 3PT, 31.3 PER
As recently as a year ago, I dismissed the idea of LeBron James being the best swingman in the game because his mid-range game was lacking elite substance.
At this juncture in the 2012-13 campaign, it is crystal clear that King James' mid-range repertoire and post game is as good as it gets.
His brilliant play leading up to the All-Star break is dismantling opponents with ease.
Crisp spin moves, left-handed hook shots, mid-range bank shots and power post moves are featured on a nightly basis.
Pair those moves with his swarming defense and other-worldly physique, and what do you get? A player who makes Magic Johnson and Michael Jordan look like peers.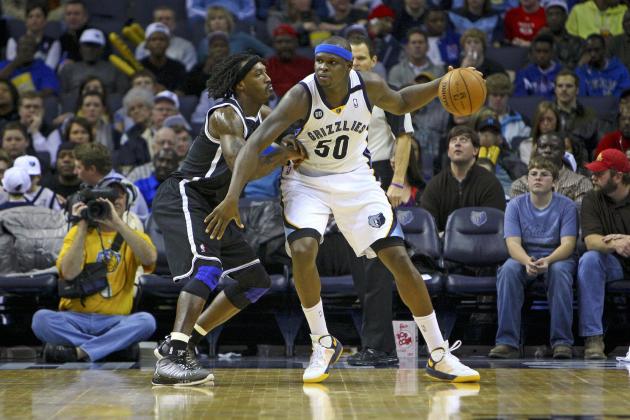 Spruce Derden-USA TODAY Sports

2012-13 Stats: 15.6 PPG, 11.5 RPG, 47% FG, 18.3 PER
There's nothing flashy about Zach Randolph's game, and he's past his prime.
How is the Memphis Grizzlies veteran a top-five power forward and an All-Star? Because he can still gobble up rebounds, and once he gets those boards, he knows what to do.
Randolph's 11.5 rebounds per game are second-best in the NBA, as he relies on positioning and perfect timing to own the glass.
On the offensive glass, he capitalizes with put-backs and high-percentage pivot moves. He also steps back and buries 15-20 foot jumpers with regularity.
Lionel Hollins needs at least 16 and 12 from him every playoff game if the Grizzlies want to advance past the first round.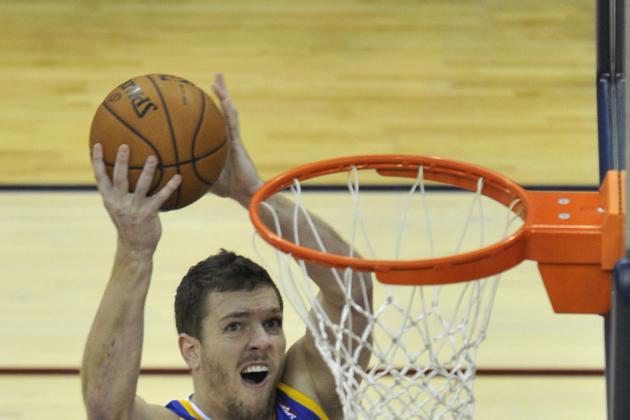 USA TODAY Sports

2012-13 Stats: 19 PPG, 10.8 RPG, 51% FG, 19.5 PER
While Andrew Bogut sat the first 12 weeks of the season, David Lee proved his worth as a post player.
His work as the anchor of the Golden State Warriors offense spurred the franchise to its best start in ages.
The All-Star southpaw has a great feel for the game and is particularly good at discerning whether to pass, drive or pull up and shoot.
Lee also moves well without the ball, as manifested by his 68-of-102 (67 percent) shooting off cuts (via Synergy Sports).
The next step for him to take is to make waves in the playoffs, something he's never had the chance to do.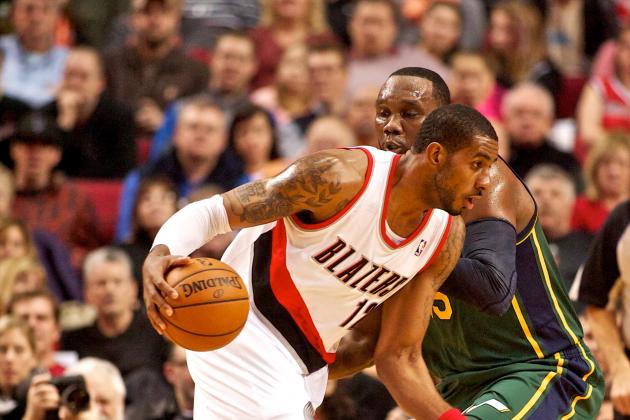 Craig Mitchelldyer-USA TODAY Sports

2012-13 Stats: 21 PPG, 9 RPG, 48% FG, 20.3 PER
LaMarcus Aldridge's status as third-best power forward in the NBA speaks volumes about the crop of players at the position today.
He's leading the Portland Trail Blazers offensively by mixing his post moves with his jump shot and taking great care of the ball (1.9 turnovers per game).
Aldridge's ball-handling skills aren't impressive, neither is his athleticism, but he wears down defenders with simple moves and his dependable turnaround jumper.
The Blazers are on the fringe of a postseason spot, and their season hinges on his productivity in the paint.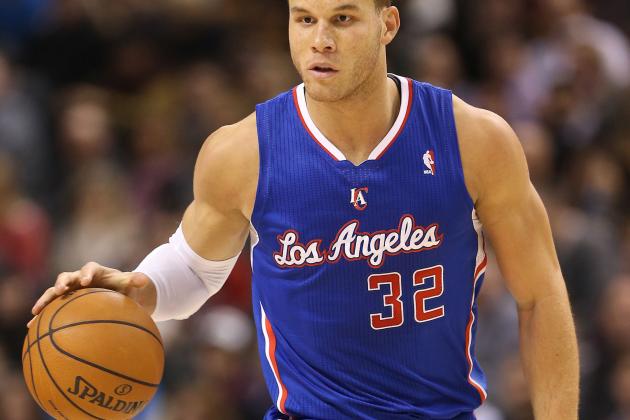 Tom Szczerbowski-USA TODAY Sports

2012-13 Stats: 18.5 PPG, 8.7 RPG, 3.6 APG, 54% FG, 23 PER
The depth of the Los Angeles Clippers roster and DeAndre Jordan's emergence contributed to Blake Griffin's decrease in minutes. Nevertheless, he's a more complete player and a dynamic threat.
Griffin's imposing physical gifts give him countless opportunities on the court, and now he has the skill to convert and make the team better.
He has a softer touch on his finishes, a polished mid-range jumper and a terrific assist rate for a post player.
There's no glaring weakness that foes can game-plan against. Griffin can face up, post up, pass and play stiff defense against opposing bigs. Thus, he climbs the charts to No. 2 among power forwards.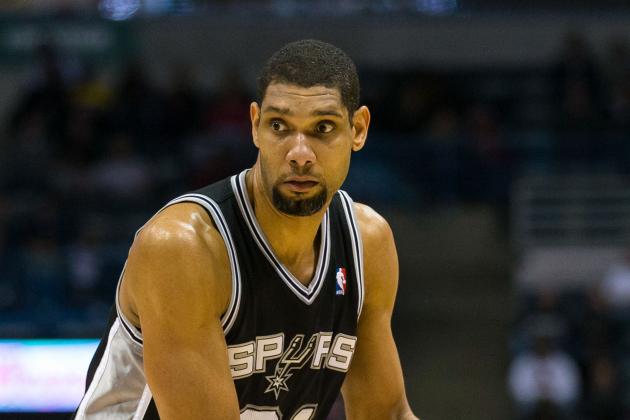 Jeff Hanisch-USA TODAY Sports

2012-13 Stats: 17.3 PPG, 9.6 RPG, 2.8 BPG, 50% FG, 25 PER
Is Tim Duncan a power forward, or is he a center? He might be a little bit of both. Gregg Popovich lists him as a power forward, and that's good enough for me.
No matter how you slice it, he's having a monster year for the San Antonio Spurs considering he's playing just around 30 minutes per game.
Now that Duncan is back from a knee injury, Popovich and company hope he can get back to his offensive groove and continue protecting the rim. Duncan is rarely out of position on either end of the court.
If you're not sold on Duncan's dominance at power forward in 2012-13, check out his numbers per 36 minutes: 20.8 points, 11.6 rebounds and 3.3 blocks.
USA TODAY Sports

2012-13 Stats: 17.5 PPG, 9.5 RPG, 49% FG, 20.9 PER
The Utah Jazz have dumped the ball down to Al Jefferson on post-ups 374 times so far in 2012-13, according to Synergy Sports.
By using his ball fakes, pivots and various other moves, he's converted 159 times (43 percent).
Compare that to 61-of-166 for DeMarcus Cousins (37 percent) or the almost non-existent 4-of-7 post ups from Tyson Chandler, and you understand why Jefferson took the final spot in our center rankings.
Few true centers can create their own offense, and Jefferson is a fine example of one.
Can Jefferson defend like Chandler or move like Cousins? No, but he's a highly-skilled worker on the low block with a solid jumper as well.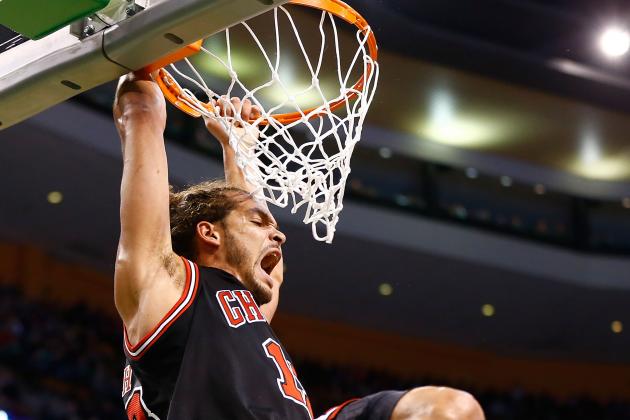 Jared Wickerham/Getty Images

2012-13 Stats: 11.8 PPG, 11.4 RPG, 4.1 APG, 2 BPG, 46% FG, 17.2 PER
Joakim Noah's work ethic and unselfishness on the Chicago Bulls compensate for his offensive deficiencies, and then some.
Sure, he doesn't have a turnaround jumpshot or any kind of go-to offensive move.
But he can find open teammates better than almost any center, and he crashes the offensive glass harder than most low-post players.
Don't forget about his unrelenting defense, which is really what sets him apart from the mediocre offensive centers in the league. Noah's focus, energy and wingspan cover the paint of Tom Thibodeau's vaunted defensive front.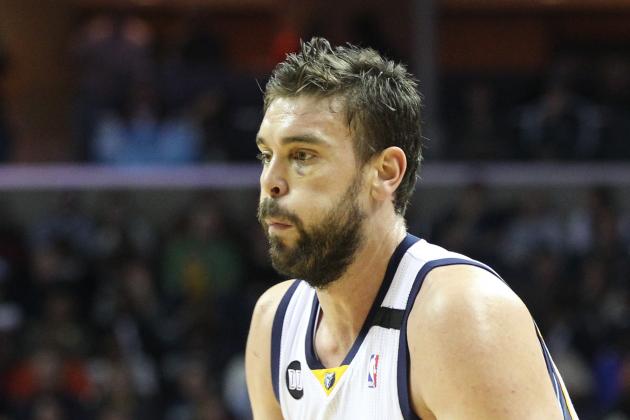 USA TODAY Sports

2012-13 Stats: 13.8 PPG, 7.8 RPG, 3.6 APG, 1.7 BPG, 48% FG, 19 PER
How does a center with fewer than 14 points and eight rebounds per game land at No. 3 in our middle-man rankings?
Because Marc Gasol of the Memphis Grizzlies can do much more than score and rebound.
Any seven-footer can grab a bunch of boards and score on dunks and put-backs. But few can dish 3.6 assists in the process, not to mention shoot 87 percent from the charity stripe.
No one confuses him with Serge Ibaka defensively, but Gasol plays tough defense close to the hoop and swats 1.7 shots per night.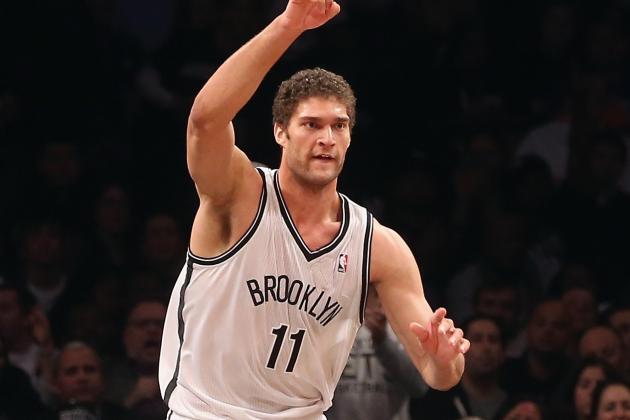 Bruce Bennett/Getty Images

2012-13 Stats: 19 PPG, 7.4 RPG, 2.2 BPG, 52% FG, 25 PER
Brook Lopez isn't the highest-scoring NBA center by accident.
The Brooklyn Nets All-Star is using his smooth shooting stroke and nice touch around the hoop to shoot 52 percent from the field. Few post players in the league use the glass as effectively as he does.
Lopez isn't a swift-moving player, but he runs the floor and is well-coordinated in open space.
In a season during which Brooklyn's marquee guards have performed well below what was expected of them, Lopez has done his best to pick up the slack and carry the team offensively.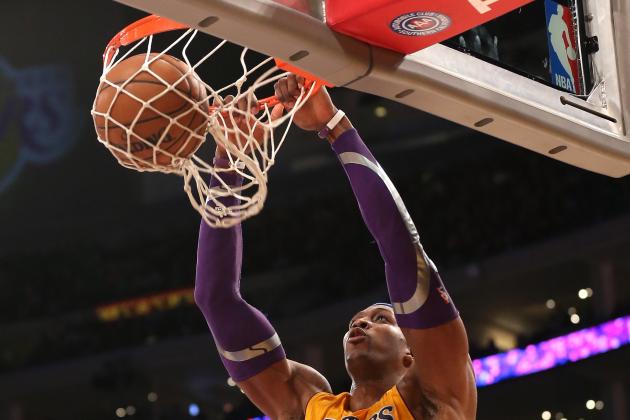 Stephen Dunn/Getty Images

2012-13 Stats: 16.3 PPG, 11.9 RPG, 2.4 BPG, 58% FG, 19.2 PER
Even in a down year, Los Angeles Lakers center Dwight Howard is the best center in the NBA.
He's hauling in more than 12 boards per 36 minutes while rejecting 2.4 shots. And despite injuries to his back and shoulder, Howard is scoring more than 16 a night and flirting with 60 percent field-goal shooting.
If we factored in "cohesion with teammates," then he might have a different ranking. But we can't ignore the fact that he's the most imposing presence in the paint.
His back and shoulder will dictate how far the Lakers go this spring, so if he ever gets to 90-95 percent full strength, look out for the 20-10 version of Dwight.
Hit me up on Twitter for more NBA analysis: