NFL Draft Prospects Who Aren't Ready for Prime Time Just Yet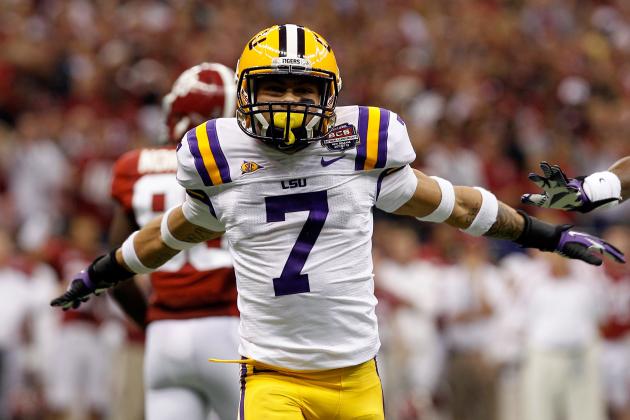 Chris Graythen/Getty Images

Picking players in the NFL draft is as much about potential as filling immediate team needs. That's the fine line that general managers must navigate as they select their future franchise cornerstones.
But no team wants to take the next Darrius Heyward-Bey or JaMarcus Russell.
I swear I'm not picking on the Oakland Raiders. Their selections just happen to provide two great examples of valuing a player's physical attributes over his football abilities.
To be clear, I'm not saying any of the following players won't be productive—or even great—NFL players. But they aren't prepared to be consistent contributors come September.
And that's OK. Rome wasn't built in one draft. Or something like that.
So click through to find out which players from the 2013 NFL draft will need a little seasoning before they start delivering on Sundays.
Begin Slideshow

»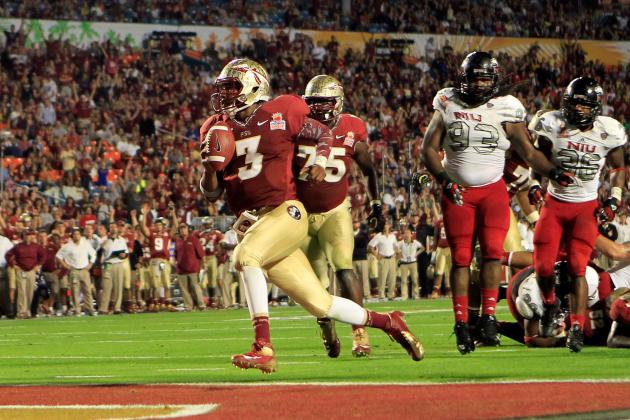 Chris Trotman/Getty Images

E.J. Manuel is everything a general manager could want.
He's tall (6'5") enough to survey the field from the pocket and see all of the passing lanes. Additionally, he packs 240 pounds onto that long frame, giving him enough weight to better handle the violence of the NFL.
But Manuel isn't just an imposing figure; he possesses the arm to sling the ball downfield and the legs to buy more time or even grab large chunks of yardage when presented with an opportunity.
However, the one thing he lacks is polish. His mental game doesn't measure up to his physical stature.
With a little time, good coaching and a lot of studying, Manuel may develop into a winning NFL quarterback. It just won't be in 2013.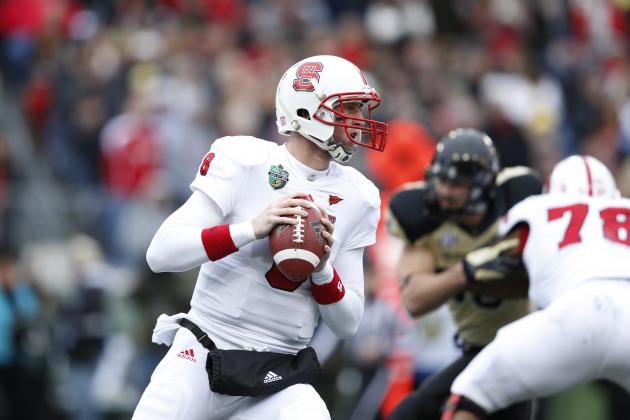 Joe Robbins/Getty Images

I could probably fill this entire slideshow with this year's quarterback class. But I'll spare you the gore and only offer one more: Mike Glennon.
The North Carolina State product has the look of an NFL signal-caller. He's ridiculously tall at 6'6", but also slight at 232 pounds.
Complementing that towering build is a strong arm capable of hurtling the rock far down the field. Now he just needs to ensure it gets to where it's supposed to.
Glennon was erratic at times during Senior Bowl practice and occasionally seemed hurried and harried. A solid quarterbacks coach can polish him up to be a solid starter, but that will take time.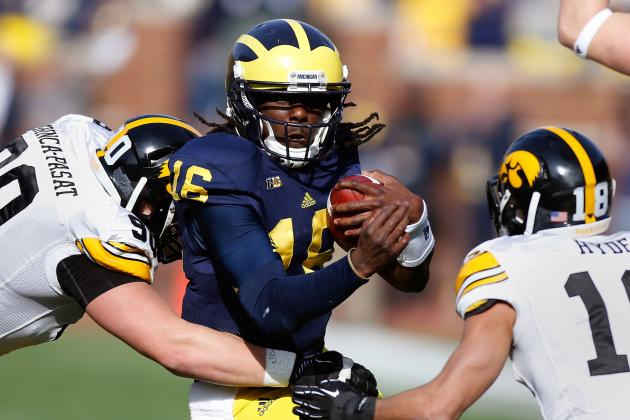 Gregory Shamus/Getty Images

Of the obvious, big-name guys, Denard Robinson has a viable claim as the headliner.
Robinson won't be moving forward as a quarterback, and no one is happier than NFL general managers. Few, if any, would have snatched him up at the expense of a draft selection.
However, that also means he will be spending even more time than most rookies learning the basics. Route-running isn't something that can be picked up in a few weeks; it will take a while for the former Michigan star to understand the subtleties of the position.
Still, we are discussing a prospect with a sub-4.4 40 and enough college highlights to fill an afternoon. His time will come.
Justin K. Aller/Getty Images

Tavon Austin has the potential to be an amazing impact player in the NFL.
But it won't be right away.
Austin is a game-changing talent who could end the combine with the fastest 40 of them all. He's lightning in a bottle who caught more passes than anyone in West Virginia history.
But Percy Harvin's smaller clone won't be running around on the outside against Big 12 defenses. There will be a learning curve that could leave this boom-or-bust player frustrated in the early going.
So enjoy those first few games against Austin, defensive coordinators. Because once he understands the little things, he's going to be a pain in the wallet.
Get it? He'll get you fired!
Sorry.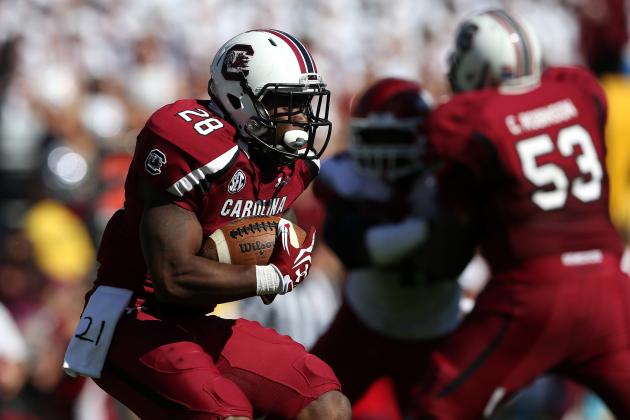 Streeter Lecka/Getty Images

That's right, folks. For my last offensive player, I'm giving you a two-for-one.
All you have to do is not tell my editors. They frown on such freebies.
Marcus Lattimore could have been a top-10 pick if he had come out after his freshman season. I understand that it's not possible, but that doesn't change the assertion.
Lattimore racked up a record-setting 19 touchdowns in his debut season and was destined for greatness. Unfortunately, fate had a different plan, as he suffered back-to-back knee injuries that forced him to end his college career on the South Carolina turf.
As for Knile Davis, the story played out much the same way, just with ankle issues. He's big enough (226 pounds) and can flat-out fly, but will have to find sustained health before he can contribute consistently.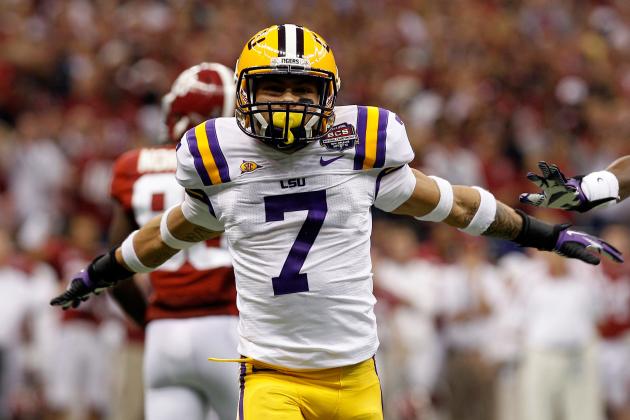 Chris Graythen/Getty Images

It's been a long time since we've heard anything about Tyrann Mathieu's game. The overwhelming number of words written about the former LSU Tiger have undoubtedly dealt with his off-field problems.
Unfortunately for Mathieu, there are difficulties on the field as well.
He lacks ideal size (5'9"), and opposing offensive coordinators and quarterbacks will use his aggressive style against him. Furthering the damage sustained by his style of play is his lack of speed. If he gets beat, he won't be able to close the gap.
But this is a player who forced six fumbles in 2011 and returned punts at a 15.6-yard clip (second best in the country). He is a football player who finds ways to make plays, and you can't teach instincts like that.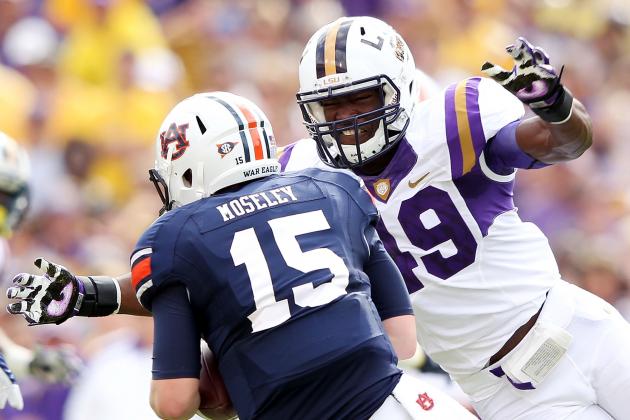 Jamie Squire/Getty Images

No, I don't hate LSU or the never-ending stream of defensive talent spewing forth from Baton Rouge. In fact, it's impossible not to admire Les Miles' ability to churn out so many high draft picks.
Barkevious Mingo is one of the 10 underclassmen leaving the Tigers early in pursuit of a professional career. His talent ensures he'll reach the podium on opening night, but there are plenty of questions regarding his immediate impact.
Mingo has only been playing football for six years and will pick up plenty of things as he goes along. Most notably, he will likely need to learn to play a new position.
Mingo lined up at left defensive end in college, but only checks in at 240 pounds. Unless he plans to put on 20 pounds or so before fall, he will be moved to outside linebacker.
That means he will need time to adjust to a new position. There will be some growing pains, but they will be well worth it in the end.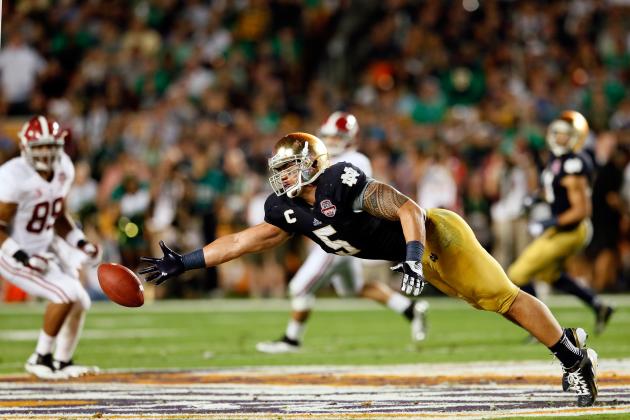 Kevin C. Cox/Getty Images

This has nothing to do with the recent off-the-field headlines that Manti Te'o has made, although they don't help much.
Rather, he has a few deficiencies to address in between the lines before he's cemented as a solid NFL linebacker.
Te'o has generally proven to be a reliable tackler and a leader on defense. At least the former is now under scrutiny, as he failed to bring down Alabama's running backs on multiple occasions. Professional running backs won't be much kinder.
As for his improvement against the passing game, more than a couple of those interceptions were extremely poor throws (looking at you, Denard Robinson) or tipped balls. Te'o put himself in the proper position and flashed the athleticism and awareness to make the plays that were there.
Plus, there is little question regarding his work ethic. I'd feel comfortable if my team grabbed him to be the future in the middle. Just not the present.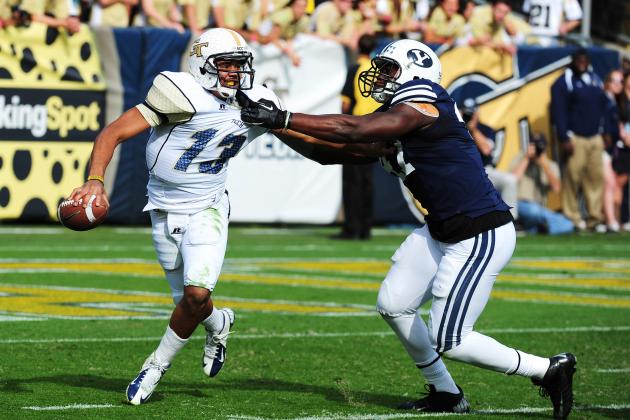 Scott Cunningham/Getty Images

I have a hard time believing that someone who has only played football for a few years can come in and dominate NFL offensive tackles.
But I wouldn't be completely shocked either.
Ezekiel Ansah has been scorching draft boards, just as he did offensive linemen in the Senior Bowl, as fans and pundits label him the next Jason Pierre-Paul. The funny thing is that the comparison isn't completely ridiculous.
Ansah possesses that rare combination of everything. Seriously. He's 6'6", weighs 270 pounds and will run in the 4.7 range.
And just like Pierre-Paul, Ansah will benefit greatly with a year of tutelage, leading to a second year where all expectations are exceeded. Pierre-Paul had 4.5 sacks his first year and 16.5 the next. A similar projection for Ansah is a distinct possibility.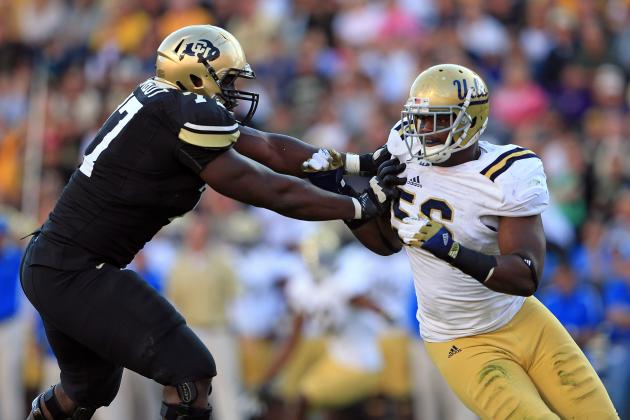 Doug Pensinger/Getty Images

No, I'm not ending it with another two-fer. Relax. You're still getting your money's worth with Datone Jones.
The UCLA defensive end has a lot to like. He can move inside and out with his 6'4", 275-pound frame and explodes off the ball to make plays in the backfield.
However, that versatility has a downside: He has no natural position.
Much of his early career will be used as a testing ground to find out where his best fit will be. And as his college numbers prove, he needs to work on his consistency
But once he finds the right spot and gets a few repetitions, Jones will be one of those headache-inducing defensive linemen that every defensive coach loves.