50 Pictures of Athletes Being Awesome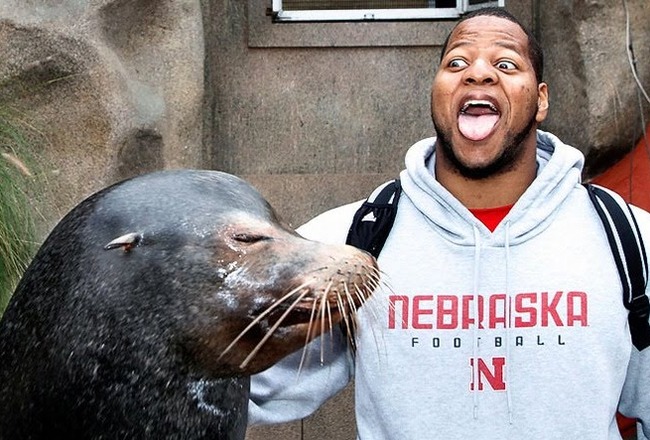 Image via hawkstrap.blogspot.com

They are athletes who are being awesome. That is all you need to know.
Please sit down, take off your hat and get ready to enjoy these amazingly B.A. images of athletes and sports figures being hilarious, strange and ridiculously cool.
And I know, sometimes it's just not fair how baller people can be, but we can deal with it as long as they keep taking pictures like these.
Kevin Durant: One Hell of a Model American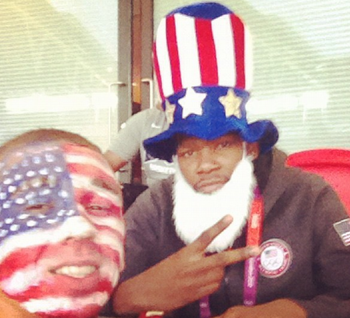 Image via @sniperjones35
You never want to be the face-paint guy. Even if it's the American flag.
You can't go wrong, however, wanting to be like Kevin Durant, who is rocking a fierce Uncle Sam beard and top hat in this Twitter picture.
Tony Hawk Skitching with Evel Knievel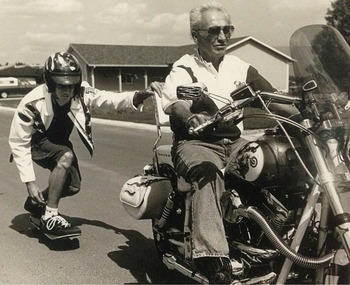 Image via @tonyhawk
Oh, this old thing?
That's just a picture of skateboard legend Tony Hawk blasting down the road off the back of world-famous daredevil Evel Knievel's motorcycle.
You know—the usual stuff.
Paul Bissonnette Drinking from Shoe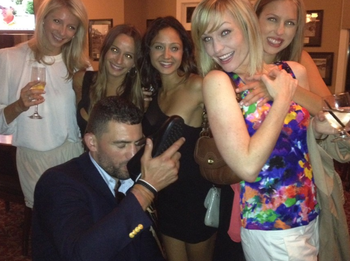 Image via @biznasty
Just another day at the office for Paul Bissonnette.
The Phoenix Coyotes left winger has taken a knee in front of this admiring gaggle of women and appears to be slugging down some sort of heady shoe brew out of his own footwear.
Also, it's worth noting that, judging by their complete disregard of a man drinking from a dress shoe in their midst, these ladies had clearly seen this type of behavior out of Biznasty before.
LeBron James Tackles Half-Court Contest Winner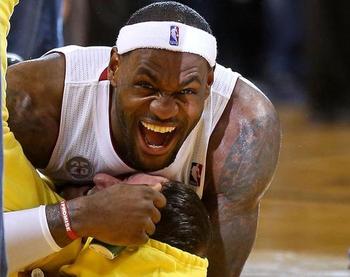 Image via nypost.com
What's better than winning $75,000 on a half-court shot?
Winning $75,000 on a half-court shot and then being tackled by NBA superstar LeBron James. Congrats, Michael Drysch. You've officially become the luckiest NBA fan in the country.
Evgeni Malkin Spooning a Lion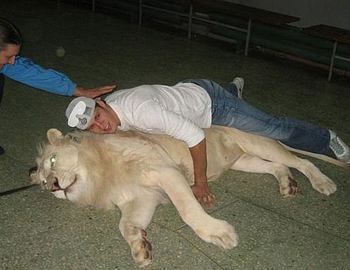 Image via evgenimalkinwithanimals.tumblr.com
Evgeni Malkin really loves his animal friends, judging by this Tumblr account created just to display pictures of the Pittsburgh Penguin hanging out with wildlife.
And judging by this photo, he has zero fear of the death that could occur when you choose to be the big spoon with a giant jungle cat.
JaVale McGee Takes Segway Through McDonald's Drive-Thru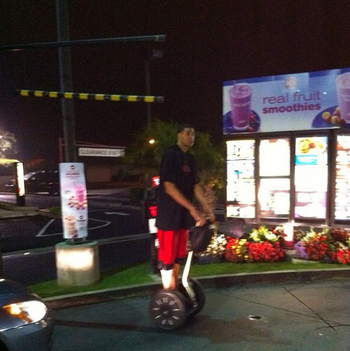 Image via buzzfeed.com
What do you think JaVale McGee ordered while taking his Segway through the McDonald's drive-thru?
I'm betting "apple turnover."
Ba-zing! Whoa!
C.J. Leslie Saves Handicapped Student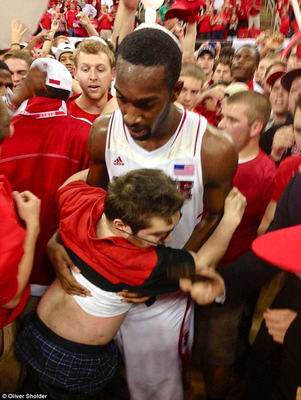 Image via godvine.com
N.C. State's star forward C.J. Leslie scored 25 points and pulled down six rebounds to help lift the Wolfpack over then-No.1 Duke.
And then he saved Will Privette from being trampled.
Privette, a senior at N.C. State born without a tibia, decided to rush the court in his wheelchair after the Wolfpack's 84-76 win and was knocked to the floor in the ensuing scrum.
Luckily for Privette, Leslie saw him hit the deck and rushed over to lift him out of harm's way, and this fantastic picture captures the moment.
Johnny Manziel Hits Mardi Gras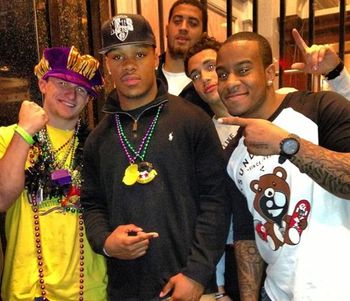 Image via larrybrownsports.com
Johnny Football has taken bushels of amazing pictures over the past couple of months after winning the Heisman Trophy, and Texas A&M's star quarterback kept the ball rolling just last week by being the most goofily dressed athlete on Bourbon Street.
Manziel (left) posed for a shot with Ole Miss linebacker Denzel Nkemdiche (middle) and LSU running back Jeremy Hill (right) and was obviously the most excited to be there.
Keep doing you, Johnny.
Alex Morgan Dresses Up as Katy Perry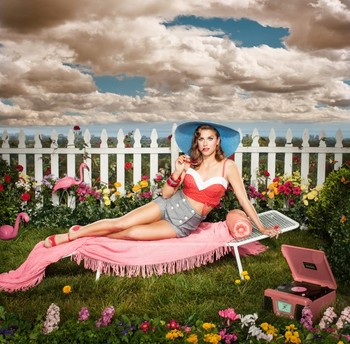 Image via gamedayr.com
A lot of men's weird fantasies came true this month when Alex Morgan dressed up as pop star Katy Perry for a photo shoot for ESPN The Magazine's "Music Issue."
Mark Cuban Falls in Love with Inanimate Object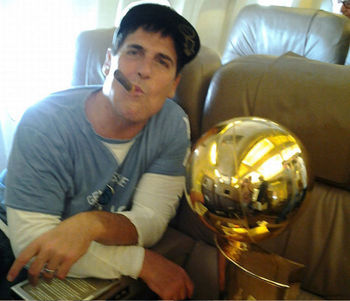 Image via izismile.com
At the club. In bed. In the bathroom.
After winning the NBA title in 2011, Dallas Mavericks owner Mark Cuban took the trophy with him everywhere he went, and the slew of magical pictures that were taken during the process amounts to pure gold.
Brian Wilson Is Formal, but Likes to Party
Image via mlkshk.com
Former San Francisco Giants pitcher and current free agent Brian Wilson lives on the shocked reactions his behavior can force out of others, and he will ham it up at any and all opportunities given to him.
That said, you still have to appreciate his clownish ingenuity in wearing an elastic tuxedo to a red-carpet event.
Josh Freeman Becomes Michael Jackson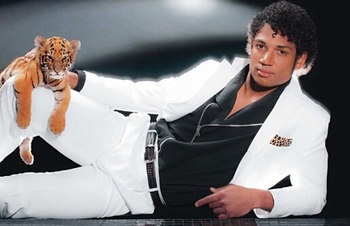 Image via yardbarker.com
Josh Freeman looked stunningly akin to the late pop icon after donning a white suit, wig and makeup for ESPN The Magazine's "Music Issue."
Honestly, anything that involves a pro athlete and a live tiger kitten is just off-the-scale awesome.
Joe 'Waka Flacco' Lame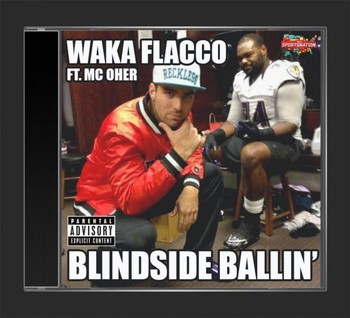 Image via @SHAQ
I couldn't help myself with the pun up there, but this picture of Joe Flacco decked out in a varsity jacket and "Reckless" hat is so goofy that it turns the corner into amazing.
Aaron Rodgers and the Bolo Necktie of Destiny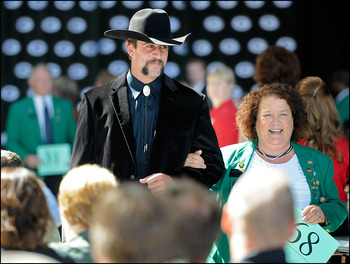 Image via ootlyfe.com
My personal opinion was that bolo neckties were for fat sheriffs and oil tycoons until I saw this picture of Aaron Rodgers going full cowboy with a Fu Manchu mustache.
Now I'm looking for bolo ties on eBay.
Ndamukong Suh Chills with and Doesn't Kill Seal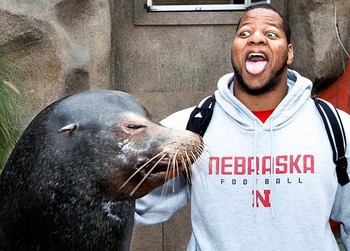 Image via hawkstrap.blogspot.com
Detroit Lions Ndamukong Suh has earned himself a notorious reputation as a dirty-playing villain in the NFL, but this picture of him with a seal proves there is a somewhat cuddly, if not goofy, side to the man.
I imagine the whole time the photographer was muttering to himself, "Just don't eat the seal, please don't eat the seal..."
Shaq Hanging out with a Panda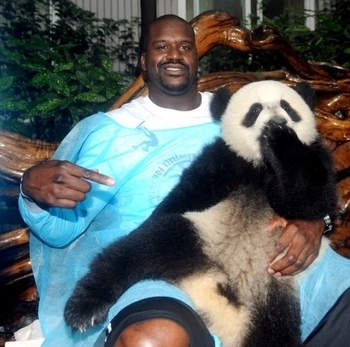 Image via buzzfeed.com
I don't even want a head stone on my grave anymore; I just want a statue of Shaquille O'Neal in a poncho, one-arming a panda.
The plaque on it will read something like, "Dan was alright, but how about Shaq with this panda?"
If Johns Hopkins University hasn't tried using this picture to cure patients with deadly diseases, it needs to give it a roll.
Tim Lincecum Goes Rat Pack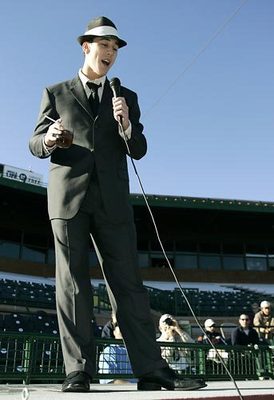 Image via @ seattletimes.com
Here, Tim Lincecum is doing his best rendition of Frank Sinatra's "Fly Me to the Moon" at a team talent show put on by the San Francisco Giants in 2007.
Notice the drink and smoke in one hand. That is attention to detail.
Mark Spitz Redefining Everything You Know About Manliness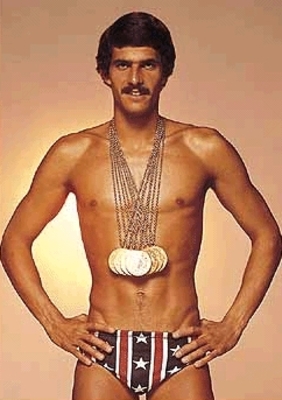 Image via tumblr.com 
Don't say anything. Just gaze and appreciate it.
American swimmer Mark Spitz and his seven gold medals at the 1972 Olympic Games set a new bar for competitive swimmers everywhere, while this picture crushed the accepted status quo of masculinity forever.
James Harden & Johnny Manziel Going Heisman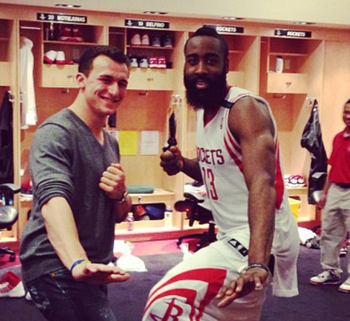 Image via @jharden13
Another Johnny Manziel classic.
As I've stated in previous articles, Johnny Football has a hall pass to go wherever he pleases in this world, regardless of security restrictions. And this shot taken with James Harden in the Houston Rockets' locker room is just further proof that Manziel has been granted the highest security level in the nation.
Kevin Love: Because Nothing Beats an Astronaut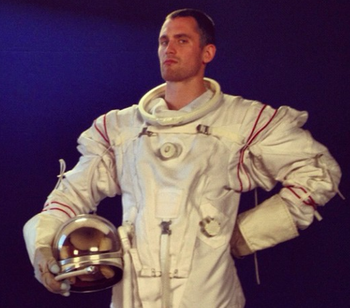 Image @kevinlove
Kevin Love wouldn't explain why he posed for pictures in an astronaut costume after posting this gem on his Instagram account (@kevinlove).
But do we really even need to know why?
Nope.
Mike Tyson: A Man of Many Pigeons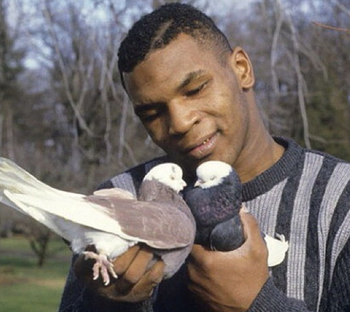 Image via buzzfeed.com
He might want to eat your children, but Mike Tyson would never harm a feather on one of his pigeons.
And there are few things more amazing than a picture of one of nature's pinnacle predators gently grasping two soft, canoodling lovebirds.
Paul Bissonnette Is a Viking God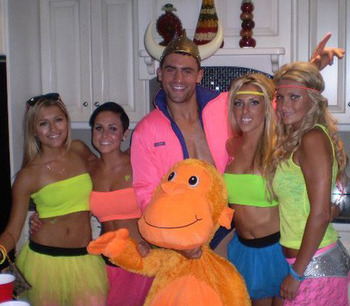 Image via
No explanation needed here. Paul Bissonnette doing more Paul Bissonnette things around smokin' coeds.
It's like watching a red-tailed hawk pick a trout out of a stream in mid-flight—just a being entirely in its element, doing what it was meant to do.
Erin Andrews Channels Amelia Earhart for Modeling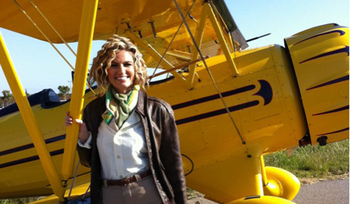 Image via bustedcoverage.com
Erin Andrews dressed up aviator style and took a few pictures in front of a vintage biplane to help promote a new makeup book for a friend.
Beautiful women and retro stunt planes? That's a double scoop of awesome.
Stevie Johnson Knows What He Likes
Image via terezowens.com
Most men would be embarrassed to order such a cake for their birthday, but not the Buffalo Bills' Stevie Johnson.
Johnson had the cake designed in honor of his wife, Britney Johnson. It might be over the top, but hey, at least he loves his wife. And her, ahem...amenities.
Nate Robinson Is Jacked, Tan and 10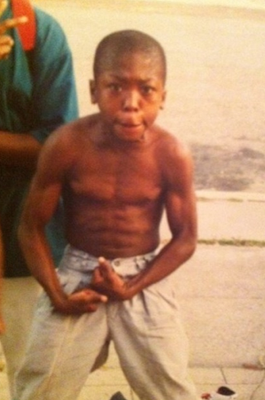 Image massholesports.com
Actually, Nate Robinson was probably a lot younger than 10 when he took this photo.
But the Chicago Bulls' bite-sized guard is so proud of this vintage shot of him flexing his preadolescent muscles that he tweeted it out to his followers with the text: "I know I got haters but my body as a kid look better then most of u haters tight [sic] now."
Gilbert Arenas Answers the Call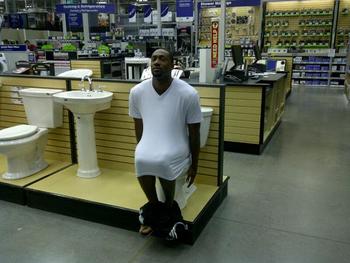 Image via basketball-n-ent.com
Pretending to take a trip to Brown Town in the middle of a Lowe's Home Improvement store. Classic Gilbert Arenas.
Chris Paul Balling with His Son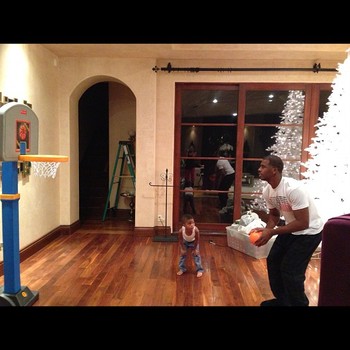 Image via thatnbalotterypick.com
Look at the eye contact. The intensity.
Chris Paul II is definitely chirping in dad's ear in this picture, and he undoubtedly boxed out pops after causing him to miss his free-throw attempt.
Gronk Doing Gronk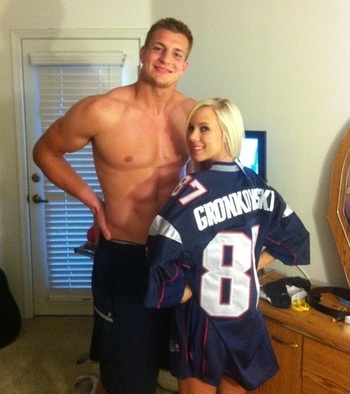 Image via thelostogle.com
Rob Gronkowski and adult film star Bibi Jones caused a bit (a ton) of a stir with this image taken of Jones wearing a Gronkowski jersey.
We don't know if Jones was wearing anything under that Reebok horse blanket, but that only makes it better.
Adrian Peterson Celebrates New Year's Like a Boss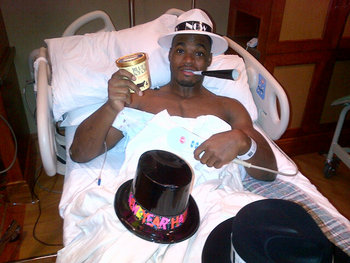 Image via sports.yahoo.com
Because a little ACL surgery doesn't stop a guy like Adrian "All Day" Peterson from ringing in the New Year.
I like to picture a strongly medicated Peterson wolfing down Blue Bell ice cream and telling nurses to let "all the planktons be forgot" as the ball drops.
DeShawn Stevenson Has an ATM in His Kitchen. Questions?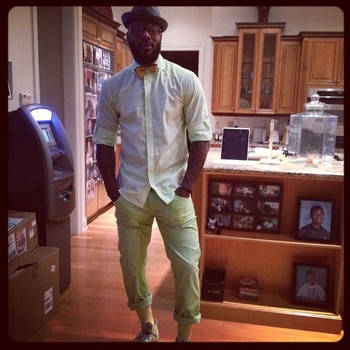 Image via sportsillustrated.cnn.com
"Oh hey, DeShawn. Looking pretty dapper toda—oh my God, is that an ATM across from your kitchen counter?"
All seems normal in this image until your eyes notice the glowing cash machine sitting in the home of Atlanta Hawks small forward DeShawn Stevenson.
Mike Tyson Thinks He's Petting This Tiger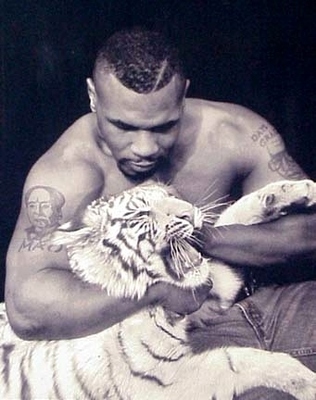 Image via @miketyson
And the beautiful images of Mike Tyson with animals keep on rolling.
Contrary to what the image suggests, Tyson loves his pet tiger. Even when it knocks his teeth out.
Serena Williams Supermans on Us
Image via mankindunplugged.com
Serena Williams' Instagram account (@serenawilliams) features some priceless moments, but none quite like this shot of her taking off in a Superman onesie.
Pierre Thomas Makes It Rain on Toys for Tots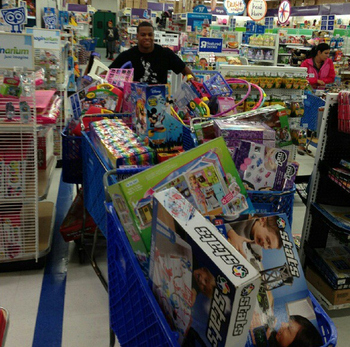 Image via yardbarker.com
New Orleans Saints running back Pierre Thomas went above and beyond the call in order to furnish gifts for children in need this Christmas.
You're making me smile, Pierre. And you're also looking like the ultimate winner of a Nickelodeon Toys 'R Us shopping spree.
JaVale McGee Planking at the Grocery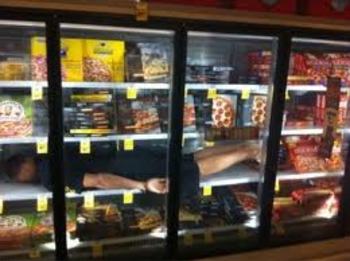 Image via bustedcoverage.com
The FPA (Frozen Pizza Aisle): "Where JaVale McGee and Amazing Happen."
Tony Hawk Skateboarding with His Daughter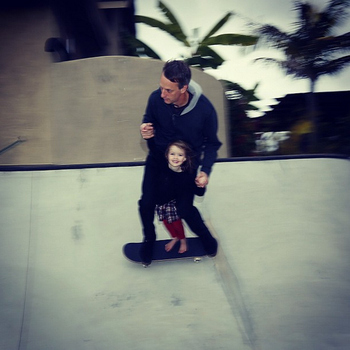 Image via @tonyhawk
Some believe this photo is evidence that Tony Hawk endangered his daughter, Kadence, because he skateboarded with her without a helmet.
We're all for safety here at B/R, and maybe Hawk should've had her put a helmet on, but the biggest thing this photo shows is just how awesome it would be to have the godfather of modern skateboarding as your dad.
Usain Bolt Making Life Look Easy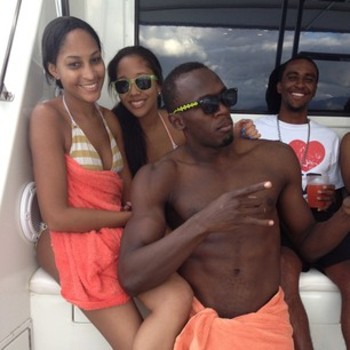 Image via web.stagram.com
Sometimes, it appears that Jamaican sprinter Usain Bolt lives in a music video. Why is that?
Oh, probably because he comes out of nowhere every four years to dominate a sport effortlessly and then cruise off into the Jamaican sun on a boat full of women and friends.
Mike Trout Catches Monster Grouper
Image via larrybrownsports.com
Catching a 550-pound goliath grouper is just another day in the life of Los Angeles Angels rookie sensation Mike Trout.
A Young Michael Jordan Enjoys a Victory Cigar Like a Boss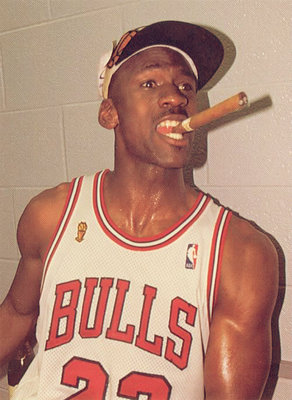 Image via insidehoops.com
Cigar? Check. "Booyah" facial expression? Roger that.
Even when he's celebrating an NBA title, Michael Jordan stands head and shoulders above the rest of us in execution and class.
Even Kobe Wants to Be Like Mike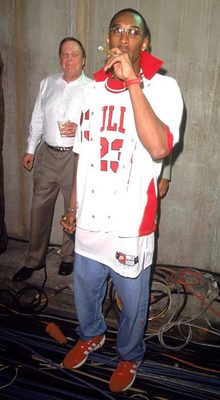 Image via kicksaddict.com
Kobe Bryant doesn't like to be compared to Michael Jordan, and he took a series of ironic, Jordan-esque pictures earlier in his career with the Lakers to give the Jordan-Kobe comparison addicts something to chew on.
Jim Irsay Shows Fan the Money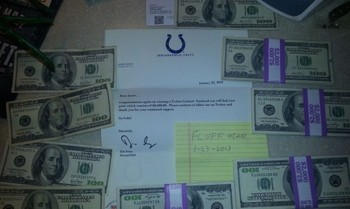 Image via larrybrownsports.com
He's been called "the most eccentric owner in the NFL."
And it just might be starting to stick.
After promising $8,500 to any Twitter follower who could correctly guess the score of the AFC Championship Game between the Ravens and Patriots, Indianapolis Colts owner Jim Irsay ponied up the dough.
Irsay mailed the sum in cash to a follower by the name of "Jason," who guessed correctly.
Gronk Throws Down at the Lemonade Stand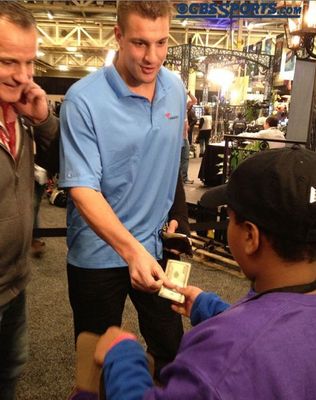 Image via larrybrownsports.com
Rob Gronkowski was in New Orleans for the Super Bowl earlier this month when he decided he wanted a cool beverage.
Normally, this is the point in the story where you'd imagine the Gronk lifting a Jagermeister machine over his head and cracking it open like a big egg in order to quench his thirst.
On the contrary, Gronkowski decided to hit up a lemonade stand and exchanged $100 for a cup of fresh-squeezed goodness.
I like to picture Gronk saying, "Don't spend it all in one place, kid," and winking as he pours a mini hotel bottle of vodka in his juice.
Johnny Football Visits a Young Fan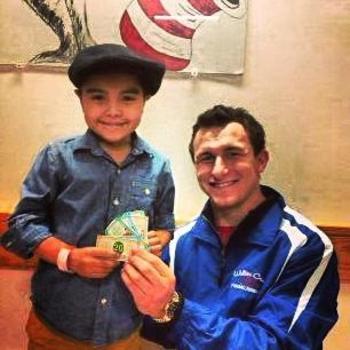 Image via @jmanziel2
Cameras have landed Johnny Manziel in hot water several times over the past year, but shots like this of Texas A&M's Heisman Trophy winner visiting a young patient in a Connecticut hospital show another awesome side of Johnny Football.
Cam Newton Leading Cheers in Auburn Student Section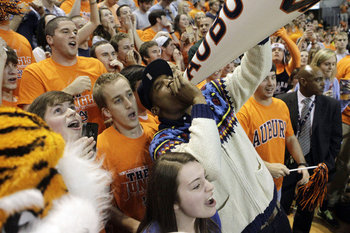 Image via sports.yahoo.com
I'd like to take a moment to put Cam Newton's dad jokes to the side and say that seeing him going crazy in the Auburn student section last week was great.
Seeing a famous alumnus come to town and actually show some school spirit is a refreshing change from the usual shots of them sitting there chewing gum and perusing their phones.
R.A. Dickey's BA Star Wars Onesie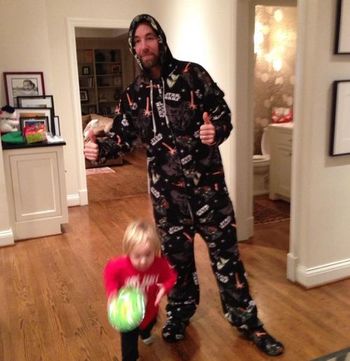 Image via larrybrownsports.com
Because when you're a 38-year-old Cy Young Award winner, you can do/wear whatever you want.
Stay golden, R.A. Dickey.
The Shaqfather Cometh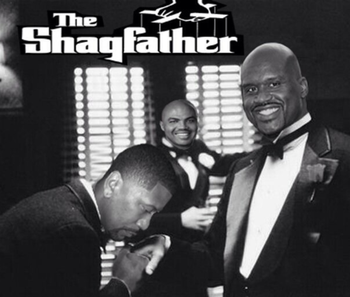 Image via @SHAQ
A gem scavenged off of Shaq's ridiculous Twitter account (@SHAQ), this picture was one of many sent to the Diesel in his ongoing Internet feud with former Pacers player and current ESPN NBA analyst Jalen Rose.
Usain Bolt Petting a Cheetah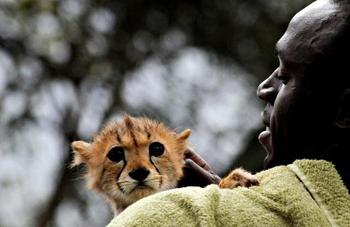 Image via facerunners.com
Usain Bolt adopted an abandoned baby cheetah he named "Lightning Bolt" in order to help raise awareness of environmental-conservation efforts in rural Kenya.
He also presumably adopted Lightning Bolt because owning a cheetah is one of the coolest things you can do on this planet.
Colin Kaepernick Chilling with His Tortoise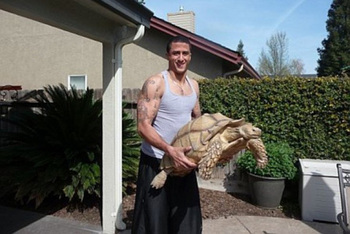 Image via nesn.com
Colin Kaepernick owns a 115-pound tortoise. His name his Sammy. And he is awesome.
Gronk and Johnny Manziel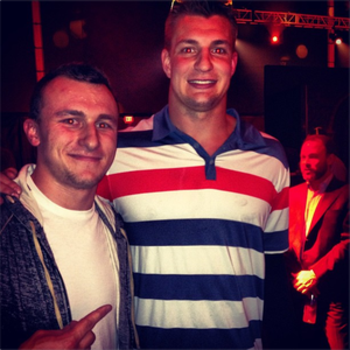 Image via deadspin.com
A simple shot of ridiculous NFL players of the present and future.
They aren't even doing anything, but they don't need to be. Those two being in the same place is a whole world of awesome all on its own.
Michelle Jenneke, the Perfect Girl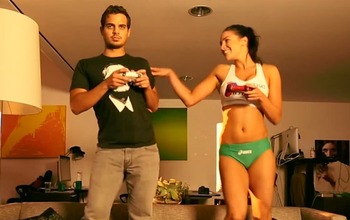 Image via withleather.uproxx.com
Australian hurdler Michelle Jenneke blew our minds once with her mesmerizing warm-up routine and then decided to go for seconds, teaming up with theCHIVE.com to make this hilarious parody video.
Matthew Mitcham Owns the Olympic Rings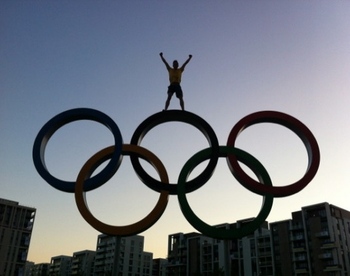 Image via nydailynews.com
At the 2012 London Games, Australian diver Matthew Mitcham took what is possibly the most amazing Olympic photograph you'll ever see.
Keep Reading