College Basketball Conference Power Rankings at Week 15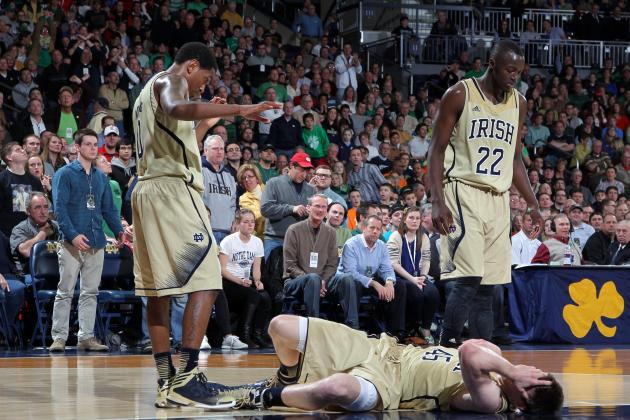 Brian Spurlock-USA TODAY Sports

It is officially unsafe to be a team in the Top 10 of the college basketball polls this season.
This marked the fifth consecutive week where the nation's top-ranked squad was upset (this time it was Indiana at Illinois), but the carnage spread throughout the rankings.
No. 2 Florida, No. 3 Michigan, No. 5 Kansas and No. 7 Arizona were all knocked off by lesser-ranked teams this week, and the Jayhawks fell twice.
So what does it mean for the conference power rankings? Read on to find out.
Begin Slideshow

»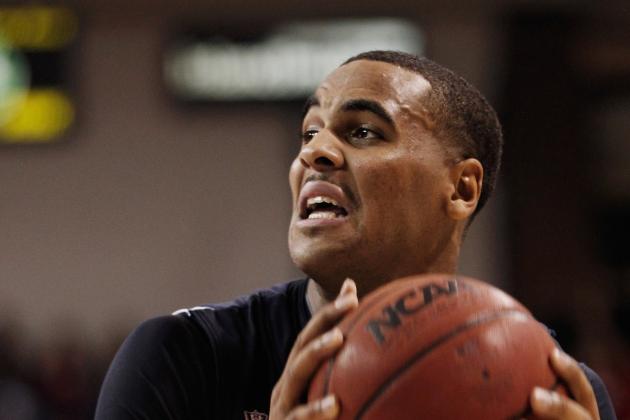 William Mancebo/Getty Images

The West Coast Conference and the Missouri Valley Conference have been fairly interchangeable in the No. 9 and 10 spots thus far, but the trio on top of the MVC looked more impressive this week.
A primary reason for that is BYU's rough two-loss week. The Cougars fell at San Diego and then followed that up with a shocking home loss to San Francisco.
The NCAA tournament would likely be off the table for BYU if the season ended today.
Despite BYU's struggles, Gonzaga and Saint Mary's both held serve leading up to a monumental showdown at Saint Mary's. The Gaels did so by winning two on the road at Santa Clara and San Diego.
This three-horse race for much of the season will likely be a two-horse finish.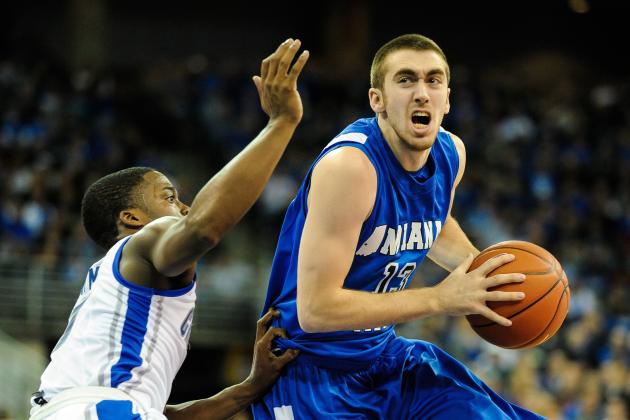 Eric Francis/Getty Images

Remember when Creighton was going to run away with the Missouri Valley unless it got a scare from Wichita State?
That's not really the case anymore.
Indiana State sits on top of the league as part of a three-way tie after destroying the Bluejays to kick off its week. The Sycamores followed that effort up by barely squeaking out a win against Southern Illinois, but the close wins count the same in the standings.
The other two squads in that tie had a rough week. As mentioned, Creighton lost to the Sycamores, but it was also beaten by Illinois State (which has won six of seven after a disappointing start) at home. Wichita State, similarly, lost a heart-breaker to Southern Illinois.
Evansville and Northern Iowa are two games back and trying to hang around, but the MVC is going to be a three-team sprint to the finish.
A reward of three NCAA tournament spots may be waiting for these squads at the end.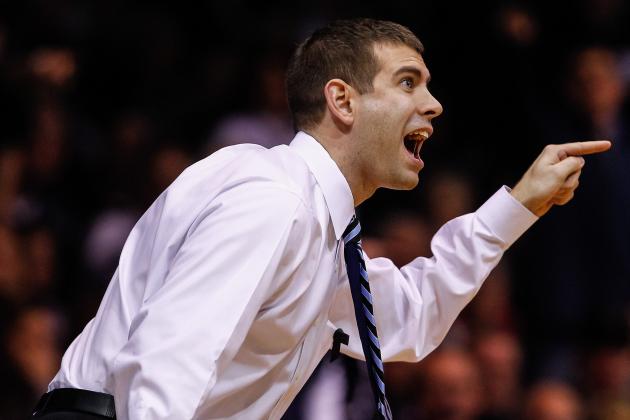 Michael Hickey/Getty Images

The Atlantic 10 takes a bit of a demotion this week but through no fault of its own.
Two tiers are emerging in this crowded conference race: Tier one with legitimate league-title threats that could go deep in March, and tier two with teams that are talented enough to challenge tier one for the conference crown but not good enough to win it.
Tier one squads Butler, VCU and Saint Louis combined to go 5-0 this week with victories that primarily came against the bottom half of the league. La Salle has also made the case to be included in tier one in recent weeks, and the Explorers did not disappoint by winning at George Washington and against lowly Fordham.
Tier two teams had an up-and-down week. Temple won both of its games by one point each over Charlotte and Dayton, and Charlotte lost the aforementioned heart-breaker to Temple and another to VCU. Massachusetts destroyed Rhode Island and one-time league-favorite Saint Joseph's, and Xavier won at Duquesne.
The league race is still jumbled as ever, but expect three or four teams to gradually separate themselves.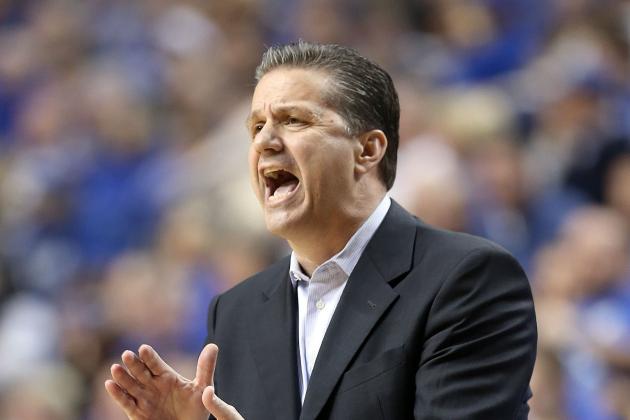 Andy Lyons/Getty Images

These power rankings have been harsh on the SEC, and rightly so. The league still ranks eighth in the RPI rankings and will struggle to send more than three or four teams to the tournament.
Nevertheless, Kentucky's reemergence has earned it a boost here. The Wildcats have moved from "will they make the NCAA tournament" discussions to "what seed will they be" talks by winning seven out of eight.
An important road tilt in Gainesville awaits this week.
As for the Gators, a drubbing at Arkansas means the SEC title is no longer in the bag. If Billy Donovan's squad can't defend home court against Kentucky, it will find itself in a tie atop the conference standings with the Wildcats.
Elsewhere, Alabama experienced a crippling loss to arch-rival Auburn and barely held off LSU, and Missouri completed an up-and-down week by losing to Texas A&M and destroying Ole Miss.
The Rebels are starting to fill the pretender role that these conference power rankings assigned them a few weeks ago. After losing by a combined 46 points against the league's best three teams (Florida, Kentucky and Missouri) over the past four games, it appears Mississippi's league-title chances have run dry.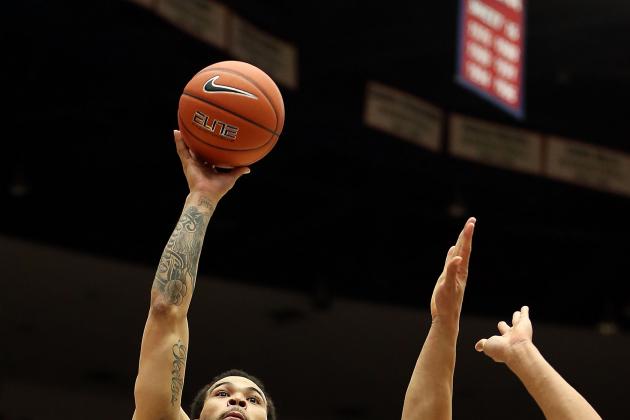 Christian Petersen/Getty Images

It was a rough week for many teams on top of their respective conference standings, the Pac-12 included.
Arizona fell at home to California, meaning that the Golden Bears can count wins over the Wildcats and Ducks on their resume even if the season has been disappointing. Oregon also lost at home this week in an ugly 48-47 game to Colorado.
UCLA took advantage of Arizona and Oregon's struggles by knocking off Washington and Washington State in consecutive contests. The Bruins, Wildcats and Ducks are all tied at 8-3 in league play.
Sitting one game back is Arizona State, but the Sun Devils could not take advantage of other losses and fell to Stanford at home. The NCAA tournament is a possibility for Arizona State, but it can't afford to lose home games like that going forward.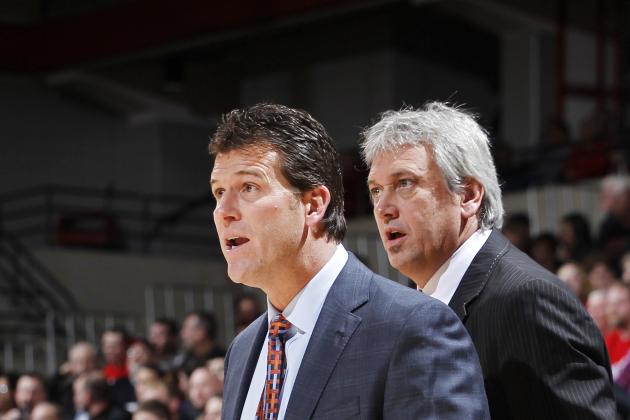 Joe Robbins/Getty Images

It was another week that featured the deep Mountain West cannibalizing its own.
New Mexico destroyed a dangerous Air Force team but followed that up with a loss at UNLV. That big win for the Rebels came after an inexplicable loss at Fresno State.
It was also an up-and-down week for Boise State, with the Broncos knocking off Wyoming but losing a heart-breaker at San Diego State.
Those Aztecs are back in the conference race after a two-win week, but an important game against Colorado State (which also won two games this week) awaits.
Elsewhere, Air Force's two losses this week may have eliminated the Falcons from serious league-title contention. There is still plenty of basketball to be played, but a multiple-game deficit will be tough to overcome in this treacherous conference.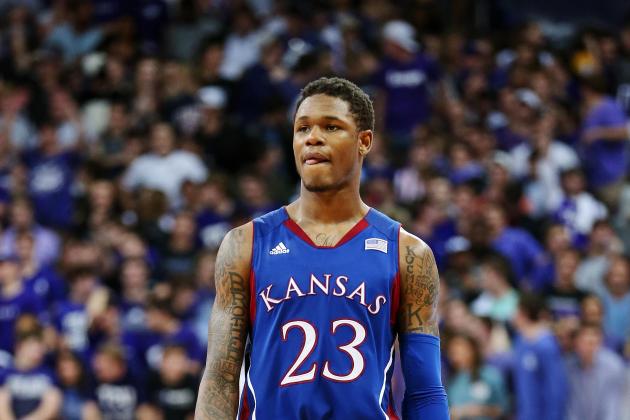 Kevin Jairaj-USA TODAY Sports

All the talk this week in the Big 12 centered on Kansas' three-game losing streak that included a shocking defeat to arguably the worst BCS conference team in America (TCU).
However, the Jayhawks' struggles gave the league a chance to show off some of its depth, which is the reason for the promotion despite the Kansas skid.
Kansas State knocked off Iowa State and Texas Tech this week to seize control of the Big 12 standings. The Wildcats had won four in a row before dropping an 83-62 game at Kansas.
Oklahoma State won an important one in overtime at Baylor and held off a poor Texas squad to stay right behind Kansas State and Kansas. Iowa State is also hanging around, but losing to the Wildcats didn't help.
Just when things were looking bleak for Oklahoma, the Sooners gave Kansas a third straight loss, meaning the book isn't closed on their season either.
If the Jayhawks are going to win a ninth consecutive conference crown, they are going to have to hold off a number of talented challengers.
USA TODAY Sports

The Miami Hurricanes may just be the best team in college basketball.
Let that sink in for a minute.
The Hurricanes sit at 10-0 in the ACC and are undefeated this year when fully healthy. Two more victories by more than 20 points against Boston College and North Carolina this week kept them two games ahead of Duke in the league.
As for the Blue Devils, a mere one point stood between them and disaster at Boston College. A win is a win (and they did look impressive against NC State), but Coach K is probably counting the days until Ryan Kelly comes back.
Virginia, another unexpected challenger in the ACC, had a two-win week over the likes of Clemson and Maryland. The Cavaliers sit ahead of North Carolina (who beat Wake Forest and got crushed by Miami) and one game behind Duke.
Elsewhere, North Carolina State avoided a bad loss to Clemson with a second-half comeback and capped off a week that included a tough defeat to Duke. The Wolfpack may still be the most inconsistent team in the country.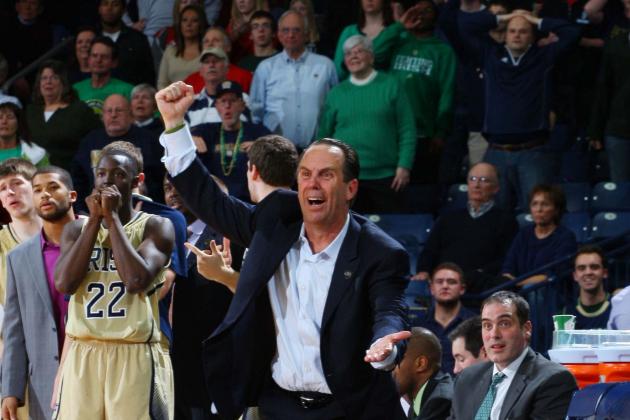 Brian Spurlock-USA TODAY Sports

Notre Dame and Louisville just entered a 14th overtime as you read this sentence.
Alright, clearly that is not the case, but it certainly felt like the tilt between the Cardinals and Irish would never end as it entered its fifth overtime on Saturday. Notre Dame eventually held off Rick Pitino's squad, which was a nice way to bounce back from a loss to Syracuse.
The Cardinals knocked off Rutgers before that thriller and still sit within striking distance of the top of the league.
The top of the Big East is currently occupied by Syracuse, Marquette and Georgetown. There hasn't been a lot of discussion about the Golden Eagles, but that will change if they can take down Pittsburgh after dropping a 63-55 game to Georgetown.
Speaking of the Panthers, they looked rather impressive at Cincinnati (which has lost two in a row) as they put a cap on a two-win week. The Hoyas have looked impressive, winning six Big East games in a row.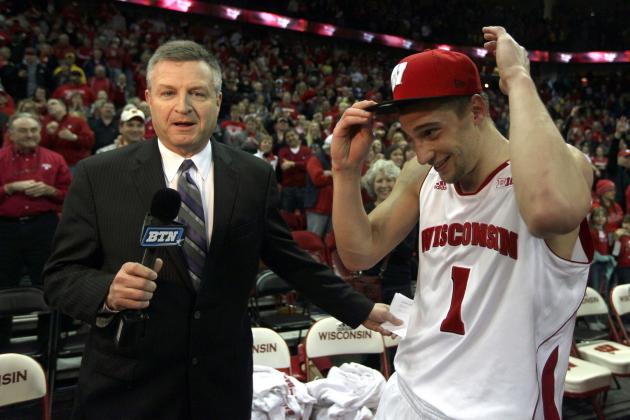 USA TODAY Sports

What a week it was in the nation's best conference.
Indiana took over the dubious distinction of the fifth straight No. 1 team to fall in as many weeks when the Hoosiers were stunned at the buzzer by Illinois. While they did bounce back nicely in Columbus on Sunday, the Hoosiers weren't the only team in the conference victimized by a buzzer-beating shot.
That would be the Michigan Wolverines, who looked ready to win in Madison before Wisconsin's Ben Brust sank a game-tying heave from half court to force overtime. There was no way the basketball gods were letting the Badgers lose in the extra period after that shot.
The buzzer-beating headlines overshadowed what may have been the best game thus far in the college basketball regular season that didn't go into five overtimes when Michigan knocked off rival Ohio State in just one extra period. It was a rough week for the Buckeyes, who also lost to Indiana.
Elsewhere, Illinois followed up the Indiana win with another important upset at Minnesota. The Illini look to be a tournament team for now, barring some unexpected losses.
The Gophers, on the other hand, have lost six of eight and need to turn things around.
The Spartans come last (but not least) on this slide for metaphorical reasons. As everyone talks about the Indianas and Michigans of the world, Tom Izzo's team quietly sits atop the Big Ten standings with the Hoosiers.
Don't be surprised if the league's best coach takes the league's toughest and perhaps most underrated team to yet another Final Four in March.