NBA's Top Plays and Sickest Dunks from Week of Feb. 4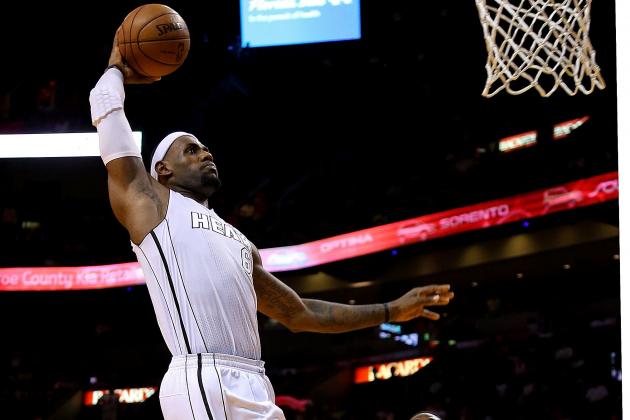 Mike Ehrmann/Getty Images

The greatest thing about the NBA regular season is the sheer volume of games, even if some involve mediocre or even straight-up bad teams.
There's always a chance for a big play or season-defining slam, which makes even a lowly Bobcats vs. Wizards matchup worth watching. Fortunately, there's been a ton of awesome dunks and other crazy action in some important games as well.
Let's take a look at some of the nastiest jams and most insane plays of the past seven days in our weekly NBA highlight roundup.
Begin Slideshow

»
Dunk Info: Monday, Feb. 4. Orlando Magic vs Philadelphia 76ers.
Nick Young may not have the highest basketball IQ, but he gave the Philadelphia 76ers fans a treat with this uncontested 360 dunk.
We've seen Young make plenty of bone-headed plays before, so he's lucky that this one went in. He might still be stuck on the bench had it not.
Dunk Info: Sunday, Feb. 10. Phoenix Suns vs. Oklahoma City Thunder
While some regard Kevin Durant as the nicest guy in the NBA, he's an absolute savage when it comes to dunking on people.
The Oklahoma City Thunder swingman had no regard for the safety or wellbeing of the Phoenix Suns' Markieff Morris when he rose up for this slam.
Shot Info: Saturday, Feb. 9. Milwaukee Bucks vs. Detroit Pistons
It's not too often that Charlie Villanueva makes a top 10 list, but his game-winner against the Milwaukee Bucks is worthy.
The Detroit Pistons forward made a clutch shot with the shot clock about to expire and less than 10 seconds remaining in the contest. It put his team up by three and earned the W.
Dunk Info: Sunday, Feb. 10. Los Angeles Lakers vs. Miami Heat.
The great plays keep coming here, as you can see Dwyane Wade kick start a chain of events with his hustle that winds up with LeBron James slamming down an easy two points.
Don't forget to give credit to Norris Cole and his flattop for making the dish and dribbling down the court.
Shot Info: Friday, Feb. 8. Toronto Raptors vs. Indiana Pacers.
The Toronto Raptors only acquired Rudy Gay in late January from the Memphis Grizzlies, but he's already paying dividends.
He led the Raps to an overtime win against an elite Indiana Pacers team, proving that he was worth the price of admission.
Oop Info: Wednesday, Feb. 6. Houston Rockets vs. Miami Heat
After more than two and a half seasons together, LeBron and Wade have a rapport that is nearly unrivaled in the NBA.
It can clearly be seen here when Wade launches a full court pass to King James that is finished with a pretty alley-oop layup.
These guys continue to amaze even after so long together.
Swat Info: Saturday, Feb. 9. Denver Nuggets vs. Cleveland Cavaliers
Usually blocks make these highlight lists for being absolutely ferocious swats that get sent into the crowd.
However, JaVale McGee used his palm to absorb a shot attempt and, for that, he makes the highlights of the week list.
The Denver Nuggets' star sprung into the stratosphere to make this play and came back to earth with the ball secured tightly in both hands.
We've never see anything like this.
Shot Info: Tuesday, Feb. 5. Milwaukee Bucks vs. Denver Nuggets
Danilo Gallinari is better known for his shooting abilities than his driving, but he put himself on the map with this shot.
This is straight out of a video game and Gallinari was incredibly lucky it went in after being fouled.
It may not be the shot of the century (as the announcer says), but it's exciting to watch, so roll the tape!
Info: Monday, Feb. 4. Miami Heat vs. Charlotte Bobcats
King James gets on this list yet again for hitting 13-of-14 shots against the Charlotte Bobcats in a blowout victory.
He scored 31 points, pulled down eight boards and dished six dimes in a game that will always be remembered for being historically great and nearly perfect.
Dunk Info: Tuesday, Feb. 5. Los Angeles Lakers vs. Brooklyn Nets
Despite his 34 years of age, Kobe Bryant can still throw it down.
He absolutely posterized Kris Humphries and Gerald Wallace when he took it hard to the paint against the Brooklyn Nets.
The Black Mamba is certainly not someone to challenge unless you are ready to get dunked on.