Most Exciting Cubs Prospects to Look Out For in Spring Training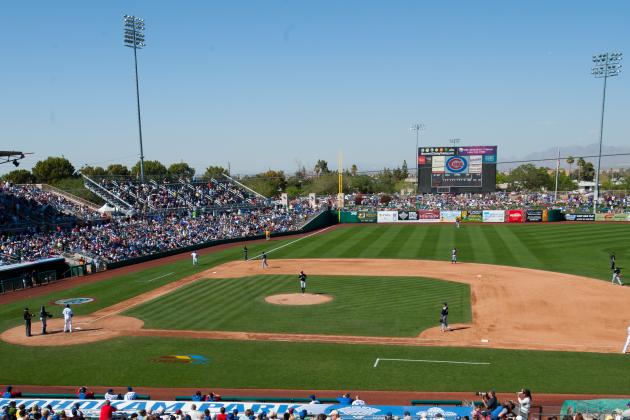 Rob Tringali/Getty Images

Pitchers and catchers officially began reporting today, meaning the baseball season has officially arrived once again.
Spring training is a time where the prospects get a chance to mix it up with established major leaguers and start gaining some very valuable experience. It's also the best chance for the prospects to start turning some heads and opening some eyes.
The Cubs are going to have a couple of position battles this spring, so it will be interesting to see how some of the prospects come into play. Here is a short list of the more exciting Cubs prospects to watch out for this spring.
Begin Slideshow

»
Baez makes this list simply because he is the most exciting prospect in the Cub's organization right now, and will be a non-roster invitee in spring training. He will get a chance to face some major league talent, but the Chicago Tribune reports that Baez will not be on the roster for opening day.
Here's what Jed Hoyer had to say about Baez's invite:
He's here to get a feel for what big league camp is all about, see how these guys go about their business. It's nice for fans to be able to see him, nice for us to be able to see him. But it's not about making the major league team. This is about (getting) experience.
It was also interesting to hear what Dale Sveum had to say about Baez:
He's a shortstop and he's going to play shortstop. If he happens to get into a game at third or second base, it will just be because of flat numbers. It's not that we need to take a look at him anywhere else. That will be a development question down the road. Maybe to get his bat in the lineup in spring training, you might see him at second base. I don't know about third base right now.
Very interesting words from Sveum, since most agree that Baez will end up at third base eventually since the Cubs already have Starlin Castro entrenched at shortstop. Regardless of what position he plays, Baez will be a prospect for fans to keep their eyes on this spring.
Junior Lake, like Javier Baez, is a natural shortstop. However, with Lake's athleticism, the team will be more likely to move Lake to another position on the diamond where they can also take advantage of his arm strength.
Could a permanent move to the outfield be in Lake's future? Only time will tell, but he did play some outfield during winter ball this past winter.
This is definitely a guy the Cubs fans will want to keep an eye on as he will be a hot name throughout spring training this season.
Brett Jackson is clearly the most major league-ready prospect in the Cubs organization. He's a gamer, and while he doesn't have any outstanding abilities, he is a solid all-around ball player. If he get's his strikeouts under control, he could join the Cubs sometime this season, but not likely out of spring training.
According to CSNChicago.com, during the Cubs Convention this past winter, Jackson said he had every intention on making the team out of spring training. However, the team seems insistent that he will be starting the season with Triple-A Iowa.
Who knows, maybe the Cubs are just saying that to light a fire under Jackson to get the most out of him this spring to see what he can really do. Either way, Cubs fans will want to keep an eye on Jackson this spring.