What Must Change for Atlanta Falcons to Finally Make the Super Bowl?
Use your ← → (arrow) keys to browse more stories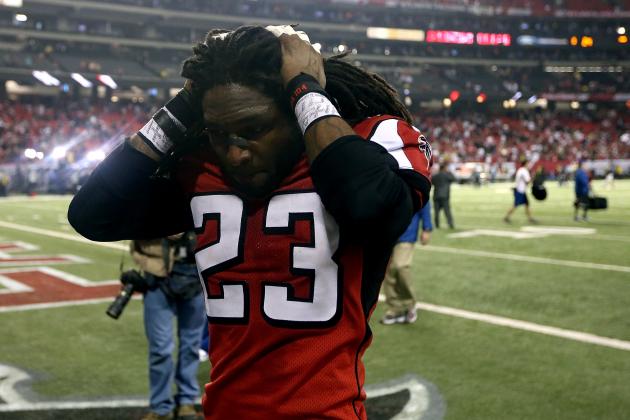 Streeter Lecka/Getty Images

The Atlanta Falcons will make the Super Bowl. But they have to make some changes, or they will regress into the team they were before Mike Smith came to the Falcons.
The good news here is the Falcons had arguably the second-best season in Falcons' history this past year. They have a great coach, a great general manager and a franchise quarterback.
The bad news is that, despite it being such a great year, the Falcons still have a ton of holes that they need to fix—mainly on defense.
So after a great season, the Falcons will be able to pick out everything they need in order to win the next game and get into the Super Bowl. The following four areas are where the Falcons need to improve in order to take that next step: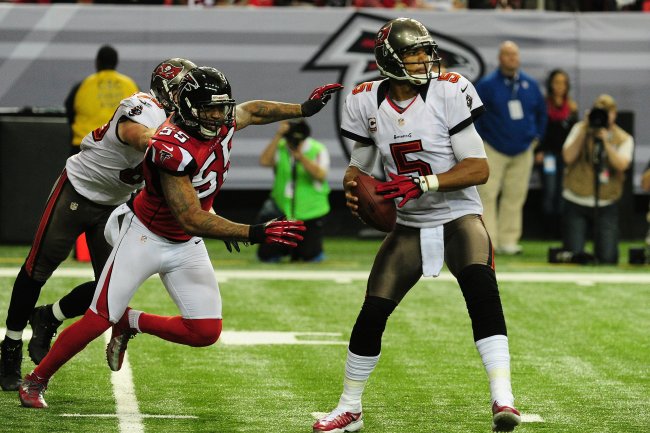 Scott Cunningham/Getty Images
Pass Rush
The long-time weakness of the Falcons has been their pass rush. As a whole, their pass rush ranks in the middle of the pack with 33 sacks, 46 hits and 173 pressures through the 18 games the Falcons played in 2012 and a plus-1.8 cumulative pass-rushing grade, according to Pro Football Focus.
The biggest issue here is that John Abraham accounted for 10 sacks, eight hits and 38 pressures. That's 30.3 percent of the sacks, 17.3 percent of the hits, 21.9 percent of the pressures and 22.2 percent of the total quarterback disruptions (sacks, hits and pressures combined).
If Atlanta wants to improve their pass-rushing numbers, they need to bring in at least another guy who is as effective as Abraham. Kroy Biermann and Jonathan Babineaux are solid pass-rushers as well, but the Falcons can make do with them as complementary guys.
How should the Falcons address their pass rush?
With a better pass rush, the Falcons don't have to put their safeties, corners and linebackers in coverage as much. They would be able to run more press-man coverages, as they would allow defenders like Dunta Robinson to play their best football.
But most of all, the Falcons need multiple pass-rushers, so that they can create more drive-ending plays like third-down sacks, interceptions or even have fumbles that are forced on the sack and recovered by the Falcons.
By increasing the pass rush and subsequent turnovers and drive-ending plays, Atlanta will be able to keep its defense off the field and score more points. And in the NFL, when you want to win in the playoffs, you have to create turnovers and score off them.
Atlanta should be able to find a ton of pass-rushers in either free agency or the draft. The likes of Cliff Avril or Michael Bennett in free agency would be an excellent fit for the Falcons. In the draft, they could look to take a guy as early as the first round to be that new pass-rushing specialist for the team.
Don't expect this, though, as the Falcons haven't taken a defensive end before the fourth round under Thomas Dimitroff and Mike Smith. Hopefully, that changes in 2013 because they could use multiple pass-rushers to join Abraham.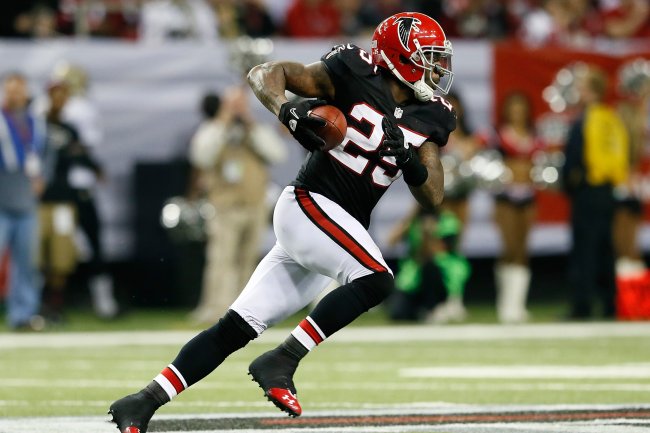 Kevin C. Cox/Getty Images
Coverage
The Falcons coverage wasn't too much of an issue during the regular season or in the playoffs on wide receivers. While they allowed wide receivers to get yardage, they clamped down on them in the red zone.
It wasn't even tough for them to cover running backs. They allowed an over 80 percent completion percentage versus running backs. But they were able to cut the yardage to a minimum and rarely got beat on the short screens to backs.
However, tight ends were the players whom they just couldn't cover at all, especially in the playoffs. They allowed Zach Miller and Vernon Davis and the other tight ends on the Seahawks and 49ers to rip them to shreds.
The stat breakdown is pretty embarrassing for the Falcons against tight ends as compared to their stats versus wide receivers or running backs:
Wide Receivers vs. the Falcons defense
| | | | | | | |
| --- | --- | --- | --- | --- | --- | --- |
| | Comp. | Attempts | Yards | Comp. % | TDs | YPA |
| Regular Season | 186 | 329 | 2527 | 56.5% | 7 | 7.68 |
| Playoffs | 20 | 32 | 272 | 62.5% | 1 | 8.50 |
Tight Ends vs. the Falcons defense
| | | | | | | |
| --- | --- | --- | --- | --- | --- | --- |
| | Comp. | Attempts | Yards | Comp. % | TDs | YPA |
| Regular Season | 75 | 107 | 902 | 70.1 | 5 | 8.43 |
| Playoffs | 14 | 18 | 268 | 77.8 | 2 | 14.89 |
Running Backs vs. the Falcons defense
| | | | | | | |
| --- | --- | --- | --- | --- | --- | --- |
| | Comp. | Attempts | Yards | Comp. % | TDs | YPA |
| Regular Season | 77 | 110 | 639 | 70.0 | 3 | 5.81 |
| Playoffs | 6 | 7 | 78 | 85.7 | 0 | 11.14 |
If Atlanta wants to get to the next step, coverage is the right thing to address but not on wide receivers. Tight ends are where the Falcons need to focus their efforts. A better coverage linebacker will help.
Even more than that, better pass rush will allow the Falcons to direct a linebacker's focus more toward coverage than going after the quarterback. Atlanta could be that much closer to taking the next step if they can figure out how to cover tight ends.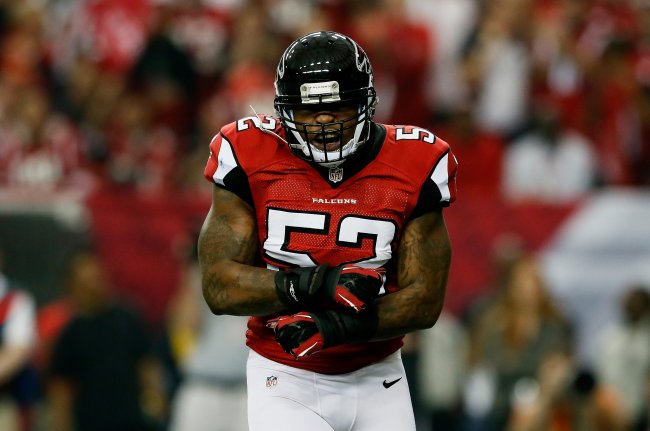 Kevin C. Cox/Getty Images
Stuffing the Run
When it comes to the Falcons defense in the run game, there's been a huge issue stuffing opposing teams' run games. In 2012, the Falcons had the 29th-best defense against the run based on yards per carry. They allowed 4.8 yards every time an opposing back touched the ball.
The bigger issue is that the Falcons were unable to stuff the run in nickel packages. The Falcons looked to be effective in their base packages against the run.
So I asked Mike Clay of Pro Football Focus about the Falcons run defense split between base defense (used 32 percent of the time) and their nickel (used 68 percent of the time), and the numbers are shockingly different:
@scar988 teams had a 4.2 YPC vs ATL 4-3 base....5.7 YPC vs. their nickel ...attempts were about even

— Mike Clay (@MikeClayNFL) February 12, 2013
And this makes a ton of sense. Akeem Dent was a great run defender for the Falcons in 2012. He had 30 stops at or behind the line of scrimmage. This was just 11 less than Sean Weatherspoon's 41 and nine less than Stephen Nicholas's 39, despite playing just over half of their snap counts.
For Atlanta to improve their run defense, the best bet would be to put the better all-around defenders into the nickel packages. Dent getting more playing time could be a way to do that. However, the best bet is to really just bring in a better complement to Weatherspoon than Nicholas is.
Linebacker will be a need in the upcoming draft. And the Falcons will have to find someone who is excellent all around and will excel in a nickel defense.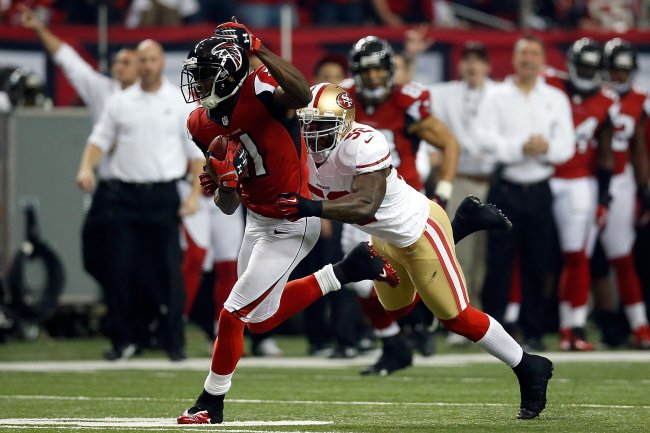 Chris Graythen/Getty Images
Keeping Their Foot on the Throats of Their Opponents
The final thing the Falcons need to change is something that the Falcons have been unable to do as long as Mike Smith has been the head coach. They can get a huge lead, and then they barely hold on to win in the end. Or they let a team come back from a 10-point deficit late and then have to come back.
The issue here isn't that the Falcons are unable to come back. They lucked out with Matt Ryan who has the most fourth-quarter comebacks and game-winning drives in the first five seasons of any player in NFL history:
@scottcarasik @berns247 @knoxbardeen Ryan has 16 comebacks, 23 GWD. Both are most for a player's first 5 seasons.

— Scott Kacsmar (@CaptainComeback) February 12, 2013
That being said, why rely on your quarterback to bail you out of jams? Ryan is the best at doing it and has had the most practice because the Falcons can't keep their feet on the throats of the opposing team's defense and offense when they have a lead.
Before 2012, the biggest issue in this regard was that the schemes were way too conservative. Former offensive coordinator Mike Mularkey would completely tone down his offense from one that was able to move the ball effectively to one that would completely stop after two or three first downs.
Former defensive coordinator Brian Van Gorder was even worse, though. He would drop the Falcons into a basic Cover 2 zone that would allow teams to get back into games easily. He would rush just four, and the lack of a Falcons pass rush did the team in.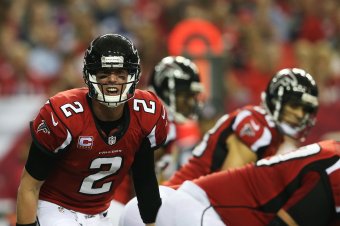 Streeter Lecka/Getty Images
New coordinators Mike Nolan on defense and Dirk Koetter on offense completely changed the scheme and the play-calling to be much more aggressive in 2012. However, it became obvious that the Falcons needed better talent to execute the schemes.
That has already been noted earlier. But when the Falcons get the talent, they need to exercise it. They need to bring about the one thing that Mike Smith has seemed to lack as a head coach—a killer instinct.
While the pass rush, coverage and run defense can be improved, the biggest thing the Falcons need to do is stay aggressive all game long. Run the score up. Show that killer instinct. And when the feet are on their opponent's throat and the team is up 20-3 in the middle of the third quarter?
Don't let up. Don't give an inch. Play like they are down 20-3. Play like they are fighting, scratching and clawing for a victory late in a game instead of up by 17 points. If the Falcons do that, they will not only be a better all-around team in 2013, they will win a Super Bowl.
All stats used are either from Pro Football Focus's Premium Stats, ESPN, CFBStats or the NFL. All contract information is courtesy Spotrac and Rotoworld.
Scott Carasik is a Featured Columnist for Bleacher Report. He covers the Atlanta Falcons, NFL and NFL Draft. He is also the Falcons analyst at Drafttek, runs the NFL Draft Website ScarDraft.com and hosts Kvetching Draftniks Radio.