Mid-Major Teams That Could Make NCAA Tournament Runs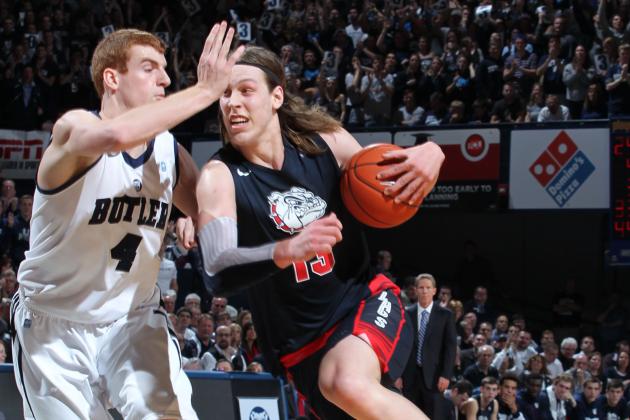 Brian Spurlock-USA TODAY Sports
Butler and Gonzaga are the best small conference teams this season.
This season there are more mid-major teams than ever before that are prepared to make an NCAA tournament run.
Past seasons have typically only had a couple of very strong mid-major teams. Adam Morrison's Gonzaga teams were very talented. Davidson made the Elite Eight with Steph Curry. Butler made back-to-back championship games.
Currently there are four mid-major teams in the AP Top 25. While others could make a run, the following five teams look the most prepared to win multiple NCAA tournament games.
Begin Slideshow

»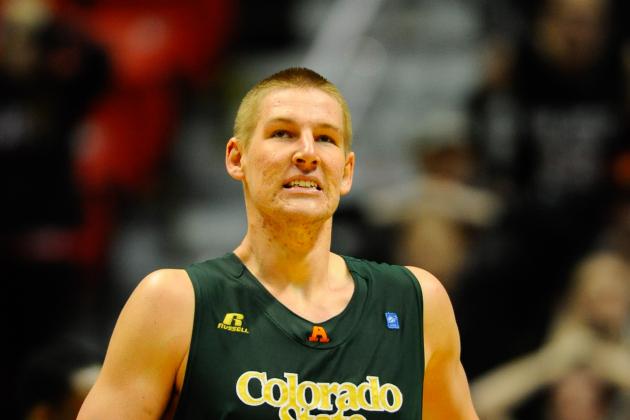 USA TODAY Sports
Colton Iverson leads Colorado State in scoring and rebounding.
Colorado State is the kind of mid-major team that gives you very little indication of how it will fare in the NCAA tournament. The Rams' biggest win was at home over an unranked UNLV team. In conference, they have only lost to San Diego State and New Mexico, but early in the season they suffered losses to Illinois-Chicago and Colorado.
If Colorado State is going to be a competitive tournament team, the team will have to rely on their two biggest strengths.
First, the Rams have two players averaging more than nine rebounds per game. Colton Iverson is first in the Mountain West with 9.7 per game, and Pierce Hornung is third with 9.3.
The team is averaging more rebounds than any team in the Mountain West and will need to maintain that advantage in the tournament in order to give themselves extra possessions.
Their second strength is scoring distribution. They don't rely on just one or two guys to shoulder the load; Colorado State has five players averaging at least nine points per game and none over 14.
At the end of games, the Rams can look to ride the hot hand or exploit a weak opposing defender. They aren't reliant on just one player. They will have to use that to their advantage in order to upset some of the bigger schools.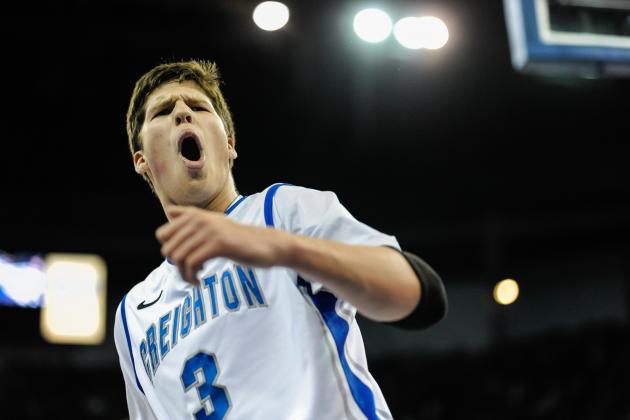 Eric Francis/Getty Images
Creighton's Doug McDermott is second in the nation in scoring.
The NCAA tournament fate of Creighton is almost solely on junior forward Doug McDermott. Not only is he the second-leading scorer in the nation with 23.3 points per game, but he is also the team's top rebounder.
With no other double-digit scorer, Creighton will rely on McDermott to carry the brunt of the scoring load.
The Bluejays may not have played the toughest schedule, but Creighton has been dominating the Missouri Valley Conference statistically. The team leads the league in scoring, field-goal percentage, three-point percentage and assists.
They will need to continue to record these kind of numbers to keep playing late into March.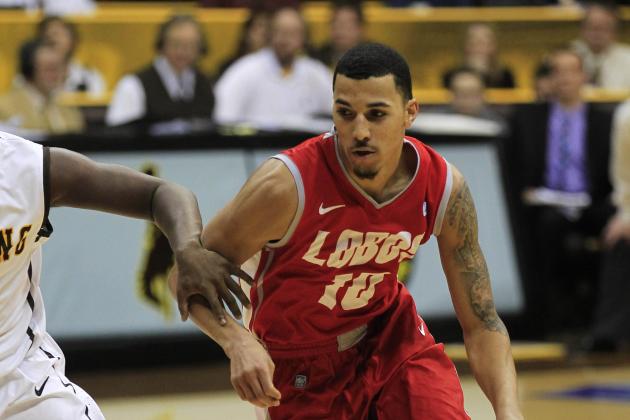 USA TODAY Sports
Kendall Williams leads New Mexico in points and assists per game.
We're this late in the season, and it is still hard to say if the Lobos are for real.
They have big wins out of conference against Connecticut and Cincinnati, and in conference against UNLV and Colorado State. However, they've lost to South Dakota State, Saint Louis by 14 and to San Diego State by 21.
If the team wants to play deep into the tournament, New Mexico will need to learn from their losses, especially those on the road.
Kendall Williams and Alex Kirk will have a lot to say about how far they go. The point guard and center, respectively, make up one of the best mid-major high-low duos in the country.
Williams is a 6'4" scoring point guard with fantastic speed. He gives defenders trouble with his size and will be able to hold his own against the best guards in the country.
Kirk is a 7'0" center who rebounds well and averages 1.5 blocks per game. He will allow New Mexico to match up in the tournament with teams featuring elite big men.
Coach Steve Alford has a talented roster, but he will need to get everything he can out of it in order to get through the opening weekend of the tournament.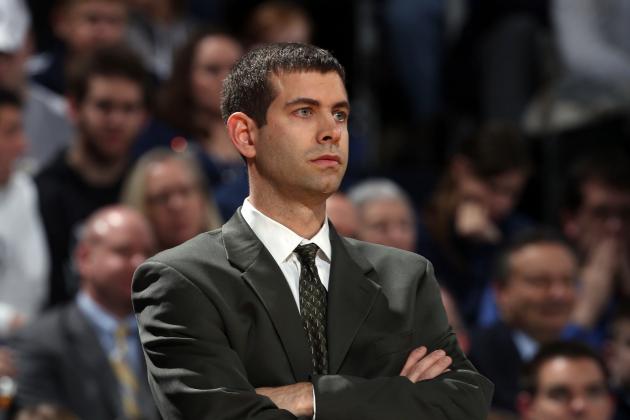 Brian Spurlock-USA TODAY Sports
Brad Stevens has proven that he can make big tournament runs at Butler.
Brad Stevens has put Butler in a position to again make the NCAA tournament. After missing out last season, Butler looks to return to their previous form after reaching the final game in 2010 and 2011.
Butler is currently 20-4 and has several big wins already. The Bulldogs beat top-ranked Indiana, Marquette, North Carolina and Gonzaga. Playing this kind of talent during the regular season will make Butler a more tournament-ready team than if it had played a soft schedule.
Their biggest strength is having five players scoring in double digits. Rotnei Clarke and Kellen Dunham have shot over 37 percent from beyond the arc and 85 percent from the line. Roosevelt Jones and Kyle Marshall haven't made a three-pointer between them but can fill it up on drives and by slashing to the rim. Andrew Smith has given them a legitimate threat down low.
Having five scoring options makes Butler an extremely flexible team at the end of games. It doesn't allow an opposing team to cheat off of any player, and it allows the Bulldogs to attack their opponents' weaknesses. Look for Stevens to take full advantage.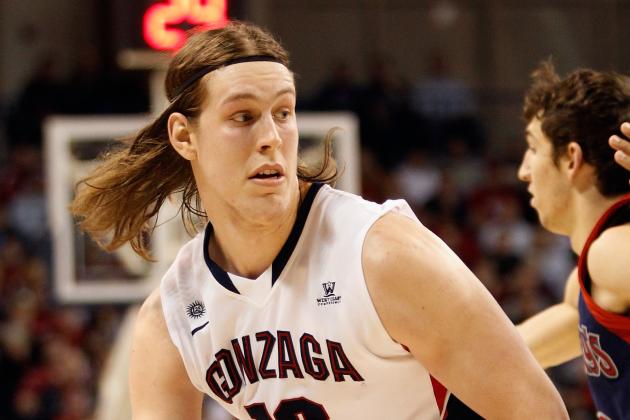 William Mancebo/Getty Images
Kelly Olynyk gives Gonzaga a chance to make a deep tournament run.
This season's best mid-major team has been Gonzaga. Even though they have lost to the previous team, Butler, Gonzaga's only other loss was to an Illinois team ranked No. 13 at the time.
They do have big wins to their credit against Kansas State and Oklahoma State.
Gonzaga has three big strengths that will help them make a tournament run. First, the Bulldogs have two big-time scorers on the roster. Kelly Olynyk is an All-American candidate who is scoring 17.7 points on 65.2 percent shooting this season. Elias Harris adds 14.8 points per game of his own from the wing.
Having two players who can carry a team offensively for a game during the tournament is key. Teams led by a single big scorer risk a bad shooting night or foul trouble ending their tournament run.
Next, Gonzaga has a very deep roster. The team currently has 10 players who average double-digit minutes. Roster depth keeps the Bulldogs' star players fresh through the tournament and gives them insurance if someone gets into foul trouble or goes down with an injury.
Finally, the Zags can play five players in crunch time who shoot at least 70 percent from the foul line. Games are often decided down the stretch at the stripe, and not many teams have as good of a unit as Gonzaga.
Also, the team's top-five free-throw shooters are all top six in minutes played on the roster, so they won't be giving up talent to get their good shooters on the floor.
With a combination of go-to scorers, team depth and free-throw shooting, Gonzaga is poised to make a deep tournament run.