2013 Champions League: 7 UCL Matchups We Can't Wait to Watch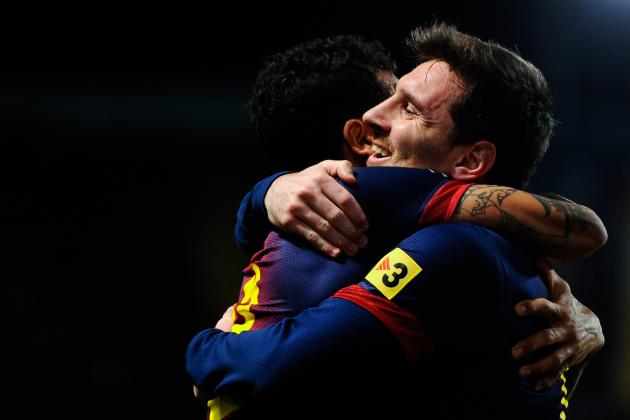 David Ramos/Getty Images

The 2013 UEFA Champions League takes on a whole new complexion as the tournament kicks up a gear with the round of 16 matches taking place this week.
The best in Europe are battling it out for the ultimate glory and most coveted prize in world football—and we get the pleasure of being able to follow it and watch it unfold.
Whilst there's so much to look forward to throughout the round of 16 matches and so many areas to be spoken about, here are the top seven matchups for the week ahead.
Seven Champions League matchups that we simply cannot wait to watch.
Begin Slideshow

»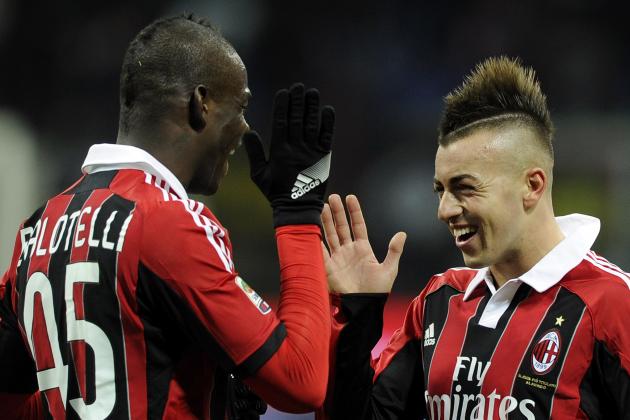 Claudio Villa/Getty Images

After making a move from Manchester City over the winter transfer window, enigmatic striker Mario Balotelli has seemingly found at AC Milan alongside Italian partner Stephan El Shaarawy.
The two strikers have combined beautifully since Balotelli's arrival in Italy, but the Serie A giants must now play without their latest recruit here in the Champions League when they take on Barcelona.
The matchup is less than favorable for Milan, especially since they must now resort back to an attacking lineup without Balotelli after they finally started using him in their team.
It might not seem like much, but the shift from having Balotelli in attack to not having Balotelli in attack could be a crucial factor in this opening game here.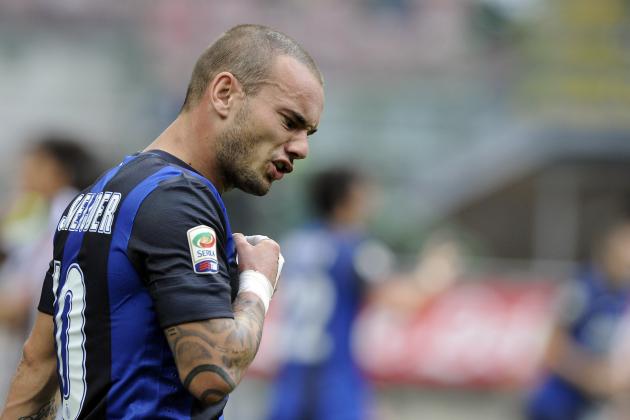 Claudio Villa/Getty Images

Don't underestimate how big Wesley Sneijder will be for Turkish side Galatasaray when they take on German side Schalke in the round of 16.
Schalke are nowhere near the defensive powerhouse that their fellow German sides are in the Champions League, and they have managed just one clean sheet since September playing away from home in the Bundesliga. Even in the group stages, we saw them concede some soft goals, so expect the Turkish giants to give them a real run for their money here.
And playing at home, don't be surprised to see Sneijder have a big game. He knows what it takes to succeed in the competition and is more than capable of turning in a big offensive performance—particularly against the opponents he'll come up against.
It'll be many people's first chance to see the former Inter Milan star in action since his transfer, so expect him to play well and keep his ego nice and high here.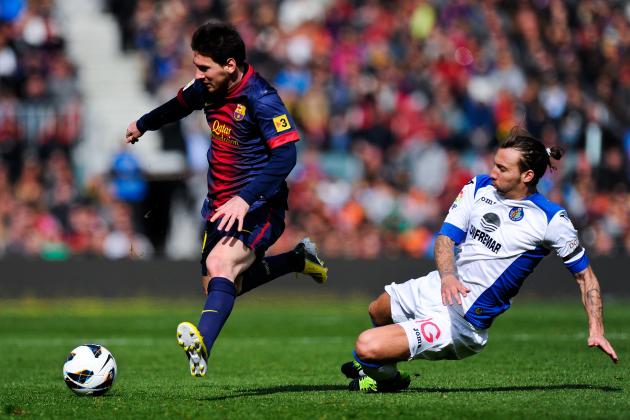 David Ramos/Getty Images

Regardless of how you want to describe him, Lionel Messi is without doubt the greatest football player on the planet right now. He is simply mesmerizing with the ball at his feet and continues to churn out goal after goal for Spanish club Barcelona.
He recently hit his 300th career goal—doing so in just 422 matches for club and country—and will no doubt be out to improve on that mark this week when he takes on the Italian defense of Milan.
Few teams in the world can claim to have controlled the superstar that is Messi, but it will be interesting to see if the Italians can find some success here.
Playing at the San Siro, Milan have averaged less than one goal against per game this year; something that might just change by the time the Argentinian wizard is through with them. Or, in what would no doubt be a big shock, it might just even remain the same.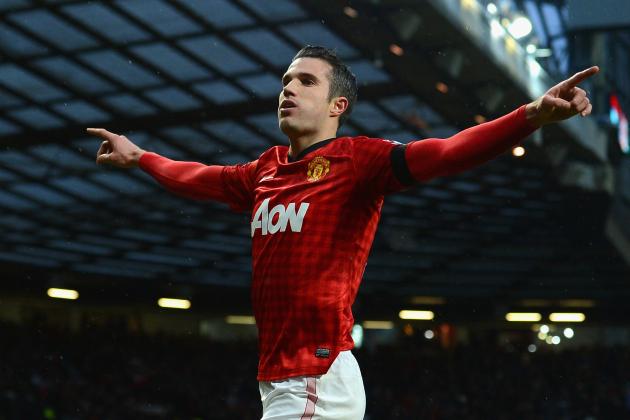 Shaun Botterill/Getty Images

Robin van Persie and Cristiano Ronaldo won't come into contact at all during their Champions League round of 16 clash, but it is still the matchup that everyone is looking forward to.
The matchup to see which premier goalscorer is going to have the most impact.
The numbers would seemingly favor Ronaldo who, playing at home, seems increasingly likely to add to his phenomenal goalscoring record for the Spanish champions.
But Van Persie has popped up time and time again for United this year when they have needed him most, and the Dutchman could well scrap home something into the back of the net here. That, or he could net one of the spectacular curling shots that we've seen him do so often this season as well.
Whoever ends up on top in this matchup will surely place their team in a strong position to progress through to the quarterfinals of the competition.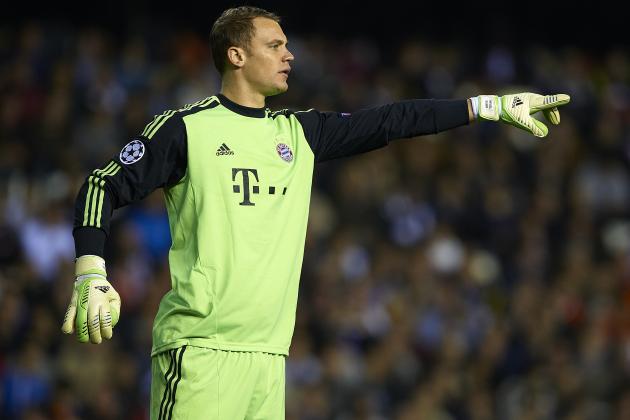 Manuel Queimadelos Alonso/Getty Images

On paper, there is no more one-sided matchup in the Champions League round of 16 than that of German giants Bayern Munich up against North London club Arsenal.
The Germans have been in scintillating form of late and have been simply tearing up the Bundesliga; Arsenal cannot even get into the top four of the Premier League due to their inconsistencies.
Yet, somehow, there's still something so intriguing about this match.
Arsenal have turned it on at times this year and have the talent on hand to trouble even the most disciplined of midfielders on their day.
The biggest question will be whether a sputtering attack can get going against arguably the best defensive team in world football at the moment. Bayern have have conceded a remarkable seven goals in 21 games—a number that is even more remarkable when considering their numbers away from home, with just one goal against through their 10 away matches to date.
Can the Gunners attack get going against that sort of resistance? You'd think probably not, but then, you never quite know what Arsene Wenger's side could produce here.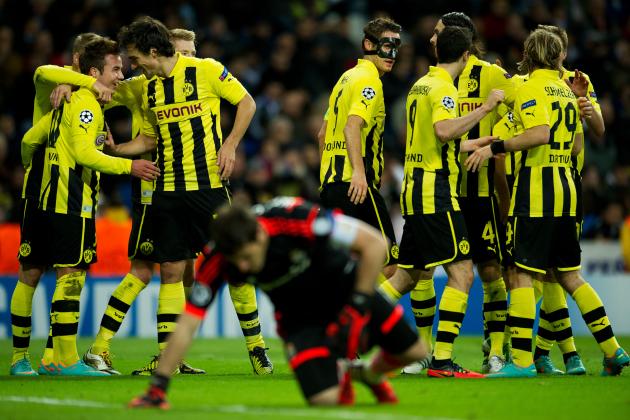 Jasper Juinen/Getty Images

Borussia Dortmund announced themselves as genuine Champions League contenders when they went through in first place from the Group of Death—beating Manchester City, Ajax and Real Madrid all along the way.
Shakhtar Donetsk announced themselves when they knocked out reigning champions Chelsea in the group stages with some blistering attacking football.
Now the two teams will square off in the round of 16 to see who will make it through to the quarterfinals. Shakhtar have an imposing record at home (as do Dortmund) so it will be interesting to see here whether the German champions can threaten the Ukrainians on their home ground.
Star player Willian has left Shakhtar over the winter transfer window also, so it will be fascinating to see how their attack fares without him against the likes of Mats Hummels and the strength that Dortmund possess throughout their defensive unit.
Expect lots of counter-attacking football in this one.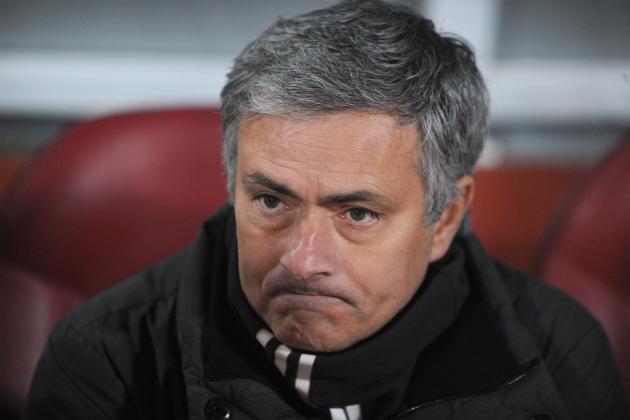 Denis Doyle/Getty Images

Yet there is little doubting about the biggest matchup of them all—Premier League leaders Manchester United traveling to the Bernabeu to take on reigning Spanish champions Real Madrid.
And the matchup between two legendary coaches of the game, Sir Alex Ferguson and Jose Mourinho, will be particularly interesting to watch unfold.
Both have their respective claims of being one of the greatest managers in world football, and both will have been working through their plans for this one a long time in advance.
So how will they pay off? Will Fergie's midfield diamond work against the Spanish dominance in central midfield, or will Mourinho come up with a plan to stifle the likes of Wayne Rooney and Robin van Persie working well together in the Red Devils' attack?
Neither manager particularly likes the other, and they will both be desperate to gain a win here. Expect plenty of fireworks and plenty of drama, which can usually be expected when either Mourinho or Ferguson's team take the pitch.
The fact they come up against each other almost guarantees something special.
What matchups are you most looking forward to in the UCL?
Comment below or hit me up on Twitter: Follow @dantalintyre