NFL Free-Agent Scenarios That Could Drastically Change the League's Landscape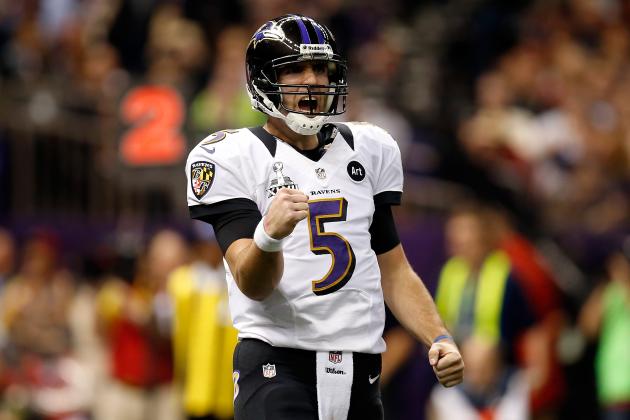 Chris Graythen/Getty Images

The Super Bowl may signal the end of the calendar year for football, but it is no secret by now that the NFL is a year-round entity. Free agency is currently the hot topic, with the draft eventually taking over come April.
With no shortage of names on the open market—and some that could land there soon—this year's free-agency period will create plenty of buzz.
Players could set a new precedent at their position, while others will find themselves suiting up for new teams.
How everything plays out remains to be seen, but the activity is sure to be a lively appetizer for the upcoming season—some of which could provide the NFL with a vastly different look in 2013.
Here are some scenarios that could do just that.
Begin Slideshow

»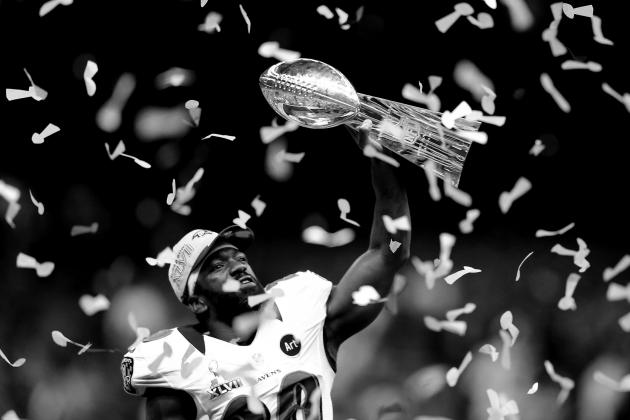 Al Bello/Getty Images

The New England Patriots have been very particular over the years in how they approach free agency.
While choosing to let certain key contributors walk in the past—Deion Branch and Richard Seymour (traded) for example—the team has brought in others who have played crucial roles in the franchise's recent stretch of success.
New England has been very good at identifying areas of deficiency and fixing the problem—bringing in veterans Corey Dillon, Junior Seau and Rodney Harrison in the past.
The Patriots traded for oft-troubled cornerback Aqib Talib prior to this season's deadline and it seemed to be a good fit for both sides. New England would do well to keep him around for at least next season.
Though Ed Reed is saying that his comments about seeing himself in a Patriots uniform were taken out of context (via ProFootballTalk.com), the two sides could be a perfect fit.
Harrison was brought in by the Patriots prior to the 2003 season and the gritty safety helped New England win two Super Bowl titles. Reed is coming off his first championship and could look to transition with the Baltimore Ravens defense digressing recently.
While the Patriots might have more pressing items at hand with wide receiver Wes Welker and tackle Sebastian Vollmer, shoring up their defensive backfield could be just as vital in this team keeping up with the NFL landscape.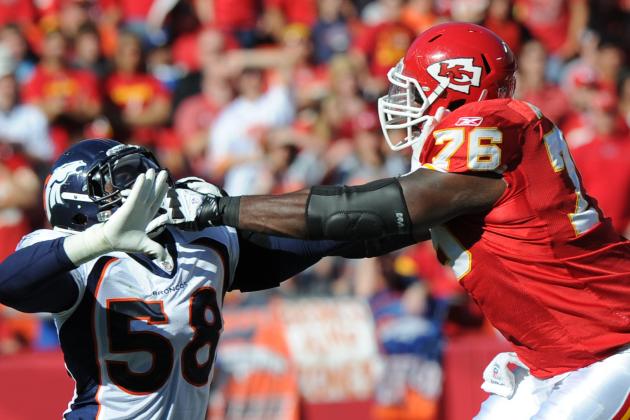 Peter Aiken/Getty Images

The Kansas City Chiefs have a few major decisions to make this offseason, but their handling of left tackle Branden Albert could be the most important domino to fall in how things unfold in advance of the 2013 season.
With the No. 1 overall pick awaiting them in April's draft, the Chiefs will need to get things in order quickly so they don't make the wrong selection here.
If Kansas City either places the franchise tag on Albert or signs him to a long-term deal, it would seem that Texas A&M left tackle Luke Joeckel wouldn't be an option in the draft.
If they let Albert walk, however, Joeckel would be a no-brainer with the top pick.
The Chiefs' biggest question mark is who the quarterback will be next season. With no clear-cut favorite at the position in this draft, however, this team would do well to shore up the second-most important position on the field.
Whether that is committing to Albert long term or drafting Joeckel to protect the quarterback's blind side, this move will largely dictate how the top of the first round transpires.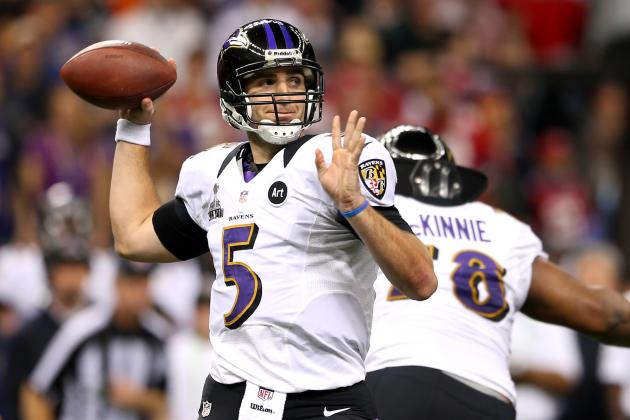 Mike Ehrmann/Getty Images

While no one expects Joe Flacco to play anywhere but Baltimore next season, his potential long-term deal with the Ravens could set the standard for other top quarterbacks in future free-agent markets.
Flacco isn't just coming off a Super Bowl victory, he hits free agency when there is zero competition at the position on the market. He holds all the cards and could come away with the richest contract in the NFL—assuming he and his agent, Joe Linta, get their way (via Jim Corbett of USA Today).
Though debate will ensue as to whether Flacco is worth that large of an investment, how that would affect negotiations for Matt Ryan, Jay Cutler and Josh Freeman—all free agents after next season—is the bigger question. Not to mention Aaron Rodgers, who is scheduled to hit the market after 2014.
Whether negotiating extensions with their current teams or leveraging their services in free agency, Flacco's contract will certainly play a role in the potential deals this group of quarterbacks end up signing.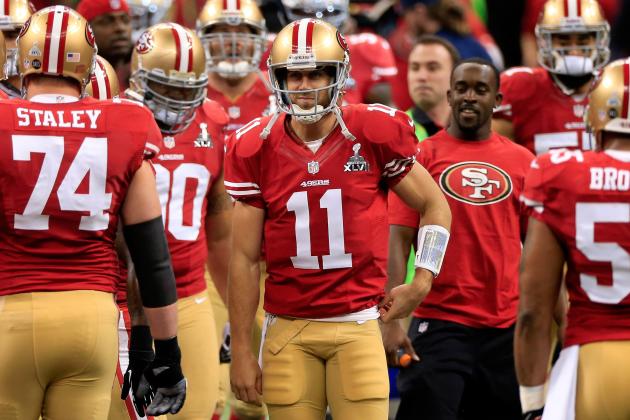 Jamie Squire/Getty Images

Other than Joe Flacco, there is little to be desired on the free-agent market for quarterbacks. With the Baltimore Ravens expected to keep their franchise guy in place, activity here will be scarce.
However, if Michael Vick, Alex Smith and Matt Flynn find their way into free agency should their current teams decide to part ways with them, the competition for their services could get exciting.
While it is anyone's guess whether the Philadelphia Eagles want to commit to Vick for the balance of his contract, no one expects another team to pick up his potential $54.3 million commitment over the next three years in a trade.
Both Smith and Flynn have young quarterbacks who have taken over the reins in San Francisco and Seattle respectively. And while the 49ers and Seahawks will look to trade these two this offseason, according to ESPN's Adam Schefter and Yahoo! Sports' Cole, respectively, releasing them is a real option to acquire extra money to upgrade elsewhere should they not find the right deal.
Though it is a long shot for all three to hit the open market, Vick, Smith and Flynn would certainly spice things up should it happen—as there are plenty of teams in search of a starting signal-caller.
Update: Alex Kay of Bleacher Report covers Michael Vick's new deal with the Eagles.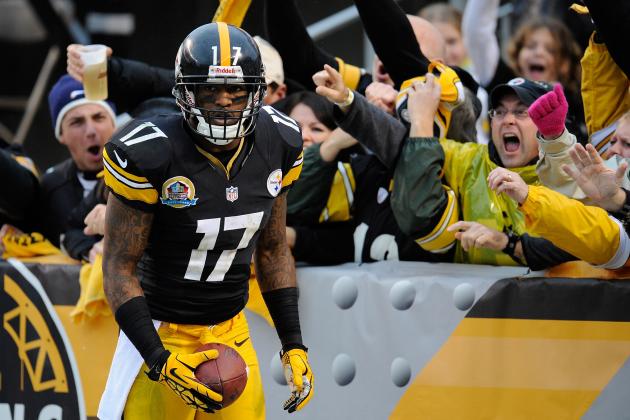 Joe Sargent/Getty Images

This offseason will be huge for wide receivers around the NFL. With names like Dwayne Bowe, Wes Welker, Mike Wallace and Greg Jennings on the market, most of the attention will surround this position over the next few months.
While all are eligible to be franchised—with Bowe and Welker having played under the designation this past season—it isn't a guarantee that either of them actually play under the tag in 2013.
Bowe is in the most interesting position of this bunch, as the Kansas City Chiefs currently have no other top option at wide receiver. The two sides were unable to agree to a deal prior to last season, however, so things could get even more fascinating this time around.
The Pittsburgh Steelers invested in wideout Antonio Brown last season and the Green Bay Packers have a bevy of options for quarterback Aaron Rodgers, so Wallace and Jennings are more than likely looking at finding new homes this offseason.
Welker has been Tom Brady's go-to target with the New England Patriots since 2007, tallying 672 receptions, 7,459 yards and 37 touchdowns during that stretch. However, this team has invested heavily in the tight end position with Rob Gronkowski and Aaron Hernandez recently—leaving very little to spread around.
All four guys could be suiting up for new teams in 2013. Danny Amendola and Brian Hartline are other wide receivers who could draw attention this offseason.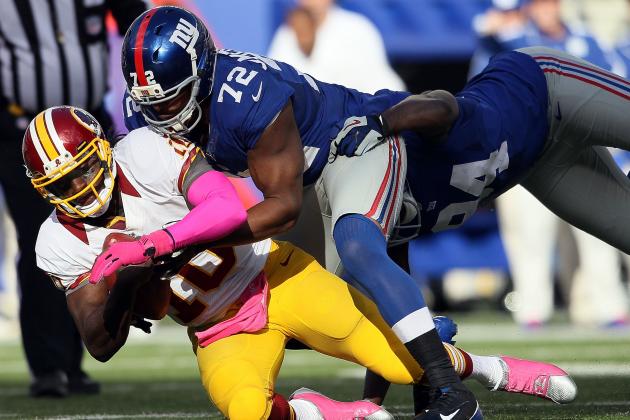 Alex Trautwig/Getty Images

The Atlanta Falcons are coming off a bittersweet season in 2012. After finishing with the best record in the NFC, they gave up a 10-point halftime lead to the San Francisco 49ers in the conference championship­—ultimately costing them a spot in the Super Bowl.
While there will be plenty of important decisions to make in advance of the 2013 season, the Falcons' most pressing need could be adding another viable pass-rusher to go with John Abraham.
Though Abraham will be entering his 14th NFL season, he can be relied on to get to the opposing quarterback. The problem is that Atlanta has nobody else it can say that about.
Abraham tallied 10 of the Falcons' 29 sacks last season, so bringing in another threat is imperative for this team to get over the hump. While there will be other options, Osi Umenyiora could be the right fit for Atlanta.
Coming off just six sacks in 2012, Umenyiora has been very successful at getting to the opposing quarterback in his career—hitting double-digit totals three times in his 10-year career.
If Atlanta can add another pass-rushing threat, look for this team to stay relevant in a very competitive NFC. Umenyiora provides just that and could come at a decent price as a one-dimensional player on the backside of his career.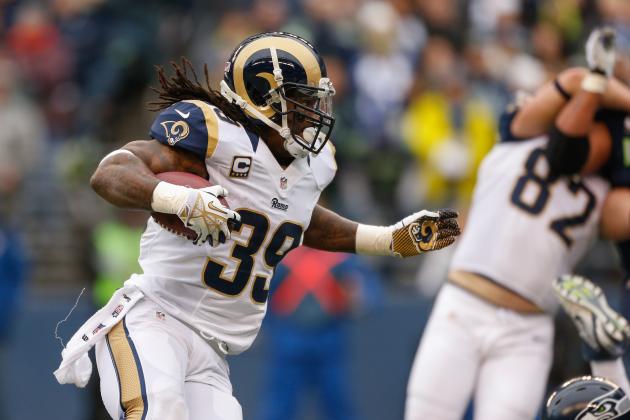 Otto Greule Jr/Getty Images

Steven Jackson is undecided on the future of his career in the NFL (via NFL.com), but could be a hot commodity should he decide to test free agency.
He will likely come at a discount rate, but Jackson would provide any team with a veteran presence who still has something left in the tank.
Other than his rookie season in 2004, the running back has rushed for at least 1,000 yards and four touchdowns in every season. His versatility as a receiver has been Jackson's best attribute—tallying another 407 catches for 3,324 yards and eight scores.
There will be some intriguing options, but the Green Bay Packers seem to be a great fit for Jackson's services. The team lacks a solid rushing attack, and Aaron Rodgers would love to have use of his hands out of the backfield.
The Packers haven't invested heavily at running back recently, but have shown the propensity to find the cheaper veteran option. Cedric Benson served that purpose in 2012, but failed to work out.
Jackson could fill that role for Green Bay next season.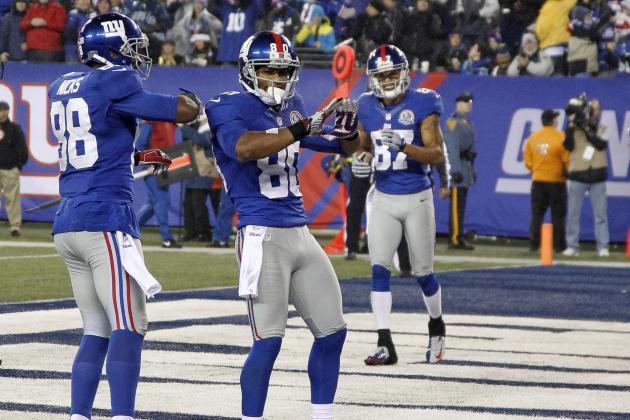 Jeff Zelevansky/Getty Images

The New York Giants have plenty of options with breakout wide receiver Victor Cruz.
The team can either sign the wideout to a long-term contract, place the franchise tag on him or make use of the restricted tender—leaving him exposed to another team sniping his services.
The Giants have a contract decision with Hakeem Nicks after the 2013 season as well, so this could come down to which wide receiver the team prefers—as both are set to cash in with their next contract.
Placing the franchise tag on Cruz would mean the Giants would owe him a projected $10 million for next season. The restricted tender places Cruz's value at a non-guaranteed $2.879 million—though teams would only need to give up a first-round pick under the new deal.
If the Giants leave Cruz unprotected, this situation could take the spotlight this offseason. And should New York not be able to match an offer sheet, the wide receiver will be showcasing his salsa dancing in another uniform.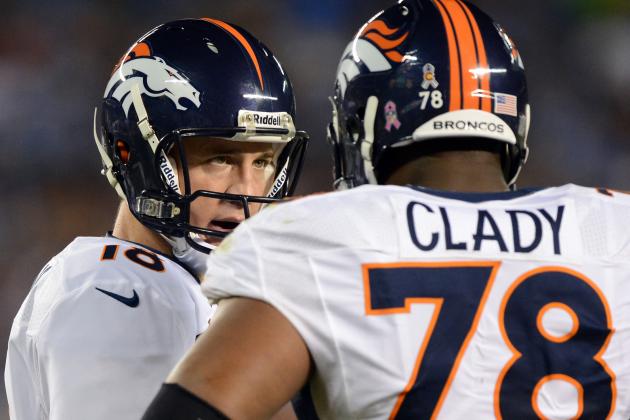 Harry How/Getty Images

Ryan Clady is the biggest offensive line name on the market. Protecting Peyton Manning's blind side might be the most important job in all of football, so the Denver Broncos should stop at nothing at bringing the left tackle back long term.
While there are other left tackles set to cash in—including Branden Albert, Sebastian Vollmer, Andre Smith and Jake Long—Clady has been the most consistent, starting in all 80 possible games in his career and playing well to boot.
No one knew what to expect from Manning in his first season back from neck surgery last year. While the quarterback should be given most of the credit for his remarkable return, Clady's performance cannot go unnoticed here.
With Clady anchoring the Broncos offensive line, Manning and Co. could be set up for a pretty favorable run over the next few seasons.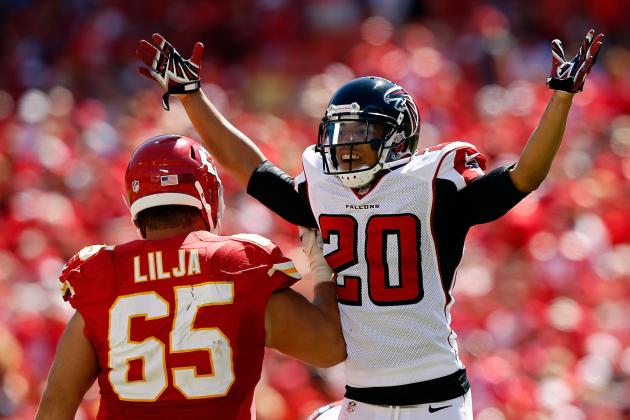 Jamie Squire/Getty Images

After losing to the New York Giants in the 2011 NFC title game, the San Francisco 49ers made it one step farther this past season—only to lose to the Baltimore Ravens in Super Bowl XLVII.
While making it that far has to be commended, the 49ers did themselves zero favors in defending the pass.
In three postseason games, San Francisco allowed 940 passing yards and eight touchdowns. Though coming against Aaron Rodgers, Matt Ryan and Joe Flacco—three of the more talented quarterbacks in the NFL—the 49ers' top priority this offseason should be preventing this from happening again.
Bringing in a top-notch cornerback is the answer.
Brent Grimes is a free agent looking for a top-dollar contract at this point in his career. With Asante Samuel, Dunta Robinson and Robert McClain all signed at least through next season, the Atlanta Falcons seem to be set at cornerback.
Grimes will be coming off an Achilles injury, but will have had a full year to recover by the time the 2013 season begins. While it may have a nominal effect on contract negotiations, being one of the top cornerbacks on the market will keep interest high.
The 49ers might have to get creative if they want to sign Grimes, but landing a guy who can hang with the top wide receivers in the league is a must for San Francisco to continue its momentum to a sixth Super Bowl title.
Follow Jeremy on Twitter