Boston Red Sox: 10 Most Important Things to Watch During Spring Training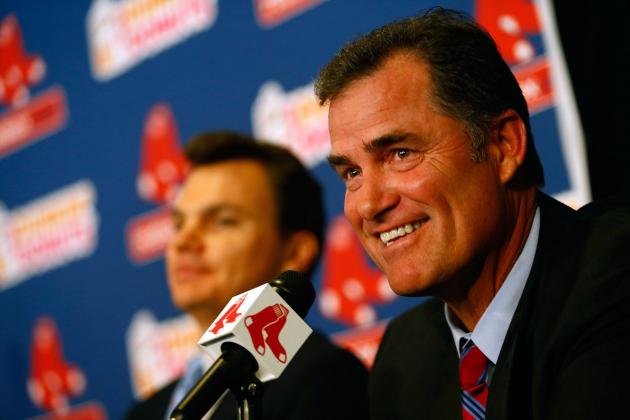 Jared Wickerham/Getty Images
After a dismal year and a half, Boston needs a serious turnaround
After their worst season in recent memory, the Boston Red Sox have lots of work to do to get back to the top.
Since everything possible went wrong last season, this season has to be better. One of the most prominent franchises in sports cannot sit tight and finish in last place again.
That being said, there are many things to look for this spring training. The Sox had a productive offseason with a ton of changes, but how they will mesh together is the interesting part.
Begin Slideshow

»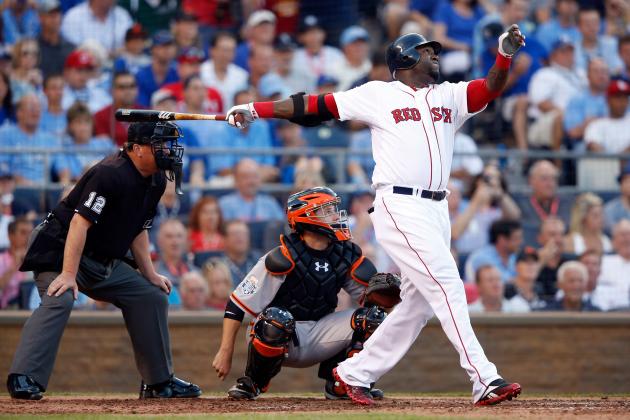 Jamie Squire/Getty Images
Big Papi needs to be his usual self this year for the Sox to go anywhere.
Big Papi is the heart and soul of this entire organization. This team fell flat on its face last season after he was lost for the season on July 16 (besides his brief one-game return).
David Ortiz was in the midst of a monstrous season before an Achilles injury derailed everything. Shortly thereafter, the organization dumped about half of the roster onto the Los Angeles Dodgers' payroll.
Recent reports state that Ortiz should be ready for opening day although how much action he sees in spring training will be very limited. For this team to get back where it needs to be, the most important thing is that David Ortiz is still David Ortiz. Without his bat in the middle of the lineup, that's pretty much a wrap for the season already.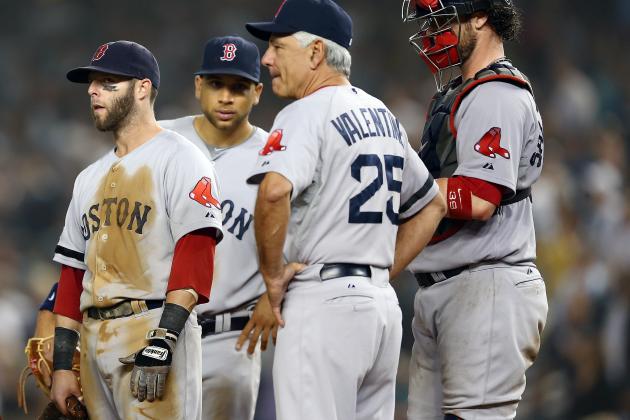 Elsa/Getty Images
First-year manager Bobby Valentine contributed greatly to the volatile clubhouse last season.
Chicken and beer will be hard to find this year.
With John Farrell now at the helm, and a large influx of new players, the clubhouse atmosphere is one of the most important aspects of this team heading into the 2013 season.
Last year, Bobby Valentine came in and immediately called out Kevin Youkilis. It was all downhill from there as he had every fan reminiscing about the good ol' days of Johnny Damon, Kevin Millar, and the rest of the self-proclaimed "idiots" from 2004. That team couldn't care less about what the media had to say or the curse of the Bambino; they just won and enjoyed themselves in the process.
Many players are very familiar with Farrell from his previous days as the team's pitching coach. With new upbeat personalities in Shane Victorino, Mike Napoli and Jonny Gomes, the team should be much more cohesive and work as a unit. Last season, they reverted back to the "25 players, 25 cabs" days...except with all the injuries it was likely more like 50 players.
With all of the negative energy weeded out, the fat has been trimmed and this team should be ready to win and have fun doing it. Look to see a lot more smiles and laughter this time around.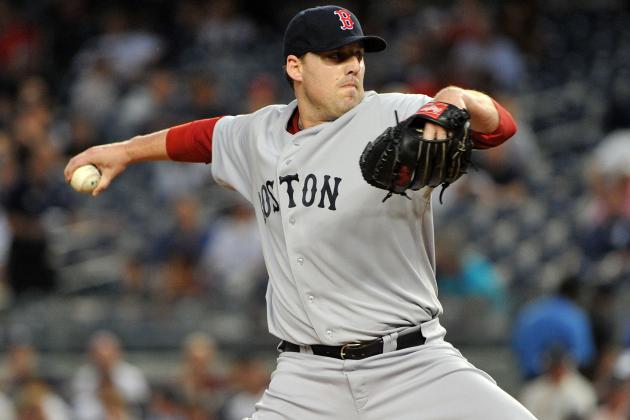 Christopher Pasatieri/Getty Images
Lackey's 6.41 ERA in 2011 made him one of the most hated men in Boston.
In year four of his five-year contract, John Lackey is fresh off of Tommy John surgery. The reports are nothing but positive as he looks leaner and stronger than ever.
The Boston Red Sox rotation was abysmal last season with players constantly shuffling in and out. Clay Buchholz led the team in ERA at a measly 4.56. Lackey returning and pitching effectively would be foundational to the team.
When healthy, Lackey eats up innings with ease. In a rotation with some question marks, the slimmed-down Lackey has an opportunity to step up and revert back to his days as the bulldog that Los Angeles Angels fans fell in love with. His gritty mentality and quick pace could bring a stability to this rotation that was invisible last season.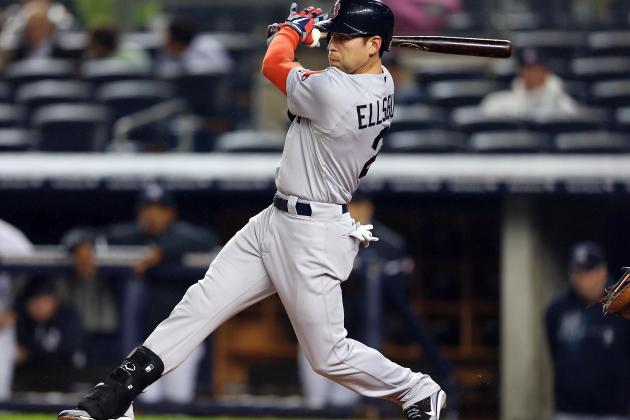 Elsa/Getty Images
In his contract year, the Red Sox need Ellsbury to turn back the clock to 2011.
In 2011, Jacoby Ellsbury had arguably the best season in all of baseball. He torched the AL to the tune of a .321 average, 32 homers, 105 RBI, 46 doubles, 39 steals, 119 runs, 212 hits, and a Gold Glove Award.
Last season, Ellsbury was hardly the same. He separated his shoulder before he could ever get going, and upon returning, he was a shell of his former self. The extent of his injury once again left fans questioning his toughness.
In a contract year, Ellsbury may be showcasing himself for the rest of the league. For the time being, the Red Sox need their explosive leadoff man back. He was the catalyst for this high-powered offense before last season, and he needs to be at his best for them to succeed.
If he can rake a little bit in spring training, it will be a welcome sign.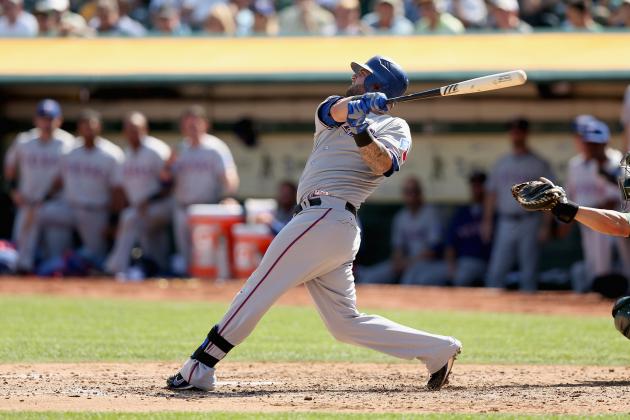 Ezra Shaw/Getty Images
What sort of damage will new first baseman Mike Napoli be able to do for the Sox?
New first baseman Mike Napoli is finally in town after a long hassle over his contract over the offseason, which was eventually dwindled down to a one-year deal due to concerns over his hip.
The Boston Red Sox lacked thump from the right side of the plate last year. Enter Napoli, who will be doing little to no catching for this team. Napoli had a bit of a down year with Texas last season, but playing first will greatly reduce the stress on his legs, and hopefully increase his production at the plate.
Napoli has completely annihilated the Red Sox over recent years, hitting .366 at Fenway over the past three seasons. The Sox are hoping he can continue that and become very friendly with the Green Monster.
His main concerns are his hip and his first base ability. Boston is sacrificing some defense for some power in this situation, and how Napoli holds up will be crucial.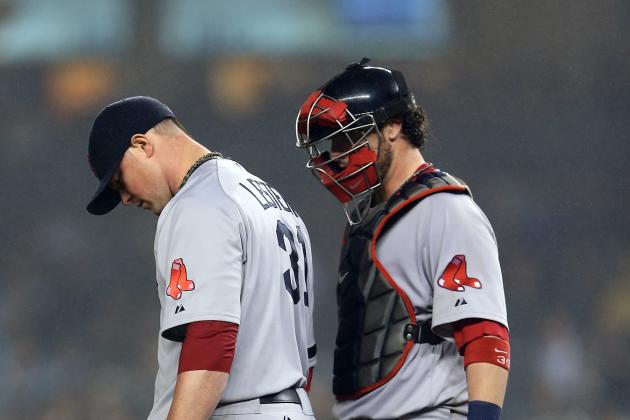 Elsa/Getty Images
Jon Lester needs to get back to being the ace of this staff?
Aside from injuries and clubhouse drama, the disastrous performance of the starting rotation, as a whole, was likely this team's demise in 2012.
Jon Lester stumbled to, by far, the worst season of his career. Clay Buchholz was possibly the worst pitcher in baseball before regaining his old form around June. Felix Doubront showed promise, but ran out of gas toward August. Nothing else was even worth mentioning, as most other members of the rotation were far more disastrous.
John Farrell has worked with Lester and Buchholz for years, and is a vital reason for them having the success they have had. Ryan Dempster and Lackey should provide much more stability than Daisuke Matsuzaka and Aaron Cook provided for much of last season. Hopefully, Doubront can take a big step forward as well.
The David Ross acquisition will also prove monumentally important, as he is one of the better defensive catchers in baseball and stands to see a lot of playing time. Having Jason Varitek and Pedro Martinez around the team a little more as assistants couldn't hurt either.
All in all, this rotation needs to get back to being the group of workhorses that Boston Red Sox fans are used to. Lester, Buchholz, Lackey, Dempster, and Doubront, as a group, have immense talent, and how they look early on can ease many of the questions this fan base will have, and help erase's last season's hangover.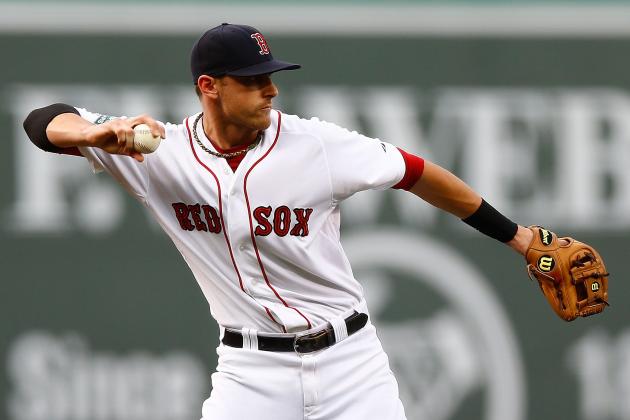 Jared Wickerham/Getty Images
Middlebrooks burst onto the scene last year forcing Youkilis out of town before fracturing his wrist.
Now, we come to the man who could be the x-factor for this team.
Will Middlebrooks burst onto the scene last year and scalded AL pitching to the tune of 15 homers and 54 RBI in only 75 games. Unfortunately, like many of his Boston brethren, his season ended prematurely to a fractured wrist on August 10.
The Boston Red Sox will be looking for Middlebrooks to be a stalwart in the middle of their lineup this season. Avoiding a sophomore slump is of utmost importance to the young third baseman. If he can cut down on his strikeouts a little bit, Middlebrooks has all the tools to be among the absolute best third basemen in the game one day.
Look for Middlebrooks to move past the injury and build on his exciting 2012 campaign. He represents a bit of a shift to the youth movement for this team. Middlebrooks will be manning the hot corner for a long time here. In his first spring training as a big-leaguer, we'd love to see him take big steps forward.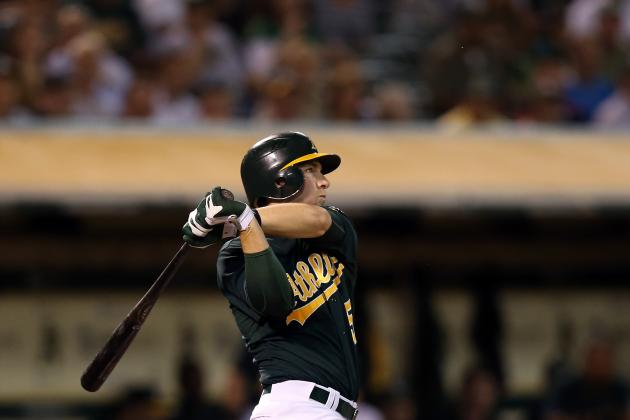 Ezra Shaw/Getty Images
Can Stephen Drew hold down the fort?
Since Nomar Garciaparra left, Boston Red Sox fans have been put through an abundance of shortstops. Orlando Cabrera, Edgar Renteria, Julio Lugo, Alex Gonzalez, Marco Scutaro and Mike Aviles are just a handful of the group of men that have tried to end this revolving door at shortstop. Now, it is Stephen Drew or Jose Iglesias' turn.
Drew resurfaced a bit towards the end of last season while manning short for the Oakland Athletics as they made their unheralded run to the postseason. He suffered a devastating broken ankle on a collision at home plate that derailed his promising career. The Sox are hoping he can rekindle some of that ability in his one-year deal.
Iglesias has not progressed as the front office had hoped. He has still not adapted to big-league pitching, and while he sports a phenomenal glove, his paltry .118 batting average last season left much to be desired.
In possibly his one year in town, can Stephen Drew adequately keep the seat warm before uber-prospect Xander Bogaerts takes over? We'll see.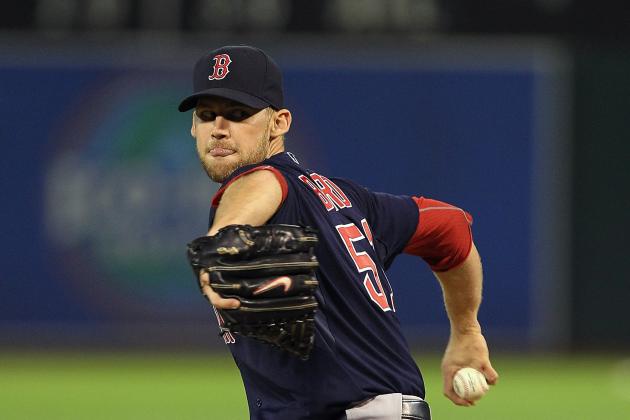 Tony Medina/Getty Images
Once again a full-time reliever, can Daniel Bard recover his old ways?
It was a mere two years ago when Daniel Bard was the most reliable man coming out of the Boston Red Sox bullpen.
Last season's failed conversion to starting left Bard as a forgotten man. He was sent down from the minors and underwhelmed on the mound there as well. From day one of spring training last year, his position was in limbo. Every start he made contained the added pressure of proving himself once again in a different role.
Now, after a full offseason to clear his head, Bard will return to the bullpen that he so lovingly called home in recent seasons. Early indications that Bard has his fastball and his confidence back will go a long way.
If Bard can rekindle the stuff that he had while he was demolishing the American League prior to last season, it will be an added weapon to an already stacked bullpen. With new star closer Joel Hanrahan slamming the door and the newly acquired Koji Uehara coupling with Andrew Bailey in the eighth inning, there is a spot for Bard to dominate in the seventh. He can anchor this bullpen and really help shorten games.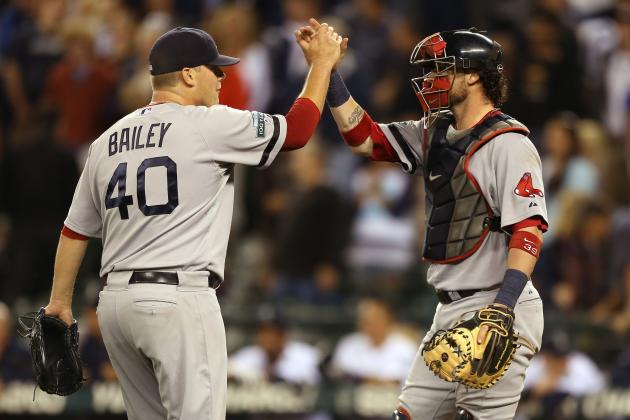 Otto Greule Jr/Getty Images
Bailey's conversion to set-up man will be pivotal.
Andrew Bailey's role on this team could put them over the top if he is able to perform to his vast potential.
An all-star closer with Oakland, Bailey was brought in to seamlessly replace Jonathan Papelbon in Boston. This was not the case whatsoever, as he required thumb surgery before the season began and was largely a non-factor. Upon returning, his performance was quite shaky.
With a healthy offseason, Bailey is just yet another Boston Red Sox player looking to put an injury-ravaged 2012 behind him. If he is able to adapt to his new eighth inning role, the Sox will have one of the best one-two punches to close out a game in all of baseball.
Andrew Bailey is one of the most crucial members of this team. He can turn this bullpen from good to phenomenal by staying healthy and reaffirming why the Red Sox traded for him. If all shakes out as planned, look for the Sox to have a loaded bullpen that teams will fear all season. They should collectively make life easier for the starters who drastically underperformed in 2012.
If Bailey can thrive in his new role, look out for this team in 2013.