St. Louis Cardinals: 1 Stat That Sums Up Each Position in 2012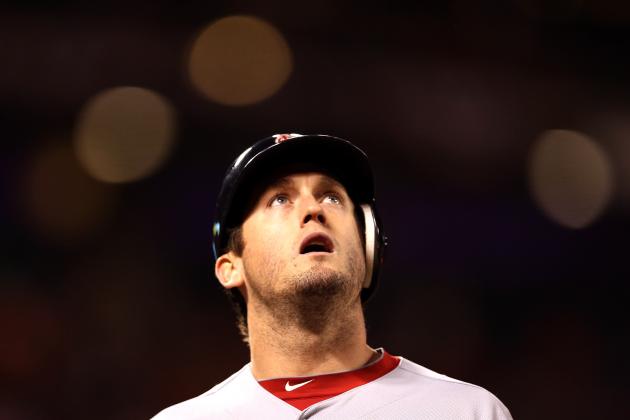 Christian Petersen/Getty Images

Statistics are playing an ever-increasing role in many aspects of baseball, and the St. Louis Cardinals have been no exception.
As advanced metrics continue to blend with old-school scouting, more and more attention is being paid to the numbers behind the game.
Statistics are used in evaluating a player's value, discovering problems and trends or even to tell a story.
While the 2012 Cardinals had a solid season, the end-year statistics can be used to sum up last year and help to predict the coming 2013 season.
Following is an analysis of each position and the statistic that tells the story of each spot on the field.
Begin Slideshow

»
Dilip Vishwanat/Getty Images

While the Cardinals pitching staff had a solid year considering Adam Wainwright was returning from Tommy John surgery and Chris Carpenter was out, one statistic tells the story of their biggest Achilles' heel.
At home, the Cardinals sported the fourth-best ERA in the National League with 3.27. Their road ERA, however, tells a different story.
On the road, the Cardinals sported a 4.18 ERA in 2012. That's a huge disparity that will need to be tightened up to continue being successful.
While one would expect a better home ERA, that's too big of a margin.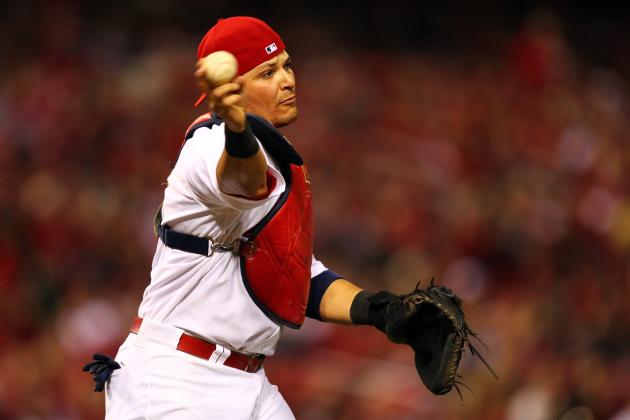 Dilip Vishwanat/Getty Images

There are many statistics that the Cardinals have to be proud of behind the plate from 2012. Several tell the stories of changes throughout the season, but the top statistic would have to be offensive for last season.
Catcher Yadier Molina, who came alive offensively in 2012, finished the season with the second-best OPS (.874) among active catchers.
Given the importance of solid defense behind the plate, offensive stats are often taken for granted. That's partially because on many teams, the catcher is simply a batter to fill the No. 7 or 8 spot in the lineup.
In St. Louis, the Cardinals are trotting out Molina, who is a legitimate No. 4 or 5 hitter for most of the teams in MLB.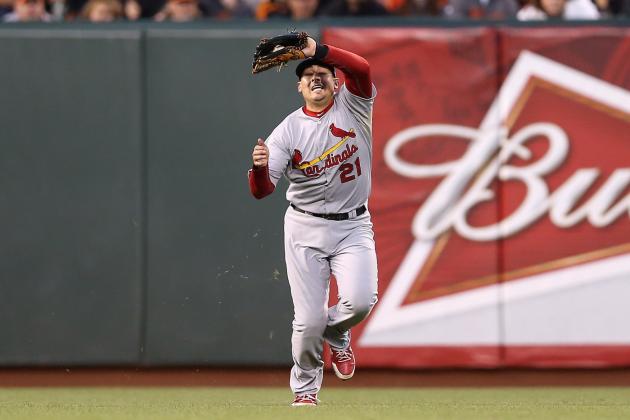 Christian Petersen/Getty Images

When Albert Pujols left the Cardinals in December 2011, many fans felt the sky was falling and surely no one could pick up the slack of such a monumental franchise player.
Allen Craig proved them wrong by leading the NL (and holding second in MLB) with a .522 slugging percentage and an .876 OPS. He finished above the man he was replacing in both statistics.
Craig slid into the role of first baseman and, when he wasn't on the disabled list, filled the role well.
With 22 home runs in only 119 games, a full season could have easily put him over the 30 mark. Between Craig and his backup, Matt Adams, the Cardinals should be fine at first base in 2013.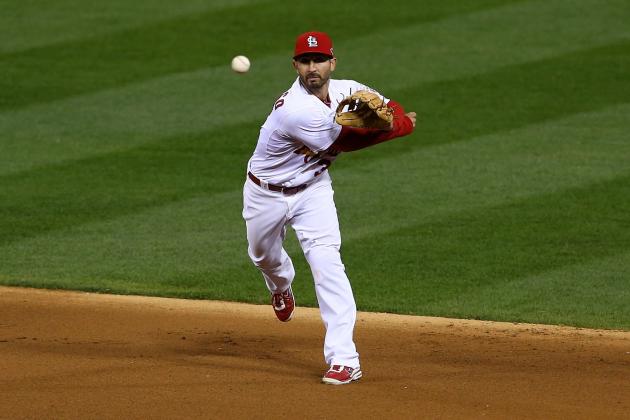 Elsa/Getty Images

For the 2012 Cardinals, second base was a bit of a revolving door. Between Tyler Greene, Daniel Descalso and Skip Schumaker, it was no doubt the weakest position in the Cardinals' lineup all around.
While Descalso played well defensively, the trio at the position struggled behind the plate. Their combined .239 batting average doesn't quite tell the story.
However, their 20.3 percent strikeout rate does. That's simply too high to have at second base where their typical offensive job is simply to get on base.
With taking Greene and Schumaker out of the mix, there is a good chance this number will improve.
Matt Carpenter, who has been training this offseason to fill in the spot, has far more plate discipline and should give the Cardinals an added pop at the position. With Descalso filling in, the 2012 second base twosome should be a positive move.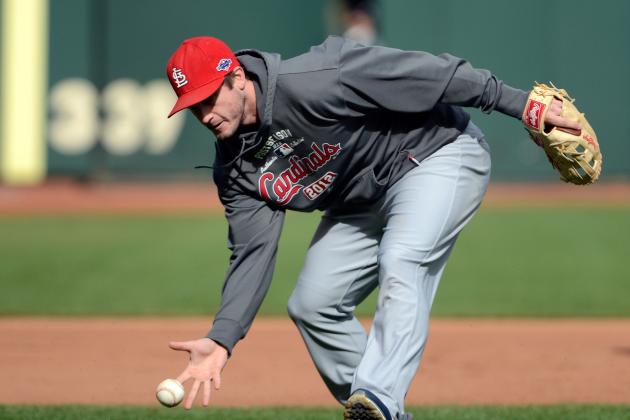 Thearon W. Henderson/Getty Images

Third base has been a solid offensive position for the Cardinals over the past two seasons.
With David Freese staying healthy for a full season, the team really felt the effect of having his bat in the lineup every day.
While a .293 average and 20 home runs is great, that's not the biggest story.
His .372 OBP, sixth among active MLB third basemen last year, was possibly his biggest asset for this team. Freese does what it takes to get on base, including taking one off the shoulder when he has to.
He was hit by seven pitches in 2012. That's the fourth most in the majors and the second highest in the National League.
Another healthy season from Freese would be huge for the 2013 Cardinals.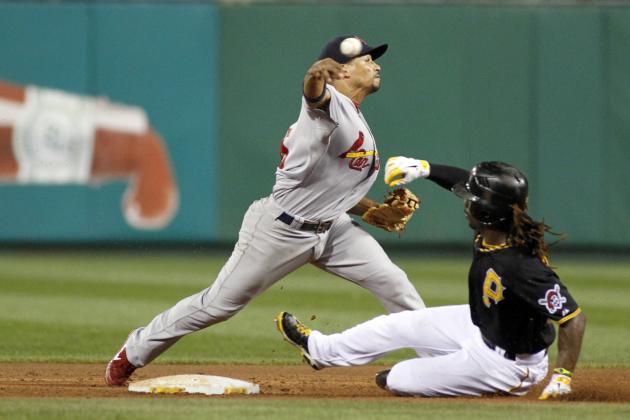 Justin K. Aller/Getty Images

When Rafael Furcal was in the lineup in 2012, their defense was strong. With that said, his offense was quite streaky and eventually resulted in Jon Jay making the move to the leadoff spot in the lineup.
In 2012, Furcal had the sixth-most walks among active shortstops with a total of 44. Had he been able to play more than 121 games last season, he could have seriously contended for the league lead.
Hanley Ramirez, who was next ahead of him, played 36 games more than Furcal (157.)
If Furcal is genuinely healthy, his value to this team could be a difference-maker in 2013.
Christian Petersen/Getty Images

Matt Holliday had a very productive 2012, landing him in the top five of numerous offensive statistics among other left fielders.
His .379 OBP is second among National Leaguers with at least 120 games. His .877 OPS was fourth among the same group.
Those probably aren't the most telling statistics, though.
Holliday, despite striking out 132 times, had the second-most walks (75) among all left fielders in MLB.
What Holliday has lacked in defense in recent years, he continues to make up for behind the plate.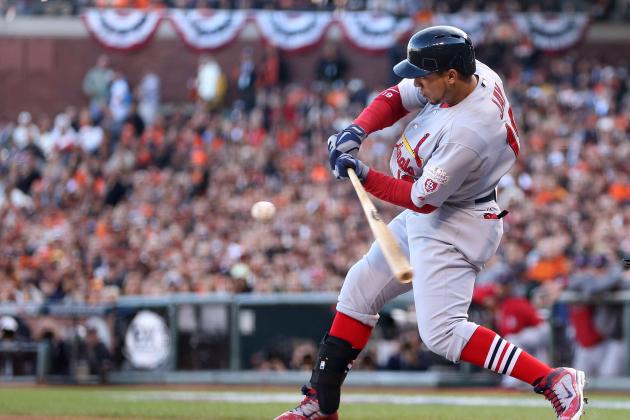 Ezra Shaw/Getty Images

Center field turned out to be a fairly exciting position in 2012, as Jon Jay grew into the position faster than anyone would have expected.
Jay's error-free 2012 led the NL in fielding percentage (1.000). Aside from being error free, he also sported a ridiculous number of web gem-worthy catches.
Jay also gave the Cardinals a consistent solid bat in center field. He hit .305 with 19 stolen bases and 22 doubles in 2012. That's good production for a player who began the season deep in the lineup and ended it as a leadoff man.
He has the ability to give the Cardinals the first quality leadoff man they've had in several years. He does what it takes to get on base, even if that means getting hit once in a while like he did 15 times in 2012.
Expect to see him continue that growth in 2013.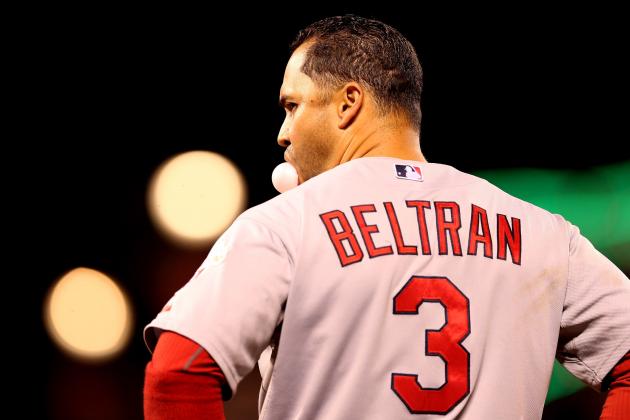 Christian Petersen/Getty Images

Offense was the story for the Cardinals in right field last year.
Carlos Beltran replaced a lot of lost offense and then some when he joined the roster. While he struggled later in the season, Beltran's power early on helped to carry the Cardinals through a rough stint in May and June.
Beltran led the Cardinals in home runs (32) and held the No. 2 spot in stolen bases (13), RBI (97) and runs scored (83).
If he's able to stay healthy, there is no reason to think he won't put together similar numbers in 2013. Regardless, his value last year to the Cardinals made his two-year/$26 million contract look like a good bargain.