7 QBs Who Will Have the Best Supporting Casts in 2013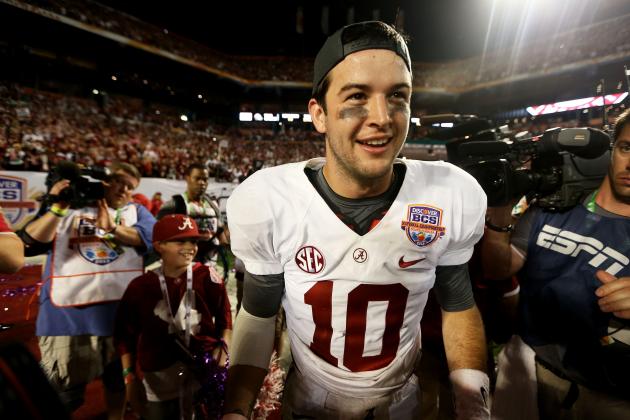 Streeter Lecka/Getty Images

Every so often, phenomenal quarterbacks come along who can single-handedly win a football game, or even a championship, through their pure, unadulterated talent. But by and large, great championship teams have great quarterbacks with a superb cast of supporting characters spread around the field.
Most often, we think of wide receivers as the primary partners for a college football QB, but we can't forget about a stellar defensive line or a speedy running back who can occupy the attention of an opposing defense.
While we may see one of those great individual performances in 2013, we're going to see many more acts that feature multiple stars. In that vein, we've put together a list of the college football quarterbacks who will have the best supporting casts during the upcoming 2013 college football season.
Begin Slideshow

»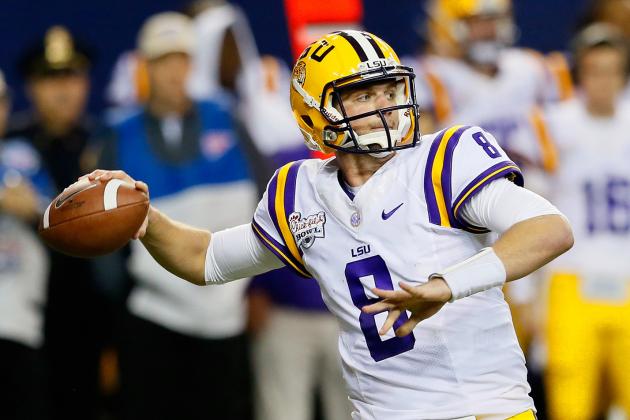 Kevin C. Cox/Getty Images

We'll start with a quarterback who seems to be carrying the weight of the world on his shoulders, LSU's Zach Mettenberger. A lot was expected of him during his 2012 junior season, but the wild successes that were expected never materialized for Mettenberger and the Tigers.
Mettenberger threw for just 2,609 yards and 12 touchdowns. That places him ninth in the SEC in passing yards per game and 10th in total passing touchdowns in 2012. Those numbers need to improve drastically if there's to be any hope of an LSU title run in 2013.
But before you go writing LSU off for 2013, keep in mind that Mettenberger will be surrounded by 10 other offensive players with starting experience next season, including most of the offensive line and the team's top four receivers.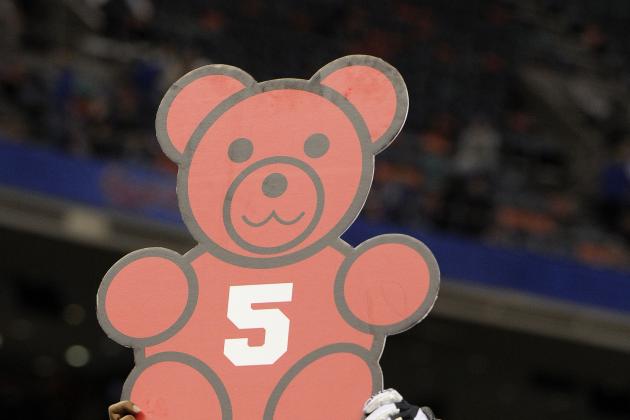 USA TODAY Sports

Louisville's Teddy Bridgewater is going to be a very entertaining player to watch in 2013. After an impressive dismantling of a stout Florida defense in the 2013 Sugar Bowl, Bridgewater and the Cardinals will have even more attention directed toward them in 2013.
While Bridgewater is one of those kind of quarterbacks who can individually take control of a football game, someone needed to be on the receiving end of his 3,718 passing yards and 27 touchdown tosses.
Sure, Louisville will lose most of its starting receiver corps; the only returning starter is Damian Copeland (628 yards, two touchdowns). But Bridgewater is most dangerous when he's given time with the football, regardless of who he's throwing to, and that's if he throws the ball at all.
Bridgewater completed nearly 70 percent of his passes last season (68.5) and finished with a QB rating of 160.5. With three offensive linemen returning along with a combined 1,529 rushing yards and 21 touchdowns from Jeremy Wright and Senorise Perry out of the backfield, don't overlook the defending Sugar Bowl champs in the upcoming final season of the current BCS system.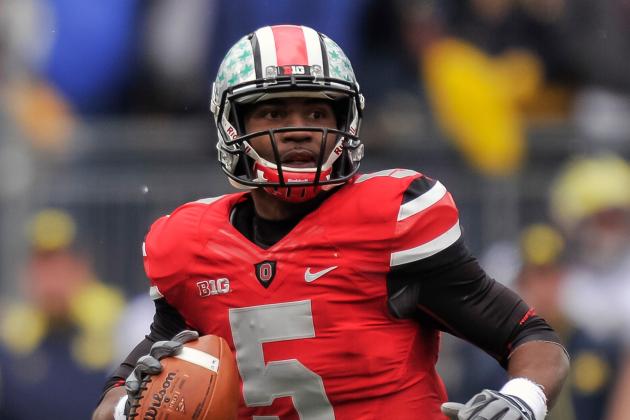 Jamie Sabau/Getty Images

The 2012 college football season ended with just one undefeated team: Ohio State. Due to NCAA sanctions, however, the Buckeyes were left without a bowl berth and without any kind of championship trophy to display.
Even though Ohio State was eligible for the AP's national championship, the Buckeyes fell short to BCS champion Alabama (as well as 12-1 Oregon). We think that the play of Braxton Miller, and really the entire Ohio State offense, had a lot to do with that decision.
The Buckeyes were a hot mess when throwing the ball last season, finishing 105th out of 124 FBS programs with just 181.5 passing yards per game. We know that the Big Ten isn't exactly a pass-oriented conference, but there was simply no way to put Ohio State anywhere near the same class as Alabama or Oregon last season, statistically speaking.
Braxton Miller completed just 58.3 percent of his passes last season and tossed six picks to his meager 15 touchdown throws.
Ohio State wasn't exactly dominant in some of its more important wins of the season, either. The Buckeyes beat a 7-6 Michigan State squad by one, edged past a terrible Indiana team by three and needed overtime to slide by the 6-7 Purdue Boilermakers. Narrow victories over Wisconsin, Michigan and California—not to mention a much-closer-than-expected 14-point win over UAB—also belie the Buckeyes' lack of dominance in 2012.
The saving grace for Ohio State through all of last season was a great run game put forth by Miller (1,271 yards and 13 touchdowns), combined with a decent defense (31st in scoring defense).
But with 10 players, including Miller, with starting experience returning for 2013, those anemic passing numbers should improve. Expect wideout Devin Smith to take a lead role in his junior season while Miller spends the spring and fall working on improving his passing game.
If he doesn't, there surely won't be another 12-0 regular season on the horizon for Ohio State.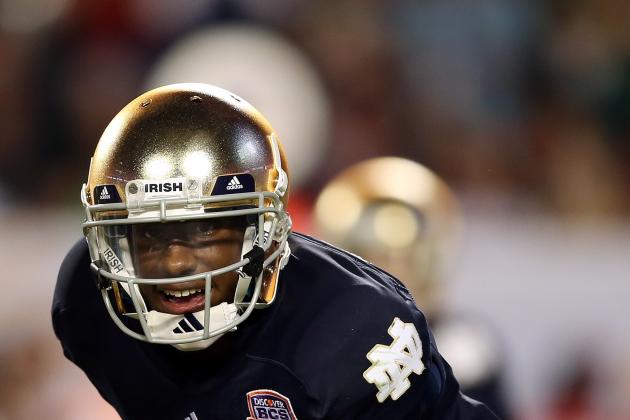 Streeter Lecka/Getty Images

You can love Notre Dame or hate Notre Dame. Just don't ignore Notre Dame. At least, not anymore.
The Fighting Irish made a triumphant return to relevance last season, finishing the regular season with an unblemished record only to fall to mighty Alabama in the BCS National Championship Game. Despite the loss, Notre Dame was clearly one of the better teams in the nation last season, and there are no signs of things slowing down in South Bend.
The Irish were led on offense by a freshman quarterback Everett Golson, who will return with a whole host of quality offensive playmakers.
Three offensive linemen return, as do two starting senior wideouts. Golson will also be joined by some of young, up-and-coming talent with support in the run game.
Add in Tommy Rees at backup, along with junior Andrew Hendrix three deep, and Golson will have plenty of backup around him on the field and the sideline should he falter.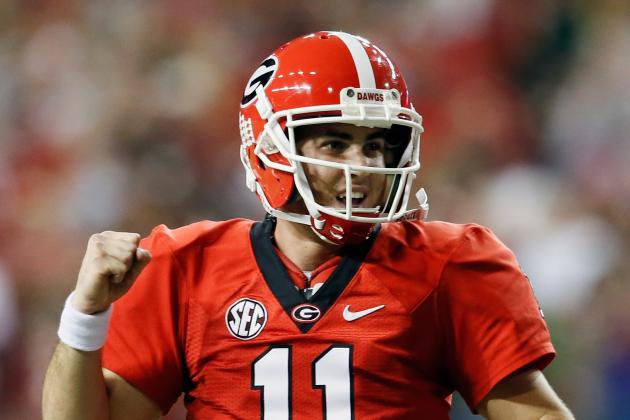 Kevin C. Cox/Getty Images

Being considered one of the best positional players in a conference is an accomplishment all its own. When that position happens to be quarterback, and the conference is the SEC, it's something truly special.
Georgia's Aaron Murray was a 2012 preseason second-team All-SEC selection, and even though he didn't make an appearance on the postseason lists, Murray was still one of the best quarterbacks in the nation last year.
Murray was 11th in the FBS with 3,893 passing yards. He was also the only quarterback in the nation to average over 10 yards per pass attempt (10.1). Murray was tied for fifth in the FBS with 36 touchdowns and threw the fewest interceptions (10) among those who he shared fifth place with (Tajh Boyd and Matt Barkley, 13 and 15 interceptions, respectively).
As impressive as that performance was in 2012, we're expecting even greater things from the two-time defending SEC East champions in 2013.
With 10 offensive starters back for next season, Murray should feel perfectly comfortable managing things on the field next year. He'll also have one of the nation's premier run games to fall back on when the passing game isn't clicking on all cylinders.
There's no reason why Georgia can't be a Top Five team heading into next season, and if a somewhat-depleted defense can reload effectively for the 2013 SEC gauntlet, it's entirely possible that the Bulldogs could turn their third SEC East title into a conference championship and national title game berth.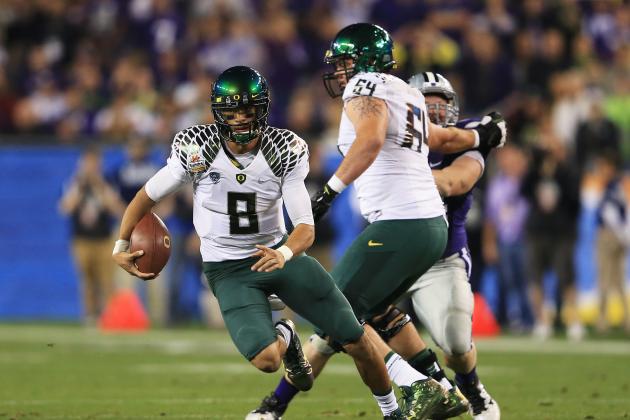 Doug Pensinger/Getty Images

There really shouldn't be anyone left in the United States these days who doesn't believe that Oregon is one of the most perennially talented programs in the nation.
Head coach Chip Kelly has moved on to the NFL, taking the head job with the Philadelphia Eagles, but he leaves behind quite a legacy in his four seasons in Eugene. The Ducks won three straight conference titles under Kelly and finished in a tie for first place in the North Division in his fourth season. Oregon also made four consecutive trips to a BCS bowl game, winning the final two. The Ducks never finished worse than No. 11 in the final AP Poll and never finished lower than No. 4 in Kelly's final three seasons.
A big part of that success was Oregon's ability to find talent at every position and bring that natural ability out of every player irrespective of their experience. Marcus Mariota, the freshman signal-caller for the Ducks in 2012, is a perfect example.
As good as Oregon was in 2012 (unbeaten in regulation, 12-1 overall, won Fiesta Bowl), can you imagine how good the Ducks can be with an added year of experience for the nine offensive starters returning in 2013?
With Mariota's ability to make plays with his arm or his feet, you'd expect Oregon to be pretty darn good. Add in De'Anthony Thomas, Keanon Lowe, Josh Huff, Daryle Hawkins and Colt Lyerla, all of whom are back for another crack at it under new head coach Mark Helfrich, and Oregon again should be one of the top teams in the nation.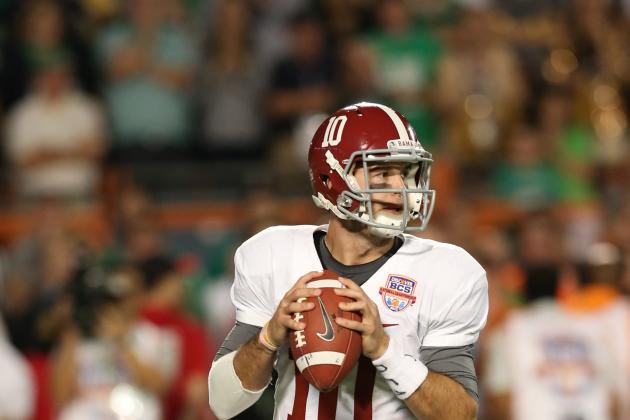 Matthew Emmons-USA TODAY Sports

There's a lot that we could say about Alabama's A.J. McCarron. Being the starting quarterback for a Nick Saban-coached Alabama Crimson Tide football team is something that very few can successfully pull off, but when you become the only starting quarterback in history to win back-to-back BCS National Championship Games, you've reached a whole other plateau.
But is he really that good?
McCarron takes the top spot on our list of QBs with the best supporting casts in 2013 because the Crimson Tide have consistently been able to take a mediocre quarterback and make him look like a superstar.
His career numbers aren't all that bad. He will surpass 6,000 career passing yards at some point in Alabama's first game of 2013. He also has 49 touchdowns to just eight interceptions in his career in Tuscaloosa. He was also named the second-team All-SEC quarterback in 2012 behind Heisman Trophy winner Johnny Manziel.
But McCarron only averaged 209.5 passing yards per game, which was fewer than seven other SEC quarterbacks (67th in the FBS). His rushing ability isn't that great, either. McCarron netted just four rushing yards in 2012 and has minus-28 over his three seasons at Alabama.
So what's so special about him? What makes McCarron the only quarterback thus far to win back-to-back BCS titles? His supporting cast.
Saban has consistently put together one of the top college football teams each and every season, and 2013 isn't likely to be any different. The early departures of Eddie Lacy and D.J. Fluker are certainly noteworthy, but with so much depth at Alabama, no one really expects those losses to seriously impact the team's performance.
Bama still has T.J. Yeldon to carry the ball, and the offensive line, while returning just two starters for 2013, has proven to be one of the most talent-rich areas for Alabama in the past. Now add in four returning wide receivers with starting experience, and suddenly, McCarron's senior season looks to have every bit as much promise as his junior year.
Will McCarron be winning a Heisman Trophy in 2013? Not likely. He just isn't the type of superstar quarterback that some other teams boast. But can he lead Alabama to an unprecedented fourth BCS title in five years? With his leadership abilities and the Oscar-caliber co-stars surrounding him on the field, you bet.