Stanford Football: 6 Freshmen the Cardinal Can Build Around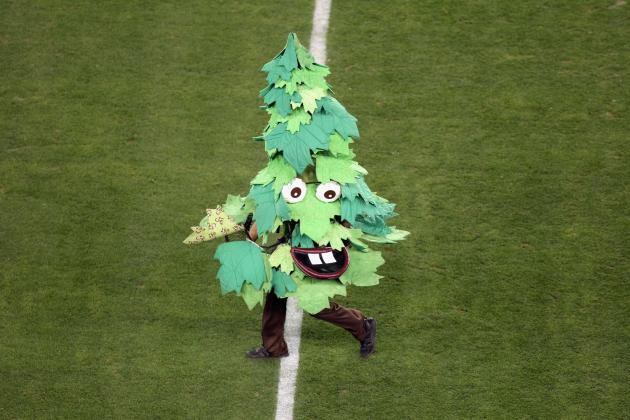 Christian Petersen/Getty Images
Coming off a season in which they won the Rose Bowl, Stanford is looking to continue their success with their incoming 2013 recruiting class.
Stanford has had great success in college football over the past couple of seasons, including a Rose Bowl victory last year. Stanford only signed 12 recruits and did not have a five-star prospect commit to the school, but that doesn't mean that there isn't a lot of potential in this class.
Let's take a look at six players that Stanford can build around in ESPN's 40th-ranked and Rivals 63rd-ranked recruiting class.
Begin Slideshow

»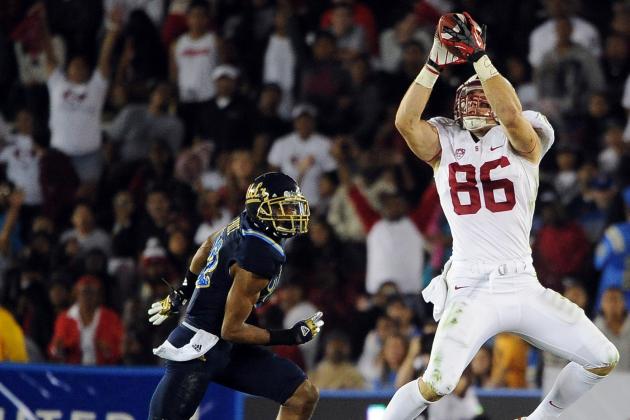 Jayne Kamin-Oncea-USA TODAY Sports
While Taboada can play on both sides of the ball, look for Stanford to turn him into tight end Zach Ertz's replacement.
The tight end is an extremely important cog to Stanford's offense. With last season's starter Zach Ertz leaving for the NFL, the Cardinal needed to find a replacement for him quickly.
Stanford and Alabama were the final two schools in the running for Taboada. The tight end prospect from Georgia sent shockwaves around the recruiting world by deciding to sign with Stanford.
He has solid hands and is very difficult to bring down after the catch because of his size. Along with his speed, Taboada will provide matchup nightmares for Pac-12 defenses for years to come.
The scary part is, he's so athletic that he can play on the defensive side of the ball as well. He can play the defensive end or outside linebacker hybrid role because of his ability to put pressure on the quarterback.
Either way, Stanford has a prospect that can help them in so many ways on the field.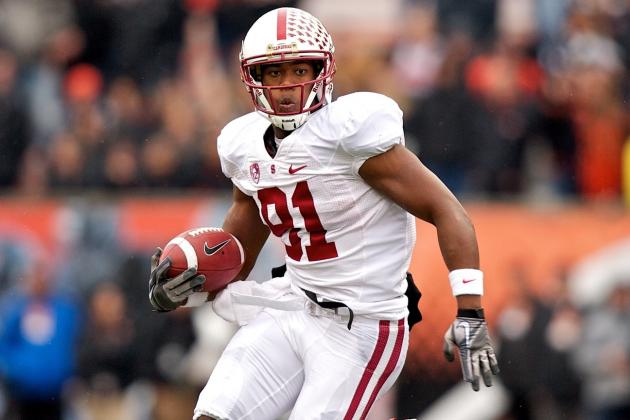 Craig Mitchelldyer/Getty Images
Will Chris Owusu's little bro make as big an impact as he did at Stanford?
ESPN's four-star prospect and 40th-ranked receiver committed to Stanford this past summer. His brother Chris graduated one year ago, and Francis will attempt to live up to the family name.
Even though Stanford loves utilizing the tight end, the reason why Chris succeeded was his size. Francis possesses a 6'2" frame, which is the reason why he beats cornerbacks with his physicality.
In his senior season at Oaks Christian, Owusu accumulated 915 receiving yards to go along with 11 touchdowns on just 52 receptions. His leaping ability is why he's so good at making the big plays.
While his route running could use a little bit of work, Owusu has the physical tools to give Stanford another edge in its passing attack.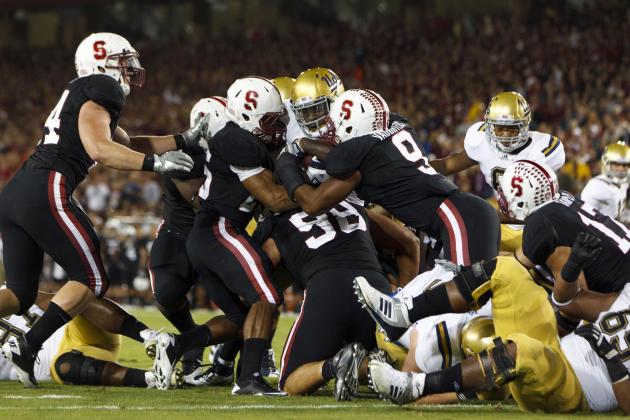 Jason O. Watson-USA TODAY Sports
Hooper is another stud that will be joining Stanford's elite front seven.
The key to Stanford's success on defense last season was their dominance at the line of scrimmage. With Hooper, they added another guy who can manhandle opposing teams' offensive lineman.
Hooper is at 6'5", 245 pounds and his strongest pass-rushing technique is his bull rush. He uses his hands to shove and push away from pass protectors to get to the quarterback. He's also a very good tackler.
The two things that Hooper needs to work on the most is his pass rush versatility and his run-stopping capability. The ladder issue can easily be solved by the fact that Stanford's run defense was the best in the nation last season, so there will be other players that can focus more on stopping the run game.
However, it would be wise for Hooper to develop speed-rushing tactics. This guy can certainly contribute as a freshman, but he will be dangerous in upcoming years if the coaching staff helps him grow into a more complete defensive end.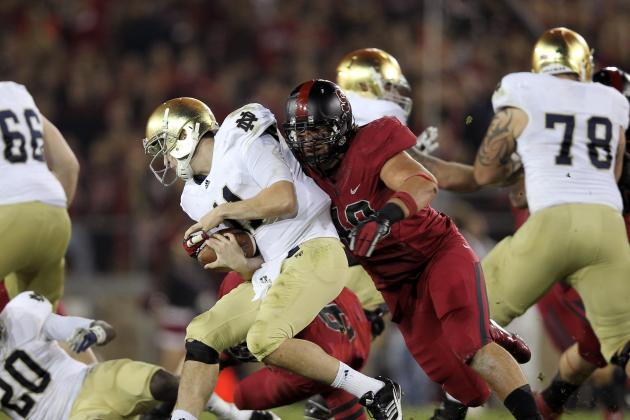 Ezra Shaw/Getty Images
By signing Kalambayi, Stanford adds another guy who can pressure the quarterback.
ESPN's 17th-ranked outside linebacker doesn't have the elite size of a hybrid pass rusher, but he sure makes up for it with his play.
He's a very intelligent linebacker who uses his strength to disrupt opposing teams' offensive flow. He has good size for an outside linebacker, however he would get pushed around if he was positioned at the line of scrimmage because he only weighs 238 pounds.
Kalambayi is better at pressuring the quarterback than dropping into coverage. Yet, he can make tackles from sideline to sideline because of his strong range throughout the field.
If Kalambayi does bulk up, he certainly has the potential to be a very strong defensive end or hybrid for the Cardinal. Still, outside of questions regarding what position he will play, don't be surprised if Kalambayi is a starter on Stanford's defense by the beginning of his sophomore year.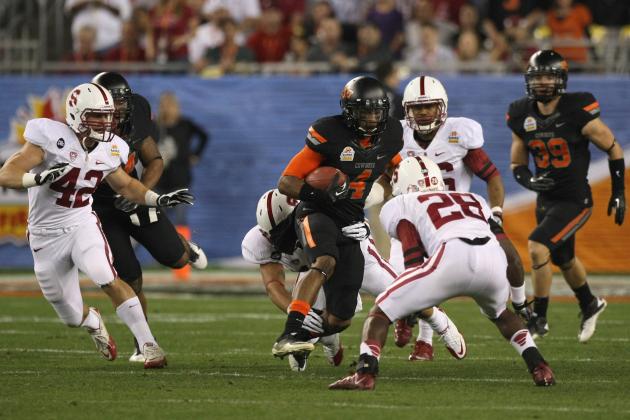 Donald Miralle/Getty Images
If Stanford puts Barton at safety, it can address the biggest weakness on its defense from last season.
While Barton's size (6'3", 220 pounds) and punishing tackling ability would normally mean that he would be lined up at linebacker, his ball-hawking skills would be a great fit at safety.
Barton is extremely athletic, as he played running back, wide receiver and outside linebacker during his high school career. He generated eight interceptions and nine sacks over his junior and senior campaigns.
Besides having a knack for the interception, this guy will not get beat deep. He's great in zone-coverage and he has the speed to catch up to a wide receiver that initially gets past Stanford's secondary. He also can make the hits on wide receivers that jar the ball loose before they can get their hands on the ball.
If Barton is placed at outside linebacker, he may have trouble getting early playing time. However, this guy's combination of physicality and ball-hawking skills would enable him to be a great safety that matches the personality of Stanford's defense.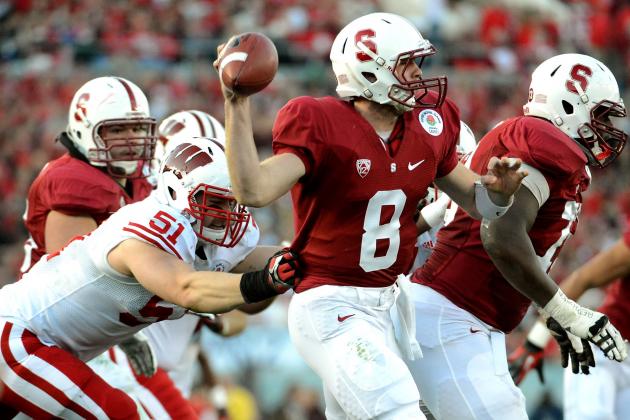 Harry How/Getty Images
Burns may not get a lot of playing time his freshman year because of Kevin Hogan, but he does have a lot of potential.
While starting quarterback Kevin Hogan is only a sophomore, Burns has the potential to add to the lore of great Stanford quarterbacks. ESPN graded Burns very highly, and he's the fourth-ranked quarterback in this 2013 class.
Burns is a quarterback who can make plays with both his arm and his legs. His ability to keep the play alive will frustrate opposing defenses. He has great arm strength and the accuracy to make NFL level throws.
Burns' height (6'5") also gives him a tremendous advantage in that he can see over the line of scrimmage to find open wide receivers. He can also make a variety of different throws, from the touch pass to the deep ball.
The only two knocks on Burns are his ball security and that he played quarterback out of the shotgun formation throughout his high school career. However, good coaching will help this guy turn into a very balanced and dangerous pro-style quarterback.