Houston Rockets vs. Sacramento Kings: Live Score, Results and Game Highlights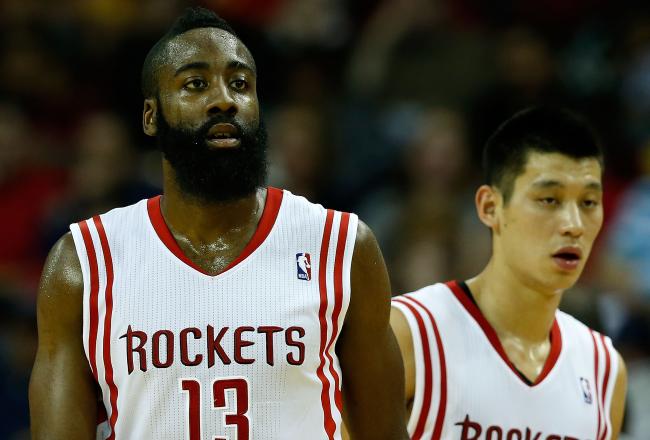 Scott Halleran/Getty Images
Commentary from the Sacramento Kings' 117-111 victory over the Houston Rockets from Sleep Train Arena in Sacramento, CA on Feb. 10, 2013.
The Sacramento Kings emerged with a 117-111 victory at Sleep Train Arena, and the Rockets were 6.5 point favorites in the game.
What led to the upset?
It's pretty simple really: the immensely talented Kings squad played like a team.
They also out-hustled the Rockets, though both teams did play a hard and frantic pace. The Kings just had more horses, using an 11-man rotation while the Rockets relied heavily on workhorse James Harden.
Harden had a big night, but the Kings were able to control all of his teammates. Despite the defense focusing heavily on Harden, he was able to work his magic with 30 points on 10-of-20 shooting.
The Kings out-rebounded the Rockets 46-43 and committed less turnovers (SAC 13, HOU 15).
They also played a well executed fourth quarter, outscoring Houston 33-25 in the final period.
KINGS 117, ROCKETS 111 — FINAL
A bricked James Harden three seals it up as the Rockets are forced to foul John Salmons again. Salmons is 5-of-5 from the line and this one is pretty much over anyway.
KINGS 115, ROCKETS 111 — 3.7 seconds
Following a Kings turnover, James Harden scored on a transition dunk. It of course led to another foul, but the Rockets had just one timeout left.
John Salmons knocked down both free throws to extend the lead back to four with just nine seconds to go.
Sacramento hit 24-of-25 from the line in the game.
KINGS 115, ROCKETS 111 — 9.0 seconds in 4th, Houston ball, 0 Timeouts remaining
The Rockets took nine seconds off the clock trying to find a suitable shot, and it led to an Omer Asik dunk which cuts the lead to four points.
If the Kings can keep getting the ball into Isaiah Thomas, though, it won't matter.
KINGS 113, ROCKETS 109 — 16 seconds in 4th
The Rockets had a nice inbounds play which resulted in a James Harden contested layup, but it didn't fall.
The Kings stalled for a little while before drawing a Houston foul to stop the clock with 25 seconds remaining and Isaiah Thomas at the line for two.
Thomas hits them both and is now 13-of-13 from the free throw line. Nice night of work, lil' fella.
KINGS 113, ROCKETS 107 — 25.1 seconds 4th, Houston ball
The call was overturned and possession was awarded to the Houston Rockets. What kind of magic can James Harden work with his team down by four and under a minute to go in Sactown?
KINGS 111, ROCKETS 107 — 41 seconds
It's great to have video replay to make decisions on possession in the last two minutes, but sometimes it seems almost impossible to determine who it is out on.
This tipped rebound between Jason Thompson and Omer Asik is such a situation. After reviewing the replay seven or eight times now, I'm entirely uncertain who the ball is out on.
The call on the floor was Sacramento ball, and obviously this is a huge call.
KINGS 111, ROCKETS 107 — 41 seconds in game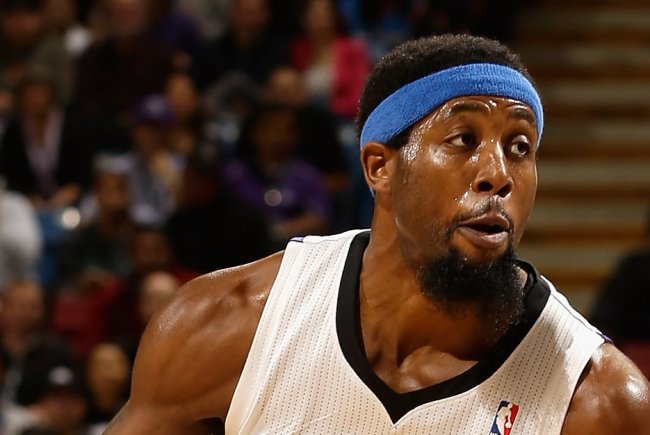 Ezra Shaw/Getty Images
John Salmons may get the last laugh in the battle of the beards. His beard seemingly out-faked Harden's beard as he picked up a foul on a three at the top of the key. Shaking his beard, he calmly stepped to the line to knock down all three free throws and now has 19 points.
OFFICIAL BEARD BATTLE:
Harden's Beard: 30
Salmons' Beard: 19
KINGS 111, ROCKETS 107 — 1:09 4th
James Harden now has 30 points on 10-of-18 shooting. He's becoming one of those players you plan your defensive attack around just to find it fails anyway. I guess that is the definition of what superstars do.
KINGS 108, ROCKETS 107 — 1:39 4th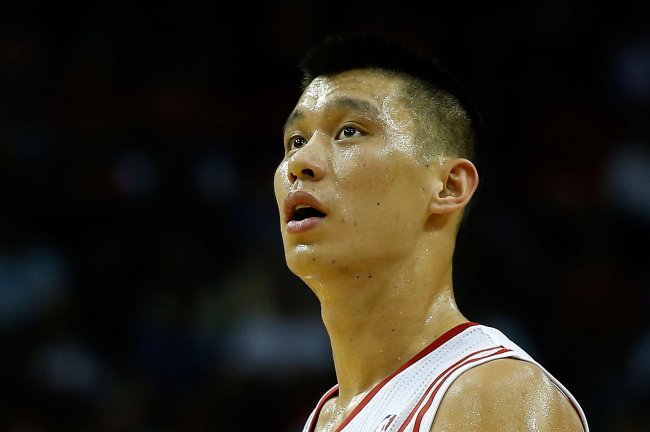 Scott Halleran/Getty Images
An Isaiah Thomas three put the Kings back up by one, which was followed by a Carlos Delfino missed three.
But in serious news: Jeremy Lin just fouled out which means Patrick Beverley will play crunch time minutes for Houston.
Beverley has actually had a pretty decent night so far, though, with six points and seven dimes in 16 minutes of play. He was a second round pick in 2009 by the L.A. Lakers and he has an astoundingly high PER this season of 18.92
As to how that is possible shooting 38.2 percent from the floor, your guess is as good as mine.
KINGS 106, ROCKETS 105 — 2:40 4th
Francisco Garcia banged a three to give the Kings a one point lead before James Harden pushed it back in transition for another three-point play opportunity. Harden landed hard on his wrist, and took a bit to get up.
But he hit the free throw to put the Rockets back up by two.
ROCKETS 105, KINGS 103 — 3:30 4th
I've figured out the thing with Omer Asik: he dunks when no one is around.
It's that simple.
ROCKETS 102, KINGS 100 — 4:00 4th
This game has turned into a three point contest. Following the timeout, Patrick Patterson hit a corner three which was answered by a John Salmons three.
Isaiah Thomas bucked the trend, however, by aggressively attacking the basket and scoring over Patrick Patterson and Omer Asik. Thomas converted the basket through contact for a three-point play to tie the game up.
That's a 12-3 Sacramento run.
ROCKETS 100, KINGS 100 — 4:57 4th
Chuck Hayes is undersized, but his hustle so often makes the difference in coming up with big plays. His block on James Harden ignited a Isaiah Thomas three in transition to cut the Rocket lead to just three points.
ROCKETS 97, KINGS 94 — 6:16 4th, Houston Timeout
There's two ways the Rockets can approach having this nine point lead:
1) Run and gun and put this game away
2) Slow it down and work the Kings in transition to prevent the frantic pace of the game from allowing Sacramento back in this.
I think we both know which method Kevin McHale will implore his players to implement.
Oh, and there's a Francisco Garcia three. So much for pushing the lead into double digits real fast.
ROCKETS 97, KINGS 91 — 6:37 4th
DeMarcus Cousins picked up a fifth foul and threw a cute little temper tantrum on the sidelines, flinging his headband to the ground and swearing at what had to be a pretty audible level for surrounding fans.
Keep it classy.
It's not looking good for Sacramento considering how the game progressed with Cousins on the bench, oh, a few short minutes ago.
ROCKETS 95, KINGS 86 — 9:01 4th
The Rockets out-scored the Kings 24-14 with DeMarcus Cousins on the bench in foul trouble.
ROCKETS 94, KINGS 86 — 9:48 4th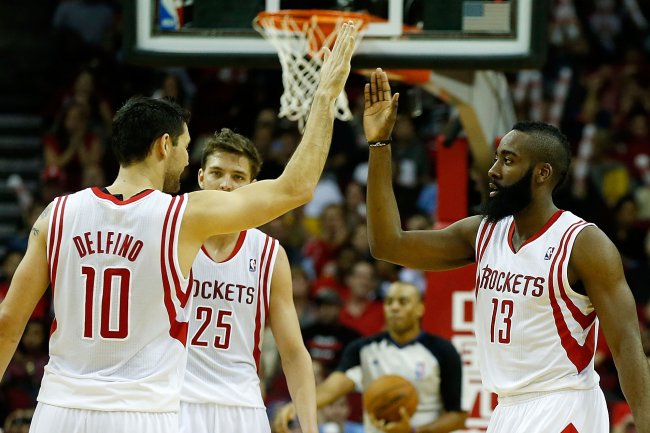 Scott Halleran/Getty Images
The Houston Rockets are sensing blood in the water right now as Carlos Delfino hits another jumper to extend the lead to eight.
Keith Smart reacts appropriately and sends DeMarcus Cousins to check in, but the refs didn't allow Cousins into the game as he wasn't at the table in time (which has been a huge discussion of the Kings' color commentators tonight, the timing on substitutions and ref-permission).
ROCKETS 94, KINGS 84 — 9:54 4th
Oh, so you can dunk Omer Asik.
Asik with a nice flush to cap off a 7-0 run as Houston is the first team to 90 points.
ROCKETS 90, KINGS 84 — 10:45 4th
James Harden has a game high 25 points and scored 10 of them in the third quarter as the Rockets outscored the Kings 33-27 to take a two point lead into the final quarter.
For having a game plan entirely focused on stopping one player, it has only worked marginally well.
Harden finds a way.
ROCKETS 86, KINGS 84 — End of 3rd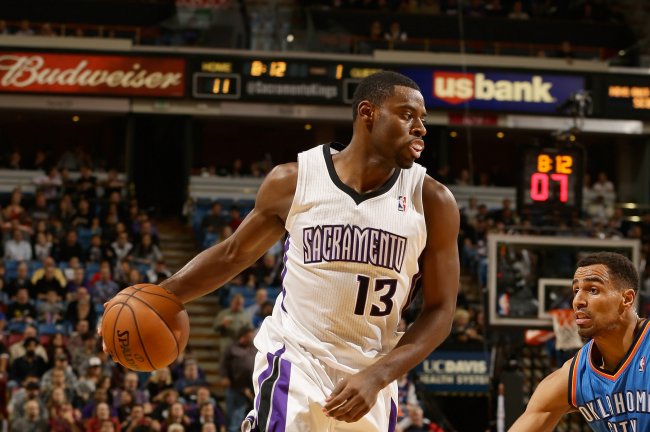 Ezra Shaw/Getty Images
Tyreke Evans just poorly executed a fast break after getting a steal. He pushed the ball himself and ignored two Kings teammates ahead of him on the break (one of which was Jimmer Fredette wide open cutting hard to the basket) before finally charging over Patrick Beverley.
Steal: opportunity. Greed: Turnover.
Simple enough?
ROCKETS 81, KINGS —Under 1 Minute 3rd Quarter
The Kings have only been out-scored 9-6 since DeMarcus Cousins checked out, but the quality of the shots they've been getting has decreased. It's just been some cardinal errors by Houston (see: giving up four second chance shots) that has been responsible for the Kings staying in this game.
ROCKETS 79, KINGS 76 — 2:35 3rd
The Kings just got three second chance shots to cut the Rockets lead to two points, 78-76. Jimmer Fredette missed a running tear drop jumper and Thomas Robinson missed back-to-back putbacks, before Chuck Hayes tipped home Robinson's second miss.
Kevin McHale can't be happy about that sequence.
ROCKETS 78, KINGS 76 — 2:51 3rd
DeMarcus Cousins just picked up his fourth foul. He's obviously got to come out of the game, but it seems almost worth leaving him in when up just two points in the mid-third, given the fact he's generated so much of the Sacramento offense tonight.
Expect a Rockets run coming with Chuck Hayes replacing Cousins in the lineup.
ROCKETS 70, KINGS 70 — 6:30 3rd
After beginning the game 2-of-6, John Salmons has buried both his last field goal attempts—both threes—and has 10 points.
KINGS 70, ROCKETS 65 — 7:00 3rd
This article is
What is the duplicate article?
Why is this article offensive?
Where is this article plagiarized from?
Why is this article poorly edited?