WWE Elimination Chamber 2013: Ranking the 13 Coolest Moments in Chamber Matches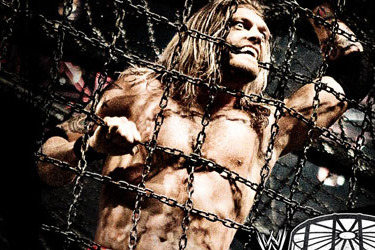 Credit: WWE
Since its inception in 2002, the Elimination Chamber has churned out some of WWE's most thrilling, most surprising and downright coolest moments.
The Chamber has sparked both barbarity and creativity.
A ring surrounded by steel and Plexiglas pods has become the canvas for the daredevil artists of the company. High-flyers, powerhouses and the opportunistic have been the stars of the match.
Men like Shawn Michaels, Edge, Goldberg and John Morrison have forced themselves into fans' memories with events worth re-watching several times over. Rey Mysterio, Daniel Bryan, Mark Henry and Randy Orton will have a chance to add to this list on Feb. 17 as they vie for a shot at the World Heavyweight title.
Ranked on how much they surprised and excited fans, how much they've stuck in fans' brains, here are the Elimination Chamber's coolest moments.
Begin Slideshow

»
Elimination Chamber 2011
Wade Barrett found himself caught in the jaws of a lion with nowhere to go.
Big Show had caught him just outside the ring ropes, his massive hand wrapping around Barrett's throat. Big Show then vaulted Barrett backward. The Chamber pod broke from the impact.
The sound of flesh on Plexiglas and the joy of seeing Big Show's destructive power made this a stunning moment.
Things did not get better for Barrett, as Big Show eventually knocked him out with a right hand to eliminate him.
No Way Out 2008
It looked like MVP was going to leap from the top of the pod and create a memorable moment via some high-flying move. The Undertaker caught him by the neck and turned that potential moment upside-down.
MVP did become part of the Chamber's history, but as a victim.
Undertaker's chokeslam turned out to be more of a toss than a slam, but it was plenty effective. MVP crashed to the mat. Finlay took advantage, pinning and eliminating MVP.
The Undertaker rode the momentum of that move to a win.
Elimination Chamber 2012
Santino Marella's moment didn't include the pods, the steel or any of the chamber's violent offerings. His moment came through the joy of surprise.
Santino nearly became the biggest underdog to win a major WWE title in company history.
Wade Barrett, Cody Rhodes, Big Show and The Great Khali had all been eliminated. Only Daniel Bryan stood between WWE's resident comic relief character from becoming World Heavyweight champ.
He hit his finisher on Bryan and the fans in the Bradley Center held their collective breath. Bryan kicked out after two.
Venturing so close to Santino pulling off the impossible got the biggest reaction of the night and will forever be remembered as one of the most entertaining moments in Chamber history.
New Year's Revolution 2005
Chris Benoit impressed WWE fans many a time by delivering his diving headbutt from places both dangerous and unexpected.
In a match for the vacant World Heavyweight title, Benoit went all out in order to win.
Blood smeared across his forehead, he dove from the top of a Chamber pod, crashing into Triple H's torso. The move sent Triple H into an epileptic fit.
Despite the impact of Benoit's skull, Triple H went on to win while Benoit suffered an elimination courtesy of Batista.


No Way Out 2008
You'd expect a man like Jeff Hardy, who has built his legacy on daredevil moves and fearlessness, to be among the men willing to leap off the Chamber pod.
Hardy dove gracefully from the pod onto Umaga's fallen body. Few men have ever made soaring look so good.
Triple H had just pedigreed Umaga. Hardy followed up with his swanton bomb. Chris Jericho slipped in for the pin.
With Hardy signing a long-term contract with TNA, it appears unlikely that WWE fans will see him attempt to top this moment any time soon.
Elimination Chamber 2010
The Chamber is sold to fans as WWE's most dangerous match, a match that destroys bodies and alters careers.
Randy Orton did his best to evoke that feeling when he sent Sheamus' head crashing into the steel with a DDT on the grating.
Orton hurt his own back in the process, proving how far the competitors are willing to go to win. He writhed in pain as Sheamus lied limp beside him. CM Punk looked on with a devilish grin from the safety of his pod.
Elimination Chamber 2011
Add Rey Mysterio to the list of men gutsy enough to launch themselves from the top of a Chamber pod.
In 2011, Mysterio attempted to make up for his size disadvantage against giants Kane and Big Show by using the power of flight. He stood on the pod awaiting the perfect opportunity.
Mysterio flew at Big Show, landing on the big man's chest.
It wasn't enough to eliminate Big Show, though. Eventual winner Edge speared Mysterio to expel him from the match.
Mysterio's bird impersonation still stands out as one of the match's funnest moments.
Elimination Chamber 2011
John Morrison achieved a height in the Chamber that no man had achieved.
Going beyond the pod, Morrison climbed up the chains above him until he hung from the structure's ceiling like a monkey. He dropped down directly onto Sheamus, gaining a pinfall in the process.
Morrison gets points for pushing the boundaries of what fans thought capable in that match. The moment loses a tinge of coolness, though, with how long Sheamus looked up, waiting for Morrison to fall.
It was as if Sheamus was in an old horror movie, more focused on screaming at the incoming monster than escaping it.
Morrison only managed to last about seven minutes beyond this moment, but he remains the match's star.
New Year's Revolution 2006
One of the Elimination Chamber's biggest, most historic moments occurred after the Chamber match itself.
John Cena had just battled Chris Masters, Kane, Kurt Angle, Carlito and Shawn Michaels inside the brutal structure. Cena wobbled in the ring, his head a bloody mess.
This is when Edge swooped in, Money in the Bank briefcase in hand.
The first-ever Mr. Money in the Bank became the first-ever man to cash in his contract. Edge looked brilliant attacking a weakened Cena to capture the WWE title.
A moment that is now expected and par for the course was enthralling the first time around.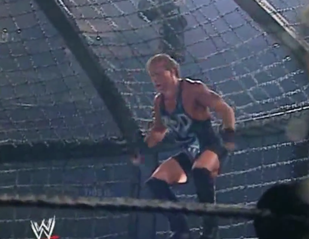 Screenshot of Survivor Series 2002 (Credit: WWE)
Survivor Series 2002
Rob Van Dam's leap from the Chamber pod set the bar high for future high-flyers.
His five-star frog splash occurred in the first-ever Elimination Chamber match. Fans didn't know what to expect in this structure. Certainly, fans could envision violence and creative spots, but who would have imagined Van Dam flying from that height?
Van Dam did get pinned soon after executing the move on Triple H, but he made history as the first man to use the pod as a launch pad.
He became the first show-stealer in the match's history.
SummerSlam 2003
Chris Jericho stood dazed in front of an empty pod. Goldberg stalked him from behind, a rhino ready to charge.
The thrill of seeing Goldberg impale Jericho through the Plexiglas made that moment the highlight of the match. Fans saw the pods used in a new way, a new addition to the carnage.
Goldberg's spear remains a clip fans can watch over and over again. Wrestlers have crashed through the pod since, but none have done so with as much power as Goldberg.
Had Triple H not gotten his hands on a sledgehammer, Goldberg may have ridden that momentum to a win.
Elimination Chamber 2010
Only The Undertaker and Chris Jericho remained in this Chamber match for the World Heavyweight title, or so it seemed.
Shawn Michaels, driven by obsession, waited under the steel for a chance to strike. He crawled out from under the Chamber and knocked Undertaker in the mouth with Sweet Chin Music.
Jericho became the benefactor of the blow. He pinned the fallen big man for the win.
Costing Undertaker his championship led to Michaels getting his desired rematch at WrestleMania 26. With this moment, WWE found a way to shock fans, to have their jaws drop in unison.
No Way Out 2009
The Ultimate Opportunist struck again inside the Elimination Chamber.
Earlier in the night, Edge lost his WWE title to Triple H inside the Chamber. He refused to let his night end on such a downward swing. He attacked Kofi Kingston to steal his spot in the World Heavyweight title Chamber match.
The viciousness of Edge's attack, the shocking nature of the moment and having it lead to Edge winning all combine to make this one of the Chamber's most compelling incidents.
Regardless of who duplicates Edge's actions, he'll always be the first to have hijacked a spot in the Chamber.
Survivor Series 2002
WWE may never top its first attempt at thrilling fans via the Elimination Chamber.
The first version of the match was powered by the triumphant return of Shawn Michaels from his long absence.
Just having Michaels back in a WWE ring was a welcomed sight. Seeing him outlast Rob Van Dam, Kane, Booker T, Chris Jericho and finally Triple H was a stirring bit of theater.
The exciting match came down to two long-time rivals and allies, Triple H and Michaels. Their encounter alone was top-notch entertainment, but having it cap off an explosive debut of the Chamber made it one of WWE's biggest successes.
After dropping an elbow on Triple H from the pod and kicking him in the mouth, a bloodied Michaels stood in the Chamber, title in hand, as confetti rained down on him.