Denver Nuggets vs. Boston Celtics: Postgame Grades and Analysis for Boston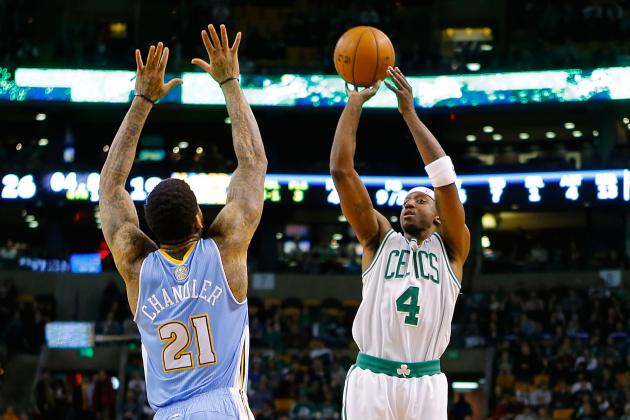 Jared Wickerham/Getty Images

The Boston Celtics continued on their winning way, beating the Denver Nuggets, 118-114, in a hard-fought, triple-overtime affair between two of the hottest teams in the NBA.
Boston came into this one having won six games in a row after watching Rajon Rondo and Jared Sullinger both disappear for the rest of the season with injuries, while the Nuggets had won nine in a row.
It was truly the story of an immovable object meeting an unstoppable force, as the Nuggets had averaged 114 points over the course of their nine wins, and Boston had given up just 92 points per game over its six wins.
Each team alternatively forced their style of play throughout, but it was more of a Celtics-style game than anything with both teams knotted at 92 points going into overtime.
In the end, I suppose you could say that both teams achieved their average, as the Celtics did hold Denver to 92 points in regulation, but Denver also ended up scoring 114 points by the end of the game.
Boston exhibited quite a few impressive feats throughout the game, continuing to persevere despite the fact that guys like Chris Wilcox and Leandro Barbosa would have to play big minutes throughout the course of the game.
In the end, it was a surprisingly fun game that ended up with the Celtics coming out victorious in overtime.
Begin Slideshow

»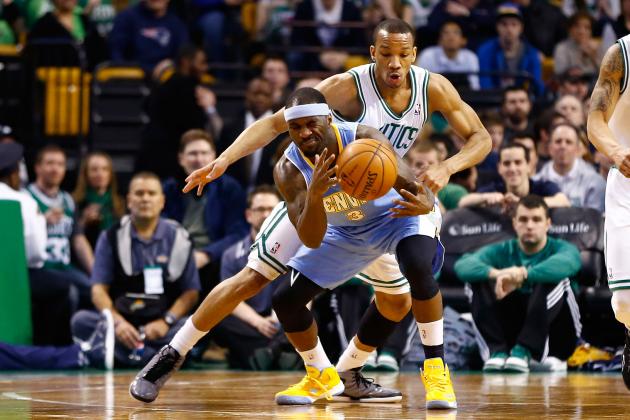 Jared Wickerham/Getty Images

Stat Line: 13 points, 5 rebounds, 4 assists, 3 steals, 1 block, 6-of-12 shooting
Avery Bradley had a bit of an upside-down game, one in which his offense was at the forefront, and he had a bit of a rough time on defense.
For the first three quarters, he was mostly given the duty of keeping up with Ty Lawson, something that very few people in the NBA could even fathom. Lawson had 19 points through those first three quarters.
The fourth quarter came and Bradley had a huge quarter. Lawson was unable to get around him, and once he gave up the ball, Bradley played ball-denial for the remainder of the possession.
Lawson ended up with just four points in the quarter, turned the ball over once and had just two assists.
Plus he was able to hit an enormous three-pointer down the stretch that pushed the Celtics lead to eight points and let them get back to playing confident ball on offense.
Little did we know that there was still 20 minutes of basketball yet to be played in this one.
He continued his solid defense on Lawson in overtime, who did end up with 29 points and nine assists. However, after he had 19 points and seven dimes through three, that seems like a huge victory.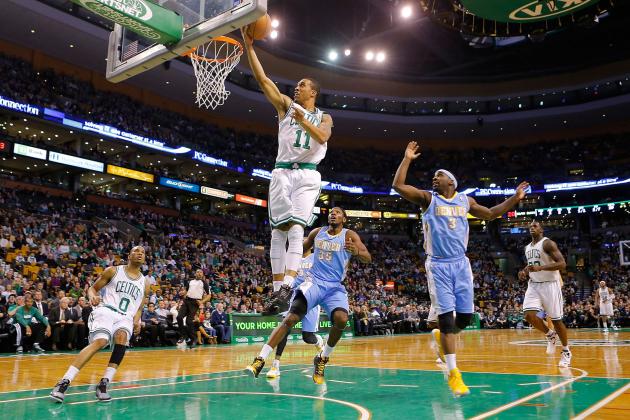 Jared Wickerham/Getty Images

Stat Line: 2 points, 1 rebound, 3 assists, 2 steals, 1-of-5 shooting
The Boston Celtics have a bit of an advantage that wasn't really foreseen after the injury that knocked Rajon Rondo out for the season. They've got quite a bit of depth at the guard spot.
With Avery Bradley back in the lineup, they can easily run a defense-specific lineup starring Bradley and Courtney Lee, an offense-heavy bunch with Jason Terry and Leandro Barbosa, or they can just mix and match along the way.
What seems to be the theme is testing the waters with Lee's jumper early on, and if he's not feeling it, he doesn't play as much as if he was.
Tonight was one of those nights where the shots didn't fall smoothly, and he ended up watching from the bench a bit more as Terry went off from the three-point line.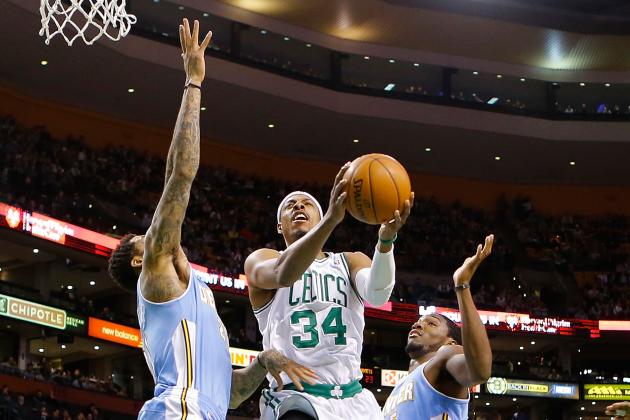 Jared Wickerham/Getty Images

Stat Line: 27 points, 14 rebounds, 14 assists, 7-20 shooting, 5-of-9 three-pointers
I'm not going to start harkening back to the old days with Paul Pierce and start claiming that he's found the temporary fountain of youth, but he's yet again in control of the crawling Celtics' offense, and it's starting to look better than it has all season long.
Pierce isn't running the point like he did a few times earlier this season with Rondo out of the lineup, but the offense is flowing through him, of course leading to him landing a triple-double while having a bit of a rough shooting night, missing a free throw that would have tied the game late in the second overtime period.
Of course, he also hit the ridiculous game-tying three-pointer with five seconds to go in the second overtime.
He did shoot poorly, but he was back to driving to the hole, finding contact and getting to the line, which did a nice job of padding his stat line.
With the Celtics offense back under Pierce, it seems as if they're starting to remember who they were. They're a collection of players in a cohesive unit, rather than a bunch of guys fizzing around the nucleous that was Rajon Rondo.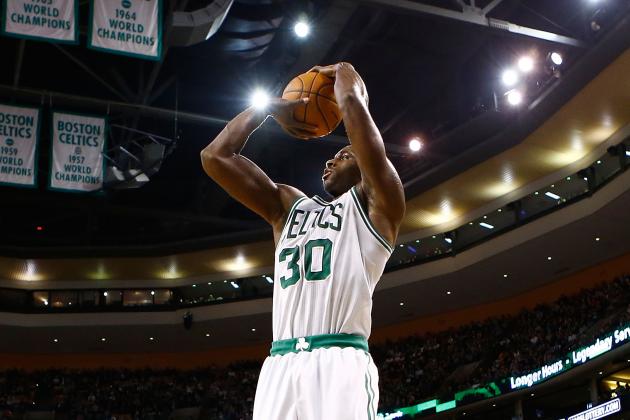 Jared Wickerham/Getty Images

Stat Line: 5 points, 4 rebounds, 3 assists, 2-of-7 shooting
It seems like Brandon Bass has become more useless in the time since the Rondo injury, and it's starting to get to the point where his only use is the stray jump shot and being a big body in the paint.
The Celtics were visibly better playing a smaller lineup of Kevin Garnett and Jeff Green in the post, or just throwing Chris Wilcox in there for a few stretches early in the game.
Whether it's because Bass is slowly being phased out of his role in anticipation of a trade, or just that he's not finding himself as wide open anymore throughout games in the absence of Rondo, he just looks like he's a bit more hapless these days.
A poor shooting night, mixed with just a few rebounds kind of negates what he's able to do in terms of passing out of the post and finding an open three-point shooter.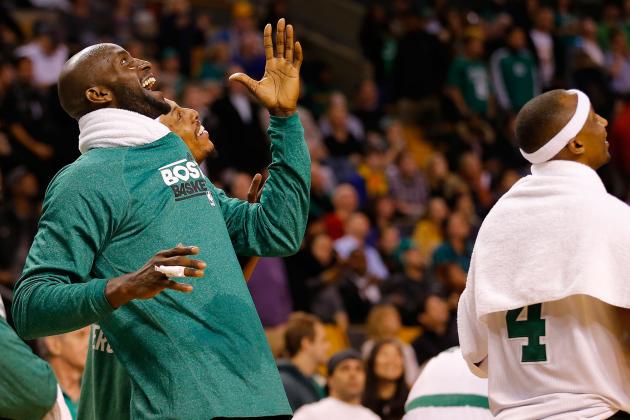 Jared Wickerham/Getty Images

Stat Line: 20 points, 18 rebounds, 6 assists, 2 steals, 3 blocks, 9-of-24 shooting
The Celtics have really needed offense from Kevin Garnett since Rondo went down a few weeks back, but tonight that wasn't the case.
After shooting at least 55 percent from the floor in seven straight games, Garnett came out and had a very flat shooting night.
It was incredibly evident that the length of JaVale McGee, Kenneth Faried and even Kosta Koufos started to give him troubles at time, and even started to frustrate him.
In a classic Garnett manner, however, he turned that frustration into defensive intensity, and absolutely roughed up anybody who dared come into the post with the ball when he was within striking distance. And by striking distance, I literally mean striking distance. He was hitting guys incredibly hard all night long.
The Celtics did give up a ton of points in the paint tonight, and that's the way the Nuggets like to play. However, very few of those paint points came in a one-on-one situation against Garnett, it was usually a cutting Ty Lawson, Andre Iguodala or any of the other long, athletic forwards that Denver has on its roster.
Garnett's shooting actually ended up being the saving grace for the Celtics, as he put down three jumpers in the first three minutes to get Denver playing from behind.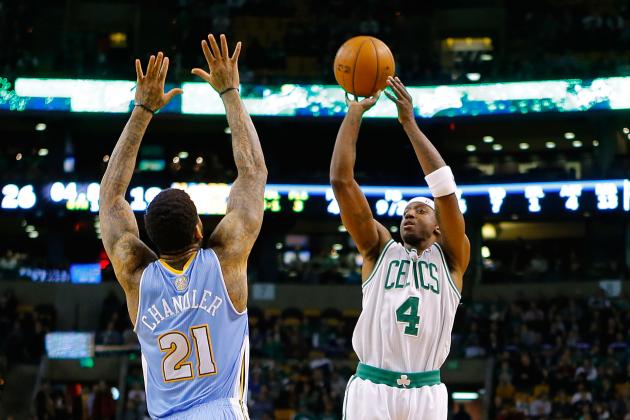 Jared Wickerham/Getty Images

Stat Line: 26 points, 2 rebounds, 1 assist, 3 steals, 10-of-22 shooting
There's not enough to be said about what Jason Terry has done since Rajon Rondo went down with a torn ACL.
Over the course of the Celtics' seven-game winning streak, Terry has had just one game in which he's been ineffective. In every other game, there's an argument to be made that the Celtics might have lost were it not for Terry.
He's scored at least 10 points in seven of his last eight games, which is great for Boston to see after his incredibly inconsistent January.
If Terry keeps shooting well, the Celtics are going to keep winning.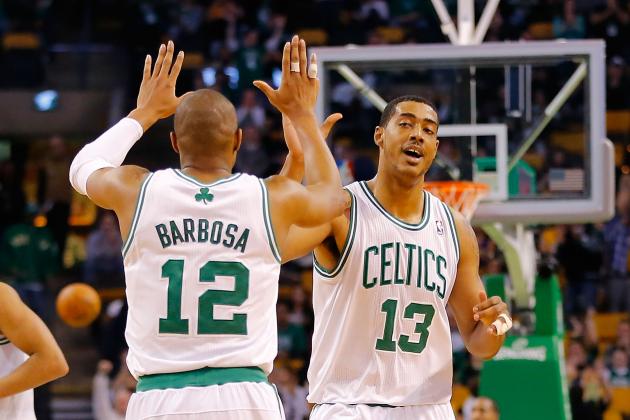 Jared Wickerham/Getty Images

Stat Line: 51 points, 9 rebounds, 4 assists, 7 steals, 4 blocks, 18-of-40 shooting
The Boston Celtics have relied on a bit of an offensive pop from their bench over the past few games, and they got just that tonight.
Aside form Jason Terry's relatively hot shooting night, they got a lot of hustle out of Leandro Barbosa, and a few points here and there from Jeff Green and even a few free throws from the likes of Chris Wilcox.
Wilcox was key on defense alongside Kevin Garnett at times, helping to keep JaVale McGee and the rest of the big dudes that Denver boasts in check early on in the game, which kept them from getting much going later on.
Under the tutelage of Terry, it seems as if the Celtics bench has rallied around the fact that they've suddenly each become more important, and it was another collectively productive evening.