Oregon Football: 5 Freshmen the Ducks Can Build Around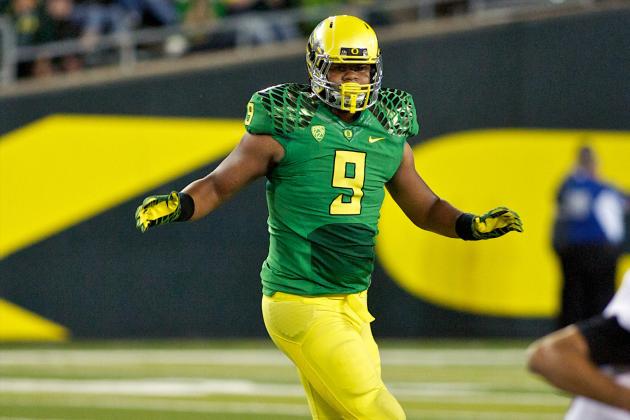 Craig Mitchelldyer/Getty Images
Arik Armstead had a major impact in his freshman season. Who might that be in 2013?
The Oregon football team has developed solid depth at nearly every position, and the team is poised to make another run at the BCS title game in 2013.
Much of the recent success has come from instant-impact freshmen, guys who arrived on campus and began to make plays from Day 1.
Last year, it was Arik Armstead, Bralon Addison, DeForest Buckner and Byron Marshall, among others. The year before it was De'Anthony Thomas lighting up the Autzen scoreboard.
Who might have a similar impact in 2013? For the sake of avoiding semantics, we're including redshirt freshman as well.
Let's take a look at five young players who will have a major impact on next season.
Honorable mentions: WR Chance Allen (RSFr.), WR Darren Carrington, S Reggie Daniels (RSFr.), ATH Danny Mattingly. All four players are talented and could be major contributors someday, potentially next season.
Begin Slideshow

»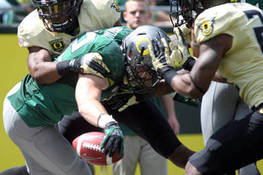 TE Evan Baylis played in the 2012 spring game, but used his redshirt during the season.
This pick may appear to be coming out of left field, but I think TE Evan Baylis has a chance to become a major player for the Ducks next season.
Start with his size, because he's listed at 6'6", 244 pounds, which gives him a frame similar to Rob Gronkowski, albeit a little lighter. His 40 time was clocked at 4.7 in high school, which is also right around Gronk's time.
But enough about his measurables, because he also played well in last year's spring game, catching two passes for 27 yards. He showed impressive strength and speed, and many thought he would receive plenty of action during the season.
But for whatever reason, the Centennial, Colo., native took a redshirt year. Despite losing out on game experience, Baylis now has a year in the system as well as a year in the weight room.
The Ducks have plenty of depth at tight end with Colt Lyerla and Pharaoh Brown, but don't be surprised to see Baylis on the field soon. With Helfrich potentially adding more pages to the passing playbook, Baylis is the perfect candidate to have a breakout season in 2013.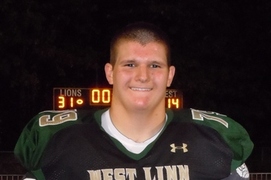 Evan Voeller via 247sports
One of the top prospects in Oregon's 2013 class, Evan Voeller has a chance to make an instant impact along the Ducks offensive line.
He has the size at 6'5", 263 pounds to fit right in as a guard, but it's his athleticism that truly makes him a great fit with the Ducks. Given Oregon's running style, offensive lineman need to be adept at both pass-blocking and run-blocking, which often means getting downfield to make second-level blocks.
Oregon has three legitimate NFL prospects in Hroniss Grasu, Tyler Johnstone and Jake Fisher already entrenched at their positions on the line. But despite projections showing guys like Ryan Clanton and Hamani Stevens at the guard positions, I think Voeller will get plenty of run early on.
It's great to have depth, too, because rarely does a season go by without a few bumps and bruises along the offensive line. Voeller needs to be ready when his name is called.
It's not often that an offensive lineman makes an impact as a freshman, but Voeller will be an exception.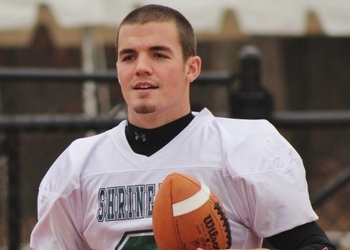 Matt Wogan via 247sports
If there's one player receiving an unusual amount of interest from Duck fans, it's kicker Matt Wogan.
Not often does a kicker have so much hype coming into college, but Wogan fills perhaps the Ducks' biggest need on the entire team.
Incumbent Alejandro Maldonado's struggles are well-documented, and there's a chance the Ducks are coming off three straight BCS title appearances if it weren't for several ill-timed misses.
Wogan has a big leg, but if nothing else, fans want to see accuracy, even if that's from 40 yards out. Oregon also struggled in kick coverage late in the season, and part of that was due to consistently short kickoffs.
While the kicking game won't ever define the Ducks offense, having a reliable kicker who can make the majority of field goals inside 45 yards will greatly benefit the Ducks, and Wogan can provide just that.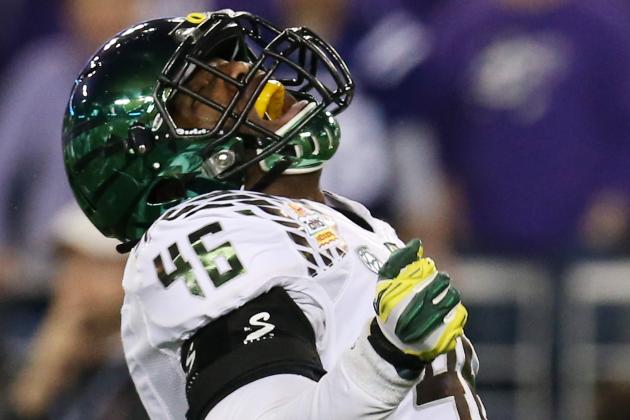 Stephen Dunn/Getty Images
Joe Walker should help replace the departed Michael Clay.
Joe Walker is another under-the-radar recruit who should make an impact next season.
As a junior college transfer who arrived on campus in January, Walker should be a little more game-ready than other recruits who haven't played at a higher level than high school.
At his signing day press conference, head coach Mark Helfrich said of Joe Walker, "He came in fantastic shape and has done a great job. He knows he has a chance to play."
That sounds to me like someone who will greatly help out a position of need. The Ducks have plenty of talent at LB, but it's largely unproven after Boseko Lokombo and Tyson Coleman.
At 6'3", 230 pounds, Walker should give the Ducks the size and range they look for in their defensive athletes, and he may end up as a starter before season's end.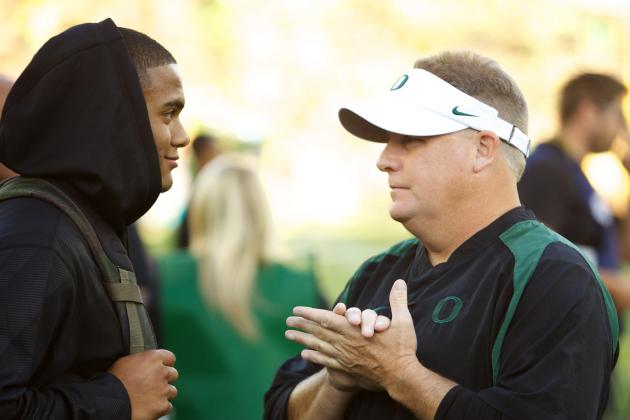 Craig Mitchelldyer/Getty Images
RB Thomas Tyner kept his commitment to the Ducks after Kelly left.
Running back Thomas Tyner may have to win six Heisman Trophies to fulfill expectations Ducks fans have for him.
The 6'0", 205-pound back from Aloha, Oregon, is the complete package. He has the size and speed to become an elite back almost immediately. The odds of him playing next season are, well, they don't exist because he IS going to the see the field, barring disaster.
Count me among the group that still wants to see him play against college competition and isn't quite ready to put him atop the depth chart.
But his talent is undeniable. His speed alone would garner attention from the Ducks, even if he were 5'8".
While I think Tyner will still fight for carries behind Byron Marshall, he will undoubtedly have an impact next season. I shudder at how loud the roar from Autzen will be the first time he breaks one.
Whether you expect him to run for 500 or 1,500 next year, there are so many reasons to be excited. Tyner is the real deal, and it should show the moment Nicholls State steps into Autzen next August.