Ranking the Most Creative Fantasy Baseball Team Name Ideas from Around the Web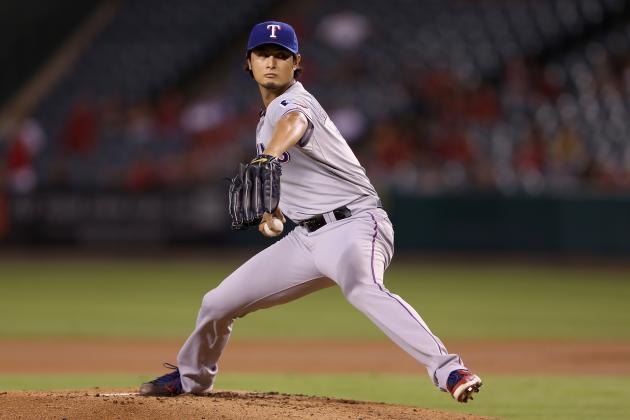 Jeff Gross/Getty Images
Yu Darvish's name lends itself to puns.
To paraphrase William Shakespeare, a fantasy baseball team by any other name smells much worse than a squad with an awesome one.
That's how it goes, right? You know Shakespeare and his unmatched love for rotisserie leagues.
While it's probably too early in the game to make important decisions such as what shortstop to take or will this be the year that Colby Rasmus breaks out (why must you toy with my heart like it's some insignificant plaything?), it is time to name your team.
Sure, some owners like to keep it simple and stick with the same label. I branded my main club as "The Amazins" seven years ago and haven't changed it since.
But that can get boring.
While scouring the Internet for funny team names it's apparent that everyone fixates on incorporating a specific player's name into a pun. Many are also unfit to print, but that's another story.
This route might not be for you. Maybe you want to pay tribute to an interest outside of baseball. I've embraced my love for TV comedies by naming some of my past teams "Mr. Manager," "The Darkest Timeline," "Duke Silver Trio" and most recently "Troy and Abed in the Roto."
With the help of FantasyTeamNames.net and BuzzFeed, here are some gems to consider if you prefer to keep it baseball related.
Begin Slideshow

»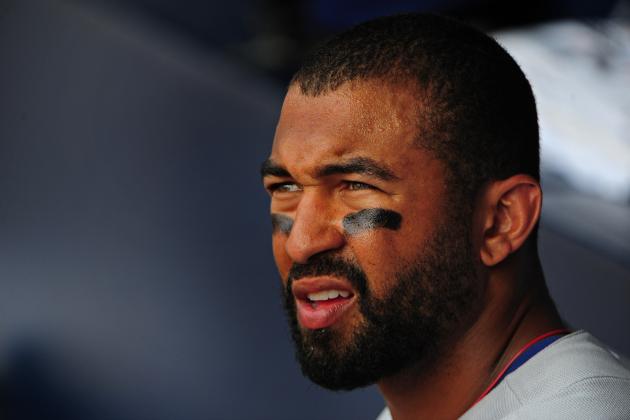 Scott Cunningham/Getty Images
This one time, at band Kemp, I injured my hamstring and missed part of the 2012 season.
This One Time at Band Kemp - If only Matt Kemp played a decade ago when American Pie was topical. Watching adults partake in those sophomoric shenanigans in American Reunion just felt wrong.
FIP to be Square - For my fellow stat nerds out there, here's a way to show off your love for Sabermetrics.
Jeters Never Prosper - Derek Jeter's bank account tells a different story, but Jeter rhymes with cheater, so...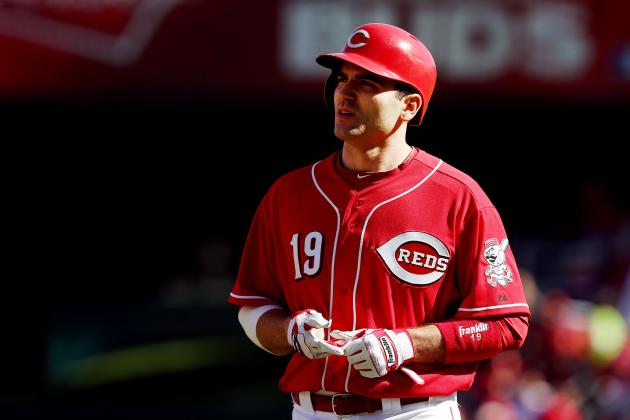 Jonathan Daniel/Getty Images
Hopefully an injury doesn't rob Joey Votto of his power again.
On one hand, owners can potentially honor their team's star player with this name. Then again, those who pick at the bottom of the first round might not receive the opportunity to draft Joey Votto.
And it's already been done. Neither Votto nor Grand Theft Auto is a new commodity.
Perhaps most concerning is the name's support of violence, which may not fly in all fantasy baseball leagues. How do your teammates know that you won't steal someone's computer and force him or her to trade Justin Verlander for Kyle Kendrick?
And why does that person even have Kyle Kendrick on his team in the first place? This situation sure seems fishy.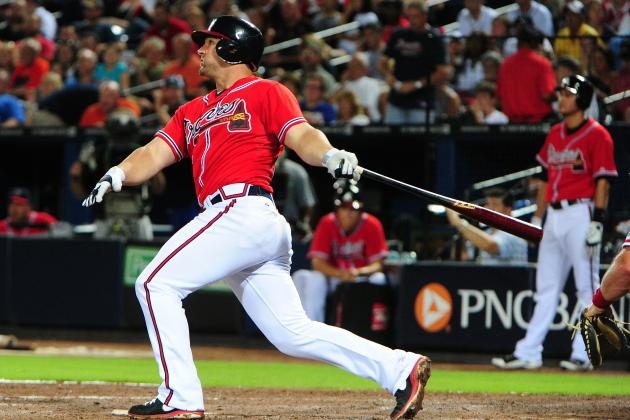 Scott Cunningham/Getty Images
Does this mean Dan Uggla will start talking to empty chairs?
Many team name compilations replace Uggla with Utley for this title, but Uggla keeps the original title in tact after his brutal 2012 campaign.
The concept of playing off the popular film starring Clint Eastwood is nothing new, but it bears a great deal of truth after the second baseman hit .220 with a career-low 19 home runs last season.
It's possible the super-streaky Uggla could force owners to reconsider this name during the season. He hit the same percentage of fly balls as in 2009, when he sent 31 balls over the fence.
His propensity to strikeouts makes the average a worry that will not go away, but the power should bounce back.
Ha, you were tricked into some analysis. Take that!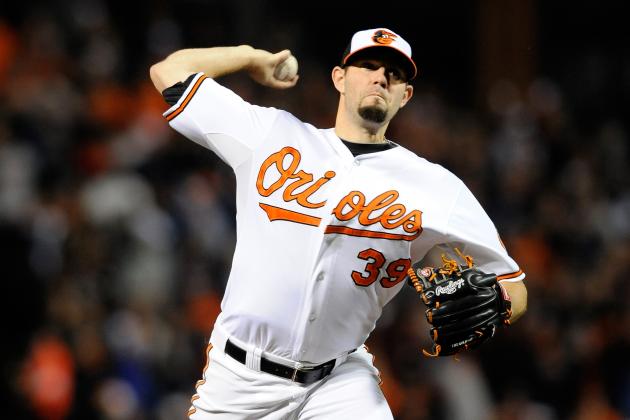 Patrick McDermott/Getty Images
Jason Hammel looks just like M.C. Hammer.
Few other team names can touch this.
Although the 30-year-old pitched well last season, this is probably the closest Jason Hammel will come to remaining relevant in a standard mixed league.
As a result, some prefer to drop an M to pay tribute to Cole Hamels. While he's the far superior pitcher, you then must insert an S at the end to maintain its accuracy. And HamelsTime sounds weird.
Sorry, but there are no shortcuts when naming fantasy teams.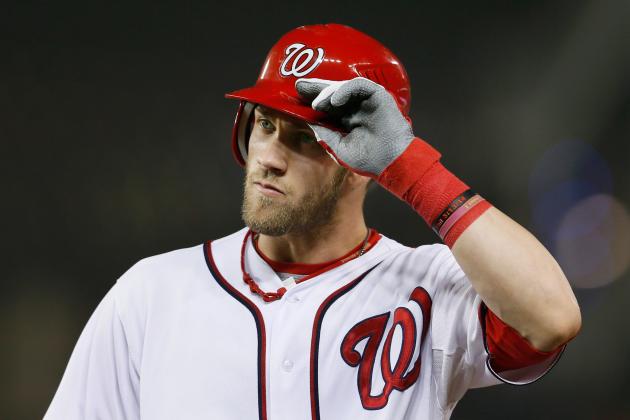 Rob Carr/Getty Images
That's a clown team name, bro.
Need more outdated hip-hop references?
Channel your inner Vanilla Ice while honoring a budding young stud who certainly won't be a one-hit wonder.
This also ensures that Bryce Harper does not close in on David Wright's territory by replacing "The Price is Wright" with "The Bryce is Right."
Maybe nobody else is looking for subtext in a fantasy baseball team name, but this works on two levels since Harper is still a baby at 20 years old.
If you're not a fan of this, there's probably some way to play off "that's a clown question, bro."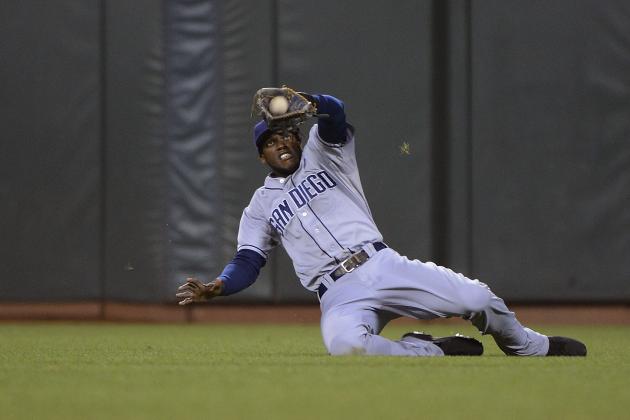 Thearon W. Henderson/Getty Images
Sorry about forever associating you with a cheesy pop song.
Hey, I just met you, and this crazy. But I need some stolen bases, so draft me maybe?
If the world was a just and fair place, Carly Rae Jepsen's annoyingly catchy hit would officially disappear from the face of the earth by the end of the 2013 season.
But it has not vanished yet, so I'm not too hopeful.
Should we really be the only poor souls subjected to the torture of having "Call Me Maybe" stuck in our head? Setting this as your team name will force that fate upon your competition, hopefully distracting them during the draft.
They'll hate it so bad. They'll hate it so, so bad.
And for what it's worth, Cameron Maybin is a solid late source of steals.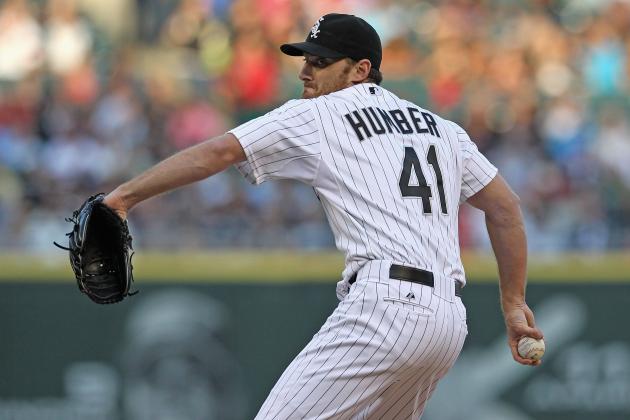 Jonathan Daniel/Getty Images
The odds of living up to that perfect game are forever out of his favor.
You can really commit to The Hunger Games satire by turning your draft venue into a battle arena, with the last survivor receiving the trophy.
Or imagine that you're killing off pitchers after days of setting their bullpens on fire, when really you just wanted to stream another guy for the week.
While Philip Humber is not particularly a hot name in baseball, the dude pitched a perfect game last year. So he deserves some love, right?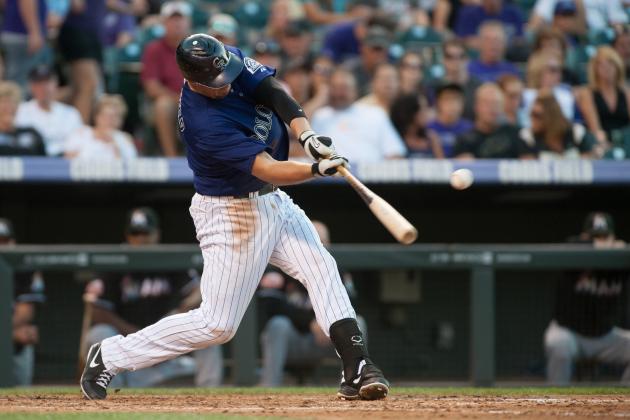 Dustin Bradford/Getty Images
Hey, Stella, you should consider drafting Michael Cuddyer in the later rounds.
Some say that fantasy baseball is no place to reference old Tennessee Williams plays.
To heck with them. Spruce up your league by sharing your cultural savvy.
Wait, you haven't seen the 1940's play? Well there's a movie with Marlon Brando, which contains some uncomfortable scenes and a rather depressing plot.
But speaking of contrived segues, Michael Cuddyer's fantasy outlook, on the contrary, does not look all that bleak heading into 2013.
He enjoyed Coors Field's friendly confines but played just 101 games last season. If the 33-year-old can stay healthy, a 20 and 10 campaign is well in his reach.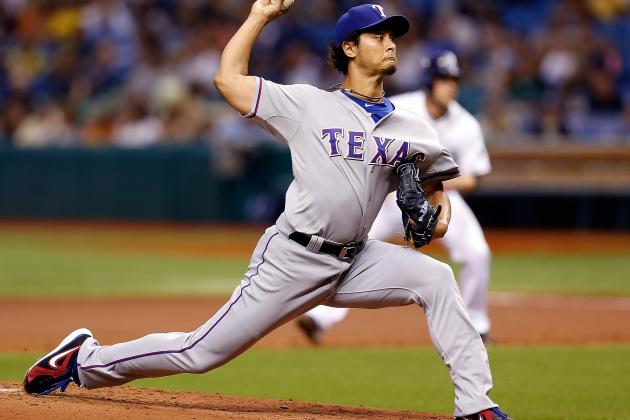 J. Meric/Getty Images
Drafting Darvish would certainly not be a huge mistake
Yu Darvish's name is a goldmine for puns.
"What Yu Talking About" takes the early lead as the most frequently touted one, but embrace the challenge of unlocking a more unconventional use of Darvish's easy first name.
This name's inclusion results more of a love for Arrested Development than any actual cleverness. It actually reads a little awkwardly, and you might want to alter the punctuation to YU-ge to hammer down the play on words.
But if there's a chance to name your team in Gob Bluth's honor while keeping it topical, how do you not pounce on the opportunity?
Unless you're a chicken. Cucka cucka caw.
Still not sold? Come on!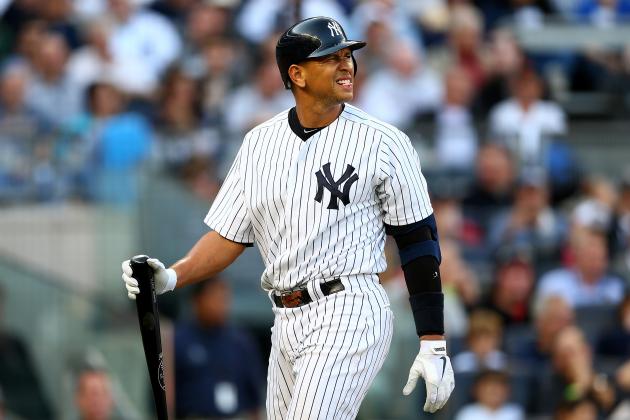 Elsa/Getty Images
And to think, Alex Rodriguez was so popular before this scandal.
At least some good came from the report that linked several notable MLB stars to an anti-aging clinic in Florida that supposedly supplied human growth hormone and testosterone.
A sport recovering from a shadowy past now is in danger of suffering another black eye, but at least you got a cool name for your fantasy baseball team.
Timeliness plays a huge role here. Any of these other names could have been implemented last year, but this incorporates a recent story.
But the question is, does an owner who sports this name have to avoid all players from the report, or fill the roster with only guys linked to the Biogenesis lab?
And if you like the book part as well as nodding to an existing thing concerning religion, try the "The Book of Moreland" on for size.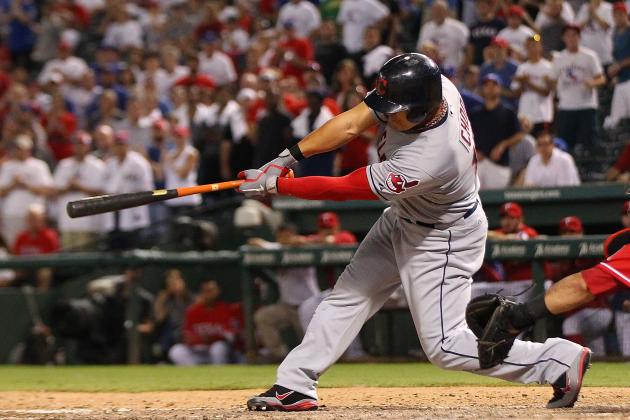 Rick Yeatts/Getty Images
You Shin-Soo Choose ME?
With Valentine's Day around the corner, let's pay homage to the hands-down best greeting card in the history of mankind.
It's hard to pinpoint a top episode of The Simpsons with over two decades of material to choose from, but "I Love Lisa" remains a classic.
And the main reason for that? Ralph Wiggum's undying love for a Valentine's Day card Lisa Simpson gives him out of pity that reads "I choo-choo choose you."
If you haven't located and purchased three-dozen of those cards to shell out to every boy/girl in your office or school, what are you waiting for?
Just to add to this name's awesomeness, drafters really ought to choose Shin-Soo Choo this season. He should thrive moving to an offense and stadium in Cincinnati that are each much better than what was offered to him in Cleveland.