NFL Players We Never Want to See out of Uniform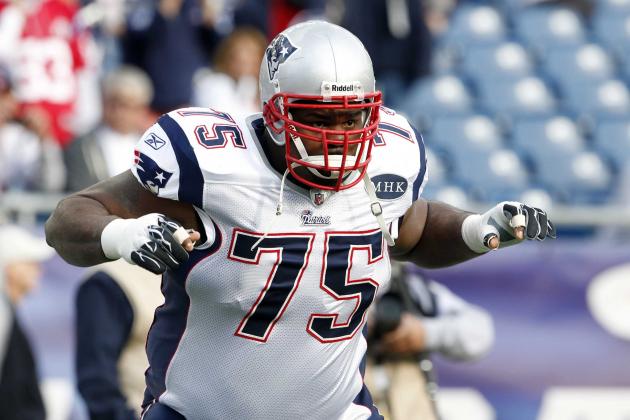 David Butler II-USA TODAY Sports
Vince Wilfork is one of the most dominant NFL players, but not one we want to see without a uniform.
The NFL is home to some of the world's greatest athletes, but it unfortunately also has some of the ugliest and out-of-shape players in professional sports.
There are certain players we love to watch, but simply never want to see them without a uniform. Some players, such as New York Jets quarterback Mark Sanchez, are fancy enough to grace the covers of magazines.
Then there are the big men who reside in the trenches of the NFL, or the just plain ugly who would never be considered for a photo shoot—and they shouldn't.
Let's take a look at NFL players we never want to see out of uniform.
Begin Slideshow

»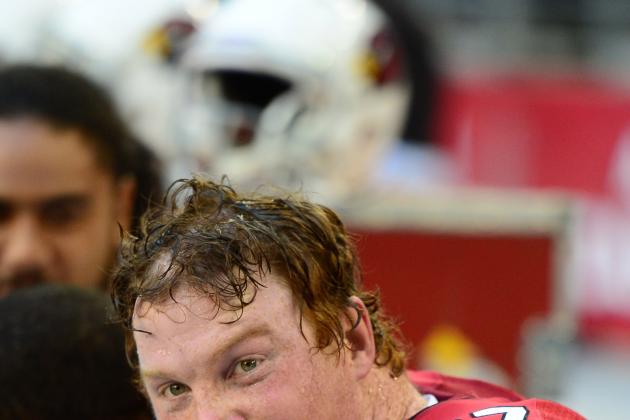 Mark J. Rebilas-USA TODAY Sports
Pat McQuistan is not the most photogenetic player in the NFL.
Pat McQuistan was a seventh round pick in the 2006 NFL draft after being scooped up by the Dallas Cowboys.
Now with the Arizona Cardinals, his looks have not exactly aged with time.
McQuistan is nothing more than a journeyman guard who now plays a depth role with the Cardinals. He has a massive frame at 6'6" and 320 pounds, but was not blessed with the good looks that go along with such great measurements.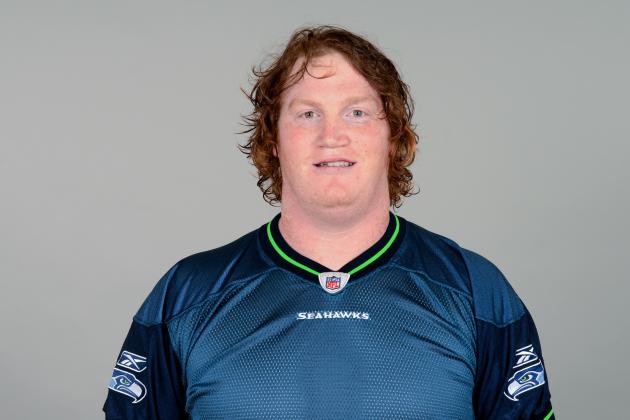 Handout/Getty Images
Paul McQuistan's looks are only rivaled by his twin brother, Pat.
Unlike his twin brother Pat, Paul McQuistan plays a starting role at right guard for the Seattle Seahawks. He was drafted in the third round of the 2006 NFL draft by the Oakland Raiders before bouncing around with several teams and then landing in Seattle.
Like his brother Pat, Paul is not the most handsome NFL player despite weighing in at 6'6" and 320 pounds. Also like his brother, Paul is not very good—he came it as the No. 57 overall guard in 2012 according to ProFootballFocus.
The McQuistan twins are a unique story as both play at the NFL level. Paul happens to be the better player, but that is not saying much. As all twins do, both are cursed to share each other's less-desirable traits.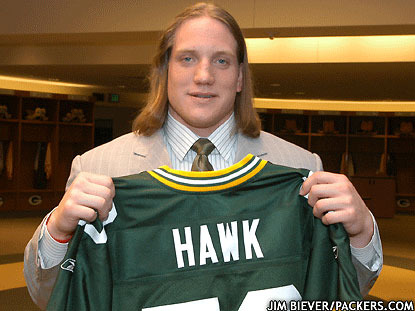 A.J. Hawk may have lost the locks, but is has not changed much. Photo: Jim Biever
A.J. Hawk will always be known for his long hair that once flowed out of the back of his helmet in a similar fashion to teammate Clay Matthews.
The Green Bay Packers inside linebacker cut the hair recently, but it has not helped much.
Regardless of his looks, Hawk is one of the best inside linebackers in the game today. He racked up 120 tackles and three sacks in 2012 and was one of the top 20 players at his position according to ProFootballFocus.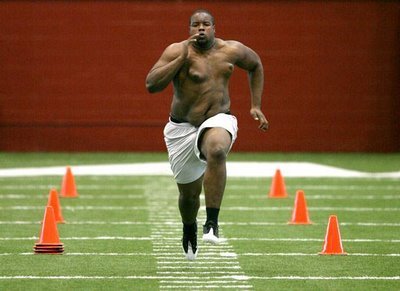 Andre Smith took off his uniform in an event we will never forget. Photo: The News Tribune.
Cincinnati Bengals' Andre Smith completely ignored our desire to never see him out of uniform when he ran a 40 yard dash without a shirt leading up to the 2009 NFL draft.
Smith is a man who has been plagued with weight issues over the course of his football career, but now weighs in around 340 pounds—a number considered light for him.
It just so happens that Smith is one of the most talented players on this list, having been named the best right tackle in the NFL last year courtesy of ProFootballFoucus' rankings.
Smith also qualifies as one of the dumbest players on the list, having recently been arrested for bringing a gun to an airport (NFL.com).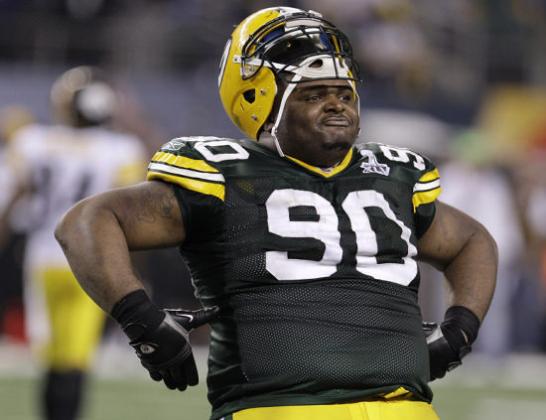 B.J. Raji would need the largest title belt in history. Photo: Ajc.com
B.J. Raji joined the Green Bay Packers in the first round of the 2009 NFL draft and has developed into one of the better 3-4 defensive ends in the league according to ProFootballFocus.
Raji recorded just 26 tackles in 2012, but was a game-altering presence when on the field for the Packers.
Off the field, the 6'2", 340-pound monster leaves much to be desired in the way of looks. Raji is your typical big man in the NFL trenches, and is more athletic than he appears.
That does not mean we need to see anything other than his uniform attire on game day.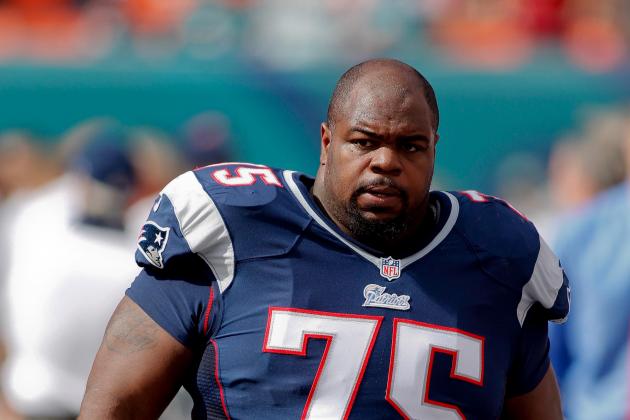 Robert Mayer-USA TODAY Sports
Vince Wilfork is exceptionally athletic for his size, but that doesn't mean he is allowed to take his uniform off.
New England Patriots' defensive tackle Vince Wilfork is one of the best at what he does. As the nose tackle and anchor of the New England defense, Wilfork stuffs the run and puts pressure on quarterbacks with ease.
Wilfork combines a freakish amount of athleticism with his 6'2", 330-pound frame to excel as one of the NFL's best—despite being 31 years old.
That same frame means he is one player we never want to see out of his uniform.
Wilfork was exceptional in 2012 with 48 tackles, three sacks and two forced fumbles and displayed no signs of slowing down moving forward.
Here's to hoping he stays productive on the field and clothed off of it.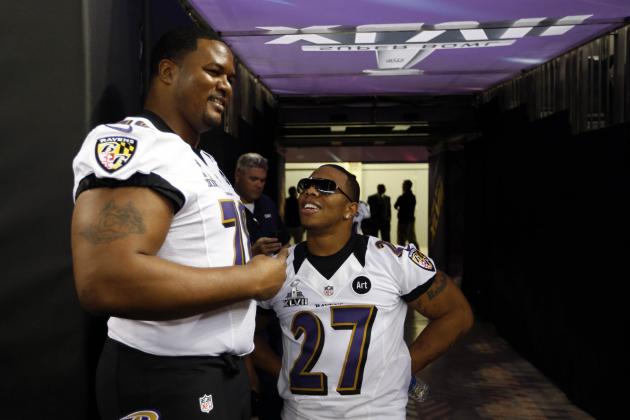 Derick E. Hingle-USA TODAY Sports
It's no wonder Ray Rice has such an easy job running behind the mammoth that is Bryant McKinnie.
Bryant McKinnie is one of the NFL's largest players and helped propel the Baltimore Ravens to a Super Bowl victory last season after taking over left tackle in the postseason.
At 6'8" and 360 pounds, McKinnie is a force in all areas, whether he is paving a path for running back Ray Rice or protecting the blindside of quarterback Joe Flacco.
It is hard to find another NFL player that can match McKinnie's size and strength, but it would be easy to make a list of players you would rather see out of uniform.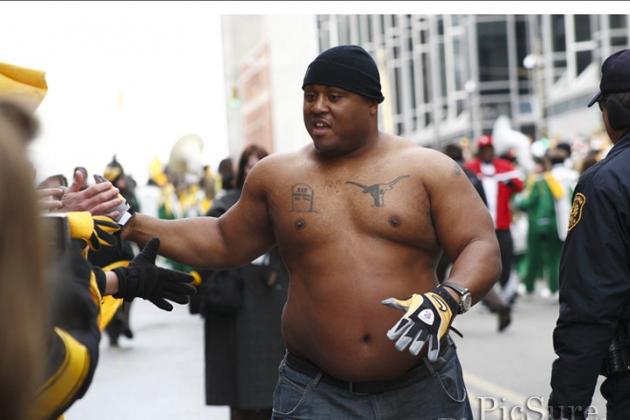 Casey Hampton is not afraid to let it all out. Photo: Immortaltechnique.co
Casey Hampton has been a fixture on the Pittsburgh Steelers defensive line for quite some time now and is approaching 35 years old.
Hampton stands at 6'1" and a compact 330 pounds. According to ProFootballFocus, Hampton was one of the worst at his position in 2012.
It seems Hampton's best days on the field are behind him, which makes sense given how many years he has put into the NFL now.With any luck, the decline in skills means we will not have to see him strutting in downtown Pittsburgh with his shirt off ever again.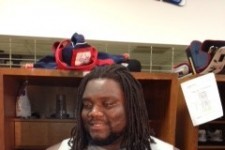 Michael Jasper has yet to use his large frame to find success in the NFL. Photo: Tennessean.com
Michael Jasper was drafted in the seventh round of the 2011 NFL draft because his physical traits allowed many to believe he had potential as an offensive lineman.
So far, Jasper has been a resounding failure.
Jasper bounced around several NFL teams before taking a trip to the United Football League. In January of 2013 he was signed by the New York Giants.
Jasper may be the NFL's largest man, coming in at 6'4" and 380 pounds. He has yet to prove he can cut it at the professional level, but lets hope he keeps a uniform on at all times.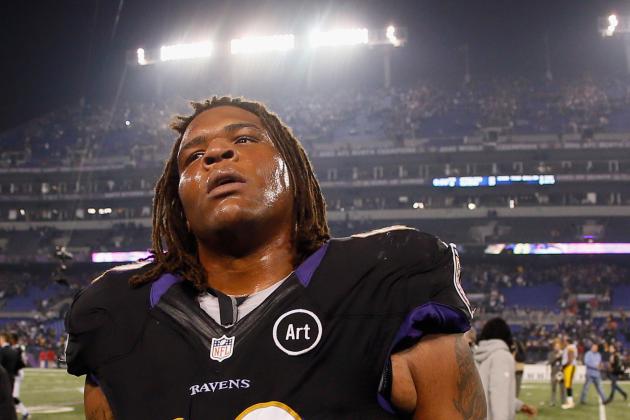 Rob Carr/Getty Images
Here is a safe-for-work picture of Terrence Cody.
Terrence Cody has already blessed fans everywhere with a photo of him minus a shirt—for the brave, it can be found here.
Cody, depth on the defensive line for the Baltimore Ravens, comes in at 6'4" and 340 pounds. He ranked in the bottom 20 of those at his position in 2012 according to ProFootballFocus.
Not only does Cody have an extremely long way to go on the field, he is not afraid to let it all hang out. That is not a good sign of things to come, for both Cody and NFL fans everywhere.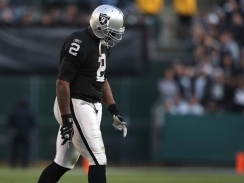 JaMarcus Russell is planning an NFL comeback. Photo: Cbsnews.com
JaMarcus Russell is widely held as the biggest bust in NFL history. He was picked No. 1 overall in the 2007 NFL draft and found himself without a job just three years later.
Now, Russell is planning an NFL comeback at 27 years old (AOL). He currently weighs in at 6'6" and 308 pounds.
Russell has always been blasted for his weight, which in turn has led to questions about his motivation to play football.
Whether or not Russell can make a comeback remains to be seen, but one thing is for sure—more camera time for Russell means more chances of catching him without a uniform.