Zack Ryder's 7 Best WWE Moments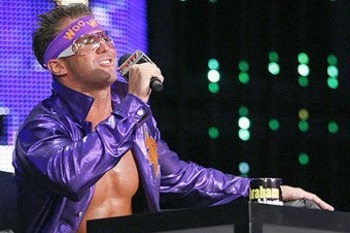 photo from wwe.com
OK, so Zack Ryder's career has been in quite the state in recent times. The star has been doing job after job on Raw and SmackDown...and that's if he even manages to get any air-time at all.
However, Ryder's plummeting status shouldn't let us forget that his WWE career has been packed full of highlights. Indeed, he's accomplished a lot for a man who seemed to be designated early on by management as nothing more than a lower-card comedy act.
With this in mind, let's take a look at Ryder's top seven moments in WWE...
Begin Slideshow

»
Last July, Ryder won the Great American Bash Battle Royale on SmackDown, meaning he got to run the next edition of the show as General Manager the following week. Which he did, with predictably hilarious results.
The win the bout was quite the victory for Ryder and helped him regain some lost credibility after his dreadful spring.
That he won by eliminating old nemesis Kane surely made the win that much sweeter for the Long Island native.
It is a shame more attention hasn't been paid to Ryder's run on the now-defunct ECW brand.
Indeed, the star had one of his best matches ever when he took on ECW champion Christian for the title in late 2009. Ultimately Ryder fell to his more experienced foe, but the gripping back-and-forth bout still managed to establish him as one of the most promising talents in the company.
OK, so the Eve storyline really didn't do Ryder any good in the long run. In fact, the whole thing only served to make him look like a gullible fool and caused his character great damage that he has arguably never fully recovered from.
But, hey, on the bright side, the star did receive a long passionate kiss from the gorgeous Diva backstage on the March 5 edition of Raw. So, I guess the angle wasn't all bad, then.
In November 2011, Ryder teamed up with John Cena to take on The Miz and R-Truth in the main event of Raw. It was, at that point, his most high-profile match ever. Helpfully, the crowd in attendance sounded firmly behind the star, too, enthusiastically cheering on everything he did.
Hey, Wolverine is a Zack Ryder fan! Who could have known?
Yes, Ryder's uproarious backstage segment with Hollywood A-lister Hugh Jackman on the September 19 Raw helped boost the star's profile greatly. Jackman later helped his new buddy defeat Dolph Ziggler in a match later on in the evening when he punched Ziggler in the jaw.
Teaming with World champions CM Punk and Daniel Bryan to take on Dolph Ziggler, The Miz and Alberto Del Rio in the superb main event of the December 19 Raw remains one of the top highlights of Ryder's WWE career.
Yes, in a little under a year, that star had gone from lowly little-used jobber to main-event star. Amazing.
Ryder's hard work in 2011 paid off at the TLC pay-per-view when he defeated long-time foe Dolph Ziggler to win the United States Championship.
The match itself was terrific and full of great exchanges (has anyone ever sold the Rough Ryder as well as Ziggler?), and Ryder's victory was a genuinely touching, heart-warming moment. This was easily the biggest highlight of his near-10-year wrestling career.