Breaking Down All the Champions League Matchups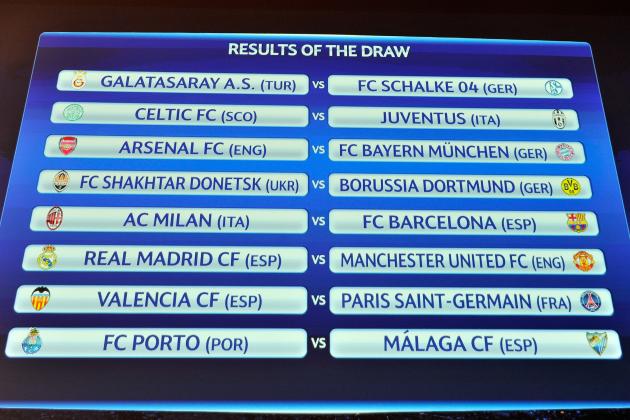 Harold Cunningham/Getty Images
The UEFA Champions League has some interesting matchups in store for us.
The UEFA Champions League's round of 16 is finally upon us. After nearly a two-month absence, 16 of Europe's top soccer clubs will duke it out for the right to move one step closer to the coveted Champions League title.
This stage in the competition has thrown up some enthralling matchups over the last few seasons, and this year's edition should be no different. Each of the eight pairings has its own share of intrigue, with none really showcasing a straightforward path to advancement for any team.
In this article, we'll take a closer look at each one to see what each team needs to do to prevail.
Begin Slideshow

»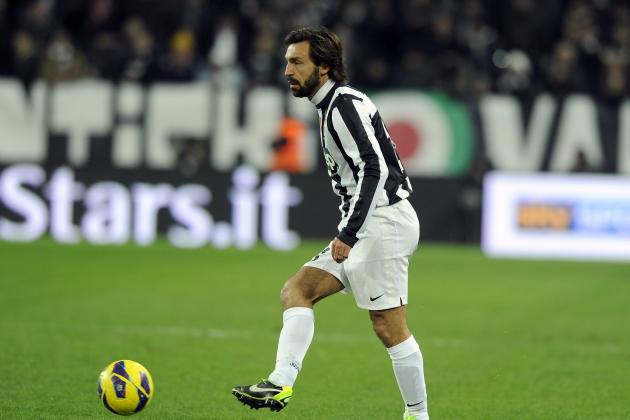 Claudio Villa/Getty Images
Andrea Pirlo will look to run the show for Juventus.
First Leg: 12 February; Celtic Park (Glasgow)
Second Leg: 6 March; Juventus Stadium (Turin)
On paper, many people would consider this a relatively one-sided matchup. After all, we are talking about Juventus, the current Scudetto holders, a club which boasts a midfield rivaled only by that of Barcelona.
But as Celtic showed in the group stage, even Barcelona are not invincible. The Bhoys shocked almost everyone when they defeated the Catalan giants 2-1 at home, with that positive momentum guiding them to a place in the last 16.
And they've been justly rewarded with a duel against Juventus, who continue to coast at the top of the Serie A pyramid. With a squad like theirs, who would bet against them going through at this point?
This is not a team without problems, though. Their strike force is not the most prolific in the world, and the Bianconeri have relied a lot on midfield lynchpins Arturo Vidal and Andrea Pirlo to fill the void when needed. Additionally, they will be without defensive stalwart Giorgio Chiellini due to injury.
Considering Celtic's strong attacking force, featuring the likes of prolific scorer Gary Hooper and versatile attacker Georgios Samaras, this could be a big problem for Juve in the first leg. Their 3-5-2 leaves no room for error at the back, and this is something Neil Lennon's men will look to exploit.
Granted, it may be tough for them to get on the ball. Juventus, like Barcelona, will dominate possession, with every move in the match going through Andrea Pirlo in the middle of the park. But if his teammates fail to capitalize, Celtic could do what they did to Barcelona and hit out on the counter.
So despite the mismatch in pure talent, this matchup is sure to be a thriller over the two legs. I expect Juventus to do just enough in the first leg so that, with a healthy Chiellini likely back come March, they can be a bit more comfortable at home and move on.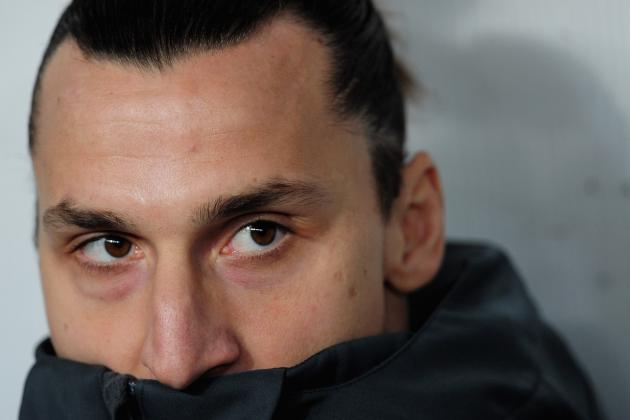 Jamie McDonald/Getty Images
Zlatan Ibrahimovic has his eyes on the prize.
First Leg: 12 February; Estadio Mestalla (Valencia)
Second Leg: 6 March; Parc des Princes (Paris)
This matchup features teams with largely different fortunes, in more ways than one.
Cash-backed Paris Saint-Germain have assembled a squad riddled with world-class talent (and the wages to back it up) and have not been afraid to show it off. They currently sit somewhat comfortably atop Ligue 1 and look the pick of the lot to become champions.
Valencia, on the other hand, have sold many an elite player over the last several years to bring in funds, but have yet to prove a significant challenge to Real Madrid and Barcelona. They currently sit a whopping 25 points behind Barcelona in fifth place, despite being in the bottom half for much of the season.
However, a decent run of form has seen them pilfer a point from a matchup with the leaders to go with three other wins in their last five matches. And it hasn't been a one-man show either, with star striker Roberto Soldado supported by the likes of Jonas, Pablo Piatti and Ever Banega.
A nice group, sure, but nothing compared to the typical Paris Saint-Germain lineup. Javier Pastore, Ezequiel Lavezzi and Thiago Silva are just a few of the names Carlo Ancelotti can pencil onto his team sheet.
Oh, I seem to have forgotten Zlatan Ibrahimovic. No big deal.
If there is a "one-sided" matchup at this stage of the Champions League, this might be close to being it. Valencia will need to do a lot of work just to prevent away goals, then go to Paris and try to out-duel this richly-assembled, richly-talented lot. It seems pretty unlikely at this point.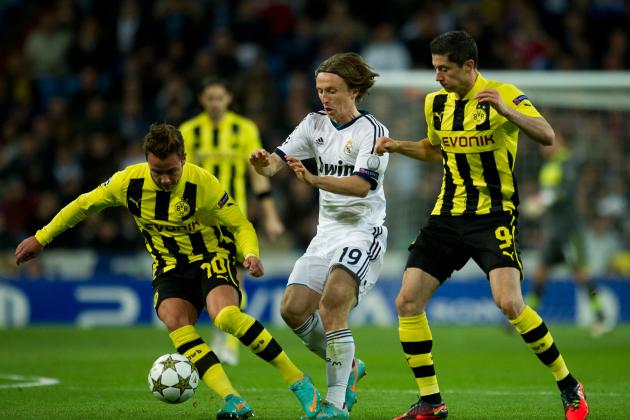 Jasper Juinen/Getty Images
Borussia Dortmund bested Real Madrid in the group stage.
First Leg: 13 February; Donbass Arena (Donetsk)
Second Leg: 5 March; Westfalenstadion (Dortmund)
This matchup features a pair of clubs who toppled more-fancied rivals in their group stage expeditions, with Shakhtar Donetsk ousting title holders Chelsea and Borussia Dortmund winning their group over Real Madrid.
Shakhtar enter this matchup having won 17 of 18 matches in the Ukrainian Premier League, which has been on winter break since December. They've done it in dominating fashion too, scoring 52 goals while allowing just nine.
They've attempted to combat possible rust with a series of friendly matches, but now it's time to buckle down and get ready for the real deal. They'll be hoping new signing Taison (from Metalist Kharkiv) can slide into the Brazilian-inspired show to help alleviate the loss of star-man Willian to Anzhi.
Dortmund, on the other hand, endured a tough start to the season to find themselves in second place in the Bundesliga right now. However, the 15-point gap between them and leaders Bayern Munich looks insurmountable.
Should they wish to save some face, they'll be heavily reliant on some of their fantastic young talent. Names like Robert Lewandowski, Mario Gotze, Mats Hummels and Marco Reus will be under the microscope for Jurgen Klopp's side throughout the next few months, and especially on Tuesday.
These are two teams rich in talent and this duel will likely come down to which star players make their presence felt to a greater extent. I feel that the biggest star could be Shakhtar's Armenian starlet Henrikh Mkhitaryan, who has dominated in domestic play, and might be just the man to put his team through.
It might come down to away goals, but I'll side with Shakhtar here.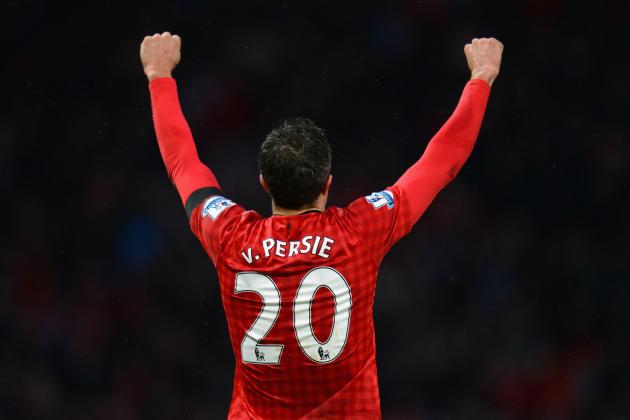 Shaun Botterill/Getty Images
Will Robin van Persie be celebrating a goal at the Bernabeu?
First Leg: 13 February; Estadio Santiago Bernabeu (Madrid)
Second Leg: 5 March; Old Trafford (Manchester)
This is it. This is the matchup soccer fans have been salivating over since the draw was revealed nearly two long months ago. Even Real Madrid manager Jose Mourinho called it "the match the world is waiting for."
But it is doubtful that Mourinho is focused on what the fans think. He will be solely set on trotting his men out there and looking to win. And with defending his La Liga title nigh on impossible, surely the Champions League will garner a higher level of focus than domestic affairs.
Cristiano Ronaldo will surely also be looking forward to facing the club he represented for six seasons before joining Los Blancos. And while his 24 goals in 22 games is nice, the 16-point gap between Madrid and Barcelona must be agonizing for he and his fellow Galacticos.
Manchester United, on the other hand, have enjoyed a hugely successful Premier League campaign. A win over Everton on Sunday evening, coupled with rivals Manchester City's loss to Southampton earlier in the day, sees the Red Devils 12 points clear of the title holders.
Robin van Persie and his league-leading 19 goals lead the way for Sir Alex Ferguson's men, but it's never a one-man show at Old Trafford. Wayne Rooney has kicked into gear alongside his Dutch ally, and strong midfield play from players like Michael Carrick and Phil Jones has kept things clicking.
As Mourinho said, this is the match the world is waiting for. How will it end? It could really go either way, but United's fantastic form could see them pull out a positive result at the Bernabeu. And from there, expect them to hold things down at home to advance at the expense of a fellow footballing giant.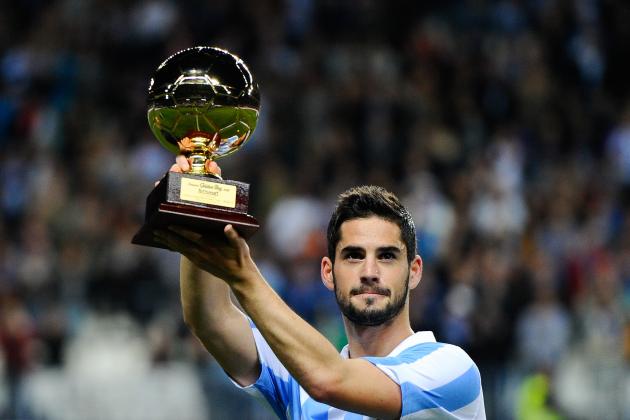 David Ramos/Getty Images
Isco has put himself well into the minds of soccer fans everywhere.
First Leg: 19 February; Estadio do Dragao (Porto)
Second Leg: 13 March; La Rosaleda (Malaga)
In one of the more interesting matchups in this round of 16, Portuguese giants Porto take on surprising Spanish side Malaga. The 2004 champions will take on the competition's biggest success story, as the Andalusian club has shocked quite a few people in their Champions League debut.
Porto are currently locked in a ferocious battle with rivals Benfica at the top of the Primeira Liga. The two clubs have traded places several times already, with Porto currently enjoying a three-week stretch at the top.
Led by Colombian duo Jackson Martinez and James Rodriguez, as well as Portuguese midfielder Joao Moutinho, this is a side that can strike fear into any team in the world. Sure, they don't have Falcao and Hulk like they did when they won the Europa League, but that hasn't stopped them so far.
Similarly, selling Santi Cazorla in August didn't stop Malaga from dominating many of their opponents in the early going. Inspired by super starlet Isco, their first three group stage matches saw them concede exactly zero goals en route to three comfortable wins, including toppling Italian giants AC Milan.
While their league form has slipped from their blistering start, they still sit fourth in La Liga, though their financial situation has seen them banned from European competitions over the next few years. Perhaps this could be a motivating factor, as they could want to make a huge impression while they still can.
Los Boquerones' defense, led by Martin Demichelis and Weligton, have been impressive in domestic play but have a tough task on their hands with the Porto attacking forces. However, players like Joaquin, Isco and Javier Saviola can counter that threat with one of their own.
Manuel Pellegrini surely has a great game plan already in hand for this one, and as such I side with Malaga to get through this battle.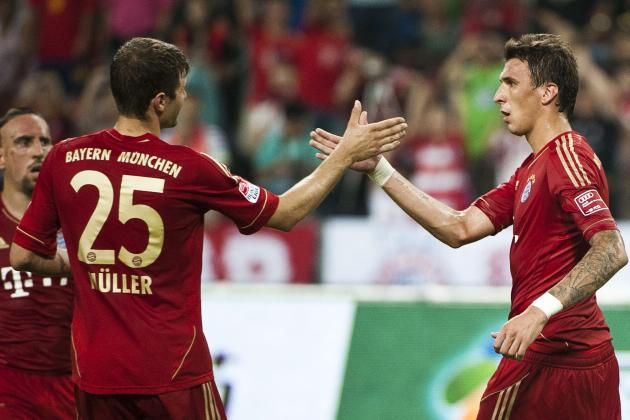 Victor Fraile/Getty Images
Thomas Müller and Mario Mandžukić have been a deadly duo.
First Leg: 19 February; Emirates Stadium (London)
Second Leg: 13 March; Allianz-Arena (Munich)
Arsenal have run into some bad luck in the round of 16. Two years ago saw them bounced by Barcelona, albeit in controversial circumstances. Last season brought a matchup with AC Milan in which they were soundly defeated in the first leg, unable to turn the deficit around at home.
2013 pits the Gunners against Bayern Munich, who have made the final two of the last three seasons entering this one, and could be considered unlucky not to have won the title last season. Needless to say, it won't be easy.
Arsenal have endured a rough year, currently sitting in fifth place 21 points adrift of league leaders Manchester United and four behind local rivals Tottenham for the last Champions League spot. They've never looked a threat to the top clubs in England, and limped into this stage in Europe unconvincingly.
A shambolic defeat at the hands of inspiring fourth-tier side Bradford City in the League Cup, coupled with the dire domestic form, has seen Arsene Wenger criticized frequently; he has a lot of work to do to salvage something from this lost season.
To do so, he'll have to go through the Bavarian giants, who are tearing apart German football right now. A 15-point lead at the top of the Bundesliga is impressive enough, but their plus-48 goal differential (55 for, a paltry seven against) is just as eye-catching.
Summer signing Mario Mandzukic has taken advantage of injuries to namesake Mario Gomez to cement his position as one of Europe's top strikers. He and young star Thomas Muller have formed a dynamic pairing for Die Roten, notching 25 league strikes between them.
Combining them with the likes of Franck Ribery, Bastian Schweinsteiger, Toni Kroos and Javi Martinez yields one of the five best squads in all of Europe. Getting through to the quarterfinals may require a bit of extra effort in the away leg, but overall should not be too troublesome.
Gallo Images/Getty Images
Didier Drogba is ready to make an impact for Galatasaray.
First Leg: 20 February; Turk Telekom Arena (Istanbul)
Second Leg: 12 March; Veltins-Arena (Gelsenkirchen)
This matchup may not garner as much attention as, say, Madrid-United, but it is surely one to keep an eye on. In fact, it might be the most intriguing of all eight considering the two clubs' relative "obscurity" compared to English, Spanish, Italian and other German clubs, and how evenly matched they are.
Galatasaray already had Champions League joint-top scorer Burak Yilmaz in tow, but they decided to bolster their squad in January in light of their impending European adventure. And they certainly picked up some top-class talent.
First came Netherlands international Wesley Sniejder, whose protracted exit from Inter saw Liverpool close in but eventually give in, allowing the Turkish giants to snag a discounted deal. Then, Didier Drogba was recruited. Having just won the title with Chelsea, the Ivorian is eager to repeat the feat (via Goal.com).
He has plenty of talent around him to do it, but then again, Schalke boast plenty of their own. This might not be the same squad that made a run to the semifinals two years back, but this is still a strong squad on paper.
Much like that fateful campaign, this Schalke side is struggling domestically, sitting 10th in the Bundesliga. Indeed, they have won just twice since the end of October, including a dreadful 4-0 defeat at the hands of Bayern Munich.
But striker Klaas-Jan Huntelaar and captain Benedikt Howedes should have their team motivated to go out and make something of this season. Istanbul is always a tough destination for road teams, so they have their work cut out for them.
Expect Galatasaray's fine form and top talent to prevail here.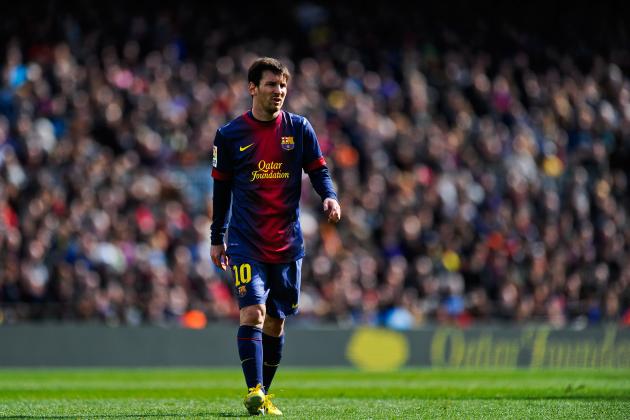 David Ramos/Getty Images
Can Lionel Messi guide Barcelona to yet another Champions League title?
First Leg: 20 February; San Siro (Milan)
Second Leg: 12 March; Camp Nou (Barcelona)
Last but certainly not least, we see a battle of two giants as Barcelona take on AC Milan in a rematch of last season's group stage and quarterfinals. Those matches were tightly contested battles, and this year's duels should be no different.
On paper, of course Barcelona should be considered favorites to win not just this matchup, but the entire tournament. Their dominance in La Liga has them 12 points above second-placed Atletico Madrid and 16 above bitter rivals Real Madrid.
Lionel Messi has 35 league goals already, and he is joint-second (with Cesc Fabregas) in La Liga in assists with nine, only behind Andres Iniesta. With the form players like these are in, it is hard to see any team that can stop them.
However, the Blaugrana defense has been its usual shaky self at times and Milan do hold a fantastic young attacking core. New signing Mario Balotelli has made his presence felt already with three goals in his two Serie A games.
Joining forces with breakout star Stephan El Shaarawy, the Italian duo is set to dominate Europe for many years to come. They work perfectly with one another in a footballing sense as well as personally, given their experience together with the Azzurri.
Milan have fought back from a dreadful start to put themselves in contention for a European berth next season. Their positive momentum could see them limit Barcelona in the first leg, leaving things up in the air for the return to Catalunya. But in the end, expect the Liga side to prevail.