Indiana Rebounds with 81-68 Win over Ohio St.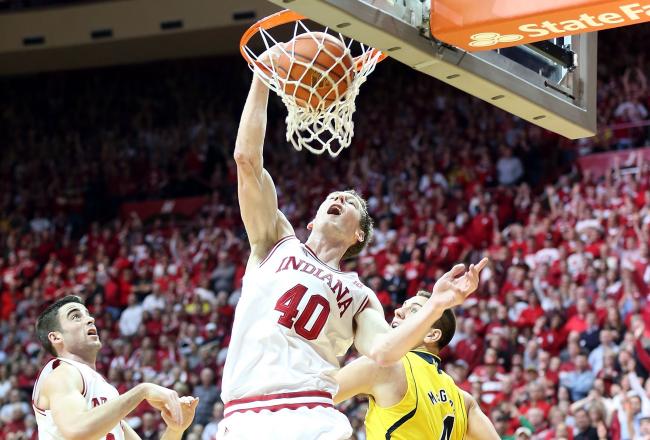 Andy Lyons/Getty Images
Game over in O-H-I-O.
The No. 1 Indiana Hoosiers bounce back from their Thursday loss at Illinois with an 81-68 victory over Thad Matta and Ohio State.
Thanks for following along.
Until next time, happy watching.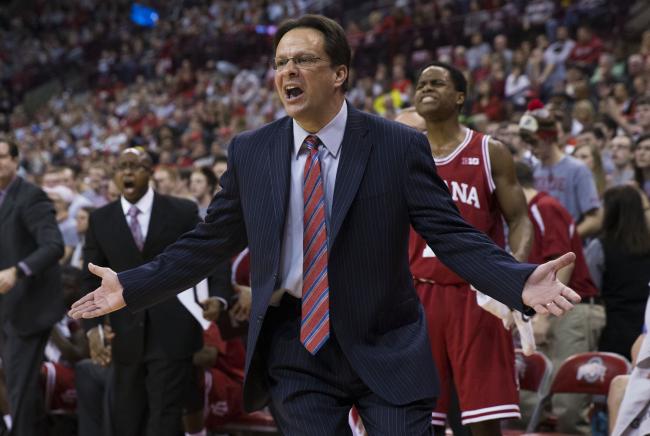 Post-game thoughts...
I wouldn't say Indiana entered this game reeling. But for the first time this year, there was some palpable negativity surrounding the Hoosiers prior to a marquee game. Not so much because they lost to Illinois, but because of how they lost: late lead squandered, memorable defensive lapse, etc.
Indiana confronted the adversity by leaning on its two best players, Cody Zeller and Victor Oladipo, who each played a major role in this win. Zeller scored 24 points on 8-of-11 shooting and nabbed eight boards. Oladipo scored 26 of his own and did a nice job frustrating OSU star Deshaun Thomas (8-of-20 from the floor). Christian Watford added 20 points on the strength of four three-pointers, and Indiana was on its way to a surprisingly easy win.
For Ohio State, the loss hinted at a troubling truth: When the Big 10's best are operating at full capacity, the Buckeyes don't have enough options on offense to keep pace. Deshaun Thomas is a fantastic inside-out player, but he doesn't get much help. As Indiana kicked the ball from Watford-to-Zeller-to-Oladipo-to-Sheehey, the contrast grew clearer and clearer. And it begged the question: Can OSU hang in the Big 10 title hunt without finding a reliable second or third option?
Indiana moves to 21-3, 9-2 on the year.
Ohio State drops to 17-6, 7-4.
And finally it is over.
Indiana -- 81
Ohio State -- 68
FIN
Oladipo with a steal.
5.2 seconds remaining. IU up 12.
Ohio State fouls...again.
Why?
WHY?!?!?
OSU still fouling.
Because...I don't know...effort or something.
Oladipo knocks down two FTs. IU leads 78-68.
Offensive foul on Aaron Craft.
Illegal screen. That's his fifth and the game is effectively over.
IU ball, up nine...41.4 seconds to go.
Ohio State slices lead to eight, again.
Fouls Y. Ferrell on the inbound. He hits one of two.
45 seconds to go.
Victor Oladipo has proven again today he's the Big 10's best defender. Only question left: Is he the B1G's best player. #iubb

— Jeff Rabjohns (@JeffRabjohns) February 10, 2013
And even more VO love.
Watford nails both FTs.
Indiana lead back up to 10.
Zeller misses front end of one-in-one.
Ohio State scraps for two at the other end. Lead cut to eight.
One minutes remaining. Watford heading to the line for IU.
Fantastic full-court pressure from Ohio State leads to turnover. Craft scoops loose ball and lays it in.
OSU down 10, 72-62. Timeout. 1:24 to go.
Ohio State commits another foul with the shot clock around 10.
Oladipo headed to the line. IU leads by 12. Just under two minutes to go.
Start the buses, y'all.
Zeller hits one of two.
IU leads 70-58.
Indiana runs the shot clock down to five and Zeller draws a shooting foul.
Perfect possession for the Hoosiers. CZ at the line with 2:29 left.
I hate Buffalo Wild Wings commercials.
Haven't been able to verbalize it yet. But someday soon. Someday...
Maryland down 11 with four minutes left at home against Virginia. Terps would drop to 5-6 in ACC with a loss.

— Jeff Borzello (@jeffborzello) February 10, 2013
Elsewhere in CBB...
Three-pointer by Craft cuts the IU lead to 69-58.
Now or never for the Buckeyes with just under 3 minutes to go.
Probably need three or four stops in a row to even make this game interesting.
This is definitely Cody Zeller's best game of the season. @gottliebshow wonders why he's underachieving.

— Seth Davis (@SethDavisHoops) February 10, 2013
This is what qualifies for smack talk in the world of CBB media nerds.
Beautiful sideline jumper from Zeller extends IU lead to 14.
Looked like OSU had them stoned, but the Hoosiers scooped a loose ball and swung to the big man for a 12-foot jumper. Zeller has 22 on the day.
Not sure how OSU can make up 13 points in five minutes.
Indiana's offense has been a runaway train today.
IU quells the OSU rally with a Watford three.
He's 4-of-4 from beyond.
Indiana leads 67-54.
Every time I watch CBS I'm reminded that Survivor still exists.
But how? And why? And by the order of what deity?
Ohio State trims lead to 12 at the under right timeout. How will Indiana respond? #iubb

— Alex Bozich (@insidethehall) February 10, 2013
My guess? By closing out the game in a reasonably comfortable matter. But I'm kind of wet blanket when it comes to these types of questions. #probablity
Ohio State with a four-point burst.
Cuts the IU lead to 62-50. Second TV timeout. 7:40 remaining.
Some similies just don't work for me. Anyone else feeling that way right now?

— Michael DeCourcy (@tsnmike) February 10, 2013
Twitter responds to Simile-gate, 2013
And Clark Kellogg with the world's most needlessly graphic simile.
"Victor Oladipo is like a baby's bottom: smooth and sometimes EXPLOSIVE!"
Let it be noted that the above was said with impish glee.
This article is
What is the duplicate article?
Why is this article offensive?
Where is this article plagiarized from?
Why is this article poorly edited?