Los Angeles Kings vs. Detroit Red Wings: Live Score, Updates and Analysis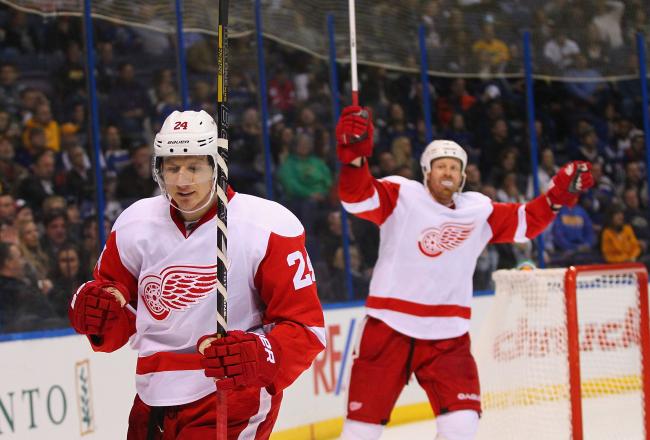 Dilip Vishwanat/Getty Images
What a thriller in Detroit!
Despite the fact that the Los Angeles Kings peppered netminder Jimmy Howard with 48 shots and scored the equalizer with under a minute left in regulation, it wasn't to be as Jonathan Ericsson buries one with just 4.5 seconds left to give the Red Wings the 3-2 victory.
With the win, the Red Wings extend their winning streak to three games, and improve their home record to 5-2-0.
Meanwhile the Kings drop to 3-5-2 as their Stanley Cup hangover continues.
With only 48 games in this shortened season, Los Angeles will need to turn things around soon.
Detroit Red Wings 3, Los Angeles Kings 2 Final

Goal Scorers:
Pavel Datsyuk (Zetterberg, Kronwall) 5:44 1st Period
Damien Brunner (Zetterberg, White) 17:28 1st Period
Anze Kopitar (Scuderi, Voynov) 19:19 1st Period
Alec Martinez (Clifford) 19:07 3rd Period
Jonathan Ericsson (Unassisted) 19:55 3rd Period

Detroit 3, Los Angeles 2 (0:04 3rd Period)
GOAL!!!
What an unbelievable finish in Detroit!
Jonathan Ericsson puts one on net and it trickles through Jonathan Quick and into the Kings' net, giving Detroit a 3-2 regulation victory.
At this point, my personal three stars are Jonathan Ericsson as the third star for scoring the winner, Henrik Zetterberg for assisting on the first two goals and Jimmy Howard for saving 46 of 48 shots on goal.
Detroit 2, Los Angeles 2 (0:53 3rd Period)
GOAL!!
With just 52.8 seconds left in regulation, Alec Martinez ties this one up at two, burying a rebound.
The Kings pulling their goalie pays off, and we may be off to overtime in Detroit!
Detroit 2, Los Angeles 1 (4:09 3rd Period)
Now with just four minutes remaining in the third and final period, the Kings' captain Dustin Brown takes a head-scratching tripping penalty in the neutral zone as he upends Damien Brunner.
The Kings will need a big penalty kill here if they hope to stay in the game.
Detroit 2, Los Angeles 1 (9:46 3rd Period)
Not nearly as much action this period as the first two, and if I were a Detroit fan, that's exactly how I'd like it.
Now the Wings will head to the powerplay thanks to an Alec Martinez high-stick with the chance to extend their lead to two goals.
Detroit 2, Los Angeles 1 (12:32 3rd Period)
Detroit looking much better this period.
They've held the Kings to just two shots so far in the third and have been much more organized in their own end.
Great first seven and a half minutes for the Wings.
Detroit 2, Los Angeles 1 (19:00 3rd Period)
And the final period of hockey has begun from Detroit as the Wings look to hang on to their one goal lead for the team's seventh win of the season.

Here's a fun fact for you as the intermission continues: The Detroit Red Wings have scored nine powerplay goals this year, and every single one of them has come at Joe Louis Arena as Red Wings beat writer Helene St. James tweeted earlier this afternoon:
<blockquote class="twitter-tweet">
All nine of #RedWings PPGs have come at home. They're 0-for-23 on the road.
— Helene St. James (@HeleneStJames) February 10, 2013
The Wings are going to need to improve that powerplay percentage away from home, and soon.
Interesting take on Dustin Brown's play from Mike Milbury.
He thinks that Brown is trying to force things in the offensive zone. I think Dustin Brown has been the best Kings player today, nearly scoring on a handful of occasions.
Detroit 2, Los Angeles 1 (2nd Intermission)
No goals to report from the second period in Detroit, as the teams head to the dressing room with the score 2-1 Detroit.
What a second period it was for goaltender Jimmy Howard, though. 23 saves this period alone and 37 on the game.
As for the Kings, 38 shots is the most that they've managed to rack up so far this season, and we've only played two periods of hockey.
They have to be frustrated at this point, considering how well they've played today.
Detroit 2, Los Angeles 1 (5:52 2nd Period)
To say Jimmy Howard is keeping his team in the game at this point would be a major understatement.
After robbing Dwight King of an almost empty-net goal, he comes up big with another few saves here as we hit another commercial break.
Howard is now over 30 saves on the day with over five minutes left in the second period.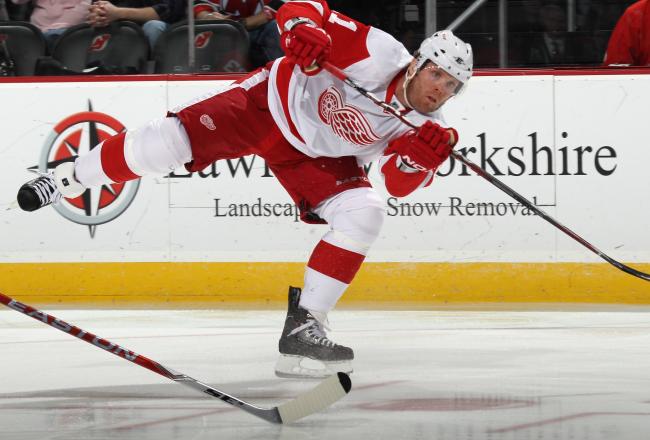 Detroit 2, Los Angeles 1 (10:13 2nd Period)
Seems like the Wings may be fatigued after playing yesterday afternoon against the speedy Edmonton Oilers.
With the shots now 11-4 this period for the Kings, Dan Cleary heads to the penalty box for hooking halfway through the middle frame.
Detroit 2, Los Angeles 1 (11:52 2nd Period)
Los Angeles in pretty firm control here in the second.
NBC has the Kings with five chances to Detroit's one, and they've extended their lead in the shots department to 9, outshooting the Wings 9-4 this period (this from NHL.com).
Detroit 2, Los Angeles 1 (16:00 2nd Period)
Tough powerplay for the Kings there. Had at least three very nice scoring opportunities, but Jimmy Howard was able to shut the door each time.
Howard has to be the player of the game up to this point, Los Angeles is already over 20 shots and he's been forced to make some wonderful saves.
And the second period's underway.
Less than a minute in, Pavel Datsyuk nearly sets up a third Detroit goal before taking a holding penalty.
Los Angeles to the powerplay.
Detroit 2, Los Angeles 1 (1st Intermission)
We've reached the first intermission, with the Red Wings leading at home against the defending champs by a score of 2-1.
That first period was an exciting 20 minutes of play that saw three goals, a combined 26 shots on goal and a few really big hits.
If the final two stanzas are as exciting as the first, we're in for one heck of a hockey game!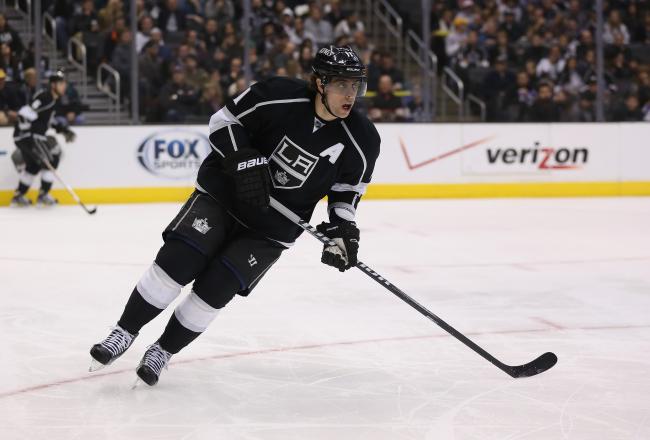 Detroit 2, Los Angeles 1 (0:40 1st Period)
GOAL!
Anze Kopitar takes advantage of a Jimmy Howard rebound with under a minute left on the clock and gets Los Angeles back to within one. Big goal for the Kings.

Detroit 2, Los Angeles 0 (2:30 1st Period)
GOAL!
Damien Brunner wires home his fifth of the season giving Detroit a 2-0 lead. This on the heels of Howard making yet another big save on Kings' captain Dustin Brown.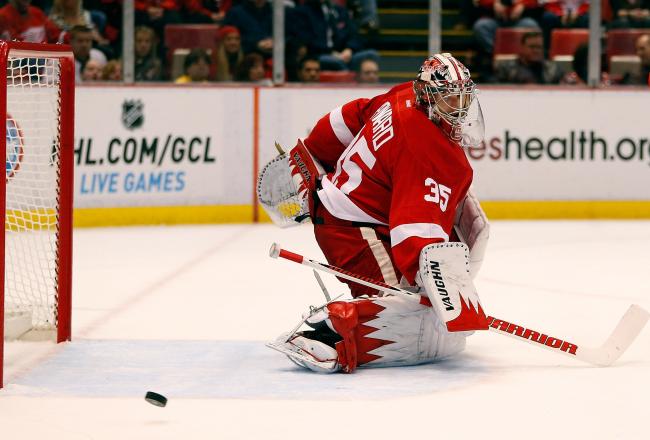 Detroit 1, Los Angeles 0 (5:30 1st Period)
With three quarters of the first period having expired, both teams have had their chances, but it's been Jimmy Howard who's stepped up for the Red Wings with some big saves to keep the Kings off the board. He's stopped all eight shots he's faced, including a few sensational saves on Dustin Brown.

Detroit 1, Los Angeles 0 (11:43 1st Period)
Now that Detroit has found their legs in this one, the game has evened out. Now it's Anze Kopitar taking a minor penalty, sending Detroit's powerplay unit back onto the ice.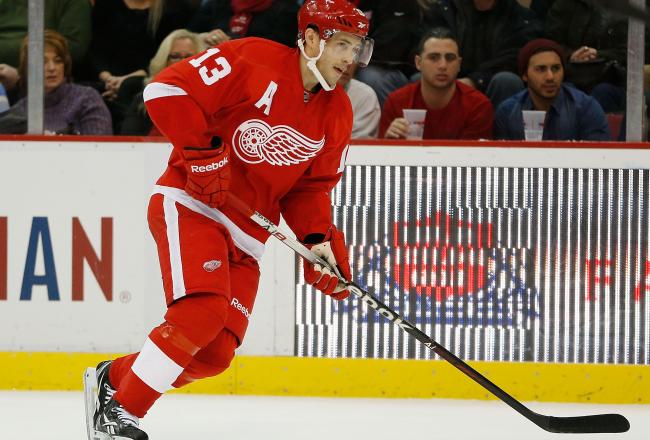 Detroit 1, Los Angeles 0 (14:16 1st Period)
GOAL!
It's Pavel Datsyuk with an absolutely unbelievable goal, splitting the defense and going top shelf on Jonathan Quick to put the Wings up 1-0!

Los Angeles 0, Detroit 0 (15:20 1st Period)
As if this game wasn't fast enough already, Justin Williams of the Los Angeles Kings has been called for interference and we'll see 30 seconds of 4-on-4 hockey.
Los Angeles 0, Detroit 0 (16:10 1st Period)
A few minutes into this one and it's all Los Angeles. Kyle Clifford skates right to the net and is stopped by Howard, while the captain Dustin Brown has also had a few opportunities early.
Now the referee has whistled Niklas Kronwall for a penalty sending the Kings to the powerplay.
A few key stats just before this one kicks off:
Neither of these teams is particularly strong on the powerplay, with Detroit and Los Angeles ranking 26th and 27th in the league respectively.
The teams are also fairly evenly matched when it comes to shots per game, with Detroit averaging about 30 shots per contest, while the Kings have put up 29 shots per game so far this season.
Those two statistics point to this afternoon's matchup being a tight and exciting game.
We're now a matter of minutes from puck-drop in Detroit, and according to Bill Roose and Jon Rosen, the starting netminders for today's tilt will be Jimmy Howard and Jonathan Quick:
Coach Babcock said #RedWings goalie Jimmy Howard will start Sunday vs. @lakings.

— The Wheel Deal (@Bill_Roose) February 9, 2013
Jonathan Quick leads the team out of the tunnel...

— Jon Rosen (@lakingsinsider) February 10, 2013
With two of the games better goalies between the pipes today, we should see a fairly close game from Joe Louis.
This article is
What is the duplicate article?
Why is this article offensive?
Where is this article plagiarized from?
Why is this article poorly edited?