Rating the Barcelona Players Against Getafe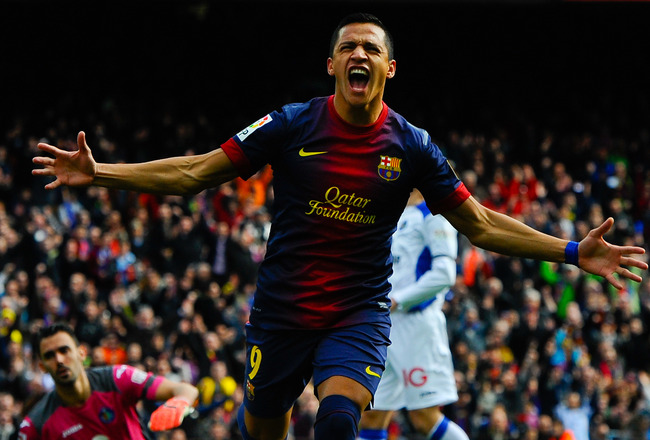 David Ramos/Getty Images
Barcelona hosted Getafe in a rare noon game on Sunday. La Blaugrana began the game quickly with a goal from Alexis Sanchez, and it was all downhill from there for Getafe as Barcelona won by a score of 6-1.
The Catalans finished the night with six goals all from different players. Barcelona would have also had a clean sheet on the night, but a defensive error from Jordi Alba led to the lone goal for Getafe.
With Champions League starting again soon and Real Madrid coming up, this victory will be wonderful for the Barcelona squad.
But the loss will be yet another poor result for Getafe to overcome. El Geta has the squad to finish in the top half of the table, but the performances have just not been there this season.
Most of Barcelona's players put in a world-class performance. It is hard to argue that anyone deserves man of the match more than Andres Iniesta, but a few can make the case.
With that being said, let's take a look at the ratings for the Barcelona players. Ratings will be on a scale of 1-10 with 10 being a perfect score. Let's begin, shall we?
The Barcelona Defense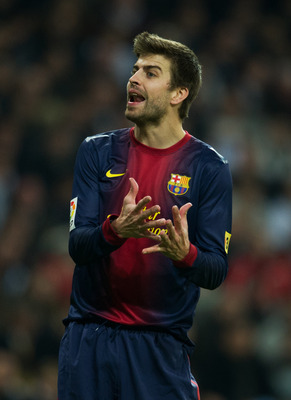 Jasper Juinen/Getty Images
Victor Valdes: 7.5/10
The Catalan keeper put in another solid night, despite allowing a goal. The Getafe strike came at the expense of Valdes, though he was left alone due to a defensive error.
Jordi Alba: 8/10
Jordi Alba linked up well in attack and even assisted David Villa on the goal. Alba's defense was also strong as well, except for one misplay which led to Getafe's goal. Without the defensive error, Alba would have played a perfect match.
Carles Puyol: 8.5/10
Barcelona's captain again showed he is one of the best in the world. Puyol cut out many attacks and even dazzled in possession himself. The captain continues to make age just a number.
Gerard Pique: 9/10
The Catalan center-back dominated in defense. His defending was sublime, and Pique was even able to play the ball forward very well. Pique is quickly becoming a leader and making his case for the best around. The tall defender finished his night with a goal to cap off a great performance.
Adriano: 7/10
The Brazilian utility player put in a strong performance for Barcelona. Though his attack was clearly missing, Adriano's defending looked better than ever. A solid night and few mistakes see Adriano awarded a wonderful rating.
The Barcelona Midfield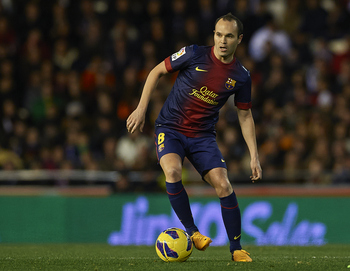 Manuel Queimadelos Alonso/Getty Images
Alex Song: 7/10
Alex Song again showed that he is starting to fit into the Barcelona squad. The strong midfielder upset many attacks from Getafe, but the Cameroon international kept the ball a little too long in attack.
Thiago: 8/10
Young Thiago is certainly set to take over for Xavi in the coming years. The midfield general played a wonderful game but was overshadowed by Iniesta. Thiago gave a great assist to both Messi and Pique on the night. Thiago is quickly becoming great, though he must protect the ball a bit better.
Iniesta: 10/10 and Man of the Match
Spain's magician played an absolute unbelievable game against Getafe. Iniesta opened the game with a terrific assist, and his pass led to the second goal for Barcelona on the night. He spent the 90 minutes dazzling fans and weaving through defenders. Iniesta deservingly finished the night with a goal.
Barcelona's Deadly Forwards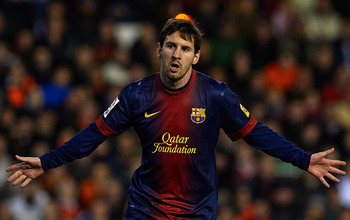 Manuel Queimadelos Alonso/Getty Images
David Villa: 8/10
Spain's all-time top goalscorer is making his case for being Barcelona's starter again. Villa scored a beautiful goal on the night and linked up well with Alba and Messi. Expect Villa to start more games soon.
Alexis Sanchez: 7.5/10
The Chilean winger silenced many critics with a wonderful goal to begin the game. Alexis then went on to make things really difficult for the Getafe defense but was relatively quiet for the remainder of the match.
Lionel Messi: 8.5/10
Barcelona's star scored the second goal on the night and gave a brilliant assist to Cristian Tello. The Argentine made things hard for Getafe on the night, and would have received a higher rating if some passes had not been stopped. Relatively quiet night for Messi, but his quiet is everyone else's star showing.
The Substitutes for Barcelona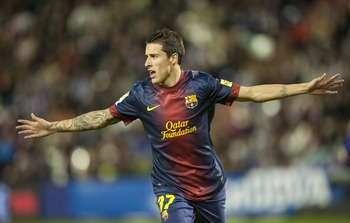 Victor Fraile/Getty Images
Dani Alves: 7/10
The first-choice right-back had a very strong showing and nearly assisted Alexis Sanchez on a goal. However, Alves did not do enough in his short time on the pitch to warrant a higher score.
Cristian Tello: 8/10
The young Winger is fighting for a more permanent spot in the lineup and with performances like this, he may very well get it. Tello scored a rocket of a shot from a Lionel Messi assist and even did well to track back on defense.
Javier Mascherano 7.5/10
The Argentine defender made no mistakes in his short time on the pitch, though Mascherano did very little. The former midfielder receives a strong rating for a strong performance in a short amount of time.
How would you rate the Barcelona players? How strong was Barcelona's win over Getafe? Don't forget to leave your thoughts and comments below.
Tre' Atkinson. Follow me on twitter for more discussions on Barcelona, Getafe, and La Liga. Follow @TreAtkinson
Keep Reading

FC Barcelona: Like this team?