The Kansas City Chiefs' acquisition of Alex Smith shook up the entire top portion of NFL draft boards. It appears now that the chances of West Virginia's Geno Smith going No. 1 to the Chiefs are slimmer than slim.
That doesn't mean the Chiefs won't trade the pick to a team that covets Smith as its franchise quarterback, a la the move the Washington Redskins made in 2012 to get in position to take Robert Griffin III.
The particulars there are still up in the air, but there are a few teams that appear to be locked in on certain prospects. Barring draft-day trades, I have built the most surefire mock for each team in the first round.
The following NFL mock draft highlights the most likely destinations for players in the first round—at least at this point in the pre-draft process.
(The players that are being spotlighted will feature an image.)
1. Kansas City Chiefs: Luke Joeckel, LT, Texas A&M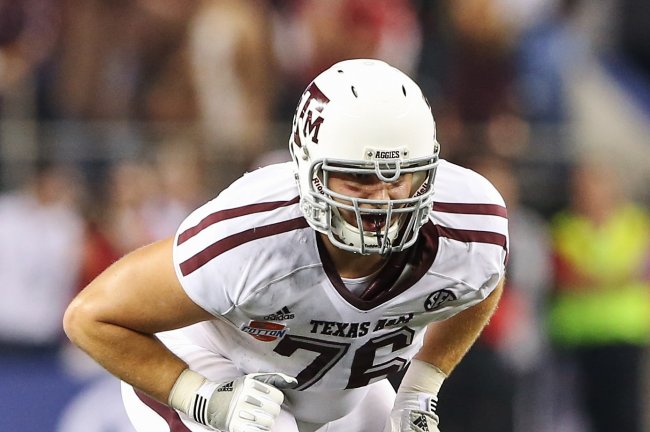 USA TODAY Sports
The Chiefs gave up a second-round pick in 2013 and a conditional selection in 2014 to get Smith (per ESPN). Considering what they gave up, it is clear Smith is set up to be the starter for the present and foreseeable future.
There is almost no way the Chiefs use a high pick on a QB now. Instead, it seems more likely that they take a top-flight young offensive tackle to protect their newest investment.
Joeckel has been perhaps the prospect most consistently viewed as a stud since the pre-draft process began.
All signs point to him becoming a Chief.
2. Jacksonville Jaguars: Dion Jordan, DE, Oregon
At 6'6" 250 pounds, Jordan looks a little like Jason Pierre-Paul, and when he was healthy at Oregon, he proved he could rush the passer. He had five sacks in 2012, but played hurt through a good portion of the year.
He showed at the NFL combine that he is indeed a premier prospect.
3. Oakland Raiders: Bjoern Werner, DE, Florida State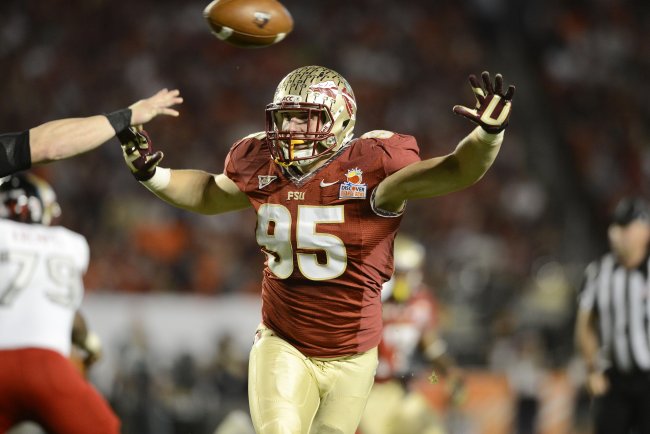 Ron Chenoy-USA TODAY Sports
If there is a player at the top of the draft process who looks and feels like a Raider, it's Werner. He would offer the Silver and Black the type of pass-rusher they lacked in 2012.
The team had just 25 sacks last season, and that just isn't going to cut it for a team hoping to rebuild a once proud defensive tradition.
The 6'4" 275-pound defensive end is big, athletic and nasty. That sounds like the prototypical Raider to me. He truly fits a need for the team, and could develop into one of the best pass-rushers the organization has seen in decades.
Which LT will have the better career?
4. Philadelphia Eagles: Eric Fisher, LT, Central Michigan
With protection issues, a new offensive philosophy and uncertainty around the health of Jason Peters, the Eagles almost have to draft a left tackle.
They can't go wrong with Fisher. He's been rising up draft boards for the last two months, and some compare him to the San Francisco 49ers' Joe Staley (CBS Sports).
5. Detroit Lions: Dee Milliner, CB, Alabama
There was some discussion that the Chiefs could consider Milliner for the top pick (ESPN), but I think that would be a bit of a reach. This is a much more appropriate spot for him.
The Lions' secondary was underwhelming, and better pass coverage will help support the young defensive line.
6. Cleveland Browns: Jarvis Jones, OLB, Georgia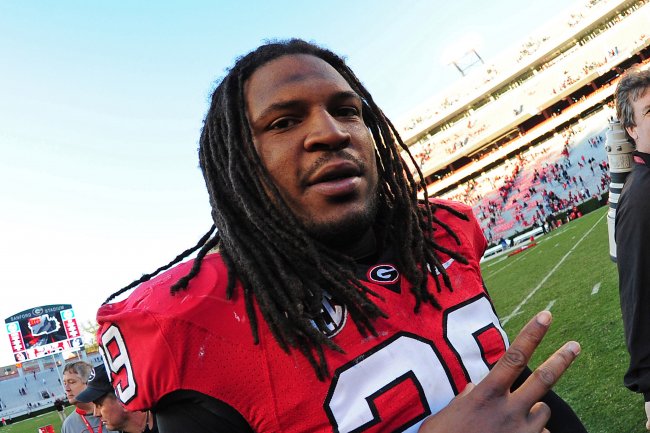 Scott Cunningham/Getty Images
The only player in college football who had more sacks than Werner was Jones. The Georgia Bulldog had 14 QB takedowns in 2012. In my opinion, he's the most talented defensive player in the draft.
Early in his college career, he was diagnosed with spinal stenosis (a narrowing of the spinal column, per ESPN).
Here's a fiercely talented pass-rusher who has led the nation in sacks—and the SEC the last two years—but he may have a career-threatening condition.
YouTube channel: MooseHead Sports
In this era where safety on the field has become paramount, what team is willing to take a chance? For now, his pass-rushing ability would make the up-and-coming Browns' defense even better.
7. Arizona Cardinals: Geno Smith, QB, West Virginia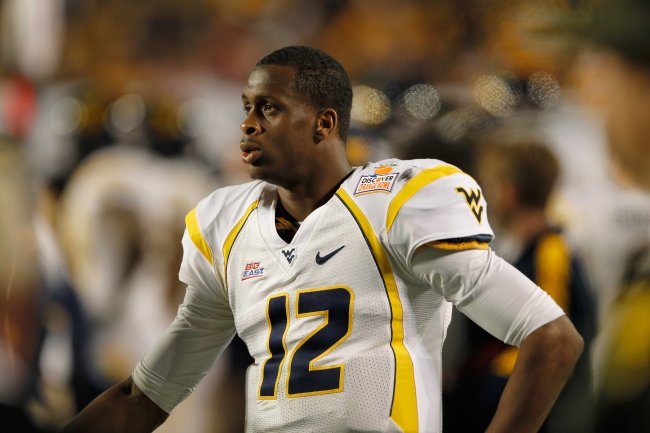 Mike Ehrmann/Getty Images
The Cardinals should be ecstatic about the Chiefs acquiring Smith. It means they will likely have a shot at taking the best QB prospect available.
It would be a shame to waste another year of Larry Fitzgerald's career without a capable QB to get him the ball. The Cardinals need a franchise QB, and Smith is the best of the bunch.
8. Buffalo Bills: Matt Barkley, QB, USC
Matt Barkley NFL Player Comparison
Buffalo would love to see Smith slip here, but there is no way the Cardinals pass on an opportunity to take him. Barkley would still represent a new direction for the Bills.
He would be in a great place to succeed with Buffalo as well. New head coach Doug Marrone worked as the offensive coordinator for the New Orleans Saints from 2006-2008.
His experience and success working with Drew Brees—who represents Barkley's best-case scenario pro comparison—should put former USC Trojan in a good place.
9. New York Jets: Barkevious Mingo, DE/OLB, LSU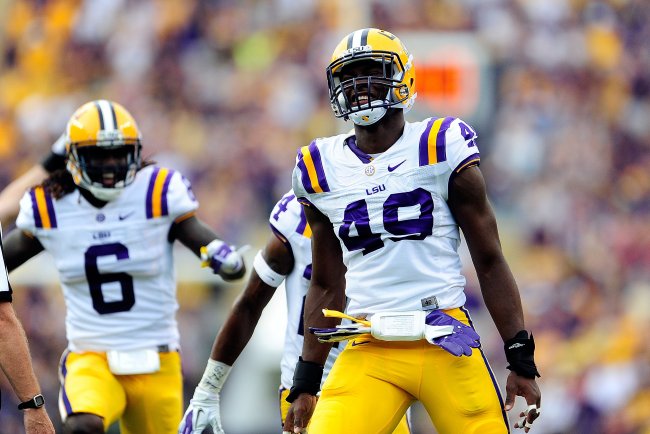 Stacy Revere/Getty Images
Mingo is made perfectly for the New York Jets. He is the best example of a 3-4 pass-rushing outside linebacker, and that is exactly what the Jets need.
Rex Ryan's defense has seen its sack total diminish over the last two years, and that is the key to their overall effectiveness.
No player in the draft can jump-start the Jets' signature unit like Mingo. This makes perhaps the most sense of any pick in the first round.
10. Tennessee Titans: Sharrif Floyd, DT, Florida
The Titans will be looking for a difference-maker on defense, and early on in the draft process, no player screams this more than Florida's Floyd.
He could step in and improve the Titans' 27th-ranked defense.
11. San Diego Chargers: Lane Johnson, LT, Oklahoma
Johnson's freakish athleticism was on full display at the NFL combine (CBS Sports). He likely made himself a Top 15 pick, and he's a good fit for the Chargers here.
San Diego needs help with pass protection as Philip Rivers was dumped 49 times in 2012.
12. Miami Dolphins: Xavier Rhodes, CB, Florida State
With Mike Wallace signed and Brian Hartline extended, the receiver position doesn't look as poor as it did just a week ago.
Previously, I would have said the Fins had to grab a receiver, but now they would be free to shore up the secondary, especially in the light of losing Sean Smith to the Chiefs.
Rhodes is an excellent cover-corner prospect
13. Tampa Bay Buccaneers: Damontre Moore, DE, Texas A&M
The Bucs' pass defense was atrocious in 2012, and while they would like to shore up the secondary, getting a pass-rusher would also help to improve a unit that gave up the most passing yards in the NFL last season.
Moore has the potential to be a game-changing player off the edge.
14. Carolina Panthers: Johnathan Hankins, DT, Ohio State
I loved the direction the Panthers were headed in at the end of the 2012 season. They won their final four games, but the team could use a run-stuffing defensive tackle.
They have built a solid young linebacker group, and nothing would augment their effectiveness like a stud in the middle of the line.
Hankins can be that type of force in the middle.
15. New Orleans Saints: Ezekiel Ansah, DE, BYU
The Saints' defense failed them in 2012. Drew Brees and the offense need playmakers on the other side of the ball to take pressure off them.
The team registered just 30 sacks in 2012, so they have to address that area. Ansah is a big, athletic pass-rusher who could be a force as a rookie.
16. St. Louis Rams: Chance Warmack, OG, Alabama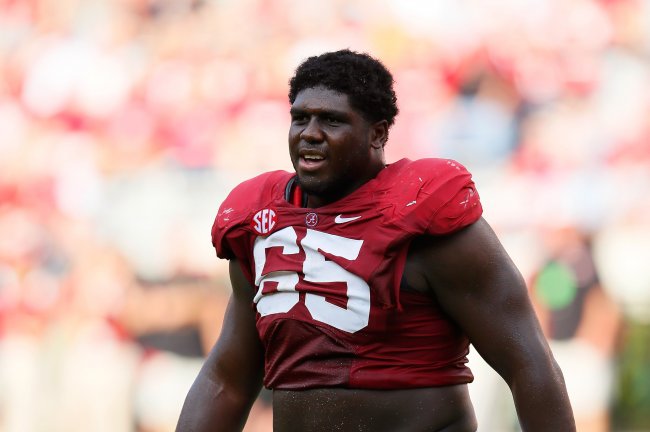 Kevin C. Cox/Getty Images
Warmack is the one of the safest picks in the draft. He could go in the Top 10 because most scouts view him as a future 10-year starter, but his position isn't generally valued that high.
Mel Kiper Jr. wrote:
I could fathom a situation where Warmack is still around at No. 18.

But remember, the mock also takes into account where I hear teams are valuing guys, and in the case of a player like Warmack, the positional value aspect hurts him as a guard. Make no mistake, he's a stud, a dominant guard who makes your offensive line better the second he signs his contract.
I don't think he will last until No. 18. The Rams will grab him, and he may just play in the most Pro Bowls of any prospect in the entire draft class.
17. Pittsburgh Steelers: John Jenkins, DT, Georgia
Casey Hampton isn't likely to return to the Pittsburgh Steelers, so the team needs a new anchor for its defensive line, per Pro Football Talk.
Jenkins is the type of massive force that can hold down the interior of the Steel Curtain for the next 10 years.
18. Dallas Cowboys: Sheldon Richardson, DT, Missouri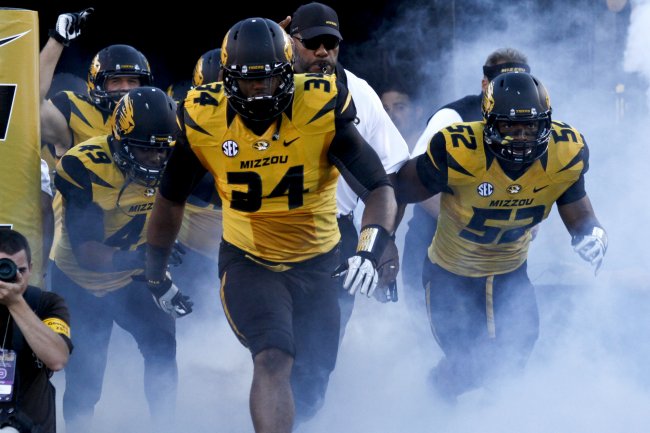 Ed Zurga/Getty Images
Sheldon Richardson is the most talented defensive tackle in the draft. He has the size to play inside, but he's explosive enough to play on the edge.
Which number will be higher for Richardson?
However, he has some character concerns that can't be ignored.
Per ESPN, he was suspended for missing class and refused to accept the punishment he received for the infraction. That is certainly a major red flag because it comes off as a complete disregard for rules and structure.
Those are two things the NFL is big on—not to mention elements of life in general.
But when a kid is 6'4", 295 pounds, and has shown the explosion Richardson has off the ball, teams will try to work through his issues.
The Cincinnati Bengals had good luck with Vontaze Burfict in 2012, but he wasn't a first-round pick. All eyes will be on Richardson throughout the draft process. He'll have to prove to teams that he can mature and disrupt things on the field, not in the locker room.
The Cowboys desperately need another playmaker on defense. On talent alone, no player would help them more than Richardson.
19. New York Giants: Star Lotulelei DT, Utah
Some health concerns have been raised about Lotulelei that could significantly impact his draft status (NFL.com). But nothing can dispute his potential impact on the football field.
The Giants need a player who can wreak havoc on the line of scrimmage like Lotulelei. Their defensive line and primary pass-rushers are aging, aside from JPP. If Lotulelei checks out physically, this would be one of the best picks of the first round.
20. Chicago Bears: Jonathan Cooper, G, North Carolina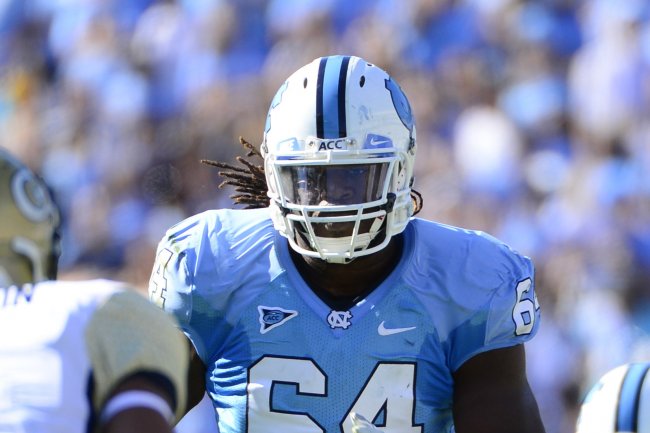 USA TODAY Sports
The Bears have an opportunity to take one of their biggest weaknesses in 2012 and transform it into a strength in 2013. The team has signed Jermon Bushrod to play left tackle, (Chicago Tribune), and if they re-sign guard Lance Louis, the Bears could then draft Cooper to play the other guard spot.
That would give the team three quality offensive linemen for the 2013 season.
In most years, Cooper would be the top guard prospect, but Warmack is a shade above him. Still, he would be great get for the Bears and part of the team's offensive resurgence.
21. Cincinnati Bengals: Alec Ogletree, OLB, Georgia
I still believe in Ogletree as a potentially game-breaking and fierce linebacker. His name hasn't been as hot since the NFL combine, but you'll be hard-pressed to find a more athletic linebacker.
He and Vontaze Burfict could make for an explosive tandem at linebacker.
22. St. Louis Rams: Kenny Vaccaro, S, Texas
The Rams are on the rise thanks to Jeff Fisher's direction and the RGIII trade that has rendered a plethora of valuable draft picks. That is the definition of a trade that helped both teams.
Vaccaro is a playmaking safety who will improve the Rams' run and pass defense.
23. Minnesota Vikings: Cordarrelle Patterson, WR, Tennessee
The Vikings could target a receiver in free agency, but with Percy Harvin traded to the Seattle Seahawks (per Fox Sports' Jay Glazer), drafting Patterson makes a lot of sense.
The passing game will be markedly better in 2013. Once the season starts, the Vikings could have a lot more weapons to pair with Adrian Peterson.
youtube channel: VolTilIDie
24. Indianapolis Colts: Jesse Williams, DT, Alabama
The Colts will be looking to build on their surprising, successful and emotional 2012 season. To think they made the playoffs without having players that ideally fit their 3-4 defensive system is pretty amazing.
Drafting Williams would give the team a defensive tackle capable of being a force playing the zero technique.
Which team got the best of the Percy Harvin deal?
25. Minnesota Vikings: Johnthan Banks, CB, Mississippi State
With a receiver presumably in the fold, the Vikings could double-up on that position but addressing the secondary is a more likely approach.
Some may like Washington's Desmond Trufant here, but Banks is also a very highly regarded cover corner. The Vikings will have addressed two of their biggest needs in the first round, thanks to the Harvin trade.
26. Green Bay Packers: D.J. Fluker, LT/RT, Alabama
When your perennial MVP candidate is sacked 48 times in a season, the front office has to make protecting him the top priority.
Fluker has great intangibles, and he's one huge man. At 6'6", 335 pounds, he has the bulk to handle NFL pass-rushers.
He could help the Packers from day one.
27. Houston Texans: Kevin Minter, LB, LSU
The Texans need for depth at inside linebacker was evident when Brian Cushing was injured last season.
Minter is one of the premier inside linebacker prospects in the draft. He tallied 130 tackles in 2012, and he could be even play alongside Cushing in the Texans' 3-4 defense.
28. Denver Broncos: Tyler Eifert, TE, Notre Dame
Peyton Manning took the Denver Broncos' moderately talented offense to new heights in 2012. What could he do if he actually had a stud tight end running up the seams?
Mix this element in with the acquisition of Wes Welker, and Manning could have a record-setting season.
Eifert could be the Dallas Clark of the Broncos' offense and make them even tougher to defend in 2013.
29. New England Patriots: Matt Elam, S, Florida
The Pats were ranked just 29th in the NFL in passing yards allowed. They have young pass-rushers like Chandler Jones that you have to expect will continue to develop, but the secondary still needs work.
Elam is a hard-hitting safety who would help in run support and protecting against big pass plays.
30. Atlanta Falcons: Alex Okafor, DE, Texas
The Falcons had only 29 sacks in 2012, and that was clearly the biggest weakness of the team. John Abraham is the team's best pass-rusher, but he's 34 years old.
Okafor would serve as much-needed youth and talent injection on the defensive line.
31. San Francisco 49ers: Desmond Trufant, CB, Washington
The Niners had breakdowns in pass coverage that cost them the Super Bowl. Chris Culliver made a few of the mistakes, and it is clear the Niners could improve at cornerback.
Trufant is emerging as one of the best cornerback prospects in the draft, and the Niners would do well to make him their pick.
32. Baltimore Ravens: Datone Jones, DE, UCLA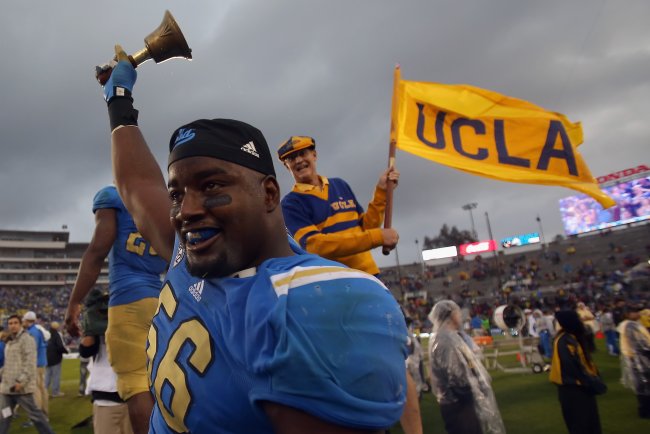 Jeff Gross/Getty Images
The Ravens have several spots on the defense that may see turnover. Obviously they have to address the middle linebacker position, but they also have to fill the gaping hole left by Paul Kruger's departure to Cleveland. Drafting Jones could help make Kruger's departure easier to absorb.
Even if the Ravens choose to replace Kruger in free agency, Jones would at the very least add depth to a position where you can never have too many quality players.
Follow Brian Mazique and Franchiseplay on YouTube and Twitter for reactions, analysis and news from the world of sports and sports video games