No. 12 Michigan State Drops Purdue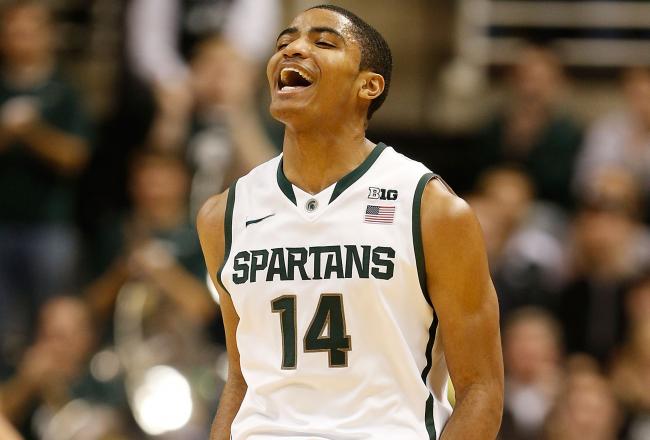 Gary Harris has emerged as a legitimate star; he's no longer just a "good freshman."
Gregory Shamus/Getty Images
Branden Dawson's team- and career-high 20 points led the Michigan State Spartans to a 78-65 win Saturday night over the Purdue Boilermakers at Mackey Arena in West Lafayette.
Keith Appling and Derrick Nix each scored 17. Adreian Payne finished with 12 points and six rebounds, while Gary Harris contributed with eight points and three steals.
Terone Johnson took charge of the Boilers offense with a team-high 20 points. Ronnie Johnson chipped in with 15 points, and freshman center AJ Hammons scored 13 points and pulled down eight boards.
The Spartans (20-4, 9-2) sit in first place in the Big Ten. Purdue (12-12, 5-6) didn't capitalize on its chance to stay in the upper half of the league and sits in seventh place.
Follow Bleacher Report's Michigan State Spartans basketball writer Adam Biggers on Twitter @AdamBiggers81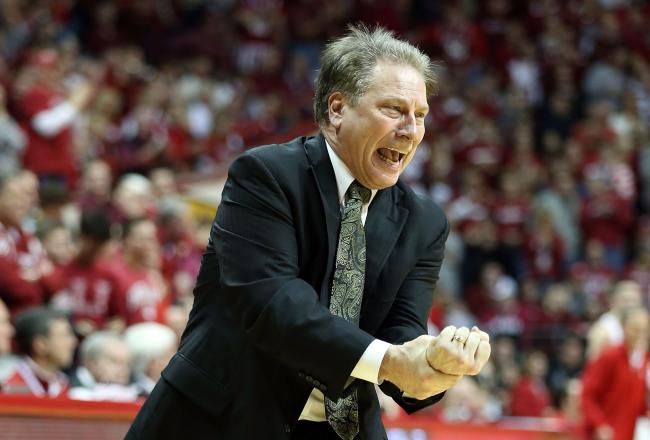 Post-game talk:
Purdue had an opportunity to give Michigan State a scare, but it couldn't capitalize on the Spartans' foul trouble late in the second half.
Once Adreian Payne was dinged with his fourth, the Boilers should have relied on AJ Hammons to carry the load. The freshman scored 13 points and had eight rebounds, and he could have easily taken advantage of Spartans frosh Matt Costello, who still needs to beef up on defense.
The outcome was never really in doubt. Michigan State looked in control for most of the night. Home-court advantage is valuable in the Big Ten, and there was a glimmer of hope for the Boilers about midway through the second half.
Terone Johnson could have used help on offense; he scored 20, but there were only two others to eclipse double-digit point totals.
Four of Michigan State's five starters scored 12 or more.
Final score: MSU 78, Purdue 65
Michigan State was led by Branden Dawson's team-high 20 points. Purdue's Terone Johnson matched that total, however, he didn't have the benefit of having a few others contributing with double-digit efforts.
Score: MSU 70, Purdue 56 (2:51, 2nd)
Purdue fans singing remake of Twisted Sister hit to free-throw shooting Adreian Payne: "You're not going to make it," instead of "We're not going to take it,"
Payne did make it.
Score: MSU 68, Purdue 54 (4:04, 2nd)
Matt Costello missed his second would-be-easy-dunk of the night. He's been contested, but he's not displaying adequate power. Basically, his rim attack has been weak tonight. Not sure if he's reluctant to go up, but he's certainly not doing it with authority.
Now, in high school, he couldn't be stopped. That's a case of the "welcome to the Big Ten" blues...He'll come together. There are high hopes for Costello.
BTN's Brent Yarina wants you to meet the new Purdue coach. The new football coach -- Painter isn't going anywhere.
VIDEO: Watch our halftime interview with #Purdue's Darrell Hazell - bit.ly/VNeYKT.

— Brent Yarina (@BTNBrentYarina) February 10, 2013
Score: MSU 66, Purdue 53 (5:00, 2nd)
This is the time when Keith Appling takes over games. He's so explosive when the Spartans need him to be. He's fun to watch when the Spartans trail or are involved in a close game, but a 15-point lead is a different story...Appling is just scoring to have fun.
Keith Appling absolutely picked his spot and took the shot he wanted to take. That's what dangerous scorers do.
As the Boilers set up, Appling basically walked to his destination and let it go from near the elbow.
Score: MSU 62, Purdue 49 (6:22, 2nd)
I predicted 72-60 Michigan State. Not looking too off right now...
Joe Rexrode from the Detroit Free Press senses the tables turning.
To review, half the second half left and Payne and Harris both have 4 fouls. But Nix is going World B. Free on everyone. Hammons in now.

— Joe Rexrode (@joerexrode) February 10, 2013
Score: MSU 58, Purdue 43 (8:41, 2nd)
R. Byrd misses another trey, shooting 0-3 FGs. He's beeen missing with the few shots he's taken. #Spartans are winning 50-38, mid 2nd half.

— Sparty Blogger (@SpartansSpotUps) February 10, 2013
There has to be something going on with Russell Byrd's mind. He has the talent to hit from anywhere. I can't stress enough how his 0-for-3 line is misleading. The guy can shoot.
Big Ten Network's Brent Yarina just posted this video of Robbie Hummel's interview.
VIDEO: Watch #Purdue honor @robbiehummel at halftime - wp.me/p1MmDU-qvd.

— Brent Yarina (@BTNBrentYarina) February 10, 2013
Michigan State's Adreian Payne just drew his fourth foul. The Spartans have to maintain their composure, because Purdue is energized.
Score: MSU 30, Purdue 40 (10:00, 2nd)
Derrick Nix shows his wheels on that last layup. BTN analysts say they like his development. However, he's not the "Dancing Bear" -- that was Draymond Green.
Dawson has been key tonight. Detroit Free Press writer Joe Rexrode has taken notice, too.
Dawson has now matched his career high with 18 points. Posting, driving, hitting foul shots, etc.

— Joe Rexrode (@joerexrode) February 10, 2013
Other notes: MSU has 11-2 steal advantage. Adreian Payne has three fouls. Purdue would do itself a favor by attacking Payne.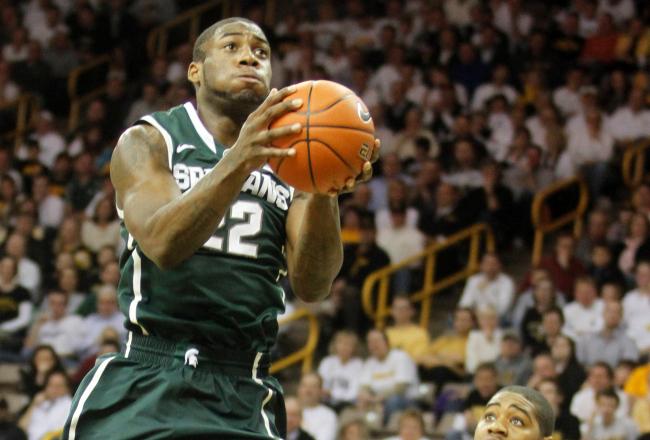 Score: MSU 50, Purdue 38 (12:00, 2nd)
Branden Dawson has 18 points; he's missed twice and has hit each of his four freebies from the line.
Purdue fans might cheer for Russell Byrd once he hits a shot. He's a guy who knocks down shots like a machine in practice, but he can't seem to do it in games.
Score: MSU 47, Purdue 33 (13:16, 2nd)
Michigan State doesn't blow leads like this too often. But it's still early.
Seeing Robbie Hummel on BTN broadcast is bittersweet. No matter which team you're a fan of, you have to appreciate guys like Hummel. Such a classy guy and talented player. He'll find success as a pro -- climbing mountains and conquering adversity throughout his career defined his legacy at Purdue.
Stats for your viewing pleasure.
Very few treys taken. #PUR have only taken 4 treys (1-4 3FG) and #Spartans have taken 8 treys (3-8 3FG). #Spartans are winning 43-28, early

— Purdue Blogger (@BoilerBlogger) February 10, 2013
Gary Harris isn't just a good freshman, he's a legitimate star in the Big Ten. He's been compared to Charlie Bell, who is arguably the greatest Spartans defensive guard in program history. Three steals are good, but three fouls aren't. But fouls come with the territory for aggressive defenders.
Gary Harris has been picking #PUR pockets, racking up 3 steals while keying the #Spartans defense.

— Sparty Blogger (@SpartansSpotUps) February 10, 2013
Score: MSU 43, Purdue 28 (15:47, 2nd)
Michigan State looks like it wants to blow this one open, but Purdue benefits by scoring in bunches. Don't expect the Spartans to run away just yet. Plenty of ball to play.
Detroit Free Press writer Joe Rexrode says Tom Izzo is on the brink... Fouls are piling up on Michigan State.
And there's 3 for Harris. Izzo about to start losing his mind.

— Joe Rexrode (@joerexrode) February 10, 2013
Score: MSU 39, Purdue (17:10, 2nd)
Michigan State's Keith Appling now has three fouls. That's not an ideal situation for the Spartans.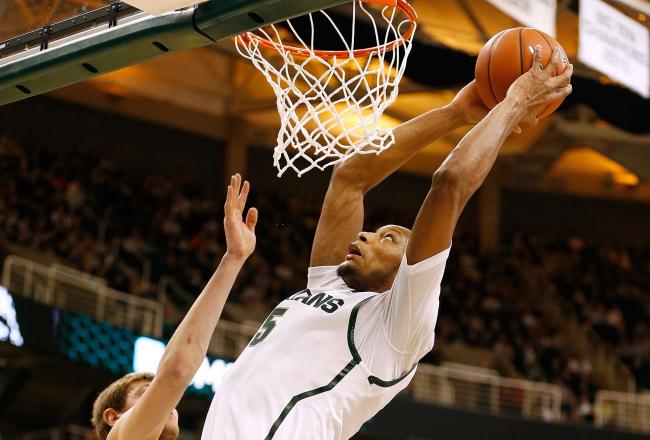 Adreian Payne has expanded his game this year. He takes more jumpers and drives more often. He can play like a traditional big man with his back to the basket, but his expansive skill set allows for a well-rounded attack.
Michigan State needs Keith Appling to inject some excitement into the offense and keep from committing fouls. Branden Dawson's efforts in the first half were great, but the Spartans' offense really clicks when Appling does the most damage.
Purdue should use AJ Hammons' size and pound the Spartans in the paint.
Overall, not a bad balance from Boilers offense, just a little careless with the ball.
This article is
What is the duplicate article?
Why is this article offensive?
Where is this article plagiarized from?
Why is this article poorly edited?

Michigan State Basketball: Like this team?