A Lot at Stake in UFC 157's Main Event Between Ronda Rousey and Liz Carmouche
Use your ← → (arrow) keys to browse more stories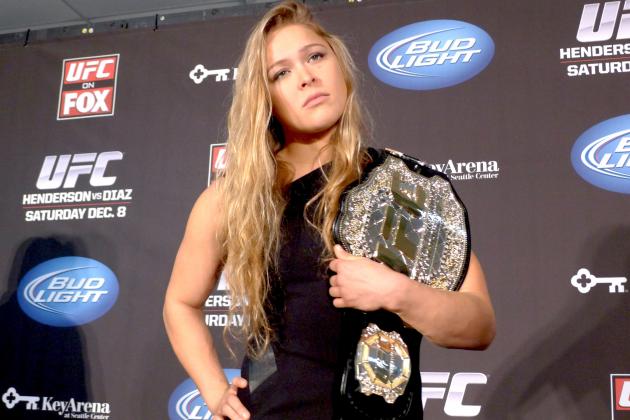 A quick glance at the UFC's website shows that there are currently only two female fighters on the promotion's official roster: champion Ronda Rousey and the woman who will challenge her for that title in the main event of UFC 157, Liz Carmouche.
That roster may fill up in the days following the February 23 fight card, or it may disappear altogether.
It wasn't that long ago that UFC president Dana White remarked that women would never compete inside the Octagon, but that statement was made in the days before Rousey began her arm-snapping spree with Strikeforce. Rousey fought four times in Strikeforce and only once went beyond the one-minute mark, winning each fight via armbar.
White described Rousey as outspoken on the Jim Rome Show.
I'm telling you, this girl, she's nasty. She might be beautiful on the outside, she's a Diaz brother on the inside. She's a real fighter and she's very talented. She has the credentials, the pedigree, everything. And she has the 'it' factor. I think she's going to be a big superstar.
It's not too difficult to see that UFC's interest here is not in WMMA, but in Ronda Rousey. And that's fine. That's the UFC's prerogative as a fight-promoting business, but it's also a dangerous proposition.
There's a lot riding on this UFC 157 bout, not just for the UFC, but for Rousey, Carmouche and every other female fighter who is hoping for a chance to enter the Octagon and make some of that UFC money.
No one is sure how Rousey vs. Carmouche will fare as the headlining bout at UFC 157. Hopes are high that Rousey has crossover star potential and will be able to reach out to markets and fans that the UFC has had difficulty bringing in. But the fact remains that a good deal of the general population, sports fans or not, is going to be reluctant to watch two women stand inside a cage and punch each other in the face.
If you don't believe that, ask yourself why Laila Ali never turned into a huge sports star.
If the pay-per-view sales flop, odds are that the next time Rousey defends her title she will not be the headlining fighter but slotted into the co-main event spot, fighting under a main event that features another UFC champion from the welterweight or higher ranks defending his title.
And that's if she wins.
The odds are against Carmouche pulling off the upset and taking the title, but we recently saw Antonio Silva knock out Alistair Overeem in a bout that very few thought Silva would even get out of the first round.
That's the beauty of the fight game—the odds are not that meaningful.
That's also the UFC's nightmare when it comes to the main event of UFC 157.
Overeem losing to Silva, in the big picture, isn't that big of a deal. Another fighter will rise in the UFC heavyweight ranks to take his spot, and with Silva's victory the UFC can sell him as a king crusher, the man who overcame the odds. If Carmouche defeats Rousey in Anaheim, that's not going to happen.
Like I said before, the promotion is in the Ronda Rousey business. A Carmouche win puts that business on life support. Sure, it sets up a rematch somewhere down the road, but it also puts every other fight on hold in the women's division until that rematch is decided.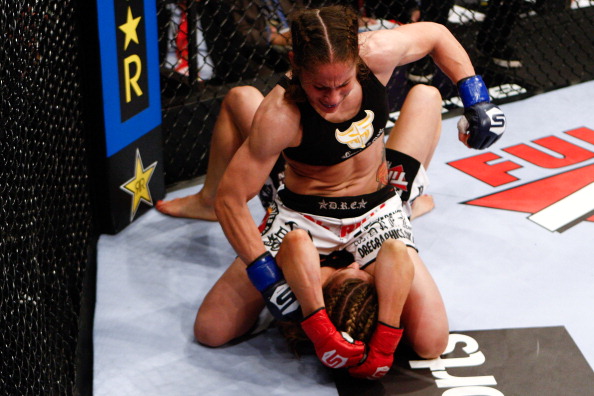 If Rousey were to win the rematch, more signings will surely take place, but if Carmouche defeats Rousey a second time, that will be the second nail in the coffin for WMMA in the UFC. I wouldn't expect any more nails would be needed to put the experiment in the ground.
That's not to take anything away from Carmouche. If she defeats Rousey, it will be a huge accomplishment on her part and will go down as one of the biggest upsets in the history of MMA. Just don't expect it to launch her to the exalted status in the UFC that Rousey is enjoying right now.
There's a huge amount of pressure resting on Rousey's shoulders heading into UFC 157. It's not a stretch to say that the future of WMMA in the UFC—and maybe WMMA as a whole—depend on her beating Carmouche. A Rousey win on a UFC pay-per-view could very well have a trickle-down effect on promotions such as Invicta as the press Rousey will garner should increase interest in WMMA.
If you think the bout between Rousey and Carmouche is just a small experiment for the UFC, you couldn't be more incorrect.